Hello everybody! First of all, we would like to thank each one of you for your overwhelming response on our previous blogs and for also sharing them with your friends, family and colleagues. Your positive feedback and constant support mean a lot to us so keep 'em coming!
Since most of you love Apple products and have made multiple mock-up designs on their gadgets all year round, we decided to create a new mock-up PSD file for you guys so that you can design and pitch your ideas for MacBook Pro & iPhone 11. Let's get started!
Before or without mock-ups and presentations that allow you to demonstrate your work flow in front of your team leads or clients etc., we know that it must have been extremely hard to even initiate the design project. Graphic designers, website & game developers etc. were supposed to make changes in the actual designs – thanks to the finicky clients and the internal team members. This practice was not only time taking and pointless but every team member had to be on their toes to make things work until a design idea would get an approval.
To serve the purpose well, mock-ups are created in such a way that they can help anyone and everyone get to see the design process, work flow and have revisions made effectively without having to edit the actual thing. As we are committed to our work and to make the entire process easier for you as well, we create absolutely free yet highly editable mock-up PSDs and design templates so that you can carry out your design tasks without having to worry about anything.
And of course, our free beautiful MacBook Pro & iPhone 11 mock-up PSD will help you present your designs of anything and everything in an impressive manner – so impressive that you will instantly sign the deals with your clients.
In this part of our blog, we will share how efficient MacBook Pro & iPhone 11 are and once we are done with that, we will also share what you can work on to cater to the needs of the individuals who use MacBook Pro and iPhone 11 so continue reading to know more!
MacBook Pro comes in two different (screen) sizes; 13 inch model & 16 inch model. The processors, storage and graphics are unmatchable and these machines are considered to be some of the best machines that Apple have produced over the years. The backlit magic keyboard brings enhances the beauty of the machine making it worth the price and if you are one of those people who are passionate about having a nice gadget, these are your best bets.
Keeping in mind that MacBook Pro has up to 4 core 10th-generation Intel Core i7 processor (13 inch model) and up to 8 core Intel Core i9 processor, there is so much that one can do because well, the speed's going to be awesome, your machine won't lag and the user will be able to perform their daily routine functions easily. That means that you can not only code and develop things in like minutes but you can also create and render 3D models too and the process will be perfect, it will be smooth and you will love the experience. Do you know what that implies? Well, it is simple! From making video editing software to coding programs and powerful games to give a user one of the best gaming experiences of their lives, you are free to create anything that you want to create – forget about the fact that it might slow down the machine(s) because it won't.
Same goes for the iPhone 11 – powerful machine (A13 Bionic chip, Third‑generation Neural Engine), great wide and ultra-wide cameras with night mode along with portrait mode lightning and the fact that it lets you create magical photos and videos make this gadget worth buying too. But wait, we are talking about something different here. And by different we mean, that now is the time to dig those creative game ideas that you thought were going to be a little too much for any device or that mobile web that you stopped working on because the gadgets that were present at that time couldn't take it and bring them to life.
Our free beautiful MacBook & iPhone 11 mock-up PSD is not only a super fun file to work on but the way we have created it, we are sure that the aesthetics will double your chances of getting approvals just like that. So, what are you waiting for? Get your hands on our mock-up PSD file right away and start designing stuff that you have been waiting for a long time. And feel free to share your thoughts and suggestions with us in the comments too!
Free Beautiful MacBook Pro & iPhone 11 Mockup PSD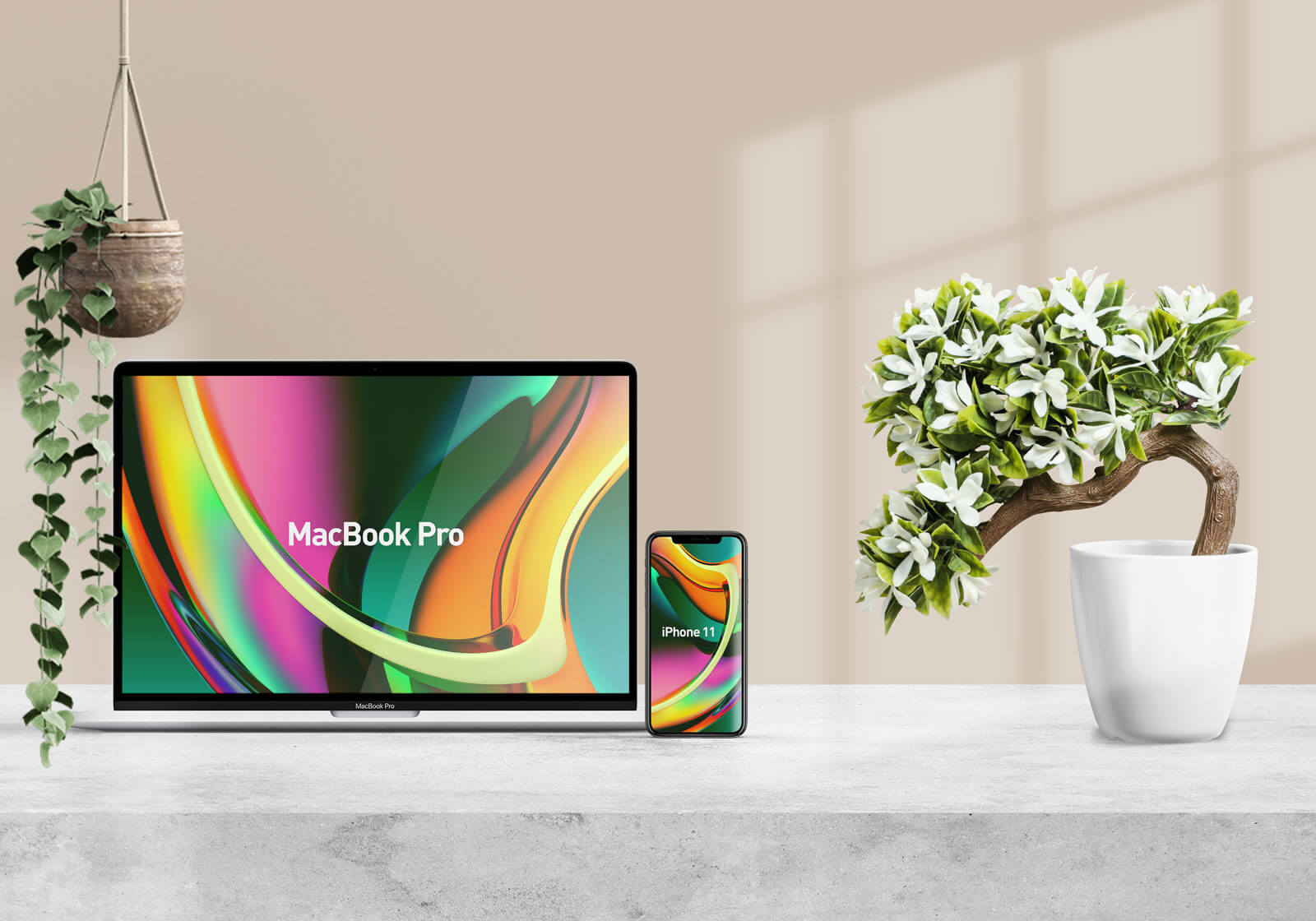 Available Format: Layered PSD with smart object insertion
License: Free for personal and commercial usage
RAR File Includes: Free MacBook Pro & iPhone 11 Mockup PSD
Mock-up Resolution: 3500 x 2450 px 

Note:
1. Free Mockup PSD is allowed to share online (A Must Linkback to designbolts.com)
2. Say thanks if you like or share/tweet with your friends. That means a lot to me.
3. And don't forget to subscribe to receive for more high quality premium freebies & awesome articles only.
Download Mockup PSD
More Awesome Free Mockups: