Hi there friends! We are so happy to receive your response on our previous blogs and we would like to thank each one of you for being the biggest supporters of our content and for also sharing it with the ones that you love.
Okay so, previously in our blog, we talked about Apple Watch Series 6 and also shared a free mock-up PSD file of the product that can help you work on brilliant ideas and create super amazing things. In our today's blog, we are going to be talking about the other Apple product that was launched during the Apple Launch Event in September and that is iPad Air 2020. So, let's get started!
iPad Air 2020 happens to be one of the finest versions of iPads that have been ever produced by Apple and of course, with (almost) each passing year, the tech company comes up with something really attractive and really cool in the form of their gadgets after months of testing and experimenting multiple things. We would like to share what's so great about the iPad Air 2020 and if you want to be surprised, you have got to be reading this blog!
First things first; iPad Air 2020 comes in 5 different colors that are so attractive – there are chances of you getting confused about which one to buy. The colors are; Silver, Space Gray, Rose Gold, Green and Sky Blue. And you can purchase a 64GB version of the iPad Air or a 256GB one – depending on the money that you have as well as your needs to have the iPad Air.
Recommended: 20+ Free Awesome Mockup Websites
About the iPad Air 2020, Apple claims that you can with it what you can do with a computer. Now, we do not want them to sound like they are flaunting their product but well, it is safe to say that the iPad Air 2020 can get things done like a computer – meaning that you might not need a computer in days to come. Look at it this way, the new iPad has the power of a computer and the portability of the iPad so, what else would you require?
You can literally use Adobe Photoshop CC on your iPad Air 2020 – yes, it is that cool! And in addition to that, you will be more than just happy to use Microsoft Office for your college or work assignments too. Apple's iPad Air 2020 is designed to have chips that transform the user experience making it the next big thing.
iPad Air 2020 is also thin and light in weight which makes it easier to carry and you can take it everywhere you go – be it going to college or to work or even to another country. You won't feel a thing and since it is portable it also has up to 10 hours of battery life that will keep you going. With fast Wi-Fi and up to Gigabit‑class LTE, you will be able to connect even while you are moving. Isn't that awesome?
Then there are more options to use the iPad Air 2020 now like you can connect it with a keyboard or just use it with a trackpad or stay classy and use your Apple Pencil to get done and over with your work in style. Also, you can install hundreds and thousands of apps – as many as you would have on your computer and then there are apps that are tailored for the iPad Air 2020 which means you won't have to get or go to another device to listen to music to, to create art, to make assignments or to do anything for that matter because all of that will be available right there on your iPad Air.
Interestingly, the new iPad 2020 is so smart that it will keep your files safe at one place and will also make it super easy for you to use them across other apps as well as devices and we just love it how Apple ensures smooth ways of working and living life. So, we know that iPad Air 2020 is like one of the best gadgets you can own in 2020 or even 2021 because of its super awesome features, the technologies that have been used to make it worth the money – we feel that now it is time to share what you can do to make it more fun!
Since the new iPad Air 2020 happens to have a lot of storage, cool features and specs. and even applications that have been and are being worked on specifically for this gadget, you can also start working on your amazing ideas of games and other entertainment apps etc. too. Or if your app already exists then how about you try to make it compatible with the iPad Air 2020?
Everything that you will design and develop can be shared with your team members and potential clients/investors using our free Apple iPad Air 2020 mock-up PSD file. So, get your hands on it and start creating magic!
Free Apple iPad Air 2020 Mockup PSD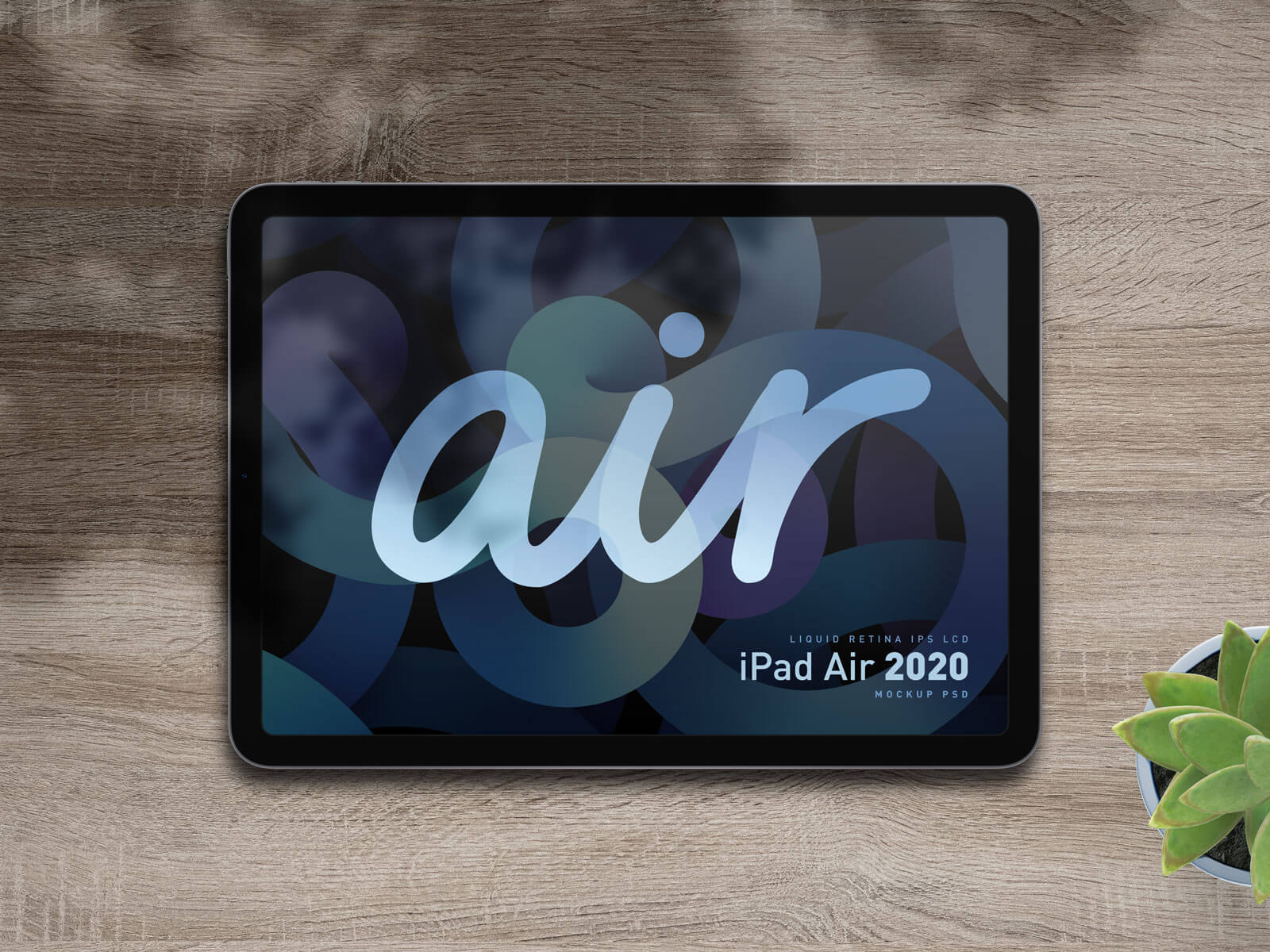 Available Format: Layered PSD with smart object insertion
License: Free for personal presentational use only
WinRAR File Includes: iPad Air 2020 Mockup PSD
Note:
1. PSD iPad Air 2020 Mock-Up is allowed for sharing online (A Must Linkback to this page)
2. Say thanks if you like or share/tweet with your friends.
Download iPad Air Mockup
Recommended: