Hi there friends! We hope that you guys are having a great time reading our content and that you are also creating magical designs and art works using and following our mockup PSD files, design templates and creative ideas. Your overwhelming response and constant support helps us come up with better and interesting content every day and today we are here with yet another blog + mockup PSD file and we are super excited to share it.
If you are one of our regular readers, then you would know how much we love creating stationery items for personal & professional uses and keeping in mind that 2021 is two months away, we decided to create a fee round stamp mockup PSD file for you guys. As you know that we create files that are highly editable, we also make sure that you enjoy the time that you are spending on making whatever is required from you and your team members. And like always, this mock-up PSD file will allow you to experiment with a lot of things too like the font, colors etc. so, let us get started!
To create a design for a round stamp, you first need to accept the fact that you won't have a lot of space to work on, but don't have to feel sad or discouraged about that as the round stamps look more classy than the regular rectangle ones and if we were to share our preference, then we would pick a round stamp on any given day. Also, round stamps are considered to be best shapes for a business – no matter what the business category our audience is, a round stamp for your brand will look really nice. And if you are not feeling creative today, then you can literally use your business logo or seal for the stamp design and you will be good to go.
Not just for attestations, but stamps are also used for multiple reasons for example; you can have your identity of a business or an individual declared through your stamp(s). Stamps are not just at the offices like banks, educational institutions etc. but you can use the stamps for confirming bill payments as well. As you know that stamps are another form of signing a document and confirms the agreement between two parties, individuals, business colleagues etc.
So, what are your plans for the round stamp design? Are you planning to revamp your business logo this year or for the coming year? If yes, then this free round stamp mock-up PSD file is for you. This round stamp design mock-up PSD file is also for you if you are planning to create your own designs for a stationery online store or for a physical shop – stamps that can be used by teachers to appreciate their students, friends that can confirm their friendship bond with their other friends or for someone who likes to collect stamps and would do anything to keep that number going up.
As you know that mock-up designs and presentations are super helpful when it comes to design review meetings or even when you have to share the creative thought process and ideas with your internal team members / boss leads etc. And we know that we mention this in almost every blog of ours but since it is important, we have to share this effective tip here too: always create multiple design options that you can put together for your detailed mock-up presentation. Now, there are many ways to create mock-up presentations for example; many people prefer showing just the designs whereas; you can also pair the design options with well written rationales as well to engage with the audience / decision makers and then help them make an informed decision regarding the final options that are good to be manufactured, produced etc.
With our free round stamp mockup PSD file, you guys can create as many designs as you would like to create for your own business or for your client's business. We would like to mention it here that it is super important to keep the fonts easy to read. Also, choose such fonts that won't let the copy merge within the alphabets after being stamped on a piece of paper etc.
We will also suggest you guys to work on at least 2 to 3 design options so that you are providing with a variety of creative thoughts to look at as doing so will not only help you in gaining the clients' trust but you will also be able to showcase your thinking and design skills too and that, we think is more than important than anything else in the world.
That's all for today! We will see you guys next time with another interesting content piece of ours – until then don't forget to share your feedback with us in the comments section down below.
Free Corporate Round Stamp on Letterhead Mockup PSD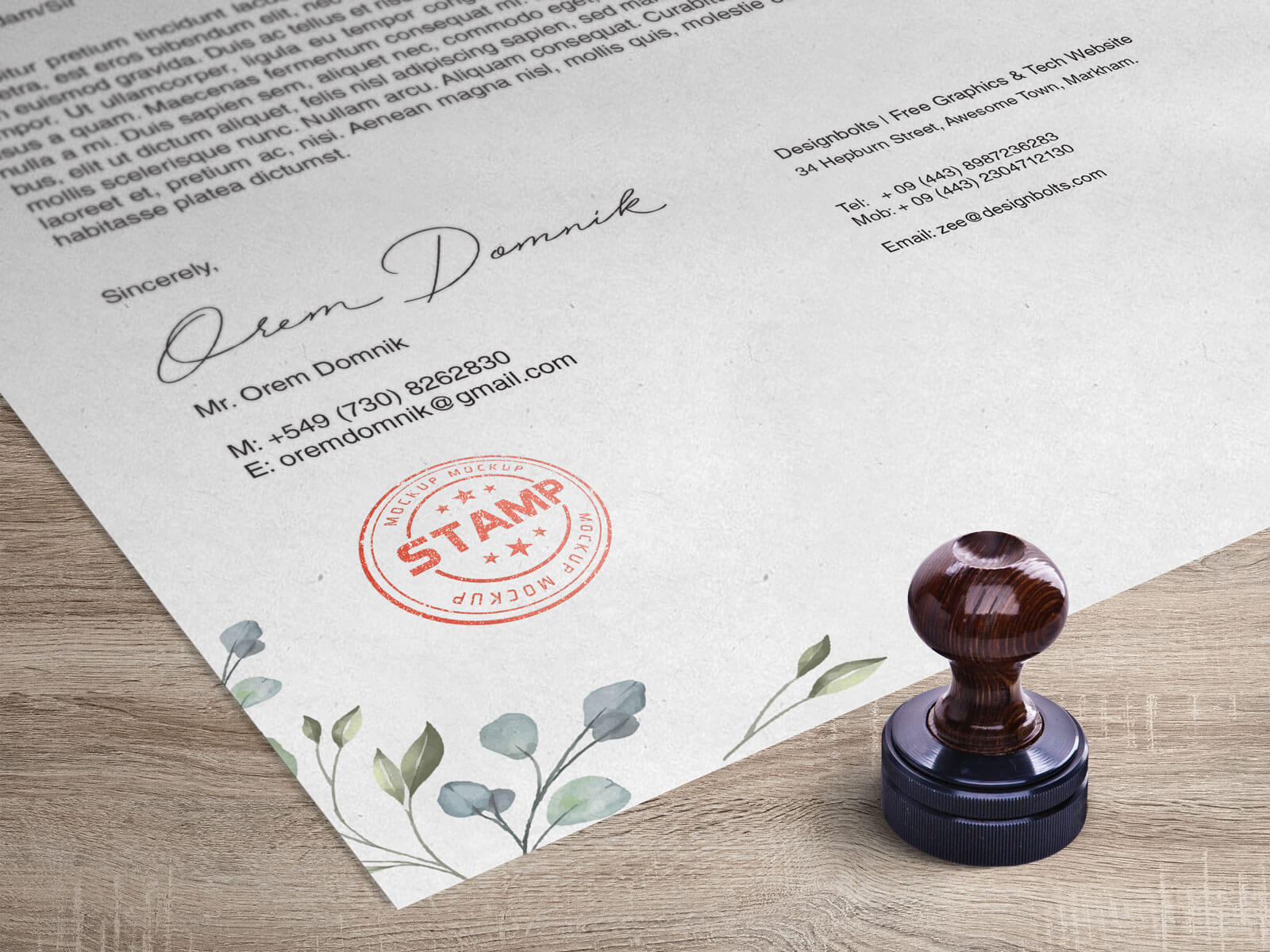 Available Format: Photoshop PSD
License: Free for personal and commercial usage
File Format: WinRAR
Mockup Resolution: 3000 x 2250 px
Note:
1. Free Round Stamp Mockup is allowed to share online (A Must Linkback to this page)
2. Say thanks if you like or share/tweet with your friends. That means a lot to me.
3. And don't forget to follow or subscribe to receive more high quality premium freebies & awesome articles only.
Download Stamp Mockup
More Stamp Mockup PSD Files: