Hi there, hello there! We hope you guys are doing great and are also having a great time reading our blogs. Your positive feedback and comments tell us that you are working on super awesome design projects using our free mock-up PSD files and design templates and we are so glad that you guys utilize whatever we share here. For our today's blog, we have created a free letter size flyer mock-up PSD file that will help you promote your business in the most perfect ways so, let us get started!
If you are one of those readers who are here for a very long time, then you guys would know how much we love creating flyer designs. And if you have joined us recently, then we would love to share how effective flyer marketing is and how it can help you promote your brand messages to a larger audience – even if you have limited resources and budget for that matter. It is also very important for you guys to know that you can gather more and better leads with a well-designed flyer and a campaign that is executed properly.
In addition to that, you can sue flyers for a number of purposes for example; to promote a new product / service that you have just added to your business model, to celebrate the launch of a new store, outlet, pop-up shop, to announce a sale or an event (end of season sale, mid-season sale, brand launch, bloggers' meet-up etc.) or to communicate with your customers by simply sending out your flyers to them mentioning safety tips, reminders or anything relevant for that matter.
The fact that flyer marketing is relevant and effective even in this (digital) age is what motivates us to keep creating designs that will help you do your work so that you can talk to your existing customers and while you are at it, you can also make new customers too. It is literally about the design, the content and the marketing strategy that you choose to make everything work like it should. Here are a few reasons why you and your client must consider promoting the business or spreading the brand message through flyers:
Flyer marketing is a cost-effective model of talking about your business and making that noise so that you can be seen by becoming even more visible. Even the printing and the distribution of the flyers is inexpensive.
As you that with the passage of time, new technologies keep getting introduced and when that happens, it also open new doors of opportunities too. Similarly, flyers can now be linked to your online portals and websites from where you can track and measure the success rate of your marketing campaign(s) as well.
Interestingly, flyer marketing also helps when you want to roll out a piece of information in a matter of a few hours. You can have your flyers designed and printed at short notice and can have them distributed among the community if you need to spread the message fast.
Flyers also help when it comes to tangible marketing materials – something that can be touched (and also has a nice & effective brand message too) cannot be forgotten easily. A flyer is not something that might get lost in a folder that happens to receive a lot of emails daily.
And now it is time to share how our free letter size flyer mock-up PSD file can help you make a bunch of stunning designs in no time. As you guys know that all our mock-up PSDs and design templates are free to download and highly editable to work on, this flyer mock-up is no different but we can bet that you will have a great time working on it. We have also kept the flyer in a natural setting so that you can make a presentable mock-up presentation to impress your team members, team lead as well as your client(s).
As you can see that this letter size flyer has a lot of space for you to work – that means that you can even divide it into multiple sections if you have more than one messages to communicate to the audience. Keep reading the blog to know about a few effective design tips that you must follow to create your flyer(s)!
Start with a catchy headline to grab the attention.
Always ensure that your content is brief and to the point – it is a flyer and not a story book.
Using bullet points and infographics will help your readers go through the flyer easily.
(Always) add a call to action for your readers and be as creative as you can be.
Keep in mind that the colors, fonts as well as the design elements must be relevant, and they should complement your message too.
Don't forget to proofread your content before you share the designs with a client or before sending it to a third-party vendor to print the flyers.
And that is all for today! We hope that you will enjoy working on our free letter size flyer mock-up PSD file. Oh, and do share the blog with your friends and favorite colleagues too.
– – – – – – – – – – – – – – – – – – – – – – – – – – – –
More Awesome Free Mockups:
– – – – – – – – – – – – – – – – – – – – – – – – – – – –
Free U.S. Paper Letter Size Flyer Mockup PSD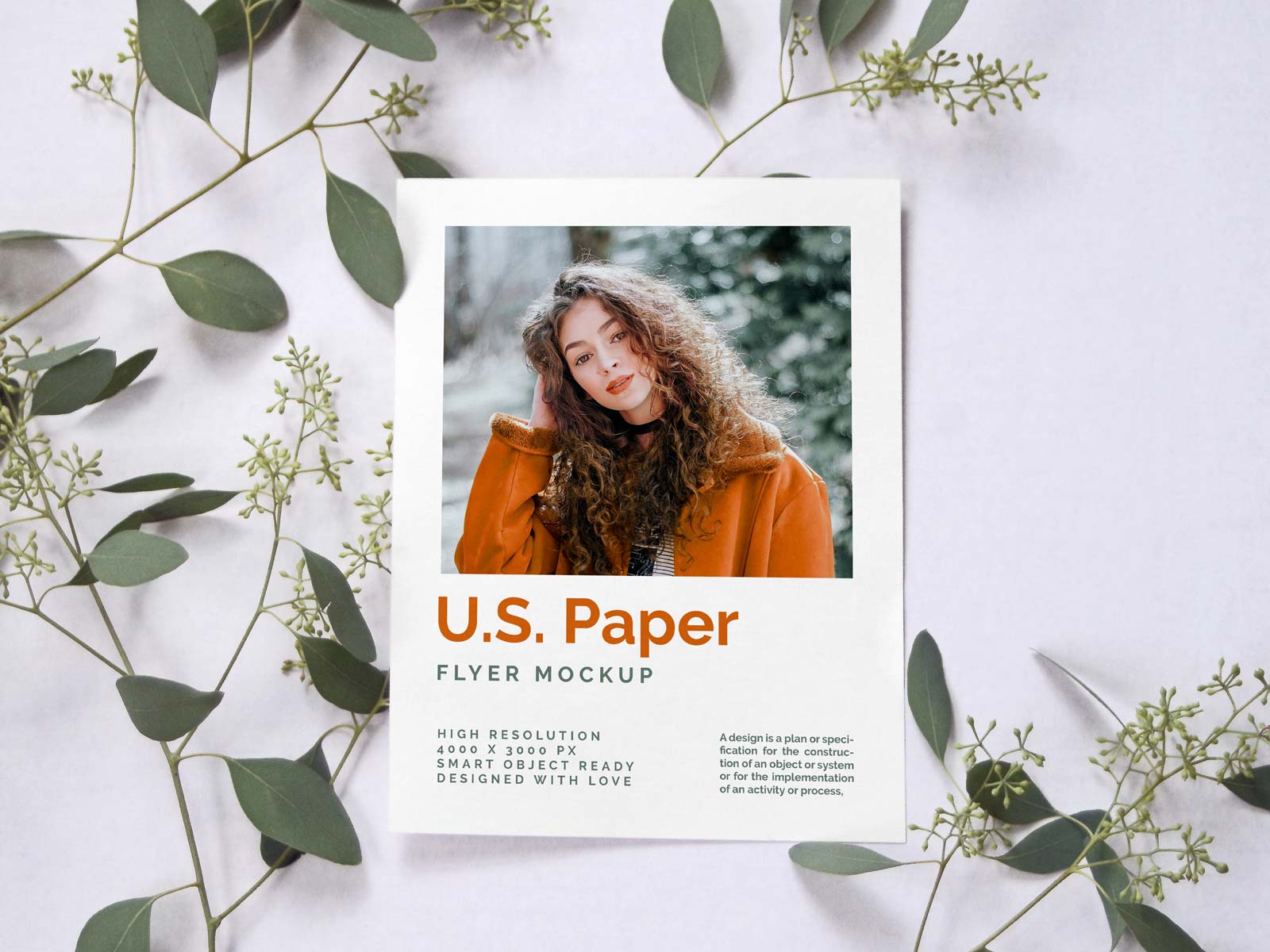 Available Format: Layered PSD with smart object insertion
License: Free for personal and commercial usage
RAR File Includes: Free Letter Size Mockup PSD
Design Template Resolution: U.S. Paper
Note:
1. Free PSD Mockup is allowed to share online (A Must Linkback to this post)
2. Say thanks if you like or share/tweet with your friends. That means a lot to us.
3. And don't forget to subscribe to receive for more high quality premium freebies & awesome articles only.
Download Letter Paper Mockup
More A4 Size Free Mockups: