Hello there everybody! We are back with yet another interesting blog of ours and of course, a free yet highly editable mock-up PSD file for you guys but before we start talking about what we have created, we would like to thank you all for being super supportive, for sharing your positive & constructive feedback with us on our previous blogs and for also suggesting really cool ideas too. With the passage of time, we will ensure that all your requests are catered to in the best possible ways.
Now, let us come to the point. We have created this free wall framed restaurant menu mock-up PSD for several reasons but the most basic one is that we needed to ensure your safety especially during the time of Coronavirus. Since, the virus is still here and a few countries have already announced to implement lockdowns for their people, we wanted to create something that your restaurant customers can use without holding it. Allow us to share the details of our free wall framed restaurant menu mock-up PSD file and how you can use it for your business in times to come!
We have always liked how menus are created and the way they are presented to the customers who choose to dine-in, it is a whole experience and can be made fun too if you really want to engage with your customers even before they try the food that your amazing chefs cook. There are multiple ways to make engaging and attractive menu cards and books that allow the customers to go through the items from starters and appetizers all the way to the section of drinks where they can also read about the portions, calories and so much more.
For our previous blogs that would cover a menu design, we have also encouraged you guys to add the details about anything that is considered an allergen. It not only makes you a responsible business / restaurant owner, but you can become a person's favorite instantly because you thought about them in ways not many restaurant or eatery owners do.
Recommended: Beautiful Food Menu Ideas
A wall framed restaurant menu is more convenient than a menu that can be handed to your customers and here is why:
It will be a one-time investment in most cases, especially if you have a set of items to cook and sell. But even if you would want to add more stuff to your menu, you can always create another wall framed menu for that purpose too (yes, it is that simple!).
You really won't have to worry about having more copies made because the already existing ones got dirty, torn etc. And you can be as fancy as you would want to go for your wall framed restaurant menu too because there are absolutely no restrictions.
Wall framed menus are also preferred because they can be personalized easily, and they are also accessible to people from a distance too and we think that's great.
You must be wondering about everything that you can incorporate into our wall framed restaurant mock-up PSD for your own business or for the ones that you are associated with as their creative agency. So, to help you guys out with the basics, we would love to share a few effective tips with you guys that will help you create stunning restaurant menus in no time. Keep reading the blog to know more!
First things first; you guys need to determine the theme that you would be following to create the design(s). Your design of the menu must complement the interior and exterior of the restaurant, the types of food that is going to be available as well as the brand persona too. We would also like to mention it here that you can keep the tone of the design funky, conventional or a fusion of both depending on the design brief and requirements.
Recommended: Restaurant Menu Design Ideas
Your next step is to work around the dimensions for the final project (obviously) or you can ask the client to share the dimensions with you or the walls on which they would want to hang the framed menu. As far as the fonts etc. are concerned, this will depend on the themes that you will work on but always choose fonts and styles that are easy on the eyes. You can make the frame fancy by using design elements or literally the food images to entice your customers even more.
This is for later stages, but you must always prefer using a good quality glass for the frame so, that the menu looks nice and attractive and goes well with the overall setting of the restaurant.
And this is all for today, you guys! We hope that our free wall framed restaurant menu mock-up PSD file and blog will help you make beautiful designs for your personal & commercial projects. Don't forget to share your feedback with us in the comments section down below and while you are at it, do share our blog with your favorite colleagues too.
Free Wall Framed Food Restaurant Menu Poster Mockup PSD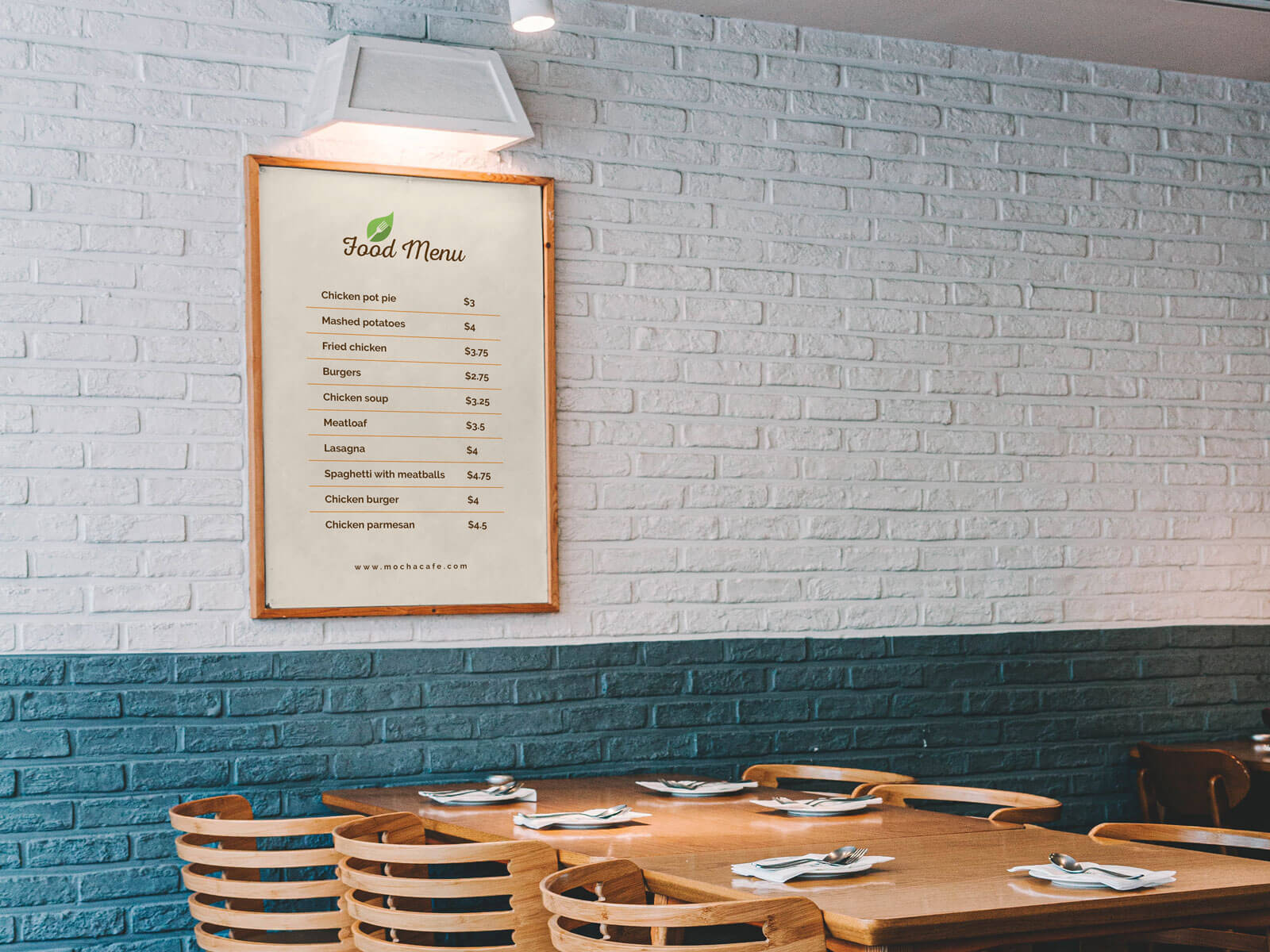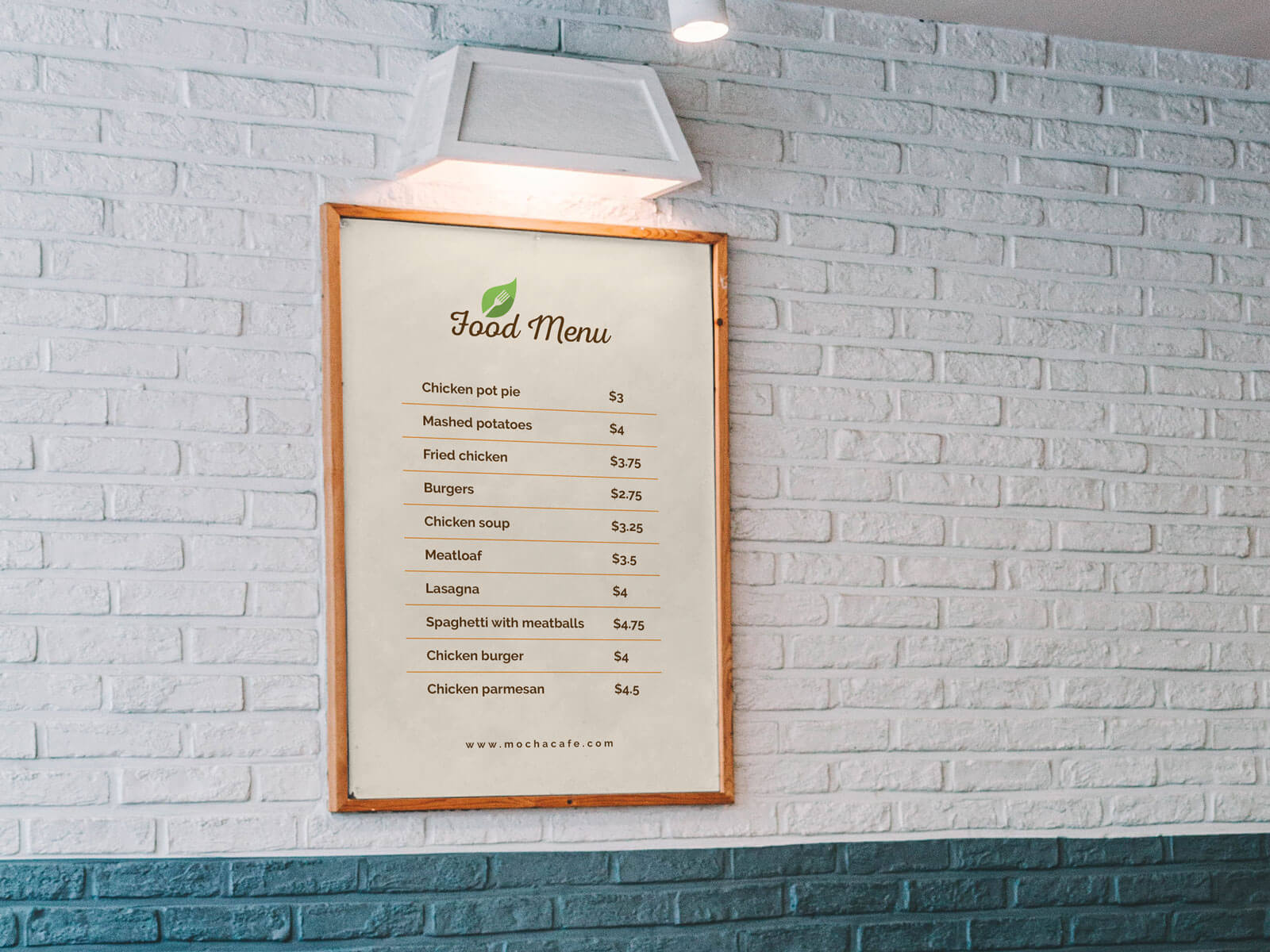 Available Format: Photoshop PSD
License: Free for personal and commercial usage
File Format: WinRAR
Mockup Resolution: 4000 x 3000 px
Note:
1. Free Restaurant Menu Poster Mockup is allowed to share online (A Must Linkback to this page)
2. Say thanks if you like or share/tweet with your friends. That means a lot to me.
3. And don't forget to follow or subscribe to receive more high quality premium freebies & awesome articles only.
Download Menu Poster Mockup
More Free High Quality Menu Mockups: