Hi there friends! We hope that our blogs and mock-up PSD files are helping you with your successful campaigns and design projects and that you guys are also enjoying working on highly editable files and stuff. For our today's blog, we have chosen to talk about one of those regular life items that are going to stay no matter how modern trends and techniques and technology will evolve. Yes, we are talking about newspapers and how they are still relevant (for good) and our newspaper mock-up PSD file will help you create whatever you would want to create it so, let us get started!
We know that almost all of us now have a smartphone or a device that can be connected to the internet and we can literally access anything and everything right from our couch – unless you are in a country that does not allow a set of applications and websites to control the usage and promotion of some content. But there are many people around the world who still go to a hawker or those who get their newspapers delivered at their door step (including us, of course) because that is the only legit way of doing it, you know!?
You must be wondering about that when we can access any news channel whatsoever, why one should spend their money on a monthly subscription for the newspapers but we are sure that at some point in your life, even you would have wanted to have a hard cover book instead of reading it from your laptop / iPad etc. Also, we are not saying that the ones who are comfortable reading something from a digital screen are doing it wrong or anything like that but what we do mean to say is that there are a few things and practices that should not die – they must live on for the generations to enjoy.
We are sure that there will come a time when the paper that is used to print newspapers is going to be recycled so that we won't have to cut tress or be harmful for the planet so, here is to hoping that we do wake up some day for happy news for ourselves as well as for our planet too.
So, how do you think is a newspaper created? We are not talking about the process of collecting the paper and everything else that is required to print a newspaper for you. But what we are asking is about the content, design and everything that follows. First things first; it is one of those printing jobs that require more than a 100 percent from you (and your team). It has a lot of sections to cover and literally fill when it comes to content, it must also have high res. images, there has to be a continuous fact checking too and of course, whoever is a contributor needs to be credited for their work as well.
A newspaper is like a pool of information, facts, interesting news & updates as well as advertisements to keep the readers entertained and to also help them stay up to date with whatever is happening, not just in their country but in the world as well. And then there is a section of news that has to be put up on the latest edition of a newspaper and is known as stop press or stop the presses. This practice is followed when an important piece of information is discovered and that news has to be shared with the general audience, then it can be shared without having to wait for the newer edition to be printed and circulated in the city.
By creating this mock-up PSD file, we know that you guys will be able to literally design a newspaper / newsletter for your organization or for the company that gets to produce newspapers. You can be all kinds of creative when it comes to the design of the newspaper and for the printing, you can get in touch with a third party vendor quite easily.
We know that we always mention this in (almost) every blog of ours but since it is something super important, we want you guys to be well prepared for your design review meetings so here it goes again: whenever you create a design using multiple creative thoughts for a campaign, a digital ad, social media posts or anything that has to be printed, produced or manufactured, you must also create a detailed and well explained mock-up presentation too.
Yes, we are aware that there are days when a graphic designer does not get to breathe but when you show your commitment towards your work before you have even bagged a business deal, you will be able to impress your clients instantly and that is the validation that most of us live for, right?
That is all for today! We hope that our blog and free newspaper mock-up PSD file will help you create interesting designs for your projects. Feel free to share your feedback with us in the comments section down below!
Free Newspaper Mockup PSD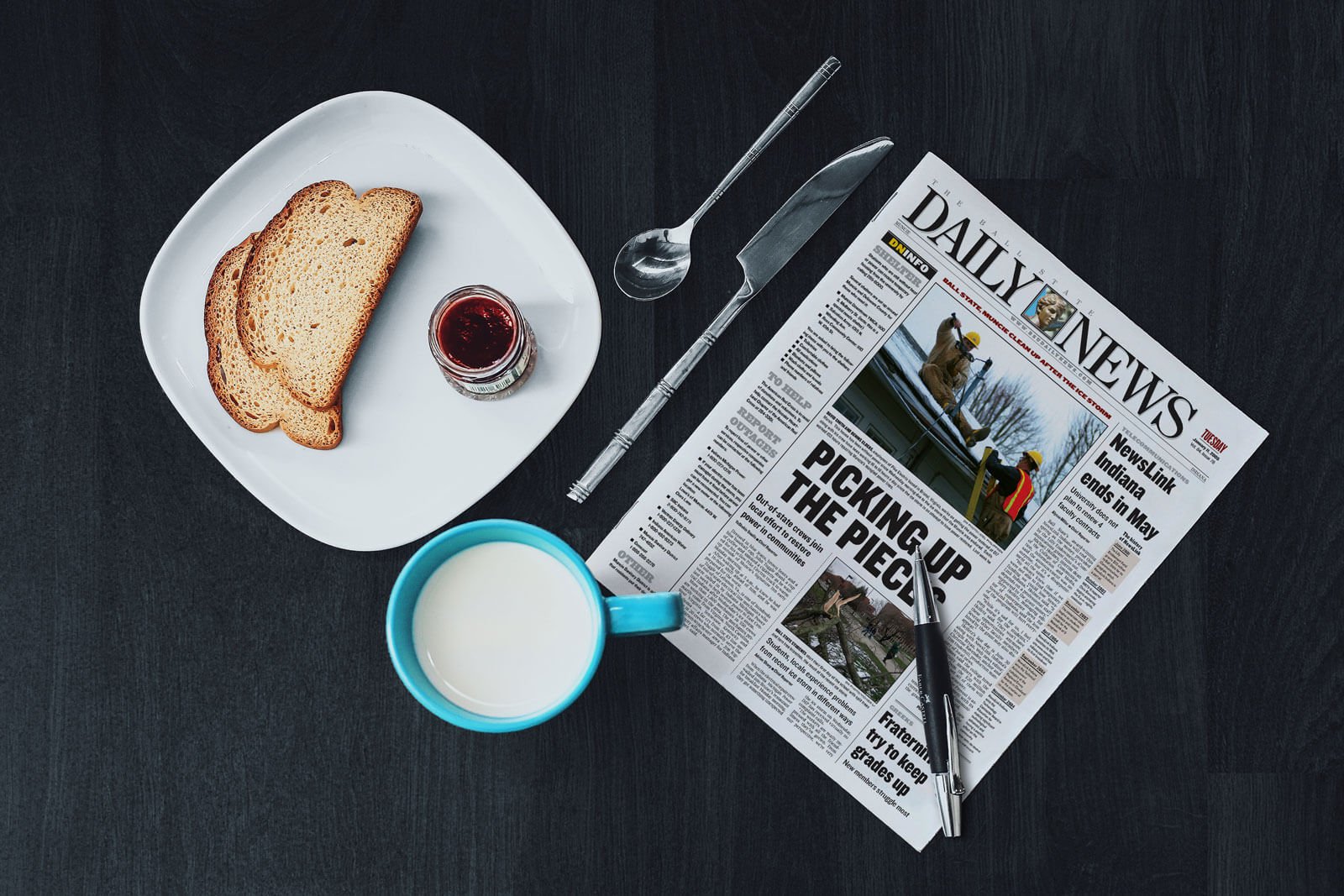 Available Format: Photoshop PSD
License: Free for personal and commercial usage
File Format: WinRAR
Mockup Resolution: 4500 x 3000 px
Note:
1. Free Newspaper Mockup is allowed to share online (A Must Linkback to this page)
2. Say thanks if you like or share/tweet with your friends. That means a lot to me.
3. And don't forget to follow or subscribe to receive more high quality premium freebies & awesome articles only.
Download Newspaper Mockup
Recommended: