Hello there friends! We hope that our previous blogs we useful for your personal and commercial projects and that you are having a great time working on our mock-up PSDs and creative ideas too. We were going through our comments section the other day and we got to read a few comments in which you guys wanted us to share a shop signage design as many of you are planning to revamp the branding and all so, here we are with a brand new mock-up PSD file of a square shop signage and of course, a bunch of effective design tips as well. Let's get started!
Recommended: 60+ Best Free Signage Mockups
As we have mentioned in our other blogs as well that your shop branding is that one thing that will convince your customers to step in and decide if they would want to use your services or to pay for your products that you are selling. That is literally how it is. Yes, your marketing and advertising on digital and social media platforms must be doing wonders as far as online sales and traffic are concerned but footfall matters too and in terms of running a business conventionally, you need to make sure that you are perfect when it comes to how you brand your shops, stores, cafés, etc.
You would know that with the passage of time, many things have changed, trends of creating a branding design literally get upgraded on a daily basis and when that happens, the audiences start preferring the brands and businesses that keep themselves up to date. Imagine a brand that spends millions on their Facebook ads and stuff, but they really do not care about how their physical stores look like. Do you think people would want to go to the store? The answer is simple, and it is a no.
We happen to know many people who keep trying to figure out how they can do better but because they never try to rebrand or create a branding design that would attract people to even look at the shops, they end up failing the business. So, what is it that keeps the enthusiasm as well as the business alive? If you want to know about that and more, you need to continue reading the blog!
To make your strategies and your business work, you have to make sure that you are putting your best on the table. And when you will do that, you won't have to do anything else. Maybe you even won't have to spend a lot of money too (yes, we are not kidding!) because the key is to make them fall in love with your brand / business so hard that it becomes difficult for them to walk away. Not just that, if your services and products are absolutely brilliant, they will keep bringing more and more people to your digital & social media platforms and they will also accompany them to your physical stores too – you just need to do your all and wait for the best to happen.
Recommended: 50+ Vintage Hotel Signage Ideas
A square shop signage mock-up PSD will help you guys experiment with a lot of ideas and when you will know what works best for you, we are sure that you will also be able to make an informed decision about the final design. Okay so, to start working on the design, there are a couple of things that you must keep in mid for example; arrange multiple brainstorming sessions with your team members where you can analyze the current branding, your competitors' strategies as well as to evaluate your own thought processes. Always record your ideas and suggestions given by your team members in one place so that you can utilize them for future references.
You know that you have to create something that no one has done before – not even you and that your product, branding and everything else that matters has to be on point too. You can only do that if you have that in you to take the risks. Just stick with your ideas and make sure that you and your team members can convince the client(s) to go with them as well. Never forget that you can make an impression (and a good one) when you do things that are not ordinary.
Create quirky copy, use design elements that you have never used before, go with modern techniques and incorporate them into your designs to stand out – that is all that will help you get there where you are supposed to be and honestly, it won't come easy so, be prepared for the best and the worst but do it and make yourself proud while your business gets the recognition that it deserves.
Our free square shop signage mock-up PSD file will let you do whatever you want to do in order to create attractive branding designs so, what are you waiting for? Get your hands on the file right away and start working on your (crazy) ideas.
Free Square Shop Signage Board Mockup PSD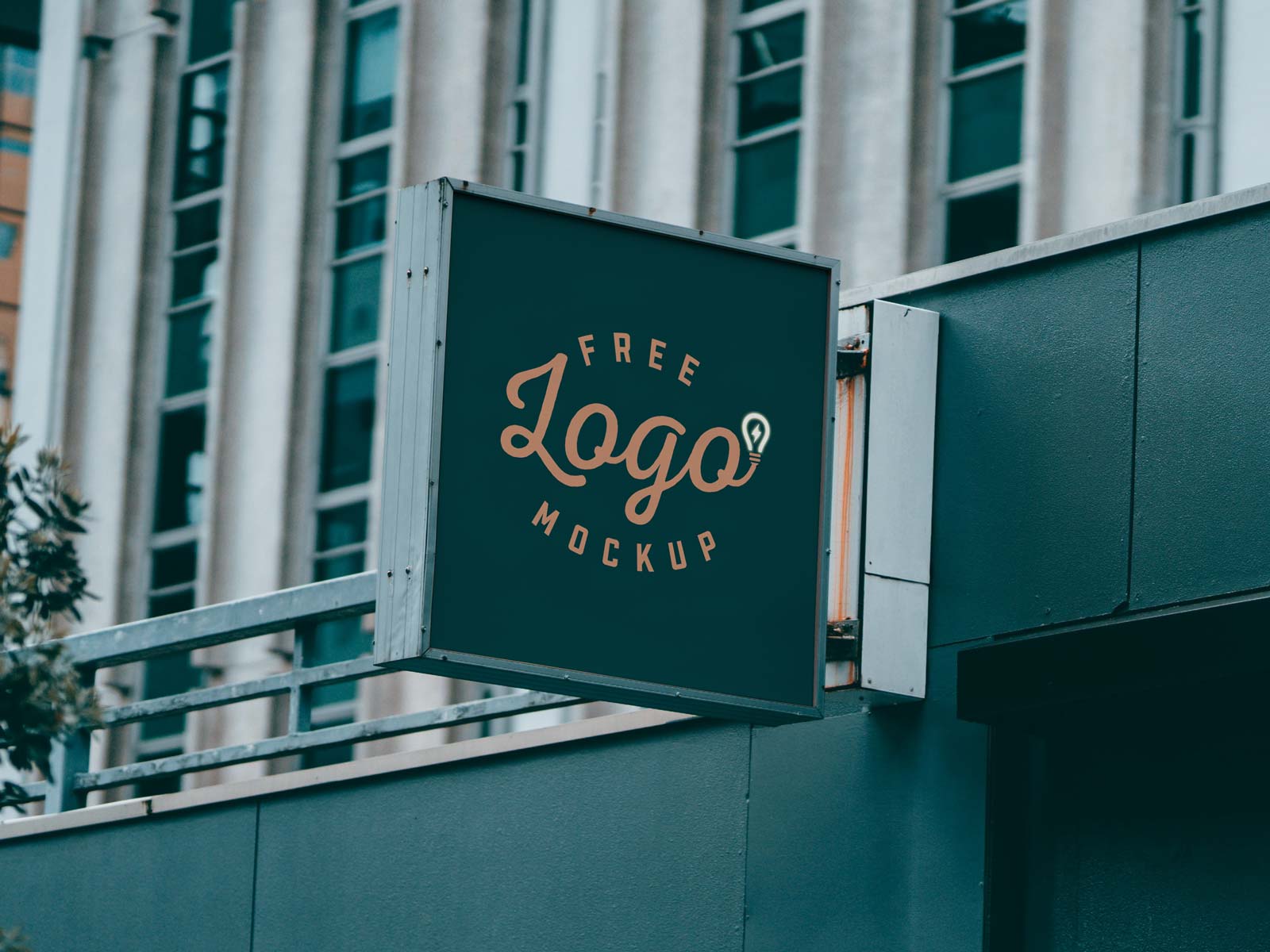 Available Format: Photoshop PSD
License: Free for personal and commercial usage
File Format: WinRAR
Mockup Resolution: 3000 x 2250 px
Note:
1. Free Square Signage Mockup is allowed to share online (A Must Linkback to this page)
2. Say thanks if you like or share/tweet with your friends. That means a lot to me.
3. And don't forget to follow or subscribe to receive more high quality premium freebies & awesome articles only.
Download Sign Board Mockup
More Free Sign Board Mockup PSD Files: