Hi there everybody! We hope that you guys are keeping safe and are also enjoying our blogs. Your comments and genuine feedback on our content ideas, mock-up PSD files and everything else that we share here tell us that you are also being able to produce and deliver successful campaigns. We would like to thank each one of you for your constant support – keep your comments and suggestions coming in so that you can motivate us to do and create even better!
Recommended: 60+ Best Free Signage Mockups
Our today's blog is going to be about a signboard which we have created in a round shape for multiple reasons but the most important one is that we needed to design something different and unique so that you can put it up outside your café or maybe even your restaurant to change the look and feel, and also because most of you are planning to renovate the exteriors of your shops, stores etc. so we wanted to move away from usual shapes of the signboards.
If you are one of those people who want to do something new this year or if you have friends who have been wanting the same then this one is for you so, keep reading the blog to know more.
Our café round signboard mock-up PSD file despite being free is highly editable and it will let you do whatever you would want to create with it. You will be able to add and remove the design elements that do not complement your design brief and creative thought processes and you will also be able to change the colors, font & styles and if you like it as is, then of course you can go with what we have created for you. Allow us to share how you must start your design process in order to create a couple of attractive and brilliant designs for the round signboard!
First things first, if you are working with an advertising and marketing agency, then you need to ask for a detailed design brief so that you know and can also understand the objective and goals that are expected from a certain advertising and marketing campaigns. And if you are working as a freelance graphic designer, even then you must request your client to share a brief with you so that you can move forward with the creative thinking and your design process.
Recommended: 50+ Vintage Hotel Signage Ideas
Now, there could be many different reasons of why a business wants to change the way it looks and appears to the audience. It could be entirely changing the brand personality; it could be that the business owner is planning to add something new to the menu and the existing marketing signboard does not really go with that addition and so on and so forth. What you need to know and understand is that if there is (really) a need to do it or nah. Yes, you are getting a business and you must do it no matter what but what if the business does not really require a major changing or what if the strategy needs to be revised?!
Keeping in mind the challenges, opportunities and the pros and cons of doing something new when it comes to branding a business is extremely important. You must always make sure that whatever you are doing makes sense otherwise, it will feel like that you are doing it for the sake of it without even analyzing the insights.
Once you have done your research at a personal level, you must look around and see what the competition is doing. And your next step would be to find out the gap and that strategy which is going to make you stand out from the crowd. Honestly, it could be anything from literally the colors to putting the signboard at a position where it stands tall – in the sense that it shows on its own and is so attractive that it can bring your potential customers to the café just like that.
As you know that your mock-ups and a detailed presentation can help you demonstrate your ideas in a better way so we would like to encourage you guys (again) to create a nice presentation along with the rationales that you will be presenting in front of your team lead(s) and your clients so that they can visualize the ideas and can also make an informed decision based on what they are seeing.
For the designs, you can mix and match whatever you think will go with the brand and of course with the design brief that you have with you. Play and experiment with colors, fonts, styles and images to see what looks best so that you can compile them all in your mock-up presentation.
That is all for today! We hope that you will find this blog useful and that you will have a great time working on our free café round signboard mock-up PSD file. Oh, and don't forget to share the blog with your favorite colleagues!
Free Cafe Round Signboard Mockup PSD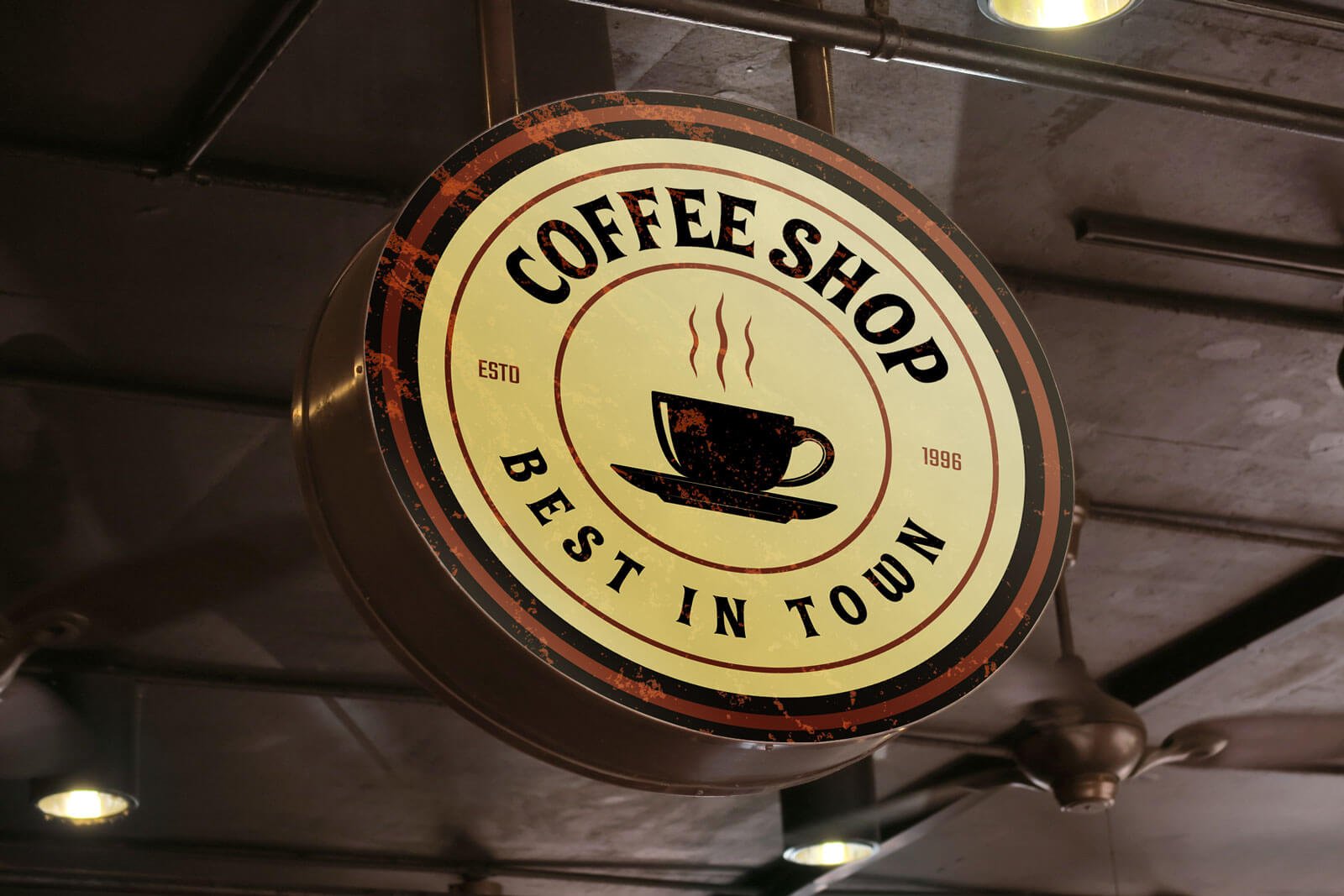 Available Format: Photoshop PSD
License: Free for personal and commercial usage
File Format: WinRAR
Mockup Resolution: 2304 x 1536 px
Note:
1. Free Round Signage Mockup is allowed to share online (A Must Linkback to this page)
2. Say thanks if you like or share/tweet with your friends. That means a lot to me.
3. And don't forget to follow or subscribe to receive more high quality premium freebies & awesome articles only.
Download Sign Board Mockup
More Free Sign Board Mockup PSD Files: