Hello there friends! We are back with yet another informative blog of ours that we have paired with a free yet highly editable mock-up PSD file and we are sure that you guys are going to love it especially if you were already planning to try something new to promote your businesses etc. But before we start talking about what we have shared and what you can do to make things work for you effectively, we would like to thank you all for your constant support, your constructive criticism as well as for your super interesting suggestions too. We will look forward to reading your comments so, keep 'em coming!
Let us come to the point now! We are sure that ever since the Coronavirus started to change the way of how we used to live our personal and professional lives, individuals and businesses had to revise and recreate their strategies in order to keep moving forward. And yes, we do know that it has been quite tough to manage things but now that we are figuring out how to do them in a better way, we know that we will get through this.
As you know that innovation in advertising and marketing has always been the key to success. You have got to be doing new things to make your work fun as well as to keep your audiences interested in you / your products / services. Now, truck transportation marketing is not something that is new but how many businesses are doing it!? Not a lot. That could be due to various reasons – especially when you are low on budgets and you have to make sure that whatever you do gets you tractions.
And then of course, some members of your team would want to spend all the money on the digital ads and stuff while the rest of them would want to invest it on conventional marketing and advertising of the products and services. But you know what, guys? We have a better and a more effective plan and we are sure that you guys are going to do great with our strategy. So, keep reading the blog to know more.
Recommended: Inspiring Creative Outdoor Billboard Ad Campaign To Save Water
Yes, media planning is a tough job and knowing how to do it in a way that it nothing but good results is something only the experts know. But have you ever wondered that you can literally divide the budgets in such a way that it will bring more and more leads for the business. For example; in our blog today, we are talking about how to market and advertise through the backside of a truck by creating unique and relevant designs and you are reading it online – digitally. It is like a connection between the two that technology has blessed us with so, it is important for us to make the most it too, right?
Keeping in mind that and more, we would like to suggest you all to do the same, build a connection between your conventional and digital marketing and advertising strategies and see how things will keep getting better on a daily basis. If you are still worried about who will watch the truck transportation ads, then we are here to tell you the solution for that too. All you have to do is to announce digital competitions where your audience will have to literally find your branded trucks, take photos and share them with you on your social media platforms. Your competition could be about things like best photography of a moving truck, highest number of photos of branded trucks by spotting them etc.
Recommended: 20 Outdoor / Indoor Creative Sign Design Ideas For Inspiration
You can announce discount offers for your existing and potential customers, you can send giveaways to them too for participating in the competition(s) as well and trust us when we say this: you are going to be recognized on being different and creative when it comes to combining the two types of promotional campaigns. Also, do not hold back and hesitate when it comes to trying out new things that may sound weird to you at first because normally what happens is that those are the things that make it to the final rounds of getting approved and going live too.
Now, let us talk about what we have created for you guys! Our free backside of truck transportation mock-up PSD file is divided into two sections, although, of course you can see what will work best for you when it comes to sectioning of the content. We have kept the fonts and styles as well as the colors subtle to attract attention and to ensure that they are easy on the eyes. We would like to encourage you guys to use high resolution images and design elements to complement the designs for the art works.
Free Backside of Truck Transportation Mockup PSD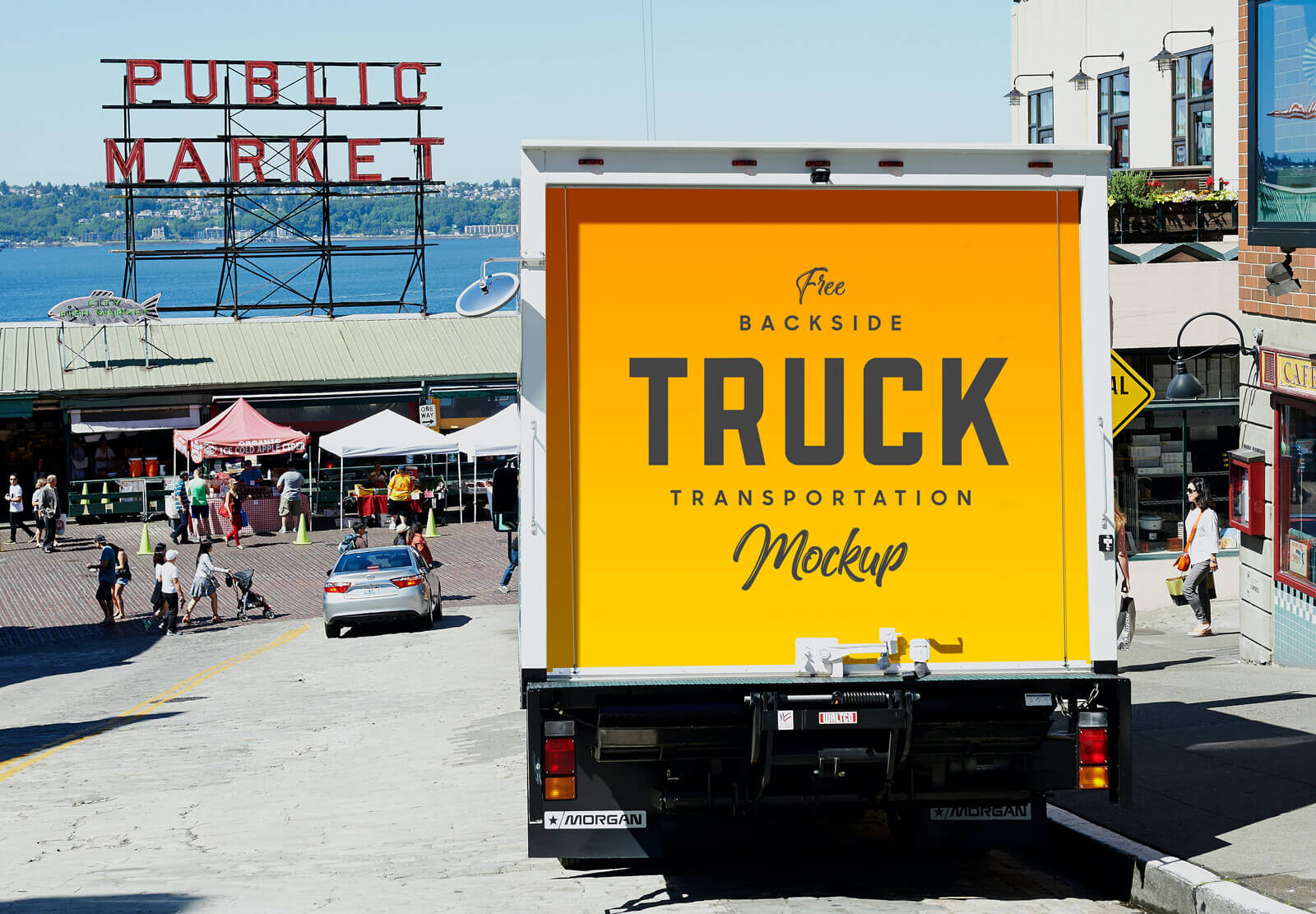 Available Format: Photoshop PSD
License: Free for personal and commercial usage
File Format: WinRAR
Mockup Resolution: 3600 x 2500 px
Note:
1. Free Truck Mockup is allowed to share online (A Must Linkback to this page)
2. Say thanks if you like or share/tweet with your friends. That means a lot to me.
3. And don't forget to follow or subscribe to receive more high quality premium freebies & awesome articles only.
Download Truck Ad Mockup
More free mockups psd files: