Hello there friends! Thanks, you guys so much for your overwhelming response on our previous blogs and for using our free design templates, mock-up PSD files and creative ideas and for also sharing them with the ones you love and work with. We would also like to mention it here that all your requests and suggestions are being worked on and we will start sharing the content super soon until then let's talk about our free paper coffee cups mock-up PSD file today!
This is something that we have experienced quite a lot of times and although, we are sure that we are not the only ones to have faced that, we would like to ask you guys this question – feel free to respond in the comments section down below! So, do you have friends or do you know people who tell you that feeling cold is in the head and that you can feel warm by merely thinking that it is not December and that you are at a place that's nice and warm? It has happened so many times that now we smile and walk away.
We are asking you all that because we want to share it with you guys that whatever these people tell us is not true. You cannot control how your body should feel if the temperature is too high or too low. It is literally something that has an impact on our bodies physically and in order to function properly throughout the day, we need to make sure that we are comfortable as well. Hence proved, you cannot feel all warm and cozy by just thinking about something and completely ignoring the fact that the temperature is low or you cannot feel all breezy and fresh under the sun that is practically frying you and making you sweat.
Right now; in most parts of the world, winters are in full swing and to keep themselves warm, people love taking hot beverages and drinks. If we were to share what we go through and how we cope with this cold weather then we would simply say that the only things that keep us going are layers of clothes, hot drinks and heaters. And if for some reason, any of these things is missing, then it is a hard day for us. Also, we are assuming that a lot of you would be able to relate to this experience because well, that is how it is, and we must be prepared to deal with the it too.
Keeping the need of having hot beverages through out these 3 to 4 months or even longer in some countries, we thought of creating a mock-up PSD file of free coffee cups to cater to your demands. A little something about our mock-up and then we will share a few effective tips so that you can make your designs even more awesome. Keep reading the blog to know how!
First things first; we all must know that all of us are living a life that requires it from us to be active and on the go. When something like that happens, it becomes absolutely necessary for everyone to shape the routine life in such a way that it does not stop us from doing our thing. Picking up coffee from one's favorite café is such a thing that happens every single day – even if you are running a little late, you will make sure that you stop by and pick your cup of coffee and leave.
To attract more such people that will make it a habit to come to *your* coffee place, you have to create something fun that will make them look cool while they sip on their coffees at work on anywhere else for that matter. We can bet that your creative juices have started flowing so, allow us to help you with them in a more systematic way!
People want to have coffee and you want them to have it from your café – the deal is to make that happen with a twist (if not every day or week, then every month). Create designs that will go with their personality for example; if a creative Manager of a marketing agency is stopping by to get their cup of coffee on a Monday, you need to give them their coffee in a cup that reads something along the lines of 'Beat the Monday blues with us!'. Or if there is a business entrepreneur stepping in, make sure that they leave your coffee shop feeling motivated to do something crazy (work-wise) on that day.
You can also design thematic coffee cups for your customers – ask them questions to understand their needs and then present them something they will cherish for a long time. And that is how you will be able to end up with more and more loyal customers every single day. So, what are you waiting for? Get your hands on our free paper coffee cups mock-up PSD file right away and start creating your own cool designs.
Free 3 Paper Coffee Cups Presentation Mockup PSD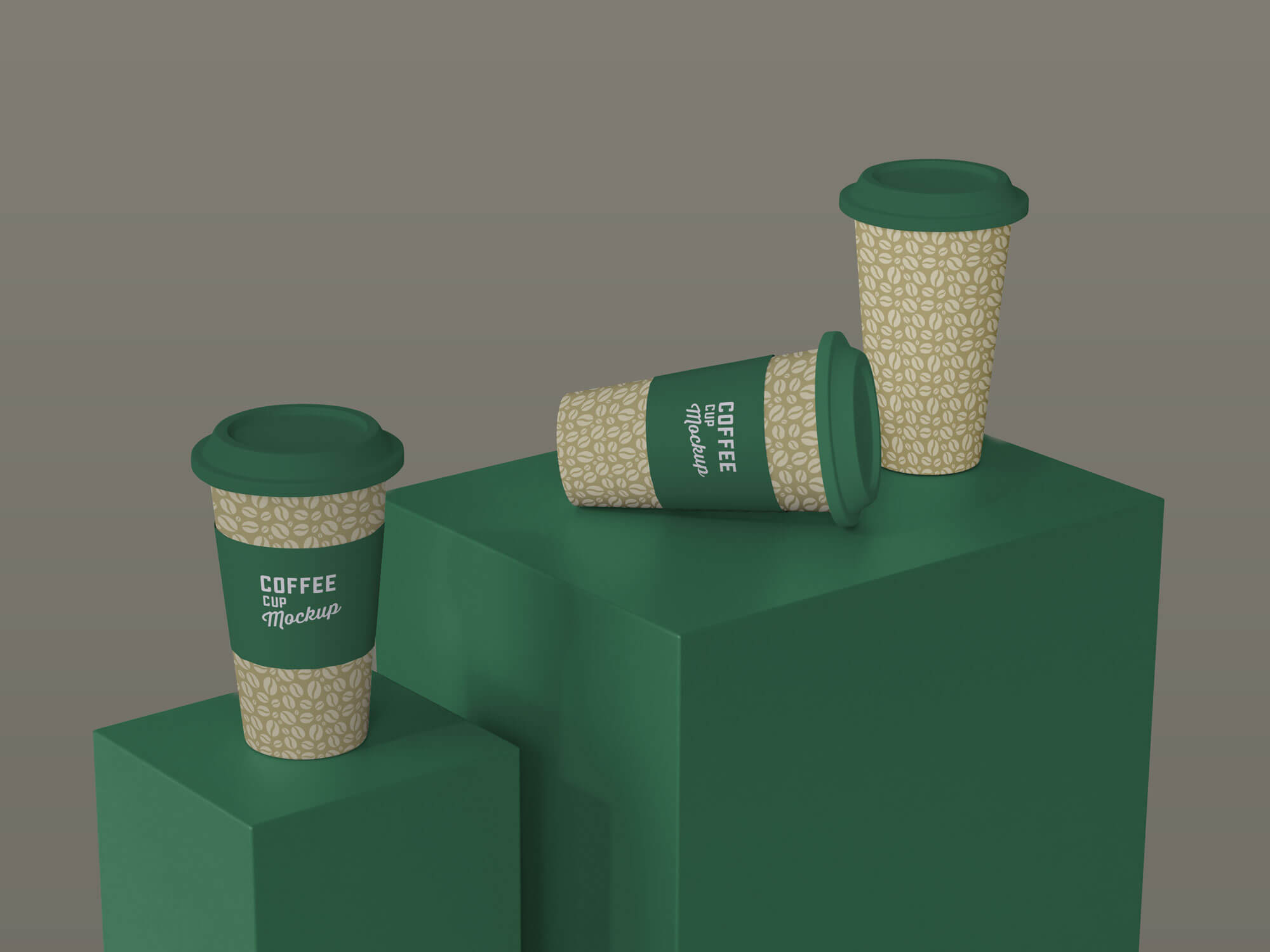 Available Format: Photoshop PSD
License: Free for personal and commercial usage
File Format: WinRAR
Mockup Resolution: 3000 x 2250 px
Note:
1. Free Coffee Cup Mockup is allowed to share online (A Must Linkback to this page)
2. Say thanks if you like or share/tweet with your friends. That means a lot to me.
3. And don't forget to follow or subscribe to receive more high quality premium freebies & awesome articles only.
Download Coffee Cups Mockup
More Free Mockup PSD files: