Hi there everybody! We hope that you guys are keeping safe and that our blogs, creative ideas and mock-up PSD files are nothing but being helpful for your projects. Today is a new day and we have also created a new and free mock-up PSD of a tin can for you guys so, let us get started!
As you know that all drinks are stored in bottles, cans etc. that are made of plastic, glass or a layer of tin. Although, all these containers are produced in order to store one thing or the other, but the amount of wastage that plastic bottles or containers for that matter do is huge and we are only hoping to undo it.
Glass containers and cans that are made of tin can be recycled or reused for a number of purposes; you can literally grow your plants in glass bottles and can use the tin cans for your DIY projects (for a bunch of bonus tips, keep reading the blog till the end!) and so much more. Of course, this is secondary at this point; but we needed to put it out there so that anyone and everyone who is concerned about the safety of our planet, can make the right choices in times to come. Our primary goal is to help you guys with the tips & tricks so that you can make your tin cans super attractive in no time. Here is what you need to know:
If you are already in businesses of selling drinks like carbonated drinks (including juices), flavored milks, beers etc., maybe it is time for you to redesign the look & feel. Your reason could be stepping into new year too but in addition to that, let's be honest – all of us want something new to happen so that we can be happy about it, right? The best part about working for fast-moving consumer goods (FMCG) or consumer packaged goods (CPG) is that you can be as playful with the packaging designs as you would want to be, and it will turn out to perfect.
Also, we have seen many businesses that package and sell drinks etc. in tin cans but they do not do the fun things as far as the packaging is concerned. In order to make sure that whoever sees the tin can gets it too for themselves or for their loved ones, it is important to ensure that the design is so powerful as well as meaningful that they cannot resist it. From celebrating the holiday season to random occasions, cultural preferences, celebrations of all sorts, we believe that you are free as a bird to come up with ideas and then execute them.
As you know that there are so many other things that can be incorporated into designs, we are going to share a few ideas with you that you can execute easily using our free tin can mock-up PSD file for example; if it is a carbonated drink that is like a regular drink that does not exclude any ingredient, you can plat with the design to inform the audience about the correct usage of that and if it is something with no sugar or preservatives, you can educate your audience on how to use it as it is going to be beneficial for their health.
Then you can also use the design space to help your audiences utilize the tin cans after they are done using it for the primary purpose. For example; you can use a tin can to make candles and have them hung around your lawn to make it look prettier. With a tin can, you can also make a pen or make up brush holder as well and place them on your dressing table, side table or even at your work desk. If you like the sound of it, you can also use your used tin cans to make wind chimes as well and there are like hundreds of other DIY tutorials too that are available on multiple online platforms.
Let's talk about some more possibilities that you can explore using our free tin can mock-up PSD file! Since the mock-up PSD file is kept highly editable, you have a lot of creative freedom to make whatever you would want to make on it. But there are a number of things that you must keep in mind along with the design brief that you are supposed to follow like always mention the exact calorie count as well as the suitable age of the audience who should be using that very product. This comes under copy so, make sure that your information is accurate (including the manufacturing and expiry dates) and that you mean well while you mention everything on the packaging.
That is all for today! We hope that this blog and our free tin can mock-up PSD will help you make stunning designs and that you will also share everything that you have gathered from reading the blog with your friends and favorite colleagues too.
Free Floating Cola Beverage Tin Can Mockup PSD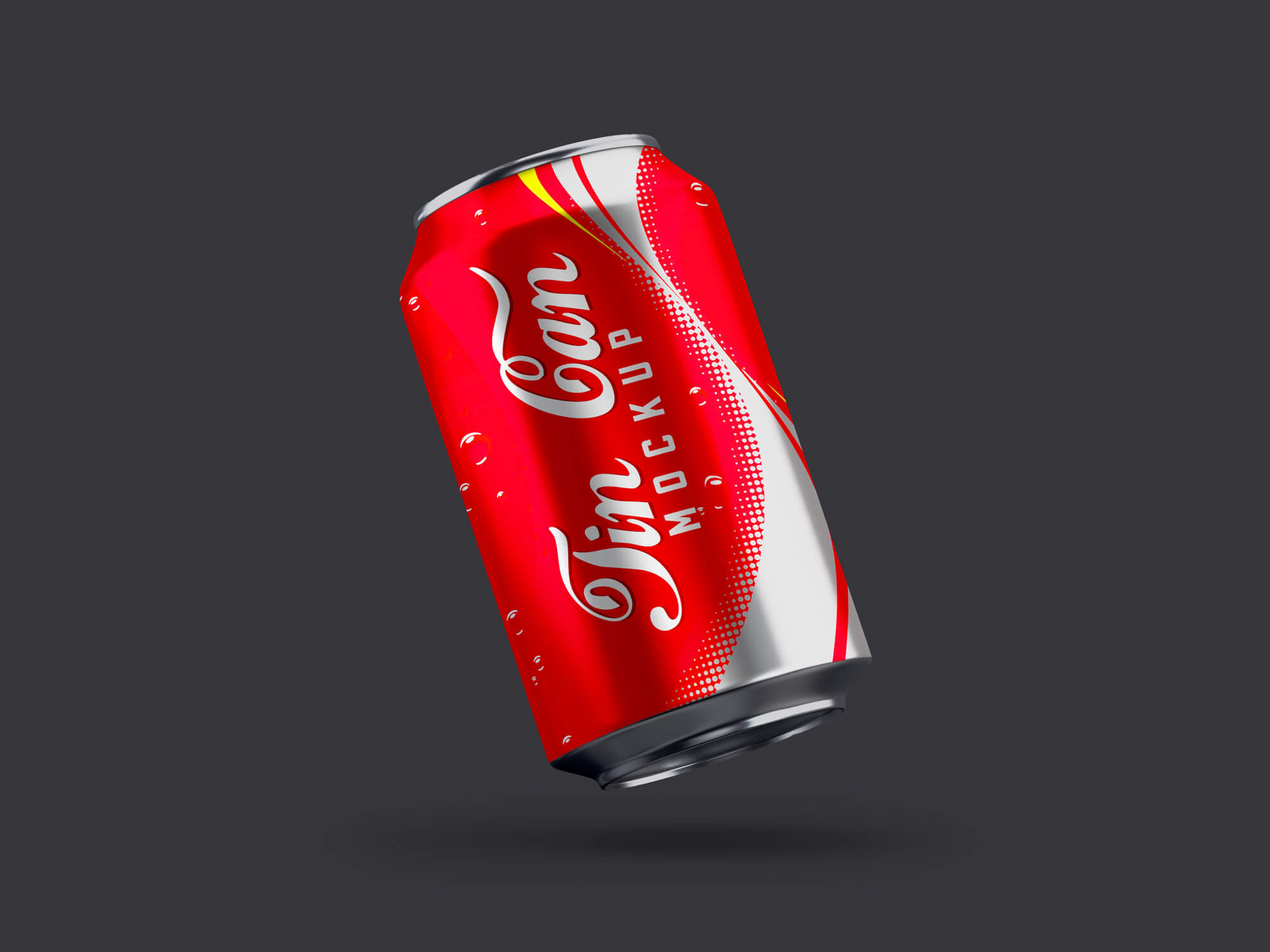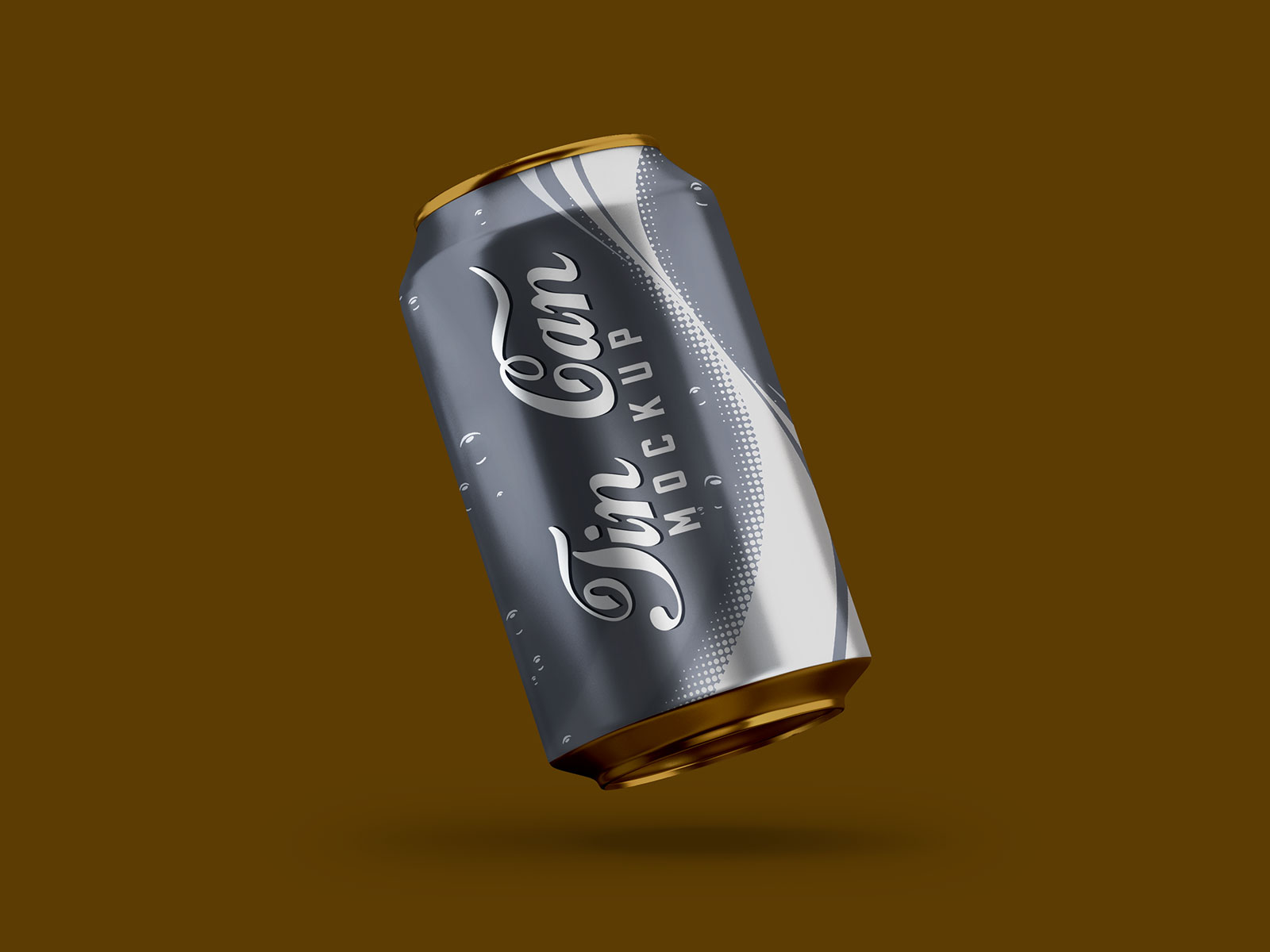 Available Format: Photoshop PSD
License: Free for personal and commercial usage
File Format: WinRAR
Mockup Resolution: 3000 x 2250 px
Note:
1. Free Tin Can Mockup is allowed to share online (A Must Linkback to this page)
2. Say thanks if you like or share/tweet with your friends. That means a lot to me.
3. And don't forget to follow or subscribe to receive more high quality premium freebies & awesome articles only.
Download Tin Can Mockup
More High Quality Free Mockup PSD Files