Hi there friends! We hope that you guys are enjoying winters to the fullest and are also keeping safe because God, it is so cold almost everywhere that we just cannot stop having hot drinks to feel a little better. And guys, y'all need to make sure that no matter where you are and what you are doing, you are taking great care of yourselves. Having hot drinks helps a lot and in addition to that, you can stay warm by putting on at least three to four layers of clothing. However, our today's blog is all about our recently created free coffee mug mock-up PSD file, we are going to be sharing a bunch of amazing tips to make things work for you so, let us get started!
Coffee is one of the most consumed hot beverages in the world and we are not talking about the days and nights when the temperature is low or in minus for that matter. The data that we are about to share here was put out for public knowledge on 24th of November 2020 when the researchers found out that in 2018 and 2019, around 165.35 million (60-kilogram bags) of coffee were consumed worldwide. The number is huge – and for good, to be honest.
Recommended: 20+ Logo Mockup Templates 2020
The ones who consume coffee on daily basis would know about the benefits but the ones who are confused; here is what you guys need to know:
Coffee improves energy levels and keep you active too. If you are one of those people who are struggling to burn fat but do not get to find the time to do exercise and all, you must start having coffee (after of course, consulting your general doctor or a nutritionist for that matter). It has also been noticed that coffee drastically helps in improving physical performances – with an increase in your energy levels; you stay fresh and your brain works fine too.
We hope that this part of our blog is as interesting for you guys as it was for us because there are some things that we did not know and when we read up on the benefits of drinking coffee, we were amazed so, here it goes! Coffee may lower your chances of suffering from Type 2 Diabetes. Also, by having coffee regularly, you may beat the chances of getting Alzheimer's Disease and Dementia as well and we think that is really amazing. Like it is just a cup of coffee that can keep you safe from getting diseases.
As you all know that many people around the world happen to face mental health issues and sadly, not a lot of people get to talk about it or to have the issues treated. It is not only because mental health treatments or even getting therapy is expensive, but it is the stigma that is attached to the various issues too that do not allow the individuals to open up about what they are going through. Researchers have found out that the women who drink coffee (4 cups or more – daily) had a 20% lower risk of becoming depressed.
There are many other benefits of having coffee and we would encourage all of you to do read up on them whenever you guys have time and energy to go through blogs and facts. Anyways, so let us talk about what we have created for you and how you can use it for your personal and commercial design projects. As you know that we keep all our mock-up PSD files highly editable so that you can make whatever you want to make without having to feel restricted. In addition to that, you can easily add your own design elements (logos, copy etc.) but there are a few things that you will have to keep in mind to make beautiful designs for example; if you are making this coffee mug for a business that sells coffee, then you need to market the company well so that it can be seen properly but if you are making the designs for an organization that wants to keep these mugs for their own usage, be more creative instead of being corporate-ish. You do not want to bore the ones who were planning to unwind with a mug of freshly brewed coffee.
What you can do is that you can add interesting work-related quotes or stuff that falls under the genre of light humor. You can pitch to make customized mugs for the team members and keep it designation-wise to make it more fun, trust us when we say this; everyone will become a fan of their own coffee mugs. There are thousands other ways of creating a coffee mug design and we know that everything will be unique and interesting for the people to pick it from the shop aisle and bring it home so that they can have their coffee in it.
So, what are you guys waiting for? Get your hands on our free coffee mug mock-up PSD file right away and start creating fun designs for yourself and for you loved ones.
Free Ceramic 3D Coffee Mug Mockup PSD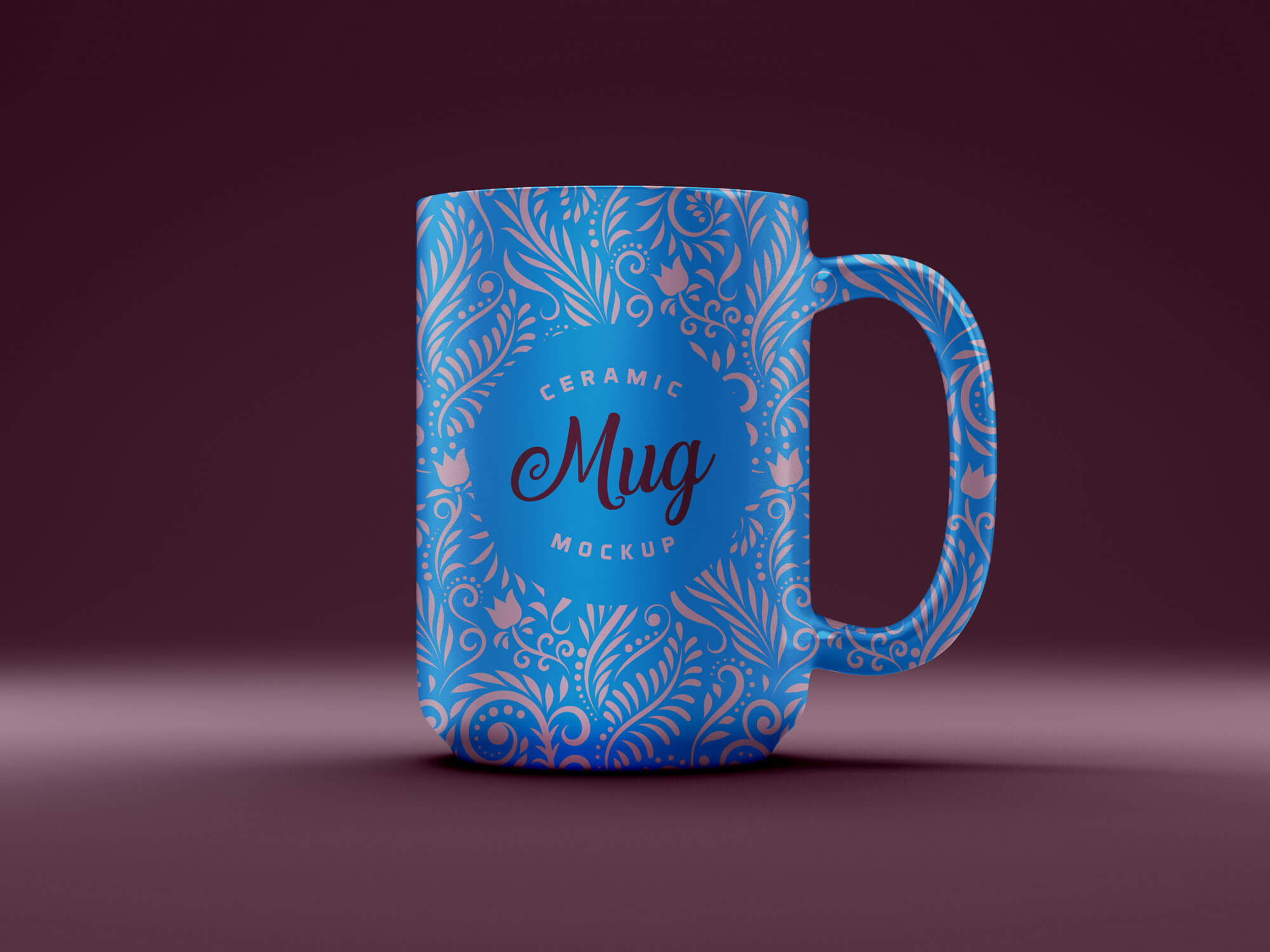 Available Format: Photoshop PSD
License: Free for personal and commercial usage
File Format: WinRAR
Mockup Resolution: 4000 x 3000 px
Note:
1. Free Ceramic Mug Mockup is allowed to share online (A Must Linkback to this page)
2. Say thanks if you like or share/tweet with your friends. That means a lot to me.
3. And don't forget to follow or subscribe to receive more high quality premium freebies & awesome articles only.
Download Mug Mockup
More Free Mug Mockups Designed By Us: