Hi there friends! We are back with yet another interesting and super informative blog of ours but before we start talking about our new mock-up PSD file, we would like to thank you all for your amazing response on our previous blogs and for also sharing our creative ideas and blogs with your friends, loved ones and colleagues too. Your support and positive feedback help us in moving in the forward direction and we'd love to hear more from you.
So, earlier this week while we were waiting for our food order, we saw a couple of friends who could not decide what to eat. They were reluctant about going inside the eatery, they also did not have any clue about the best stuff that eatery serves, and they were like confused. We are sure that almost all of us can relate to this situation because well, that happens and not a lot of us know how to deal with it. Issues like these can be dealt smartly and this also makes the businesses appear to be as caregivers as well and if that is one of your goals to achieve in 2021 then keep on reading our blog.
To share our personal strategy, we would love to share this here that we have tried doing different things over the years that now help us in making informed decisions – especially about the food items that we want to eat for example if we are trying out something new, we literally go to the website, Facebook Page or to the Instagram Account to see the menu and photo galleries to see the type of food we can expect. Videos are a plus and help us visualize better and after seeing the photographic content, we can tell what we would like to order.
For on-ground (confusing) situations and also when not a lot of representatives can come to you to help you with the menu, we felt that there is one thing that can solve the problem of so many customers that you cannot even imagine. It is literally a wooden a-stand that you have to display outside the eateries etc. and you will be so glad to have made that decision. Here is how:
Our free wooden a-stand mock-up PSD file can help you display your favorite dishes, drink and desserts of the day or chef's picks right outside your café or small eatery. By doing that, you will be helping out your potential customers with so many things and they won't get confused either. As you know that we keep all our PSD files highly editable, you will enjoy working on the a-stands. The best part is that you can make them in any size too and everything that you will make is going to be worth effort. From changing the colors of the wooden stand itself to something that you like, you can be as creative as you would want to be.
Also, since wooden a-stands will be made after you guys will have to place an order with a third party vendor (unless you have an in-house team to carry it out) and for that you must create mock-up PSD files before you share the final designs with anyone. The best approach is to create multiple design options with placements like for a wooden a-stand, you can place them outside the eatery you are making the designs for, to help the decision makers visualize how these will look like in real life. This will help the concerned team members have things edited or revised and after that, you won't have to worry about things going wrong. Mock-ups become even more handy when design elements are to be removed or added in case a design brief is tweaked or the objectives get changed.
Now, we know that a graphic designer's life is normally busy and the creating a mock-up presentation means an added job of at least two hours but trust us when we say this: it will all worth the effort. You team lead, your clients and your customers will be super proud of you and your smart move towards the business and that is what we need, right?
And that is for today, you guys! We hope that our free wooden a-stand mock-up PSD file and easy to follow design tips will help you create your very own stands in no time and once you are done, do not forget to demonstrate them through a nicely made mock-up presentation whether it is your own team or your client(s).
Oh, and do not forget to share the blog with your friends and favorite colleagues too and if you have any requests, feel free to send them in and we will work on them to share with you all super soon – until then, take care, stay indoors and keep reading our blogs!
Free Wooden A-Stand Mockup PSD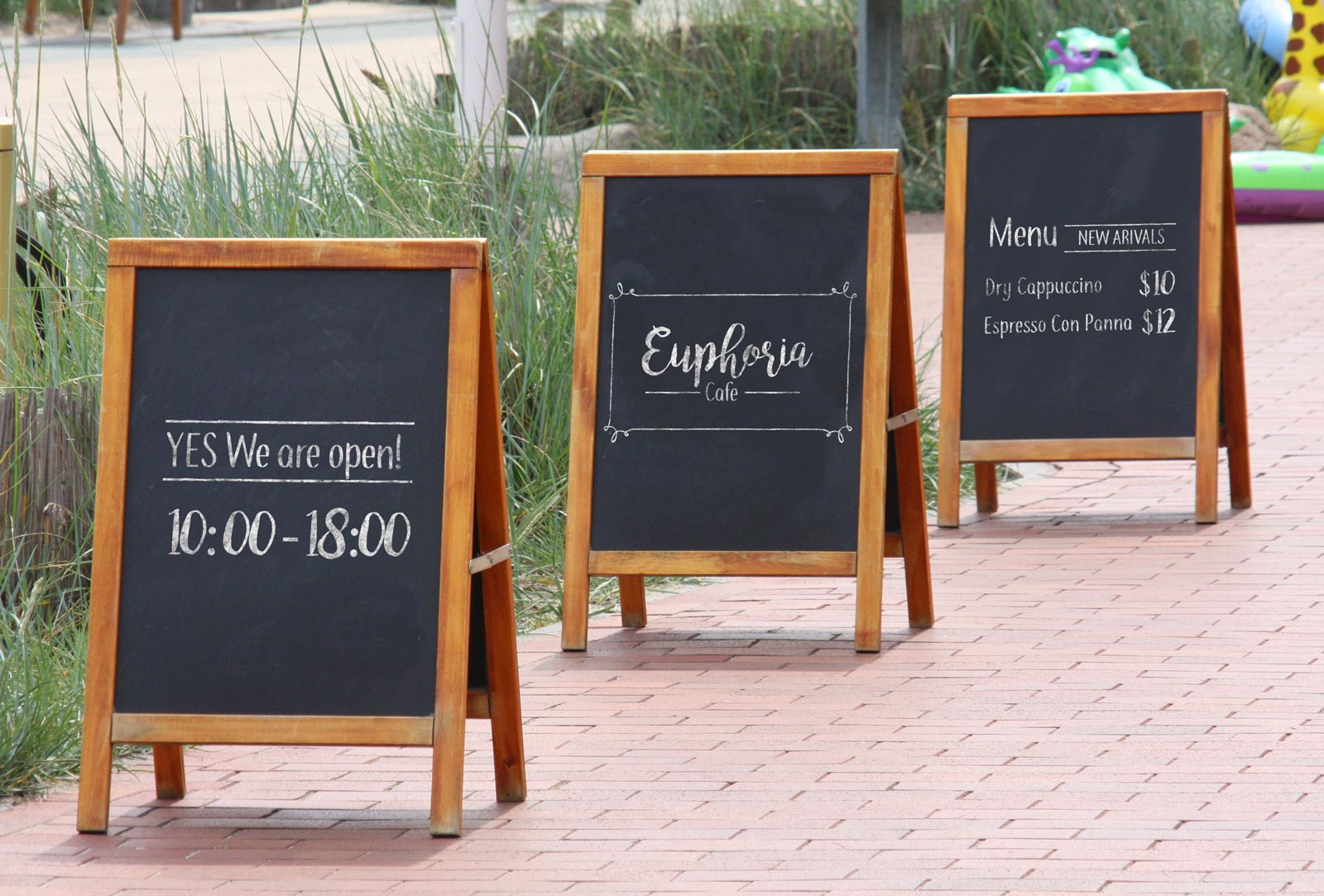 Available Format: Photoshop PSD
License: Free for personal and commercial usage
File Format: WinRAR
Mock-up Resolution: 3470 x 2349 px
Artwork Size: 841 x 1195 px
Note:
1. Free A-Stand Mockup is allowed to share online (A Must Linkback to this page)
2. Say thanks if you like or share/tweet with your friends. That means a lot to me.
3. And don't forget to follow or subscribe to receive more high quality premium freebies & awesome articles only.
Download A-Stand Mockup
Recommended: