Hi there friends! We wish you guys a very happy new year and we would also like to thank you for your support, for your constructive feedbacks and for sharing your interesting suggestions with us in the past year. With the hope that this year brings happiness, health and success for all of us, we are very excited to share our new mock-up PSD file with you guys today so, let us get started!
Speaking of the new year, we know this for a fact that many people around the world get presents for their loved ones – at least we do. It is a small gesture to show these people that we care for them and that we wish them all the best for the coming year and that we want them to be happy about the token of love that we could get them. We think that it is an adorable thing to do and if you guys do that too, then you would know how great it feels, right?
Now, there are chances that you must be planning on getting something for someone special but since there was a break from work and all and that you must be catching up with family members and friends that you could not get a chance to go to a market. Understandable and to help you guys deal with it in a better way, we thought to design a free mug mock-up PSD file for you all. As you know that all our mock-up PSDs are highly editable and you can design whatever you would to design with them, we know that you will have a great time working on this PSD as well.
Mugs (of all sorts) are considered one of the most convenient and favorite gift items that exist and that is for multiple reasons so for example; you get someone a mug and the first thing they will do with it is to either replace it with the one that they are already using at their home or at work or they will literally grab their pencils and paint brushes and will place them in the mug and then it will go to their work desk. Like they won't have to move around or do anything else to place the mug and it will stay close to them too – meaning that you will be there with them in spirit and that is what most of our loved ones want, really.
Recommended: 20+ Logo Mockup Templates 2020
In our previous blogs in which we have shared different mock-up PSDs of mugs, we have also shared how you can make your own personalized designs for your friends as well as for your customers. For this blog as well, we are about to share a bunch of effective design tips that will make you and your customers super proud of yourself. Keep reading the blog to know more and design better!
First things first; get to know the needs and demands of your customers and for personal designs, notice what needs to be there when it comes to your best friend, your mom, favorite professor etc. For your commercial design projects, we will suggest you to only create mock-ups so that you can roll them out on your website, Facebook Page or on your Instagram account. From the responses and engagement, you will get to know what designs must be finalized and sent to the third-party vendor(s) for the production.
As far as your loved ones are concerned, make sure that you get them what they truly love. It could be anything and literally anyone. Our go-to plan is to always ask around what they are currently watching on Netflix or who's that singer they are obsessed with these days and that gives away a lot of information just like that. You can also go minimalistic and pick the color they are vibing with to create something out of it. And if nothing works, there must be a sentence or a word that they have been using lately and maybe you can put that up on their new mug, yeah!?
The most loved designs are the ones that are full of sarcasm or take a dig at the work routine. We know many people that are working with advertising agencies and as much as they love their work and whatever they do, they also kinda hate it too. The banters, the colleagues, the clients or the work in general is meme worthy so, why it can't be a design worthy? ? Maybe you can explore a little here and there to see what is up in the corporate sector to come up with new design ideas and trust us, your mugs will sell like hot cakes – no kidding!
So, we have designed our mug mock-up PSD file in a natural setting to give it a more realistic look and feel and we are sure that when you will use the file to demonstrate your designs, everyone will love them. And now is the time to get your hands on the mock-up PSD so that you can start creating amazing designs with it.
Free Mug in Sand Mockup PSD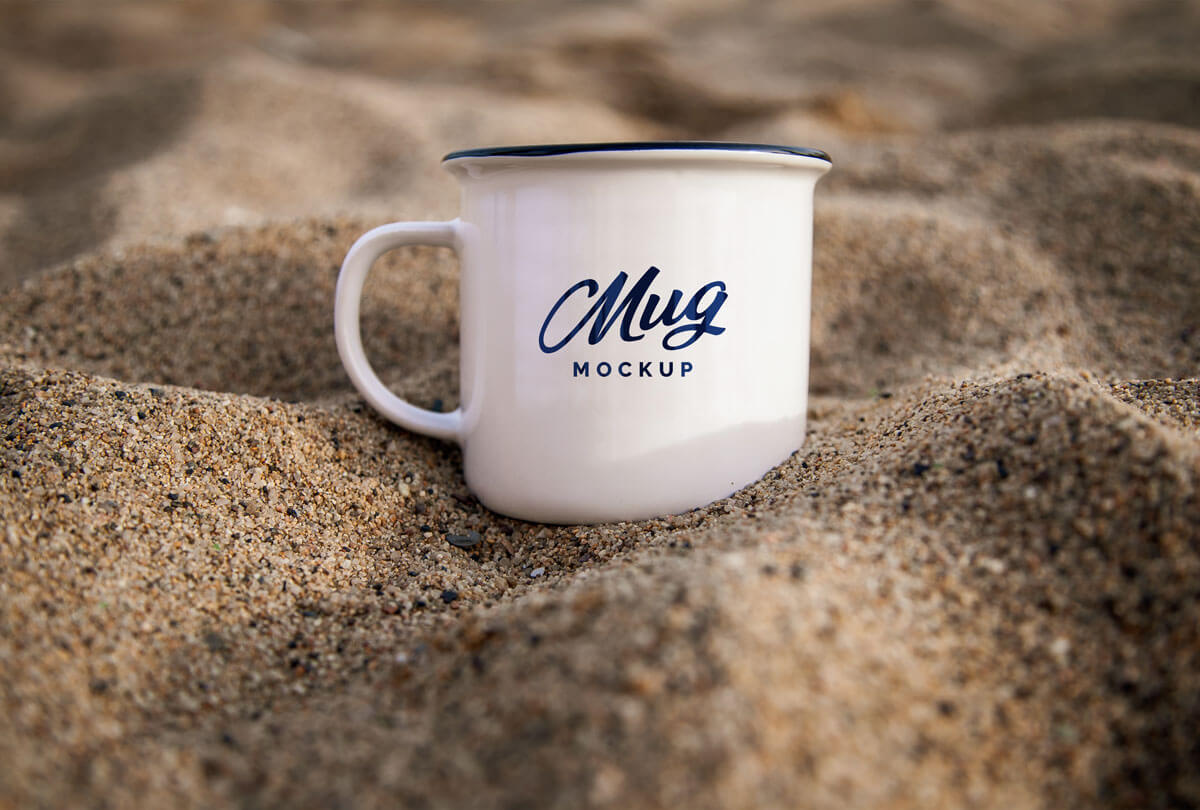 Available Format: Photoshop PSD
License: Free for personal and commercial usage
File Format: WinRAR
Mockup Resolution: 4000 x 2700 px
Note:
1. Free Mug Mockup is allowed to share online (A Must Linkback to this page)
2. Say thanks if you like or share/tweet with your friends. That means a lot to me.
3. And don't forget to follow or subscribe to receive more high quality premium freebies & awesome articles only.
Download Mug Mockup
More Free Mug Mockups Designed By Us: