Hi there, hello there! We are back with yet another super informative and useful blog of ours but before we start sharing what we have created for you guys, we would first like to thank you for your overwhelming response on our previous blogs and for also sharing the content ideas with your friends and people you work with. It has been always a pleasure to create designs for such a supportive audience and we would love to keep hearing from you guys in future too.
We know this for a fact that most of you who join us here are associated with creative, marketing and advertising agencies around the globe and keeping the evolution of marketing and advertising in mind, it is important for all of us to stay updated with whatever that is happening in the industry. And you would also know how billboards will never go out of the advertising strategies and for good.
Billboards happen to achieve more business advertising goals than other platforms and that is one of the reasons why businesses will want to be promoted through nicely done billboard advertisements. There is more to it and we are going to share exactly that and more. Continue reading to know interesting facts about billboard advertisements to make better & informed decisions for your brands etc.
The best part about billboard advertising is that it will always work – no matter what. It does not matter if you have low internet signals, it does not matter if you are on Facebook, Instagram or Twitter for that matter. And it is okay if you are not a fan of TV too because the billboards are going to be there – promoting one message or the other all the time. Also, the access to billboards is for like 24/7 which means someone somewhere will be looking at your billboards even if it is dark outside.
Recommended: 100+ Outdoor Advertising Mockups
For billboard advertising, strategic planning is done and after that businesses pick the best spots to display their brand messages. The spots that are most busy during day and night time are allotted to advertisers for Out-of-home advertising (OOH) and the concerned team members are asked to pick the ones that they think will get them more traction as per their advertisement plans. The main goal to achieve through billboard advertising becomes easier when the target audiences are made to look at the billboards and then eventually take an action.
Many advertisers feel that billboard advertising is something that can become secondary now but we would like to inform you guys that even though you cannot gather the data of eyeballs or see who came to your store or signed up on the website etc. after looking at the billboards but one thing is there and always works like a charm and that's when people see the billboards multiple times, the brand messages get registered in their heads and it takes time to forget a message if it is powerful enough to engage (with) you.
Another interesting thing about billboard advertising is that they reach to large groups of people. Of course creating a target audience on Facebook and Instagram sounds fun and these platforms also make sure that your content reaches the ones who are being targeted but billboards have the power to reach as many people as you would want to reach and it will all work in your favor. Also, billboard advertising brings customers to you – you do not have to reach out to them; and this makes it a more impactful and effective way to go about it.
And now is the time that we start sharing the tips & tricks that will help you create your own billboard designs by using our free advertising billboard mock-up PSD file. First things first; you need to understand that your billboards need to be simple yet impressive and functional. You do not have to make a move because you are literally up there – people *are* bound to look at whatever that you have got to say to them.
Focus on the copy and make the text large so it is easy to read even if someone is reading it from a distance. Oh, and use fonts that are readable – do not go super fancy otherwise you won't be able to deliver the message properly. Bold fonts work perfectly fine for billboards, but you can always experiment with things to see what works best for you. Make sure that your copywriter sticks to one message at a time, don't be all over the place or you will lose your chance to grab your audience's attention. White backgrounds don't work all the time – unless it is some sort of a teaser campaign otherwise be playful and use vibrant, brand relevant colors for your billboard designs.
This all for today! We hope that you will enjoy working on our free advertising billboard mock-up PSD file by following our tips. Don't forget to let us know how it went in the comments down below.
Free Advertising Billboard in Forest Mockup PSD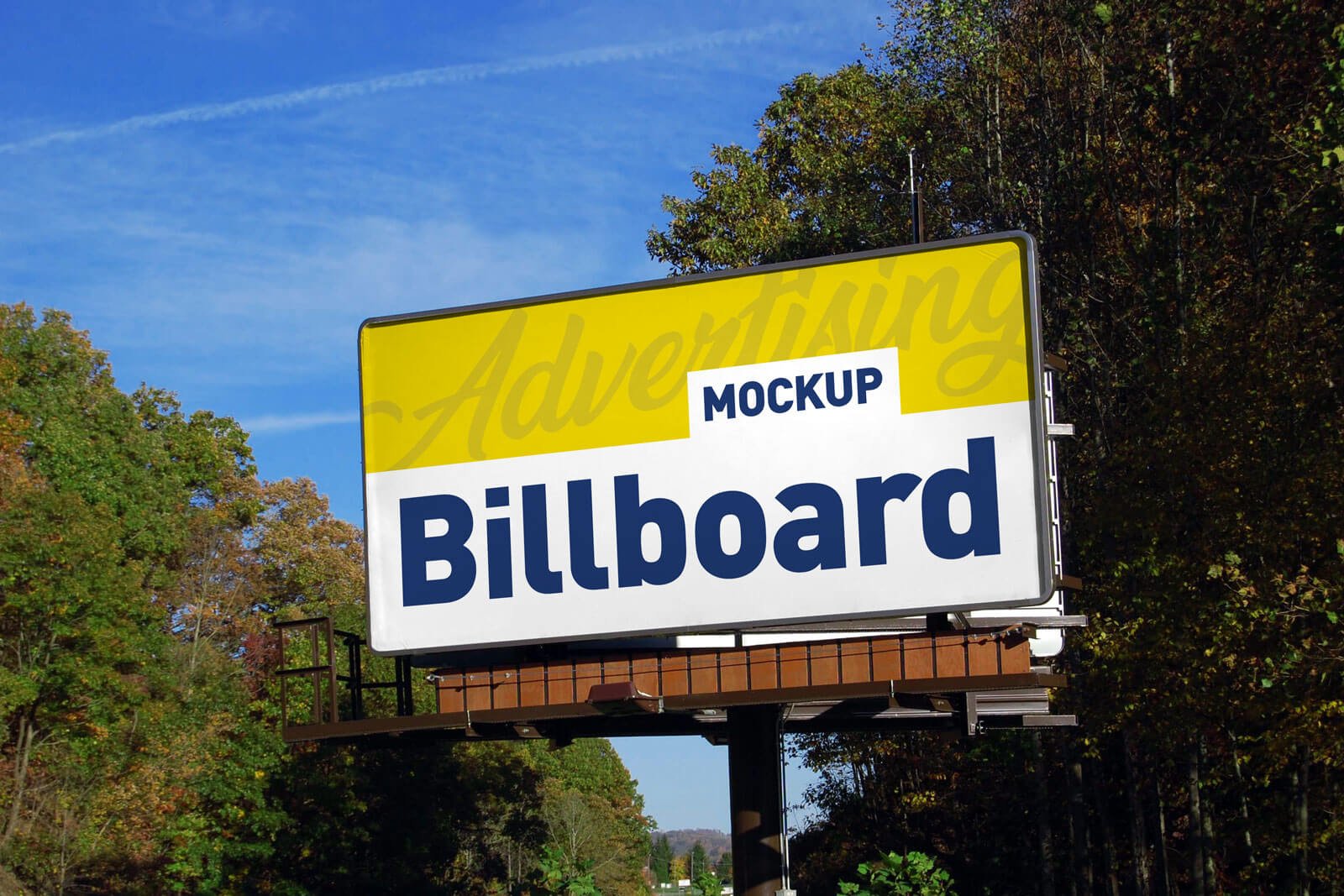 Available Format: Layered PSD with smart object insertion
License: Free for personal presentational use only
WinRAR File Includes: Advertising Billboard Mockup PSD
Note:
1. PSD Outdoor Billboard Mockup is allowed for sharing online (A Must Linkback to this page)
2. Say thanks if you like or share/tweet with your friends.
Download Billboard Mockup PSD
More Free PSD Hoarding Mock-ups you would love to download: