Hi there friends! If you are one of those people who believe in the strategy of new year, new business card, then know that our today's blog is going to be all about that and more but before we start talking about what we have designed for you guys, we would like this moment to thank you for your constant support & overwhelming response on our previous blogs and for also sharing the content with the ones you care for. Know that we look forward to your suggestions and feedback so, keep that coming!
Business cards happen to be the most effective way of getting to know people till date and no one can deny the importance or effectiveness of them too. Interestingly, even though we are living in an age that has gone completely digital when it comes to getting in touch with people even if they are continents apart, we still need to have our business cards with us to make a more personal connection with the ones we attend meetings, conferences etc. and honestly, it does feel good to be exchanging business cards because you not only give those to one you (kind of) know but even strangers can benefit with these cards too.
A business card does a lot more than just sharing your contact information with the ones you want to share it for example; the first thing that gets noticed in a business card is the branding of the organization so, through your business card, you are actually helping your company etc. stay relevant wherever you are. This also means that you need to portray your business in such a way that it grabs the person's attention. Wait, do not start thinking about how to make your business cards look perfect already because we will cover that in the latter part of our blog.
'It's 2021. Are business cards still relevant?' Before you ask yourself this question again, know that your answer must always be yes and here is why. Absolutely nothing makes you look like a thorough professional more than having a small deck of business cards with you. Also, remember that no matter how modern the trends become, business professionals will make sure that they always have their cards with them and we know that you would not want to be the only one who shows up without their business cards.
Recommended: 5 Types of Business Card Printing
Another interesting thing about having business cards is that you can have them made however you want. You can make your own designs, have the designs created by your design teams, you have full freedom to pick whatever material you would like for the business cards and you will be good to go. Personalization becomes really interesting when it comes to business cards so, whenever you get a chance to get your own cards designed and made, you have to make sure that you will be giving out small masterpieces within your professional circle.
There are many ways to design a business card and you can try all of them out with our free business card mock-up PSD file but there are a few things that you must follow to maximize the effectiveness of your business cards. Be very clear about your contact information. Make your phone number, email address, your fax numbers as well as your company's social media platforms super prominent. Don't shy away from sharing all the platforms you can be reached at. It is important and it is necessary. Now, many people have also started to include QR codes on their business cards too so, if you feel that the card design is becoming wordy and it might lose the charm, you must experiment it with innovative ideas as well.
Colors, design elements including logos and taglines are to be in harmony with the rest of the branding of your businesses but there are no restrictions on the content of the business card, really. Like you can even put up your own photo on the cards too to make it a more personal one. The poses should be professional though with a welcoming smile to give out the message that you are open to collaborate, partner with etc.
Everything else can work out but the material (paper) and the finish of the business cards are the things that can make or break your repute in front of your potential business partners so make sure that you spend enough money to get the best results.
And that is all for today, you guys! We hope that this blog and our free business card mock-up PSD file will help you create stunningly beautiful designs this year. Feel free to try out new things too to see what can work for you and your businesses. Also, don't forget to share how your design process went and while you are at it, do share the blog with your favorite colleagues as well and we will see you next time with another great blog of ours.
Free Simple Photorealistic Business Card Mockup PSD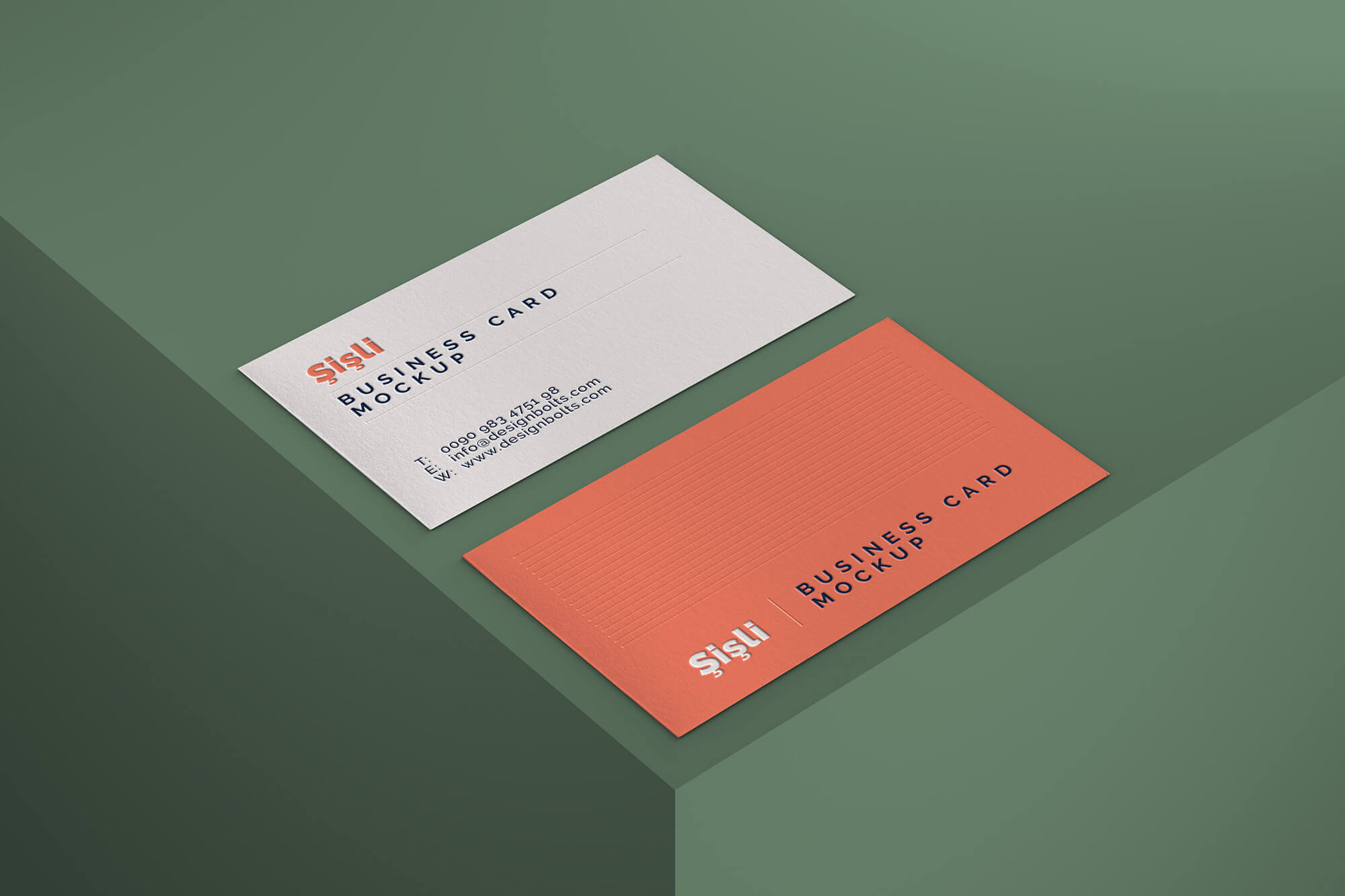 Available Format: Layered PSD with smart object insertion
License: Free for personal and commercial usage
WinRAR File Includes: Free Business Card Mockup PSD
Mock-up Resolution: 3000 x 2000 px 

Note:
1. Free Business Card Mockup PSD is allowed to share online (A Must Linkback to designbolts.com)
2. Say thanks if you like or share/tweet with your friends. That means a lot to me.
3. And don't forget to subscribe to receive for more high quality premium freebies & awesome articles only.
Download Business Card Mockup
More Awesome Free Business Card Design & Business Card Mockup PSD Templates: