Hello there friends! We hope that you all are keeping safe and are also enjoying our blogs as well as our free mock-up PSD files and design templates that we specially make for you guys so that you can use them to make your design and creative projects even more fun. Your positive feedback and interesting suggestions are our favorite things to read all week and we would love to hear more from you in the future too.
That being said; let's talk about what we have created for our today's blog! It is a free tea kraft paper packaging mock-up PSD file and we had to make it as winters are here to stay and we know that you would need this for your business this time around so, let's get started!
In this part of our blog, we are going to be talking about the Kraft paper first and after that we will move to the main thing, the free tea Kraft paper packaging mock-up PSD file. Keep reading the blog to know interesting stuff about the Kraft paper and why it is popular among businesses around the globe. The Kraft paper gets the name from the process in which wood is converted into pulp and it, then is utilized to produce the paper. This pulp consists of (almost) pure cellulose fibers as well as the main component of paper.
The Kraft paper is porous, has high elasticity and a high tear resistance and due to its durability and strength, it became everyone's favorite packaging item when it comes to many different types of businesses. Another interesting thing about the Kraft paper is that it is 100 percent eco-friendly and that makes it the first choice of all the brands and businesses that happen to pack their dry items like eatables as well as clothing items too.
Oh, and did we tell you that Kraft paper can also be used for items that might get damaged due to moisture in the air and of course, even if it gets a little too humid, the items will still be okay as the Kraft paper is high puncture resistant as well. So, it is like this paper is something an all in one sort of a packaging item that you must invest in if your products etc. are to be kept safe and when you want them to look presentable without putting in a lot of efforts.
Allow us to now share what we have designed for you guys! Our free tea Kraft paper packaging mock-up PSD file will help you create designs for your tea brand(s) as shown in the PSD itself but if you would want to use it to package anything else for that matter, you can do that too with a little bit of editing and adding of stuff here and there to make the designs work for you.
As you know that during the winter season, consumers deliberately move to taking hot drinks and cold drinks etc. become secondary. And we knew that the need to have tea or coffee increases which means that new commers try their luck to introduce something new and different in the market which is a good thing because then you are providing your audiences with a number of options to choose from.
Since packaging is something that gets to interact with the consumer way before they actually get to use the product in one way or the other, do you know what that means? Well, the answer is simple yet interesting but you have to pay attention to what we are going to say next. Your packaging has to be so good that even the ones who do not know that you existed, come running to your brands and its products, pick a pack or two and also use the contents of the packets to see how good you are.
Now, there are hundred of ways to package a product especially if it is an eatable but what is that one thing that you need to do in order to attract your potential customers so much that even in the presence of multiple other brands, they just want to pick your packaged item and use it too!? Here is all that you will have to do to make your packaged product(s) stand out!
Understanding your target audience is one of the most important steps when it comes to designing the packaging. Don't draw the wrong eyeballs – make your packaging designs relevant to the target market and you will be good to go.
Keep it simple but intriguing. By sticking to a simple design, you will be able to attract more and more right people towards your business & products.
Use imagery to make it a lifelike packaging design, it should interact with people to make them get it too. You can also go for an emotional connection to hit where it needs to be hit.
Last but not the least, make your packaging easy to remember and identify.
That's all for today! We hope that you'll find our blog and free tea Kraft paper packaging mock-up PSD file super useful for your upcoming design projects.
Free Tea Kraft Paper Packaging Mockup PSD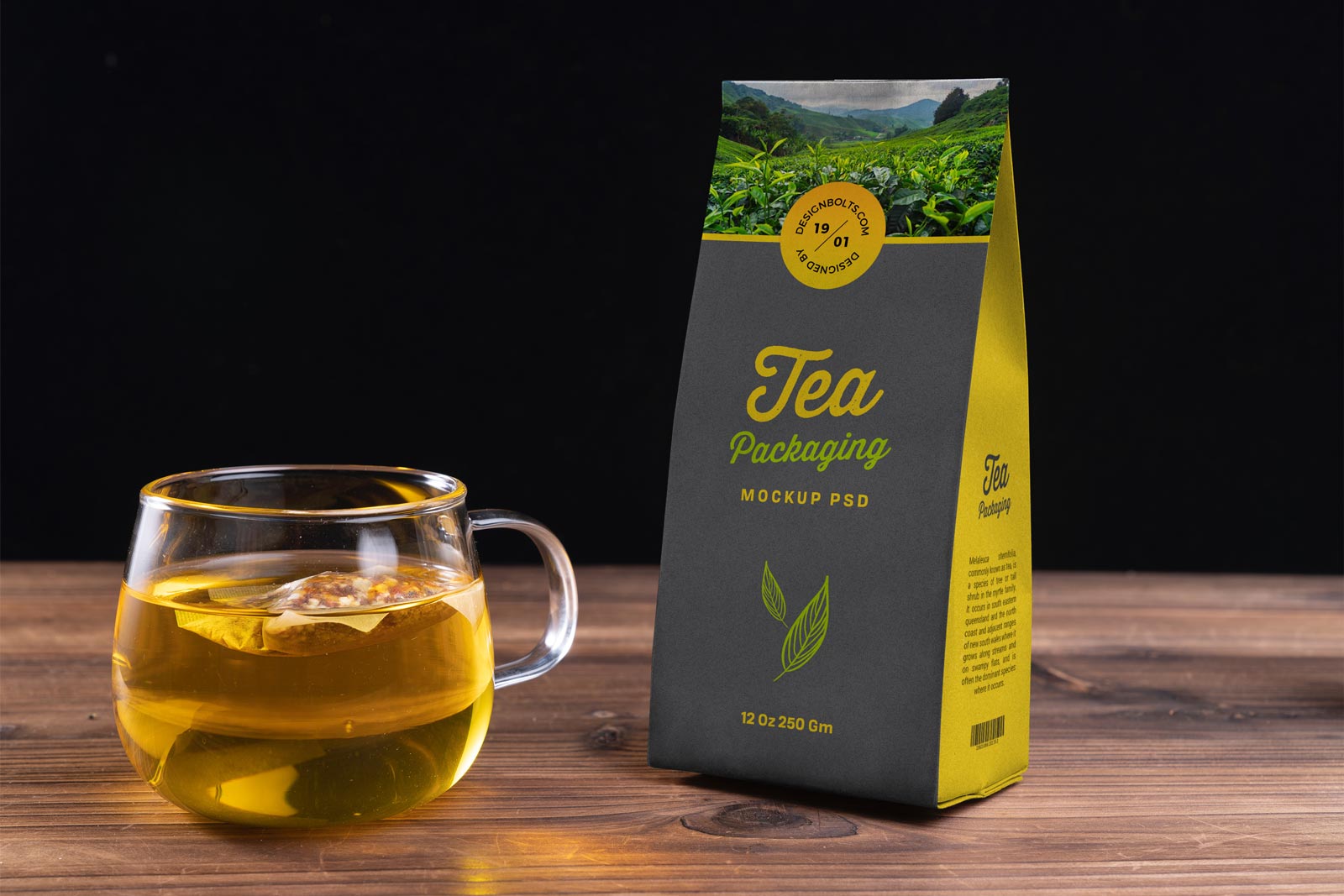 Available Format: Layered PSD with smart object insertion
License: Free for personal presentational use only
Zip File Includes: Tea Standing Pouch Mockup PSD
Note:
1. PSD Mockup is allowed for sharing online (A Must Linkback to this page)
2. Say thanks if you like or share/tweet with your friends. That means a lot to me.
3. And don't forget to subscribe to receive for more high quality premium freebies & awesome articles only.
Download Pouch Mockup
More Free PSD Packaging Mockups you would love to download: