Graphic design is one of the most highly demanded digital era skills. Businesses, institutions, and organizations are continually unveiling new products, concepts, and rebranding through creative designs and graphics. With graphic design, the possibilities are endless, and you can easily find befitting projects to handle, whether you choose to work as a freelancer or seek formal employment.
Why Is Graphic Design an Ideal Course?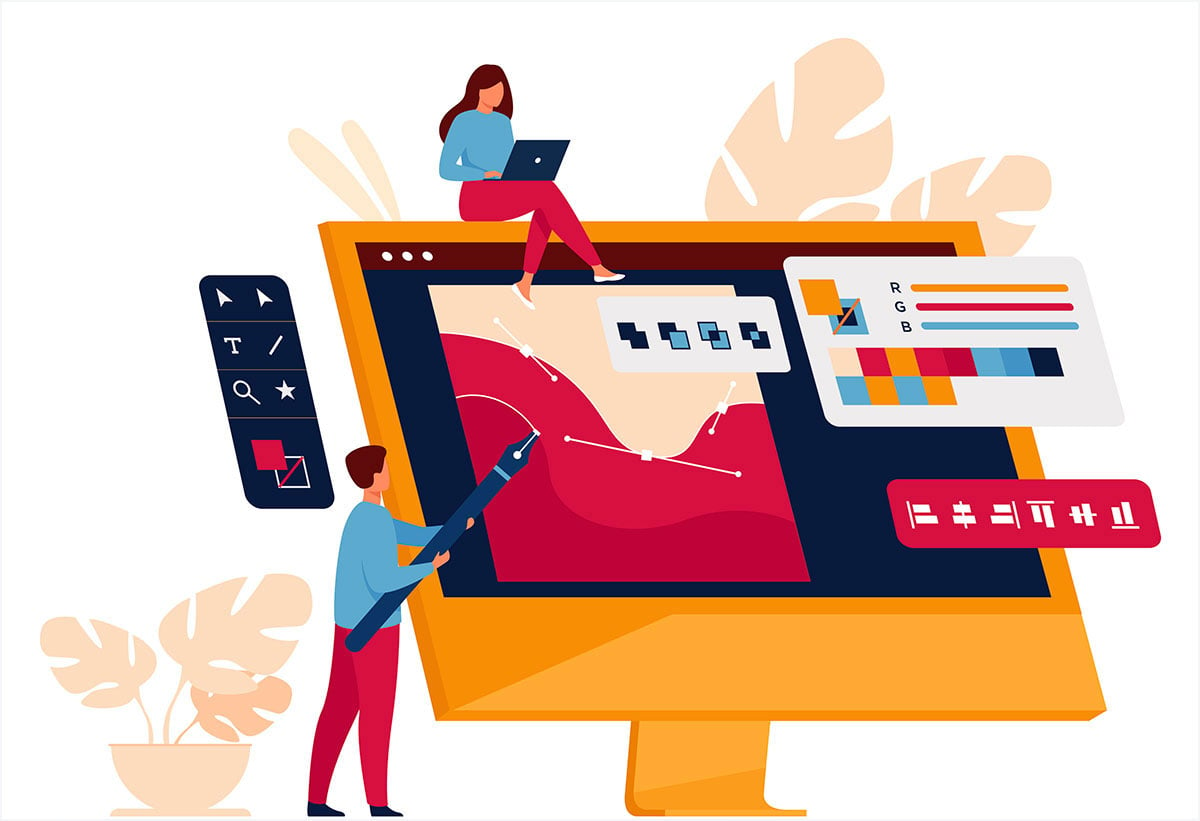 There are thousands of online courses touching on almost all fields, including graphic design. If you are considering working as a graphic designer, here are the perks to expect:
Many Opportunities in the Industry – Many businesses nowadays appreciate the role of quality graphics, and there is a demand for logos, banners, billboards, and other forms of advertising, making graphic design a skill worth having.
Job Versatility – As a graphic designer, all jobs are unique, and there is no monotony, allowing you to look forward to every new project.
Supports Self-Employment – Many graphic designers are self-employed, enjoying great freedom while doing what they love.
Allows Room for Creativity – Design thrives on ideas that require originality, and doing this daily takes your creativity to new heights.
Develop useful skills – Once you master graphic design; you don't need to pay for services like wedding card invitations or event programs.
Create Your Portfolio – As you tackle projects, you can showcase the completed ones as a portfolio, making skill marketing a breeze.
Great Earning Potential – There is no limit to the amount of money you can earn in graphic design. Different clients have different budgets, and your creativity and hard work can see you earn six digits in record time.
The journey to graphic design mastery begins with acquiring the relevant skills. Thanks to the hundreds of e-learning platforms, there is a large selection of graphic design courses, including absolutely free ones. Here is a dedicated list to help you pick a graphic design course that lives up to its name.
Introduction to Graphic Design – LinkedIn Learning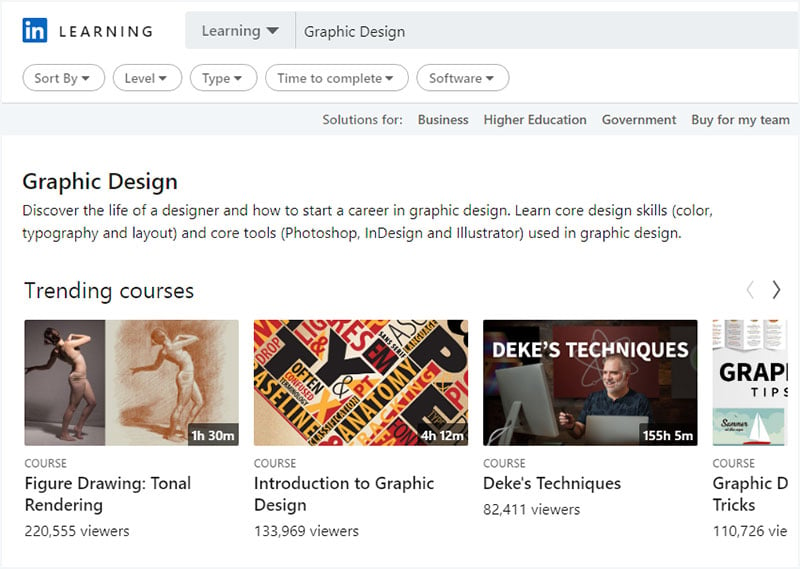 LinkedIn has become one of the most resourceful tools for professionals. One of the things that make the platform stand out is the certification courses for various skills, graphic design included. The course is ideal for beginners and is 4 hours long, covering:
Graphic Design
Adobe Illustrator – Learn to draw logos and create color themes
Adobe Photoshop – Image transformation
Adobe InDesign – Document layout and graphic design
Design Theory
These topics also include images for practical lessons, where you employ creativity to adjust the images. At the end of each section, quizzes help you gauge your grasp of the topic before moving to the next one. If you are a LinkedIn Learning subscriber, you can enjoy this and other useful courses.
Graphic Design Bootcamp: Photoshop, Illustrator, InDesign – Udemy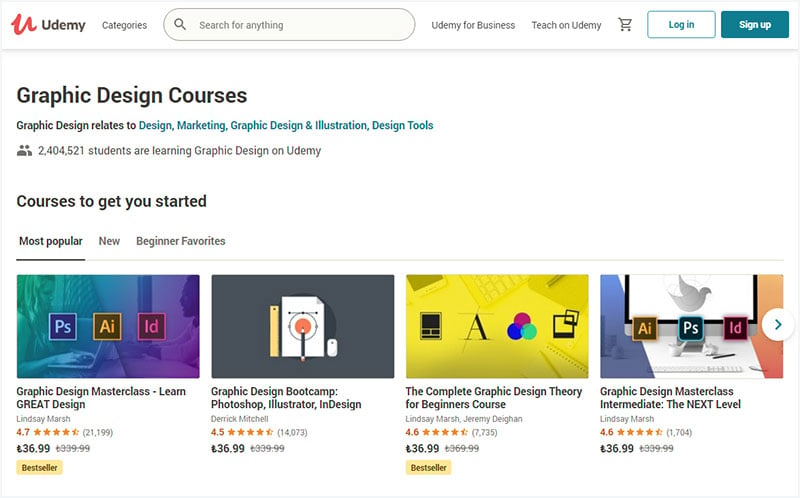 With over 20,000 students already trained, this beginner best seller course is an excellent place to start for aspiring graphic designers. By the end of the course, you should create custom logos, brochures, business cards, web graphics, and flyers. The course takes 15.5 Hours and is regularly updated to keep up with modern learning. Topics include:
Photoshop, InDesign, Illustrator – Create web and print images
Logo design basics – To get your first project kicking
Presentation of work to clients
Export portfolio objects into Behance
Once you complete the course, you get a completion certificate and acquire design skills to help you create various projects.
Graphic Design Masterclass – Lindsay Marsh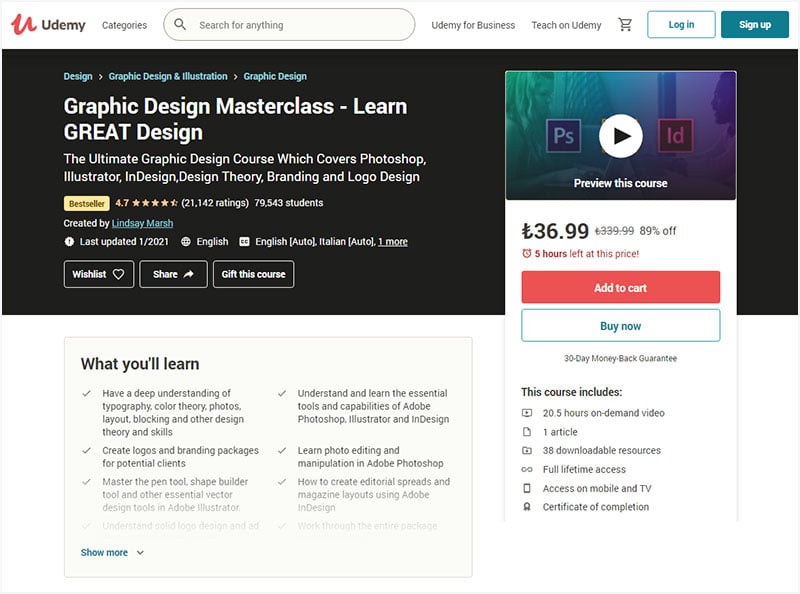 Also a beginner-friendly course, this is another of Udemy's best-selling courses to help you start your graphic design journey. The course is frequently updated and touches on three main software, which include: Adobe illustrator, Adobe InDesign, and Adobe Photoshop. Expect to learn many things, including:
Creating branding packages
Mastering vector design tools in Illustrator
Photo editing
Learn Affinity Designer basics
Multiple Adobe design page layouts
Magazine layout design
If you have a subscription to the Adobe Creative Cloud, you can access these lessons. With this course, you are assured of a great foundation as you start your graphic design venture.
Graphic Design Fundamentals – Timothy Samara | Creativelive.com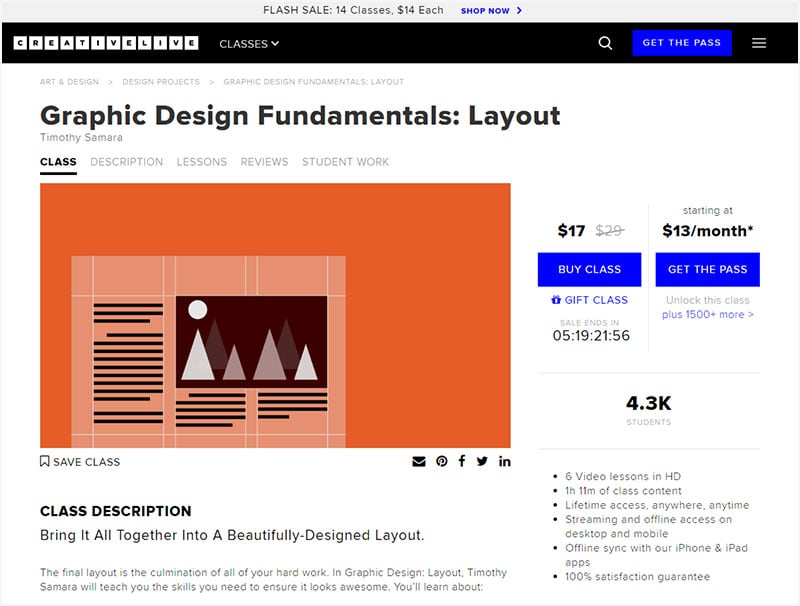 If you wish to see graphic design manifestation in real-life projects, this is the course. Timothy's graphic design career makes him a force to reckon with as an instructor. Beginners and intermediate graphic designers can gain lots of insights from him. Basic concepts of the course include:
Book layout design
Website design
Creating brand identity
Creating an advertisement
Poster designs
Tools for graphic design
Timothy's experience is a great asset in this course, as his examples liven up the learning session, making it memorable. By the end of this course, you will have a clear picture of how graphic designers carry out their projects.
Graphic Design Specialization – Coursera.org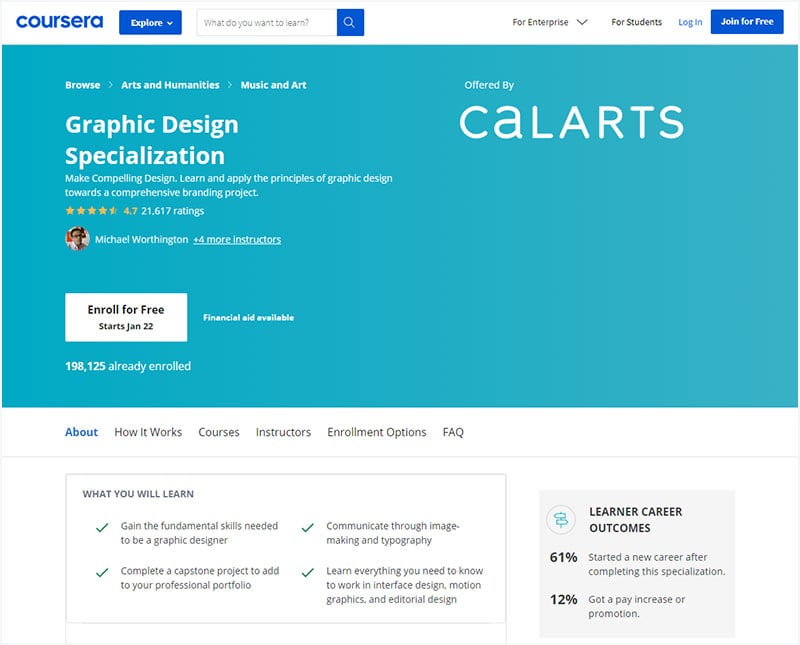 Unlike the other courses on the list, this detailed course takes up to 6 months to complete, when you study for 3 hours a day. The course is offered by the California Institute of the Arts and earns sharable certification once you complete the course. To continue with your work or other studies while completing the course, you can use a reliable paper writing service to help you out with certain assignments. The key areas of study include:
Graphic design fundamentals
Introduction to typography
Imagemaking
Graphic design history
Six instructors deliver the content, making this course one of a kind. It is also densely packed and a great resource for aspiring graphic designers.
Applying Design Principles – Alison.com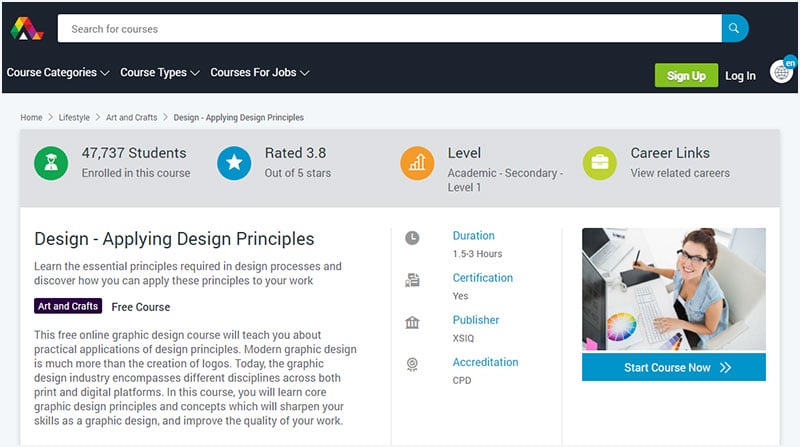 With enrolments almost at the 50,000th mark, Alison's free course is a gem to anyone who wishes to learn graphic design. This well-structured course takes 5 hours to complete. You get to understand how various elements like tones, shape, and color play out to bring the perfect image. One good thing about this course is that you get a shareable certificate, which you can use in job applications. However, you will have to pay for the certificates, and this is optional.
Graphic Design Basics: Core Principles for Visual Design – Skillshare.com
Skillshare's graphic design course is one of the most studied courses, with over 100,000 students enrolled. The course covers various topics, including images, photography, and marketing materials, and is ideal for beginners or professionals who desire to polish up their skills. Expect to learn:
Basic graphic design principles
Balanced symmetry and asymmetry
Types of framing
These concepts are a great place to start to actualize the various factors at play. With the skills gained in this course, aspiring graphic designers can create marketing materials, logos, web pages, magazines, card invitations, etc. In 35 minutes, beginners can acquire groundbreaking knowledge to get them started on this creative journey.
Canva Design School: Graphic Design Basics | Canva.com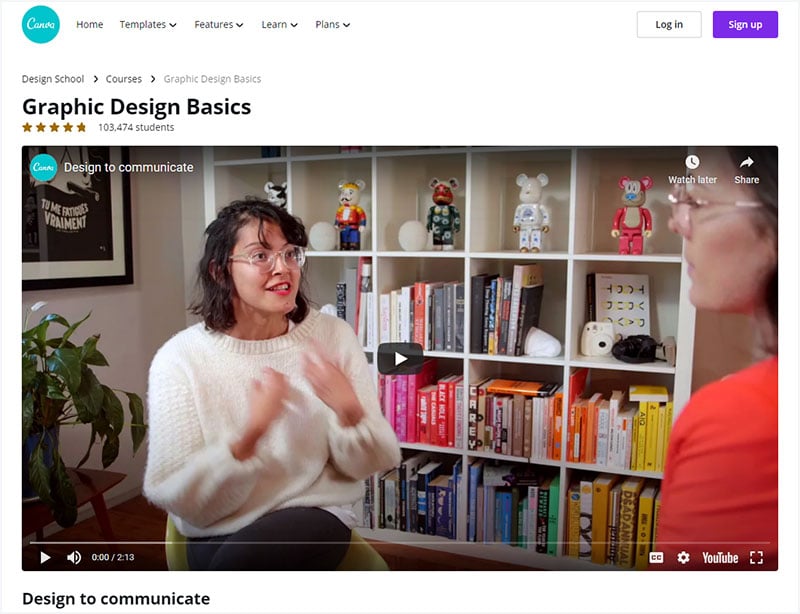 Canva's online course has a massive enrollment, and creative design is at the core of this course. Canva encourages the designers to incorporate their imagination when creating designs. Remember, Canva will save your designs automatically, ensuring your work is safe from loss. With persistence and practice, everyone can be a good designer. Good communication can go a long way to express ideas and thoughts to ensure you capture the best ideas and work on a common goal with your team members.
Conclusion
With the digital advancements taking place regularly, graphic designers will continue to see the demand for their services rising. These courses are a sure way to open up your creative juices and help you discover your potential as a graphic designer.
Recommended: