Hi there everybody! First things first; we would like to thank you all for your overwhelming response on our previous blogs and for also sharing our content and creative ideas with your family members, friends and colleagues. Oh, and before we start talking about what we have created for our today's blog, we would like to mention it here that your positive feedback always motivates us so keep that coming our way!
We have paired our today's blog with a free vertical building billboard mock-up PSD file and we will also share a few easy to follow and effective tips with you guys so that you can make your own design in no time – designs that are worth the effort and will also help you reach your target market successfully. Billboards are made in many different sizes and shapes, as per the spots a business can manage to book for their billboard advertisements, creative and design agencies make designs for their clients.
You would know that there are multiple ways of getting in touch with the customers, right? Digital seems interesting and easy and you can instantly create things if need be which makes the marketers and advertisers feel that maybe it is okay to shift to digital and social media platforms for quick service and engagement but that is not entirely true. You must be as much on-ground as you plan to be on digital platforms. That is not just necessary but, in this way, you get to reach the masses and that is literally what the goal is.
To discuss it more, allow us to share the benefits of billboard advertising while we are at it. So, billboard advertising means going big – you actually plan on a strategy that helps you in getting seen and then you stay there for a while which helps your brand to get registered in people's minds. There are many ways to engage with your audience through your marketing and advertising campaigns but what we need to do is to build a story around the brand / products or the services that we are offering.
Story creation does take some time but when it is displayed around the country, it makes individuals curious, they want to know more about you and your brand. They can contact you by visiting your website, by liking your Facebook Page or by following you on Instagram and then if they are really interested, they would pay a visit to your physical stores as well. So, it is like being served as per the fronts you are on – it could be on-ground (works when you are not on Facebook, Instagram or on Twitter for that matter) as well as online (if you prefer shopping online etc.).
Recommended: 100+ Outdoor Billboards Mockups
Billboard advertising is always working for businesses and brands; for example, if you are running a campaign, you know the spots for your billboards and whoever will pass by them will look at them no matter what the time is. It is like a 24/7 thing and the more they will look at it, the more the brand message will register. Once they have read the message, they will take an action too like signing up on your website, checking out your pop-up store or simply referring your business to someone who might get benefited from you. These actions are solid and guaranteed – the only condition is that you have to make sure that you are targeting the right people.
You must know that your billboards will always stay relevant and that is the best thing about them, another one is that you can be as creative as you would want to be and if you want to be seen on an even larger scale, then you sure should experiment with things that you have not done in the past. For that, your safest bet is to know your competition and what they are doing and create something to stand tall in the crowd.
Now, it is time for the tips that we promised to share so that you can start creating your own vertical building billboard designs:
This one is important, and you must not initiate the design process without it, always ask for a detailed brief from your client or team lead(s) in order to understand and know the requirements of your designs etc. As far as the imagery and color palettes are concerned, keep them relevant to the brand and also focus on keeping the overall design cluster free. Your copywriters will help you with the copy – it should be crisp, meaningful and you should be able to deliver the message properly too.
By creating mock-ups first, you and other concerned team members will be able to see how your designed vertical billboards will look on buildings etc. and you will also get a chance to make the changes that are needed to be made.
That's all for today! We hope that you'll have a good time while creating your designs using our free vertical building mock-up PSD file and if you do, share your design journey with us in the comments section.
Free Vertical Building Billboard Mockup PSD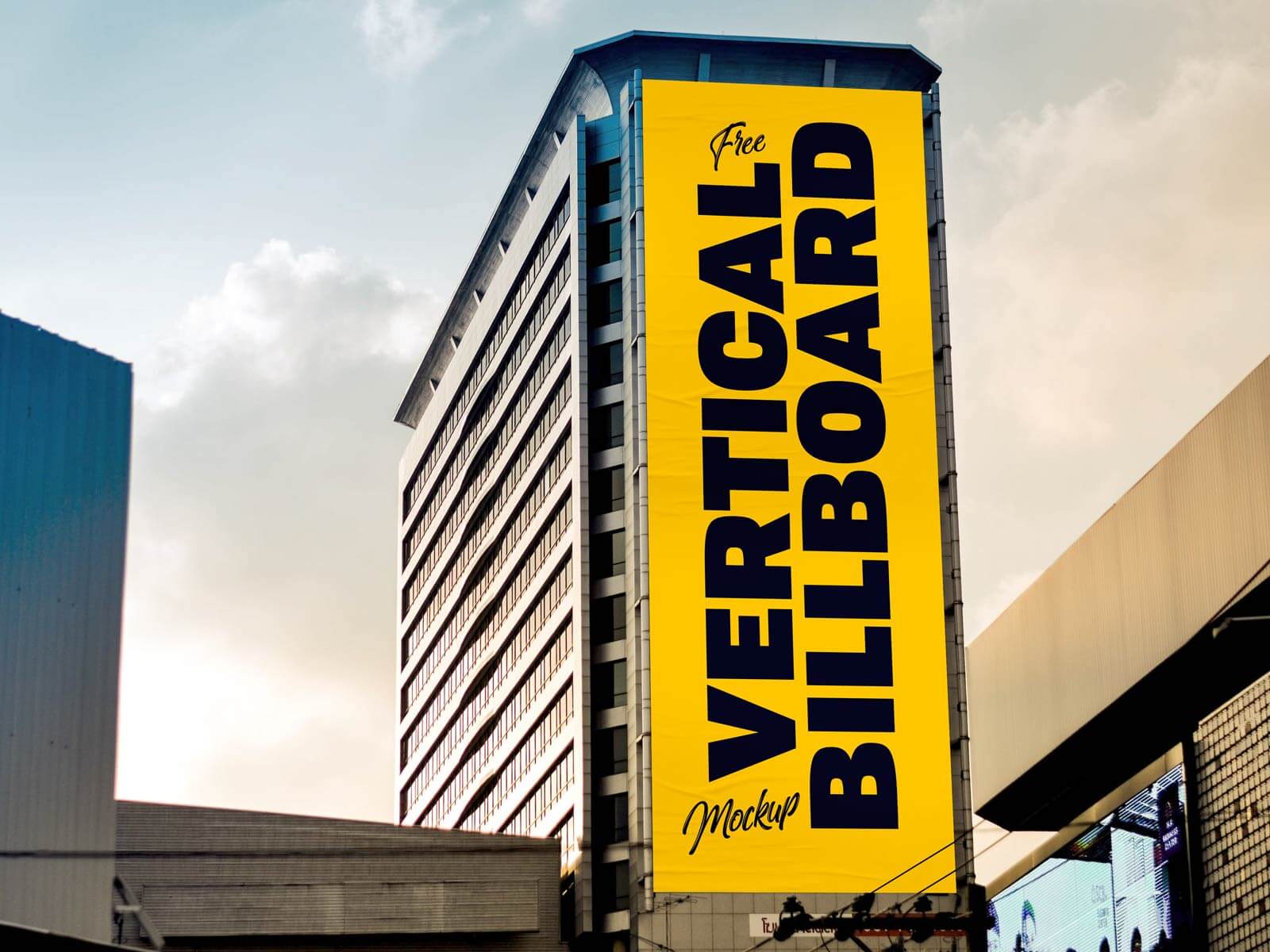 Available Format: Layered PSD with smart object insertion
License: Free for personal presentational use only
WinRAR File Includes: Building Billboard Mockup PSD
Note:
1. PSD Outdoor Billboard Mockup is allowed for sharing online (A Must Linkback to this page)
2. Say thanks if you like or share/tweet with your friends.
Download Billboard Mockup PSD
More Free PSD Hoarding Mock-ups you would love to download: