WordPress powers 39.5% of the websites today. This comprises business websites for all small and mid-size organizations and big corporations. With the world going digital, businesses need to have websites, and maintaining the website is even more critical. WordPress is among the most trusted content management systems used by businesses today.
With a sound content management system, you can enhance customer engagement, improve business operations, and generate more leads using your website.
Why Learning WordPress Is Important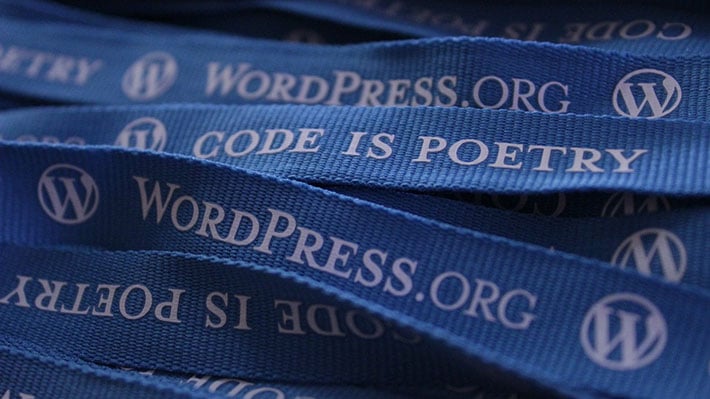 WordPress is the most popular content management system, making this the first reason you should consider learning it. The CMS is popular for its ease of use, huge community, being open-source software, and its customizability, to mention a few.
Learning WordPress makes you competitive as it gives you the skills you need to do a lot of things in the business market. WordPress has many uses, and having knowledge of the system can help you:
Offer Online Courses
If you are an educator or selling online courses, you need to know how to work with WordPress. A paper writer, for instance, can offer online essay writing courses using the platform. By learning WordPress, you can build your online course and also promote it.
Create a Website
Creating a website using WordPress is an easy job. Businesses are starting sites, and this is an area you can make money from. With this knowledge, you will not have to hire a developer to create a functional website for your startup.
Create a Blog
Blogs can generate traffic to your website, which can then be converted to sales. The knowledge of the software will help you manage the content of your pages for better engagement.
Learning WordPress gives you the valuable skills and knowledge needed to thrive in a world that revolves around websites. Through a WordPress course, you can start your online business, create polls, membership websites, and monetize your websites. Businesses need the skills, and you also do.
There are tons of WordPress online courses for beginners that will help you learn the system and utilize its resources. They include:
1. WordPress Quick Start: WP Apprentice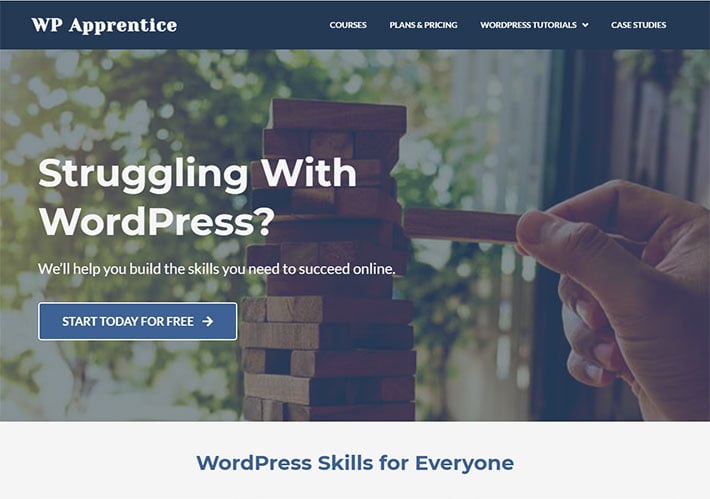 This course is ideal for beginners, and it will help you understand the system's very basics. The course takes one hour, and you can get it for free. Some of the basics you will learn from this course include finding a host, installing WordPress, navigating the dashboard, and creating content.
Also, through the course, you will understand all the platform features. The one hour course will give you everything you need to set up your site. Also, you don't need web development skills or prior WordPress knowledge for the course.
2. WordPress Training: Yoast Academy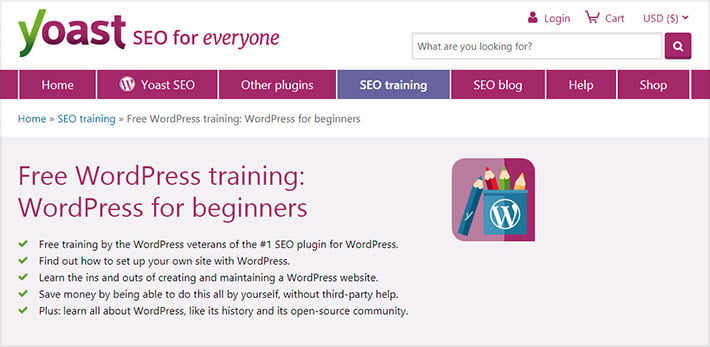 The course is by Yoast Academy and takes 3 hours to complete. It consists of four courses that cover all the WordPress basics. Through videos, you will walk through how to find a web host, do the installation, how to use the different themes and plugins, and everything you need to know to get started.
The course also includes WordPress SEO, which will give you the roadmap to start ranking on search engines. Once you complete the course, you will be eligible for a Yoast certificate and badge.
3. WordPress 101: WP101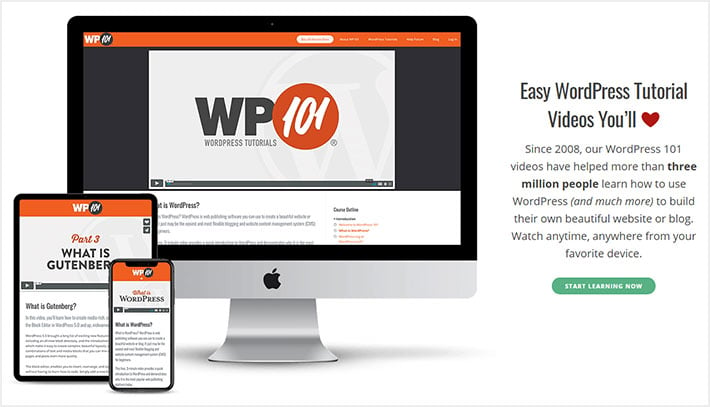 WordPress 101 course is run by WP101, and it covers all the basics a beginner needs to get started. Already, over three million beginners have used the course to learn WordPress. On top of learning WordPress basics such as plugins, themes, and installation, you will get additional materials to customize the website.
The course consists of 20 videos that give the beginners comprehensive knowledge of the platform. Extra support is offered in case you have questions that are not covered in the videos and materials provided.
4. Lynda.com WordPress Courses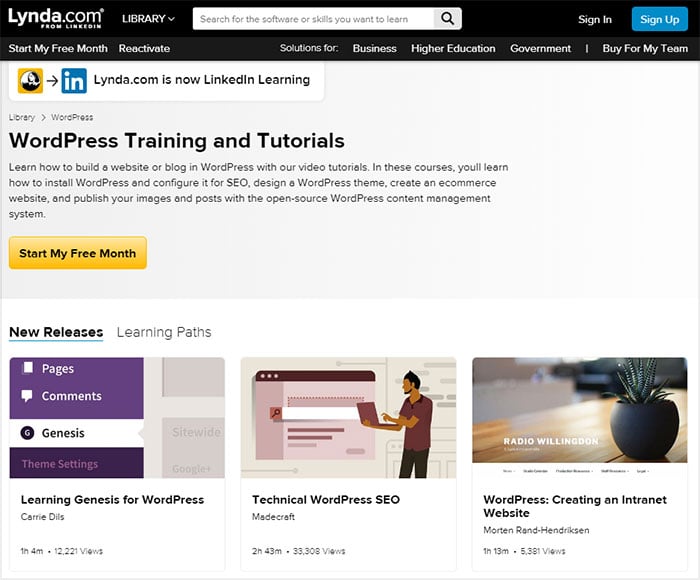 The beauty of Lynda.com is that it allows people to upload all WordPress courses they have. The wealth of knowledge on the platform is comprehensive, and you will get everything you need to navigate WordPress.
The course's completion is variant on the type of courses you are taking and the material you are using. There is a lot of content on WordPress, which gives you the benefit of getting exactly what you need to learn.
Once you are done with the basics, you also have the opportunity to get advanced content and techniques. The platform also gives you the freedom to direct your course.
5. WordPress Development: Treehouse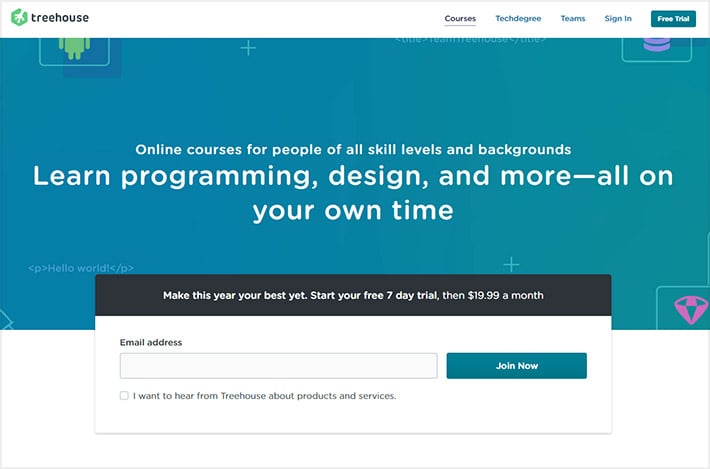 This consists of the beginner course and the WordPress full course. To complete it all, you will need 27 hours. Here, you will learn the basics and also get a smooth transition to the advanced WordPress techniques.
There is a lot of content consisting of everything someone would need to know about WordPress. The content is also very organized. It will give you clear guidance on navigating the different features and showing you how everything works.
6. WordPress Training: Udemy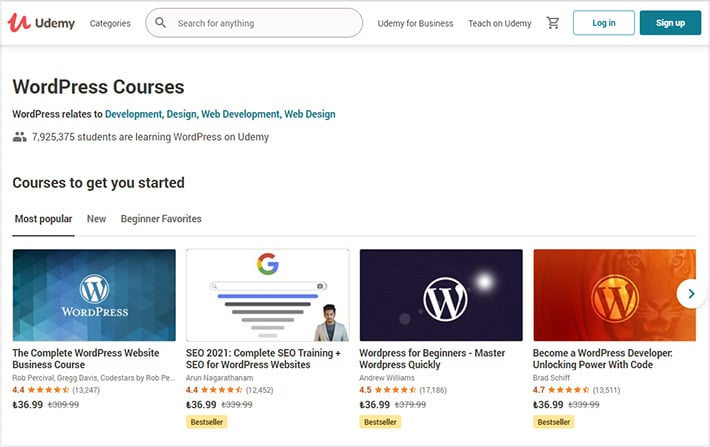 This course will equip you to start a WordPress website from scratch. You will learn how to create a blog and professional website. The course also covers the building blocks of the CMS and the conceptual framework of the platform.
By the time you complete the 4-hour course, you should be able to manage your WordPress themes. You can access the course anytime, and it is compatible with both mobile and TV. On completion, you can also get a certificate.
Within the four hours, so much will be covered. The course includes a beginner-friendly step-by-step guide to help you get your website up and running. The course takes a comprehensive approach. You get to learn how things work and why they work that way as opposed to just mere instructions.
The course is also straightforward, allowing you to understand the WordPress framework after interacting with it.
7. Be Your Own Boss: BitDegree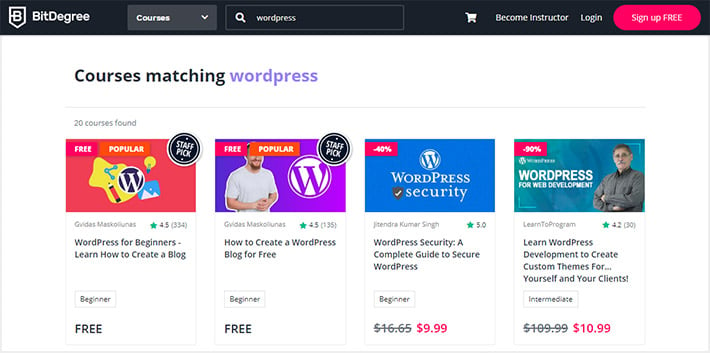 The beginner level course consists of 17 lessons. It takes 75 minutes to complete, which will also depend on your lesson plan. It is a unique WordPress beginner course as it teaches you how to launch a website and make money out of it.
The course consists of additional tips for effectively running your website. That is improving its architecture and also making money from it.
Conclusion
WordPress has a lot to offer apart from being the most popular CMS. The software is highly customizable and offers excellent flexibility, which makes it the most preferred option for users. The platform's maintenance and setup are also easy, making it ideal for launching your website.
To start a WordPress site and maintain it, you don't need special developer skills. The courses above cover all the basics you need to have your website up and running. Most are free and take you only a few hours to complete.
Once you are done with the beginner courses, you can go for the advanced techniques to fully utilize the CMS features.
Recommended: