Hello there friends! We are back with yet another useful and super informative blog for you guys and we can bet that you all are going to love it. But before we introduce you to what we have created for our today's blog, we would like to take this moment to thank you for your constructive feedback, for your constant support and of course, for your interesting suggestions. Keep everything coming our way and we will continue to create what we love to create!
Okay so, as we all know that in the recent past, more and more people started to shop online and we think it is also good because you get to save your fuel, time and you do not even have to step out of your house / apartment to get what you want to purchase. Well, sure you might have to go receive the packages at your doorstep but that is that, right?
Online shopping, no doubt has made lives easier and since it is convenient, we totally get the love for it too. Keeping the ever-increasing demand of shopping online, we decided to make a design of a corrugated shipment container box that you can use for your personal and professional uses by creating your own designs. As you know that all our mock-up PSD files are free yet highly editable, we are sure that you will have a great time working on this mock-up too. So, let us get started with all the design tips & tricks and suggestions!
First things first; it is important to know the difference between a simple cardboard box and a corrugated box. So, a cardboard box / container / carton is made of thick paper or heavy paper pulp while corrugated boxes are made using a few layers of the material rather than just one sheet. A corrugated box has three layers; an outside liner, an inside liner and a layer that goes between the two layers and is fluted.
The layering brings rigidity and strength to the box and that is the main reason why corrugated boxes are preferred over cardboard boxes when it comes to packaging stuff and sending it over to places within and outside a city or country. This particular shipment container box that we have created for you guys can be used for packing a variety of stuff for example; clothes, wallets, documents, jewelry items like anklets and necklaces and anything and everything that can fit inside depending on the depth of the box.
While we were working on the theme ideas and suggestions that we had to share with you guys for the design of the corrugated shipment container boxes, we made a list of things that you can do by using our free mock-up PSD file. Let's have a look at that!
It does not matter if you are a small scale business or a big one, the first and the foremost thing for anyone is to make that personal connection with their clients / customers and for that, we thought that even if you do not have a lot of money to spend on personalized cards or notes to greet your customers etc. you can literally use the box itself to send out a personalized message. From thanking your customers for having faith in you to making theme based designs like season greetings, holiday season, TV seasons, celebrities, fictional characters, political figures etc., you can make use of anything that seems and feels relevant to the target market.
The only reason why we always suggest our audience to go for themes and personalized designs is that it allows you to hit the right spot with little to no effort and your customers will be more happy to receive something in a well thought and designed box as well so, why not take that as an opportunity and make the most of it, yeah?
As far as the branding of your business is concerned, make sure that it is prominent – not all over the place like prominent but like subtle prominent. In addition to that, you must make sure that you also mention enough information so that your existing and potential customers can reach out to you. It could be your website address, your Facebook Page Link, your Instagram username or your Twitter handle as well as your phone number(s) too. Or you can simply have QR codes made to serve the purpose.
We know that we almost always mention this but do not forget to compile all your designs in a nice and detailed mock-up presentation so that you can have all the concerned team members see and give you a final go ahead on the designs for proceeding further.
That's all for today! We hope that our blog and free corrugated shipment container mockup PSD file will help you create attractive designs. Don't forget to share the ideas with your friends and favorite colleagues too.
Free Corrugated Shipment Container Box Mockup PSD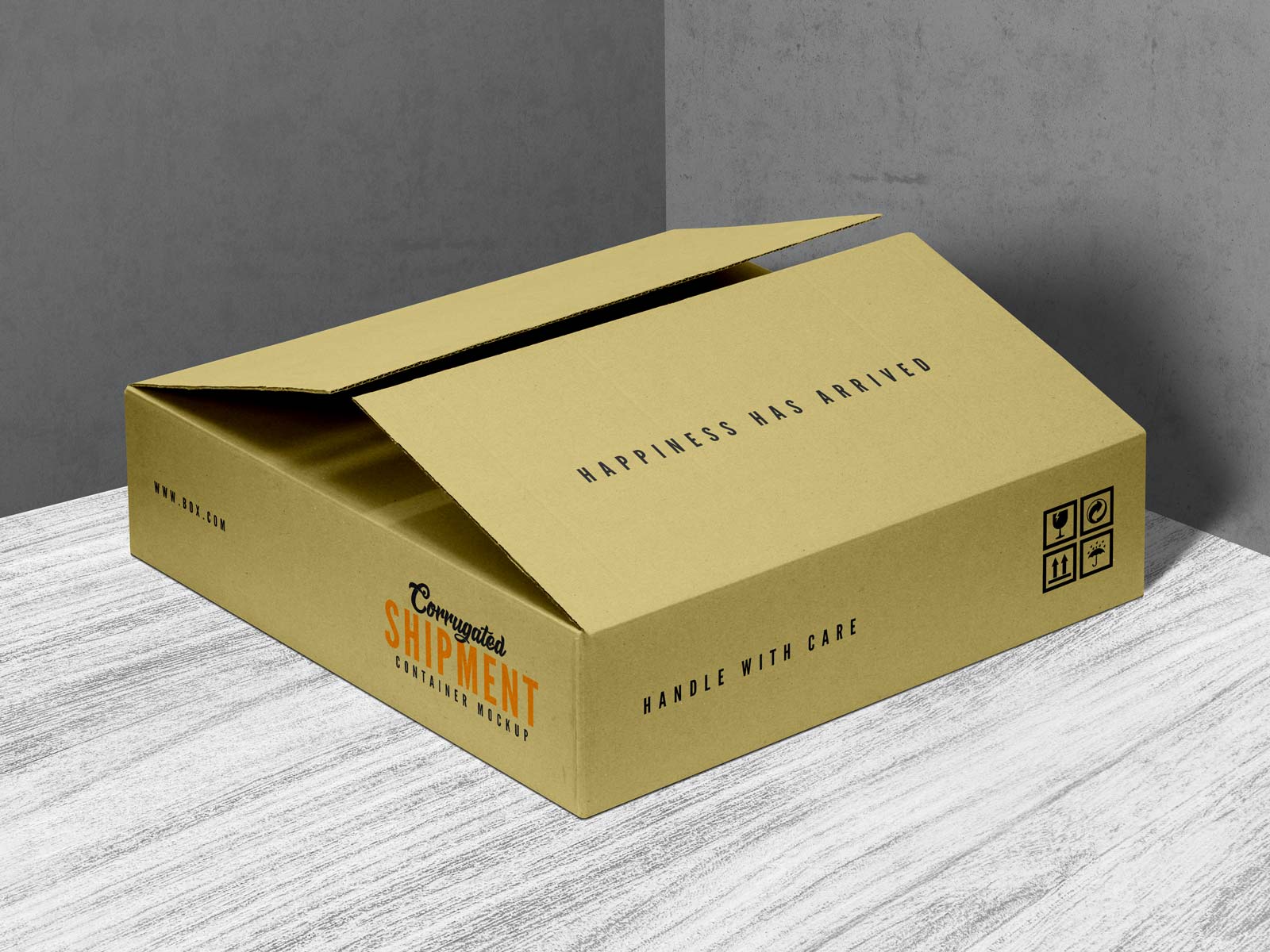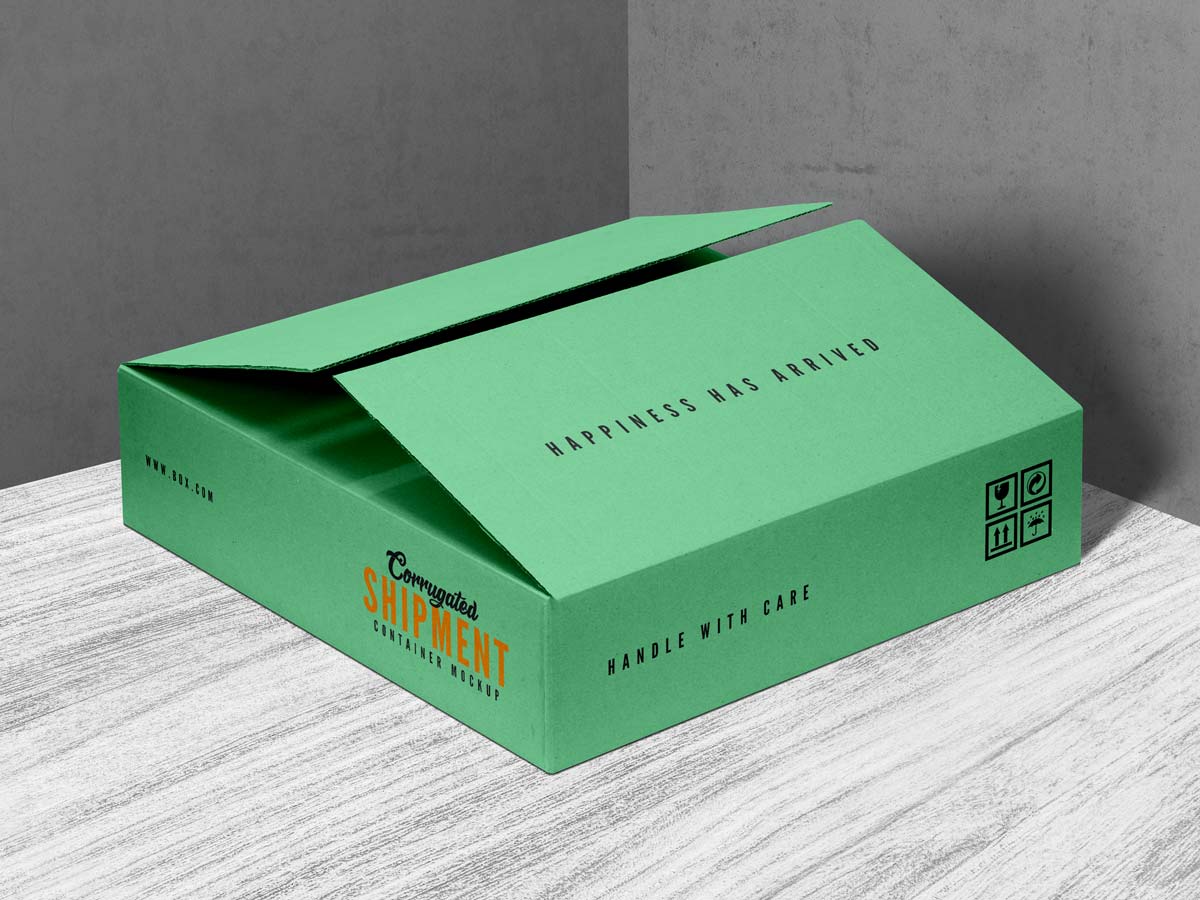 Available Format: Layered PSD with smart object insertion
License: Free for personal presentational use only
RAR File Includes: Container Box Mockup PSD
Note:
1. PSD Mockup is allowed for sharing online (A Must Linkback to this page)
2. Say thanks if you like or share/tweet with your friends. That means a lot to me.
3. And don't forget to subscribe to receive for more high quality premium freebies & awesome articles only.
Download Container Mockup
Recommended: