No matter what your business or hobby is, it's likely you need not just one but a whole suite of photo editing apps available at your fingertips.
For decades, manipulating photos in Photoshop was the standard, whether people were doing so for professional or personal purposes. Then, Instagram arrived on the scene with ready-made filters. But over time, media trends have shifted. Now, many businesses operate on-the-go, while individuals want to have the power of enterprise tools in the palms of their hands. Mobile app UI continues improving and changing to reflect the demands of consumers.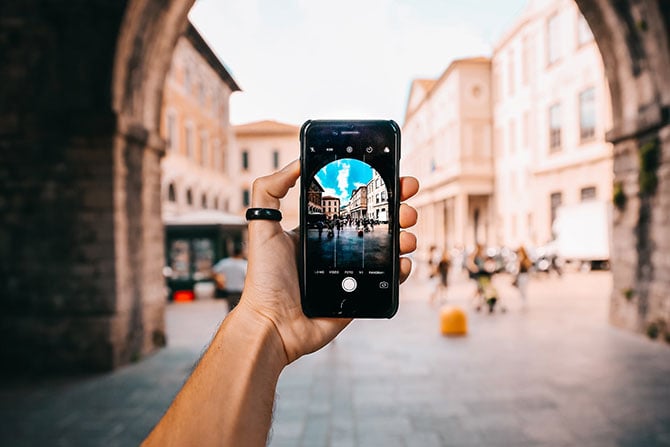 As media consumption grows and consumers expect instant and constantly-updating entertainment, there isn't time to deal with professional photoshoots, upload the images to a high-powered computer, edit them, and publish them. Businesses need to be fast, mobile and agile to capture their share of the attention economy.
Simultaneously, now that audiences have grown accustomed to Instagram's built-in filters, additional steps are needed to help the visuals you post on websites and social media.
That's why these five photo editing apps are must-haves for different image editing objectives. Each with its own set of dedicated purposes, they allow organizations and individuals to easily and effectively create high-quality content that keeps audiences engaged.
Motionleap: Add Motion to Your Stills
Motionleap (known as Pixaloop until recently) is the perfect app to add a bit of extra visual interest to a still image. While sometimes a still image is perfect, there are moments when it's better to augment it with a flowing or kinetic effect.
This app works on a few different levels, but its primary strength is the ability to animate. You can choose one or several elements to animate. This gives more power to the user to decide which area of their photograph to elevate and capture more attention. For example, you have the option to make water ripple, clouds move, and candles flicker. It's also highly intuitive to use.
To edit an image, simply upload your visual and swipe a thumb across the "paths" to be animated. You can set "anchors" on the areas you'd prefer to remain still.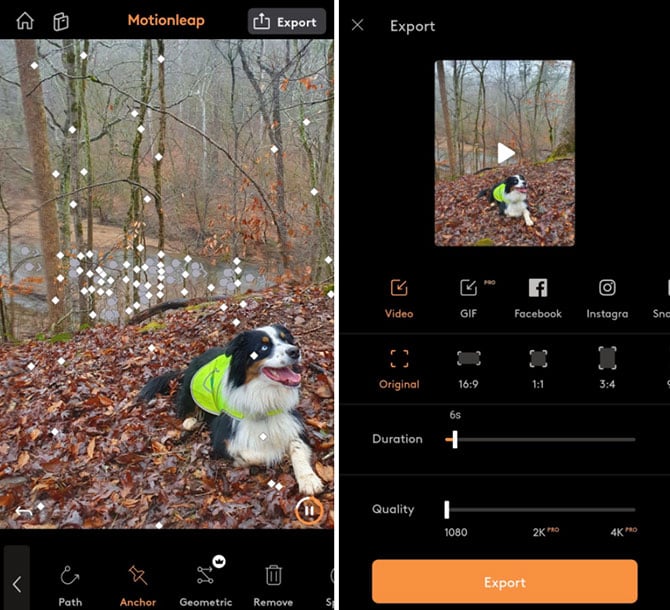 Image source: screenshots taken by author
It's available on the Apple App Store for iOS devices, or on Google Play store for Android devices. There's a free version but the app also offers the option to upgrade to a Pro version, at $5.99/month or $19.99/year, which gives the user access to premium features like a higher quality download, or support for GIF exports.
Crello: Add Text and Word Art
A picture is worth a 1,000 words, but occasionally it's necessary to add a few extra words, too. No matter if the target is adding an explanatory still to a TikTok video, or a promotional image for a business, there will always be a point where adding text and word art to images really helps elevate the visual.
Crello is ideal for this kind of work due to its enormous library of templates, which ends up being a huge time-saver.
While users can select custom sizing, the easiest way to use it is to simply choose the format – Instagram, Facebook, Pinterest, Twitter and more – and open virtually unlimited template options. It only takes a few taps to turn a template into a beautifully rendered piece of custom content, ideal for promotions, invitations and event headings.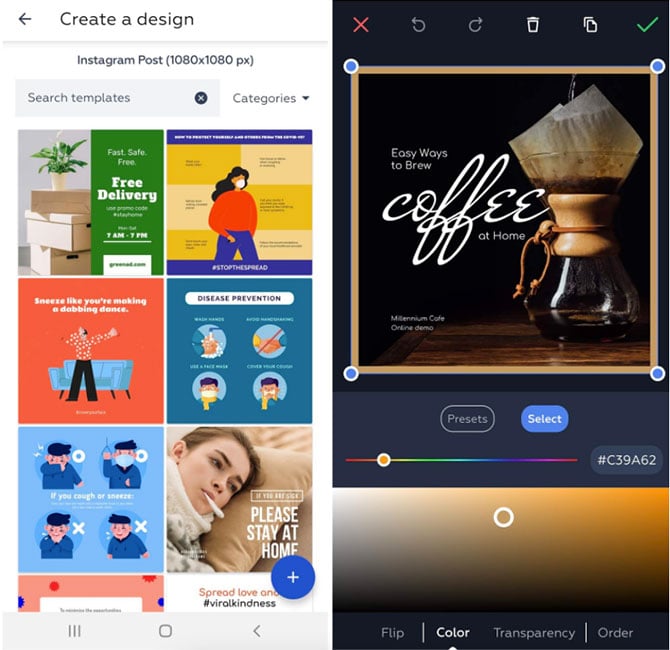 Image source: screenshots taken by author
The Starter plan is free and comes with five photo downloads, while the Pro plan grants users unlimited downloads at $9.99 per month, along with a few extra features. It's available to download on the App Store as well as on Google Play. Users can also log into the website to use it on a desktop.
Prisma: Turn Your Photos into Paintings
Filters a big part of what made Instagram so popular – they allowed users to go beyond whatever photo skills they had and elevate an ordinary picture into something really eye-catching. Prisma is the next step in this evolution, employing AI to apply artistic styles to your snaps.
Styles include those to turn your photos into expressionist paintings, cross-hatched ink drawings, or graphical pop art in the style of cult favorites like Jared Nickerson, Natalie Ratkovski and Hayao Miyazaki.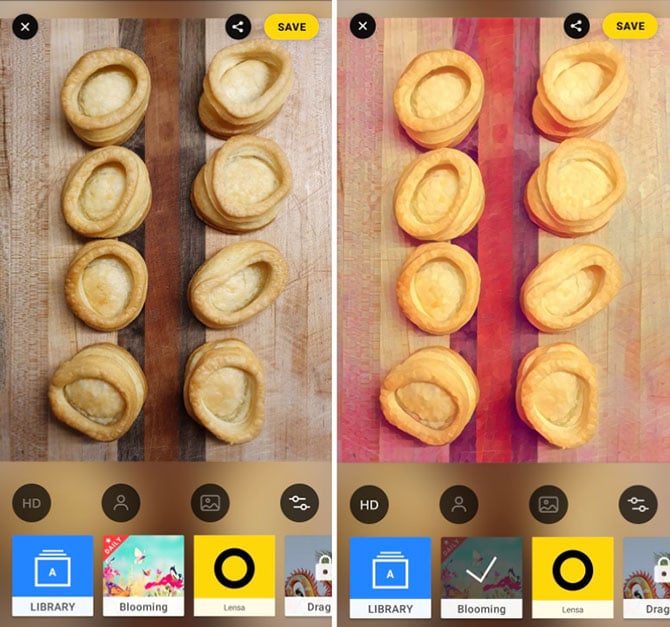 Image source: screenshots taken by author
It's one of the easiest apps to use – simply select a photo, then pick a painting style to apply to it. The hardest part is picking the style to use. There's a free version where users have access to an impressive array of painting styles, while the Premium plan, priced at $29.99/year, grants unlimited access to all styles.
Prisma is available to download on both the Apple App Store and the Google Play store.
Snapseed: Enhance Lighting and Color Balance
While Instagram's filters are exceptional, they don't allow for fine control. When you want to really optimize a selfie, or if a business client wants to make their photos stand out just that little bit extra, Snapseed is the ideal option to edit pictures with darkroom-like enhancements.
There are two ways to use Snapseed to edit images. First, uploading an image allows you to apply what Snapseed calls a "look." These are most similar to Instagram's native filter features. For more control, they also have a suite of "tools," which give users access to many more tuning options such as changing the perspective, altering the white balance or sharpening.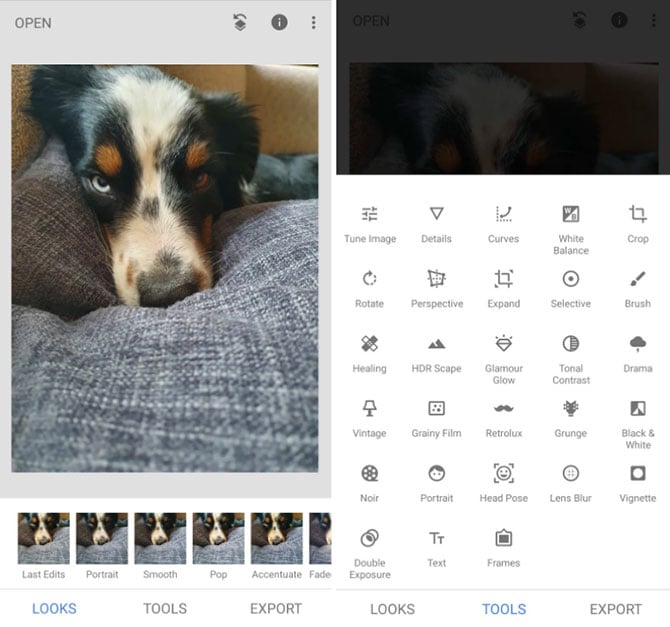 Image source: screenshots taken by author
While Snapseed is on the more complex side, with just a bit of experimentation it's possible to learn how to use it to its full potential.
Google acquired this app from its original developers in 2012 and made it free on both the Apple App Store and Google Play.
PhotoToaster: Apply Surreal Textures
PhotoToaster is the perfect photo editing app for those who want to create an extra, interesting layer on top of their photography.
While the app comes with its own presets, it also allows users to save their own custom effects to use in the future, so if there's one particular look you keep coming back to, it's easy to reapply every time. This is also very useful for businesses who want to keep branding consistent.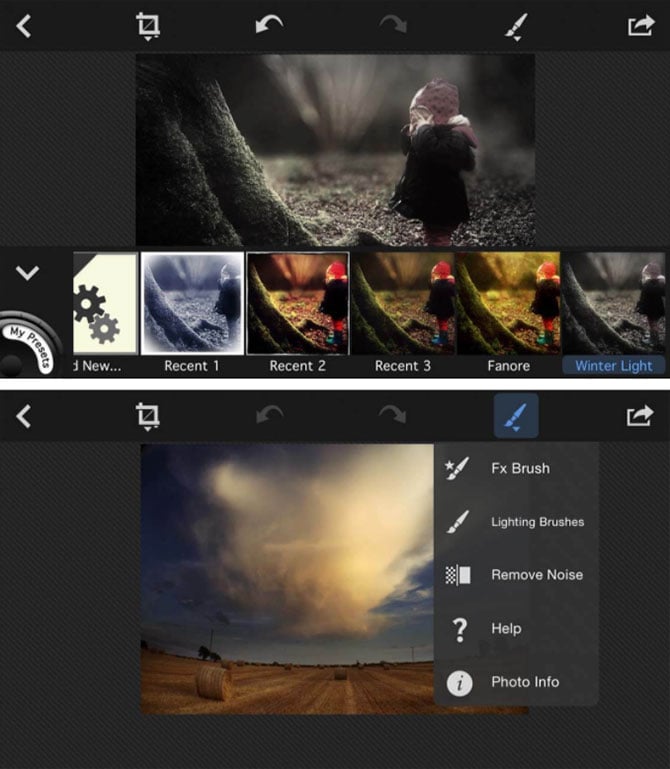 Image source: iPhone Photography School
Another great feature is the set of FX brushes that give users the power to add a texture to one specific part of the image. All of these changes are easy to save or reverse.
This app is available on the Apple App store, and costs a one-time fee of $2.99.
Must-Have Image Manipulation Tools
While Photoshop and then Instagram laid the groundwork for simple and complex photo edits respectively, the rapidly-growing ecosystem of photo editing apps proves that individuals and businesses alike are seeing value in apps that let them perform an increasing range of eye-popping image edits on mobile devices, rather than requiring a computer.
These five photo editing apps are perfect tools for the job, whether you need to slightly change the saturation levels all the way to adding animation to a still image.
Recommended: