Hi there, hello there! We hope that you guys are keeping safe and are also finding our blogs and content ideas super helpful too. Our today's blog will talk about the fitness enthusiasts in general and how you can cater to their protein needs through your packaging designs. And if you are wondering how to do that nicely, know that our free protein bottle container mock-up PSD file will make the process smoother so, let us get started!
For those of you who would want to know more about the protein supplements, this one is for you, keep reading it because we know that you are going to love all the information that we are about to share. So, (protein) supplements that are manufactured and consumed for bodybuilding are basically dietary supplements or energy drinks (in the truest sense of the word). These supplements are used for various purposes or when someone is into weightlifting, martial arts, athletics or even to increase lean in the body.
All the supplements that are being sold in the market are made by following special formulas so that they can deliver what they are supposed to deliver. And it is always recommended to consume such products if you have a proper prescription from your general physician or a nutritionist etc.
Although, the packaging of supplements mention everything that a consumer must know about so that they can be careful with the usage, but there are times when individuals become their own doctors and purchase these products from store shelves so it is better to be open and clear about the dosage, side effects and other important things in the packaging designs. To help you guys create attractive and responsible packaging; we are going to be sharing a few easy to follow and effective tips with you guys just about now.
Recommended: 30+ Premium Quality Product Mockups
Okay so, first things first – protein supplements are to be used under a medical instructor's or a professional's supervision and that is one of the reasons why these products are to be approved by food authorities and then they are made available in the market. It is important for the manufacturer, producer and anyone directly involves with such products to take full responsibility of what is being sold to the customers. As far as the creative and design agencies are concerned, they need to do their work responsibly too. Here is how:
Being the design team of any such product that is made to be consumed by humans etc., it is important for you and your team members to do the research and find out anything and everything that can help you understand the product(s) better. You must also ask your client to share a detailed creative and design brief with you as well so that you can plan out what to do and how to do it.
In addition to mentioning the ingredients with their percentages, recommended dosage and how to make the supplements consumable, you will also have to mention the manufacturing and expiry dates as well so that your customers can take informed decisions. Speaking of which, you must also mention it separately if any of the used ingredients can cause any sort of allergies or have side effects too. Have you noticed that we are emphasizing on the word 'important' here, that is because you would not want to miss out on sharing information that can help one person or the other to understand their products better?!
Recommended: 80+ Best Packaging Mockups
Like every product that is to be consumed, protein supplements are no different when it comes to the colors that have to be used for the packaging designs. By that, we mean that you must read up on color psychology before you work on the palette and tones of your packaging designs. Allow us to share what different colors stand for:
White represents simplicity and purity. This color is used in packaging designs to depict that the product is simple and safe to use. When used with other colors, white is accented and is known to change the perception too.
Blue represents harmony, honesty and strength. Interestingly, blue color can be used for any age group and genders as this color gives out calm vibes which vibe with everyone. You can use different shaded of blue to attract your different audience for example; darker ones are for older audiences and lighter tones are for the younger lot.
The color green stands for growth and harmony and it is literally a staple color too – it shows that you are an eco-friendly business, natural or organic and honestly, these are the things we should ne looking for in any brand, you know.
Then comes the design elements and for protein bottle designs, feel free to add in elements that depict strength and power. You can also add in an animal figure that resonates with the product to make a more impactful impression and we are sure with our free protein bottle container mock-up PSD file, you will be able to do that and more easily and skillfully.
Free Protein Powder Bottle Mockup PSD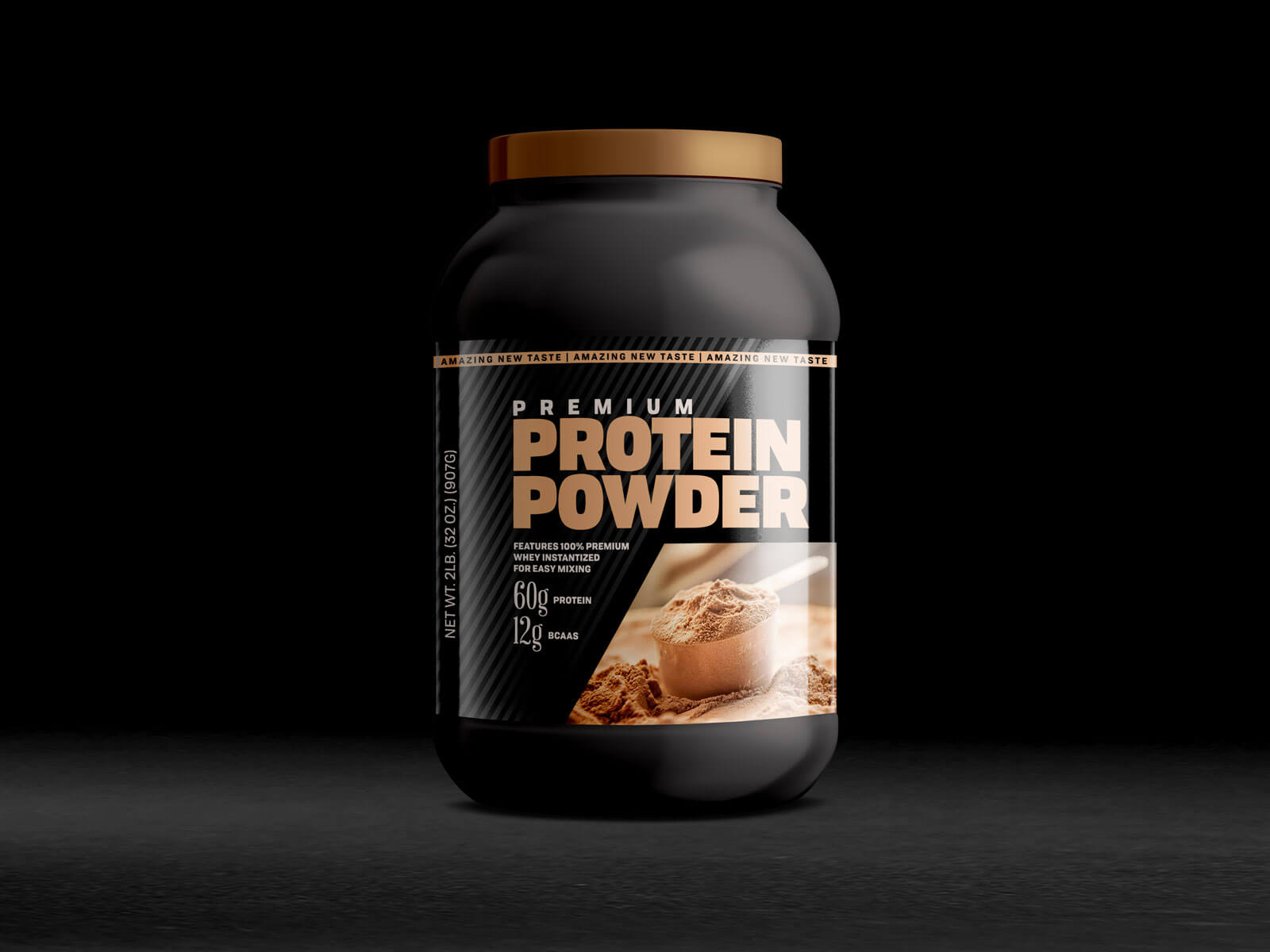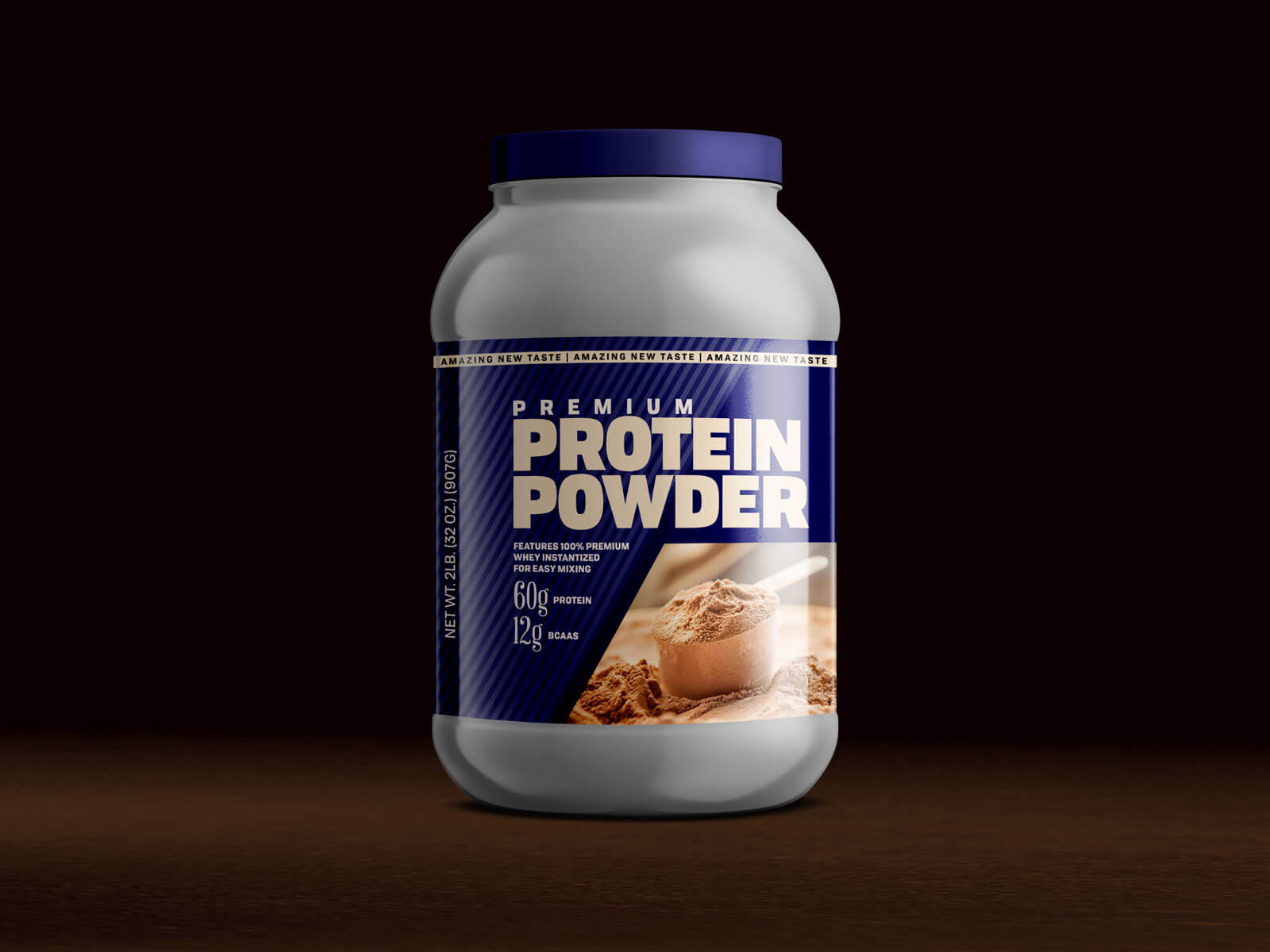 Available Format: Layered PSD with smart object insertion
License: Free for personal and commercial usage
RAR File Includes: Free Protein Powder Mockup PSD
Mock-up Resolution: 4000 x 3000 px

Note:
1. Free Protein Powder Mockup PSD is allowed to share online (A Must Linkback to this post)
2. Say thanks if you like or share/tweet with your friends. That means a lot to us.
3. And don't forget to subscribe to receive for more high quality premium freebies & awesome articles only.
Download Powder Bottle Mockup
More Free Product Mockup PSD Files: