Hi there everyone! We are back with yet another interesting topic to talk about and of course, our free yet highly editable mock-up PSD file as well but before we get started, we would like to thank you all for your constant support, your super constructive feedback and for your suggestions as well and we just wanted to encourage you to keep dropping in your comments and keep sharing our content with the ones you love.
Okay so, allow us to share that awesome cool idea and the mock-up that we have been working on for you guys. Have you thought about going minimalistic when it comes to business cards? You are not thinking about business cards still being in fashion, are you? Well okay, if you guys are wondering if business cards are relevant or not, we would like to share it with you all that yes, they are very much relevant and still being exchanged among professionals around the globe. But no, would you like to imagine a business card that's been made following minimalism? We can, and we are about to share how it must look like but before that, let's dig a little deeper into what minimalism is.
In easy to understand words, minimalism is to own things that you need – an no extra stuff whatsoever. In more serious words; minimalism is also defined as freedom. You must be thinking about all sorts of freedom as per your knowledge about the word but here, freedom means to being free of fears and worry. This freedom is also from overwhelming feelings, depression and also from the consumer culture. That rush that we feel when we happen to see a sale announcement and want to spend our money on one or all of the things fall under the category of consumer culture.
Interestingly; this concept of minimalism can be applied on a lot of things for example design, clothing, lifestyle in general and to be honest, we actually really like the idea of going minimalistic. It is not only fun, but you also get to get rid of things that you do not require anymore when it comes to the possessions that you own. And that stuff can be donated or can be given to people who might need it so as long as you are able to make this world a better place to live in, you must never stop trying out new concepts and ideas.
Recommended: 5 Types of Business Card Printing
That being said, we would love to share how you can still make and use your business cards for your personal and professional meetings. We have mentioned personal meetings here as well because you never know if the person you are trying to share your contact information with has a phone on them at the time of you and them meeting or a pen and paper to write the numbers etc. on so yeah, business cards do come in handy in situations like that too.
Also, and this is important information – even though we have progressed so much digitally that we tend to believe we might not need something that is like old school or conventional but that is and must not be the case. Sure, you can share your business information online too like on your LinkedIn, Facebook and even on WhatsApp for that matter but the feeling that you happen to feel when you are exchanging a business card with another person in real life is still unmatched and we know that we are not going to get over it anytime soon.
Now, let's talk about how you can go with the approach of minimalism when it comes to designing a certain thing and, in this case, as you know that we are going to be talking about business cards. For the design elements, you can experiment with the designs and see what goes best with the profile of the person or their company's profile. But make the design fun to look at like the other person should feel happy to receive and then keep it with themselves.
As far as the copy of a business card is concerned, you need to know that you it has to be to the point. No long sentences just a couple of words as pointers and your design will be good to go. Another important and the deciding factor of a person keeping someone else's business card is the finishing of it and there are like plenty of options available in the market as well but make sure that you do not settle for less because your business card is one of those things that can help you make a good impression on others.
So, what are you waiting for? Get your hands on our free minimalistic business card mock-up PSD file today and start creating awesome designs for yourself as well as for your clients. Oh, and don't forget to share our blog with your favorite colleagues too!
Free Minimalistic Letterpressed Business Card Mockup PSD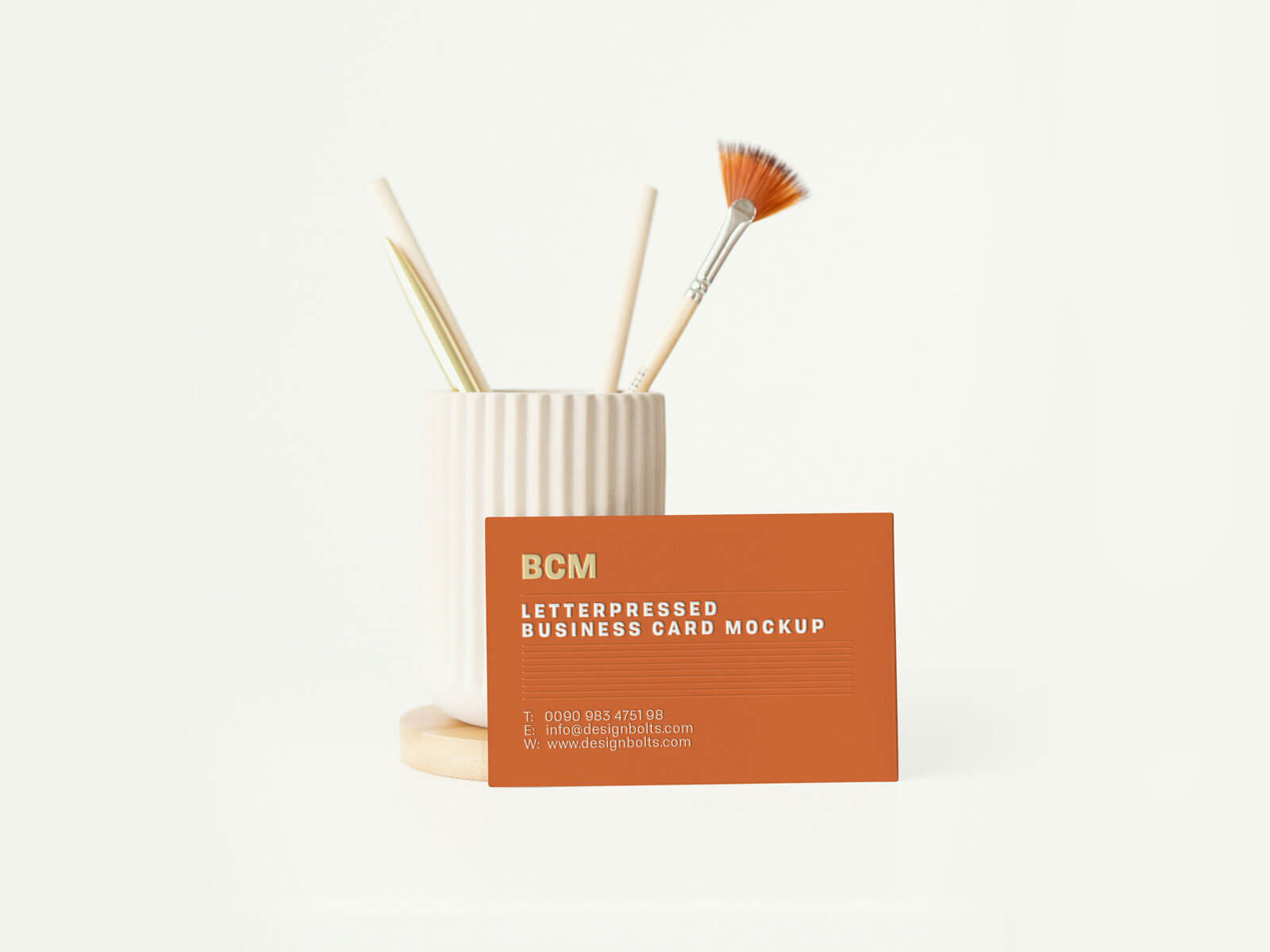 Available Format: Photoshop PSD
License: Free for personal and commercial usage
File Format: WinRAR
Mock-up Resolution: 3000 x 2250 px
Artwork Size: 3.5 x 2.25 inches
Note:
1. Free Business Card mockup is allowed to share online (A Must Linkback to this page)
2. Say thanks if you like or share/tweet with your friends. That means a lot to me.
3. And don't forget to follow or subscribe to receive more high quality premium freebies & awesome articles only.
Free Business Card Mockup
More Free High Quality Mock-ups: