Hi there everybody! First things first; we would like to thank you all for your overwhelming response on our pervious blogs and for also sharing the content with your friends and favorite colleagues and we are so glad that you guys have also sent in a number of suggestions as well – on which, we have already started working and you will see your desired mock-up PSDs and blogs here very soon. Moving on, we have a really cool mock-up PSD file to share with you guys and we know that you are going to love it too so, let us get started!
In today's time and age where almost all of us prefer to communicate through digital platforms like applications, websites etc., we wanted to create something that could be beneficial for anyone and everyone who loves things the traditional way. For instance; sending handwritten greeting cards and letters, you know? If we were to mention what we love, then we would definitely say that we will try our best to never let this thing die. It is like so thoughtful and amazing to write and also to receive something that someone sat down for, wrote it with their hands and then sent that your way.
Greeting cards, in general come in many different sizes and of course, for manyyy different occasions too but the best part about them is that they really help the person convey their feelings in an adorable manner and hey, if the feelings are understood and reciprocated, you might get a greeting card as a reply as well and that is like the most fun thing to ever happen. Also, this has become a fact that the whole world happened to witness trying times and we think we should be doing cute stuff to make our loved ones happy even if it can be done purchasing a greeting card and have it sent to their address – we can bet that it will surely light up their day just like that. And if you want to go extra, then pair it with a box of chocolates.
And we are sure that if you are like us then you must have started thinking about all the occasions and non-occasions to present to your loved ones a couple of greeting cards by now and you know, that is good, that is progress. To help you guys create your own greeting cards or make them for your customers, we decided to create this free greeting card mock-up PSD file. As you all know that we keep our mock-up PSD files are free to download and use, you guys will have a great time editing them because they are highly editable too.
So, what are the things that are coming to your mind right now? The occasions, the regular day moments that you can make memorable – honestly, it could be literally anything. For example; let's take the simple route and make morning wishes even more fun through greeting cards. You could create the content along the lines that would make anyone bring that huge smile on their face. Or you could wish them good luck for a pitch presentation or an admission interview.
If you really want someone to swoon for reals, make a card design that is cheesy but with the right amount of words and feelings and we can bet that, that the other person will become a fan of your greeting card. Also, did we tell you that you can make greeting card designs that are full of sarcasm and are great to read? But like only give / send them to those people only (close friends, loved ones, family members) who get your sarcasm and won't get offended after reading the card etc., that is important. You can also make cards that colleagues would want to give to their fellow colleagues and they could be about anything too for example; congratulating on joining the workplace (and if you want, you can drop a subtle hint on how things are like at the workplace), it could be a farewell card as well or a basic card design mentioning how grateful you are to work with such a supportive co-worker.
That's enough on the content ideas for your greeting cards so, let's talk about the design process. We know that you would know this but we would still want to mention it here again that if you are working for a client that wants everything to be classy and perfect, then you would want to create a bunch of card design mock-ups so that they can share their feedback with you (if any) and eventually the final go-ahead. By creating mock-ups, you will be able to save your time, efforts and money and all of these will be spent on designs that have to be printed and made available for the public.
And that is all for today! We hope that our blog and free greeting card mock-up PSD file will help you make pretty designs in times to come.
Free Easter 2021 Greeting Card Mockup PSD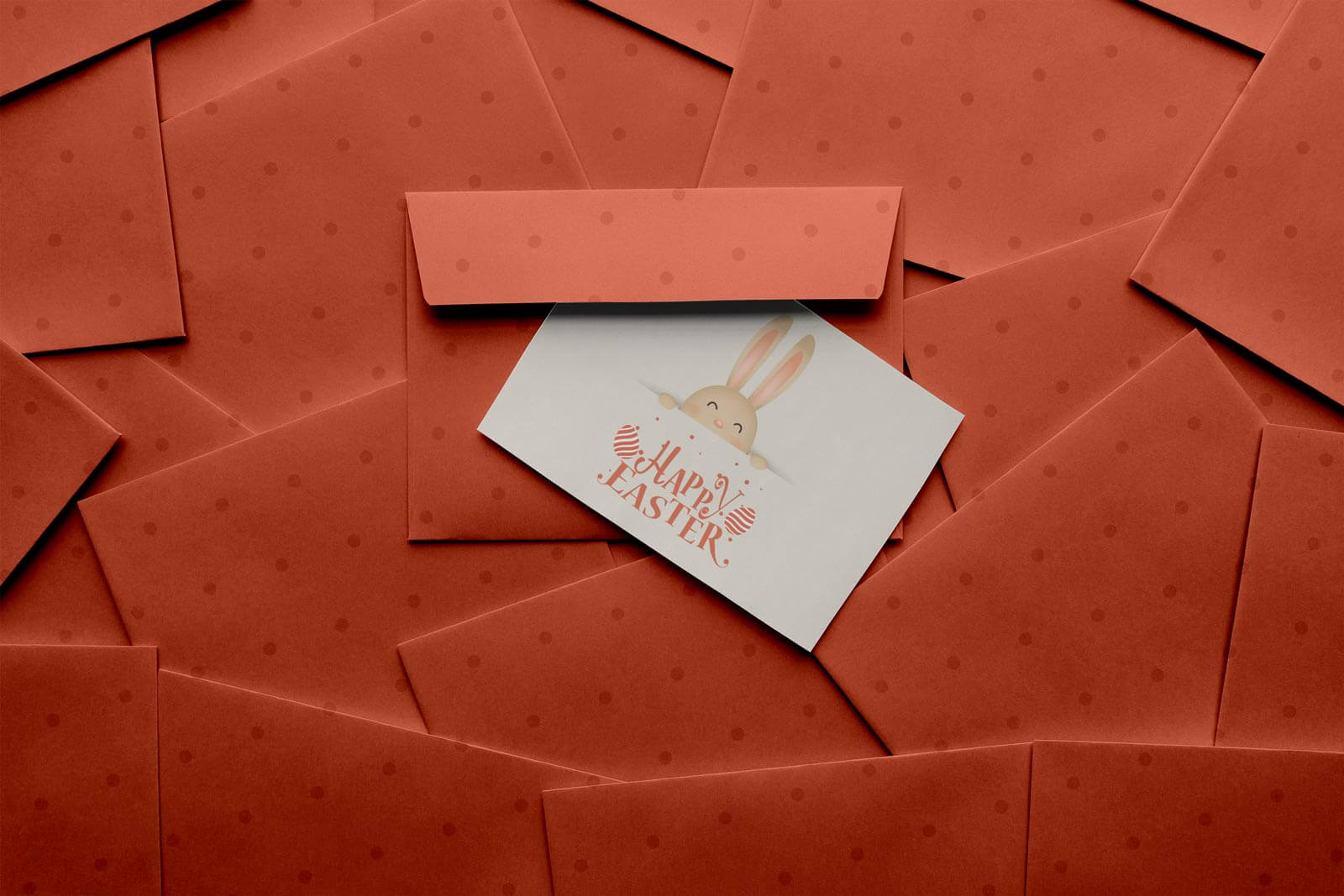 Available Format: Layered PSD with smart object insertion
License: Free for personal and commercial usage
RAR File Includes: Free Easter Greeting Card Mockup
Card Size: 5 x 7 inches  (300dpi)
Card Design: Freepik.com
Note:
1. Free Mockup PSD is allowed to share online (A Must Linkback to this post)
2. Say thanks if you like or share/tweet with your friends. That means a lot to us.
3. And don't forget to subscribe to receive for more high quality premium freebies & awesome articles only.
Download Greeting Card Mockup
Recommended: