Hi there friends! We hope that you had a great weekend and that our blogs kept you busy too and if you have already started creating designs etc. using our free mock-ups then do not forget to share how it went in the comments section down below. Alright so, let's talk about our today's blog as we are going to be sharing yet another bunch of some cool tips and tricks to help you make amazing business cards for yourself as well as for your clients. It is going to be fun so keep reading the blog for more!
Oh, wait! Are you guys having second thoughts about having or making business cards? Well, you guys allow us to share why a business card is still relevant and how it makes a professional stand apart in the crowd if they have a couple of nice and engaging business cards and it does more than that too for example; you can instantly get in touch with a potential client or a customer through your business card – that can be done at a job fair, business seminar or during a conference as well.
And although, almost all of us have our smartphones with us all the time but exchanging a business card or two still gives the ease of sharing your contact details with someone you would wish to get in touch with professionally and in addition to your phone number, your email address, your office's address, fax numbers etc. are also present on the business cards as well and all of this information becomes handy when a company or a person wants to know more about the services that you provide, to lock a business deal or even to drop in their resume too.
Business cards are also considered to be great and effective if you want to give your professional meeting a bit of a personal touch. You may have noticed this too that when you hand out your business cards to business professionals, they tend to spend more time with you having conversations about the industry you guys are in, about the market or general conversations as well and we think it is a really nice and natural way to communicate with someone especially if you are meeting them for the first time.
Recommended: 5 Types of Business Card Printing
By exchanging business cards, you can also (instantly) refer your business to the ones who are directly concerned with it or they can share that information with the ones who might need it, you know. Also, there are many people who are very particular about how they save a contact on their phones etc., and your business card can help them put in the right information without having to worry that they might misspell your name, might forget where you work at or your job designation.
An interesting fun fact about the business cards is that in a few countries, they are almost mandatory to be exchanged for example; Japan, where exchanging a business card is a ritual and it also leaves a nice impression on the recipients as well. We think that it also makes you look like a professionally responsible person too because you knew that you were going to attend a business meeting and that you would meet a bunch of professionals there as well who might be interested in getting to know your business more for corporate deals so, you decided to take your business cards with you in order to exchange that important information with the concerned guests etc.
Carrying a business card is not just cultural but it is also ceremonial and honestly, since we all are here to make a good impression on others so that we can grow together professionally and we don't know a thing better than a business card that can do that for us.
Now that we have talked about carrying business cards and how exchanging them with potential business partners shows preparedness and professionalism, we would also like to mention here the importance of a well designed business card that is made of a nice and durable material or is in a classy finish that can grab a person's attention quite easily. In this part of our blog, we will share how you can create excellent designs using our free business card mock-up PSD file so, continue reading to know more on that.
A business card design must be eye-catching and noticeable, and you can do that by using relevant design elements and colors that complement your business's personality. Your next step is to find the perfect size and shape for the business cards – you can be as fancy as you would want to be. Know that your logo must be prominent, but you must also leave some white space in the design to avoid clutter.
Also, make your card design stand out, get it using a special print treatment or a foil, maybe? There are like plenty of foil options available in the market and your aim should be to make something that is hard to forget.
That's all for today! Get your hands on our free business card mock-up PSD file, follow our tips and start creating unforgettable card designs today.
Free Front / Back Business Card Mockup PSD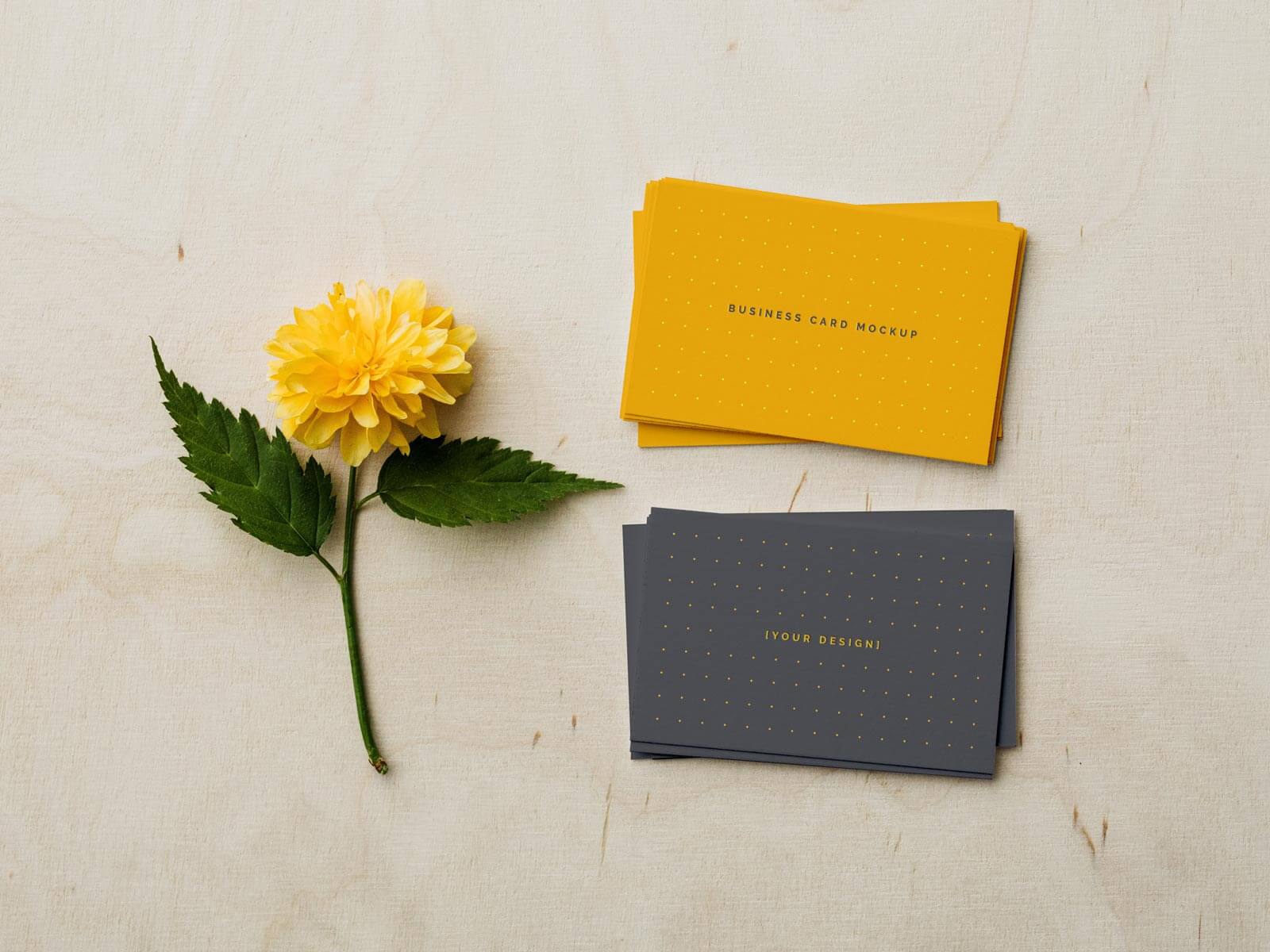 Available Format: Layered PSD with smart object insertion
License: Free for personal and commercial usage
WinRAR File Includes: Free Business Card Mockup PSD
Mock-up Resolution: 4000 x 3000 px 

Note:
1. Free Business Card Mockup PSD is allowed to share online (A Must Linkback to designbolts.com)
2. Say thanks if you like or share/tweet with your friends. That means a lot to me.
3. And don't forget to subscribe to receive for more high quality premium freebies & awesome articles only.
Download Business Card Mockup
More Awesome Free Business Card Mockups: