Hi there everybody! We hope that you liked reading our previous blogs and that our interesting tips and tricks and free mockup PSDs are helping you create successful art works and campaigns as well. Our today's blog is for the ones who are looking to switch to a new job, but they do not have that perfect resume template and for those too who happen to create resume designs for their clients etc. Or you can literally keep this free A4 size resume template mock-up PSD with you and use it whenever you need it.
Now, we think it is time for us to share a bunch of effective tips through which you can not only create a stunning resume for yourself but you can also make sure that no one gets that job but you so, let us get started!
A good resume is that piece of document that has it in it to make the recruiter call you while they are still going through the information that you have put on it and of course, there are like hundreds of templates that are available online and that claim a guaranteed result too but most of them are not free or you might have to create an account first before you can even browse through their collection of resume templates.
Frankly speaking, we know that we do not have that much time on our hands and this process should be quick so that we can move on to the next thing on our lists, right? You are here and half of your job is done but what is it that will make the HR call you? Are you confident about what you will share in an email with the dream workplace of yours? How thorough are you when it comes to creating professional documents? These are the questions that you must ask yourself even if you are able to get your hands on one of the finest and free resume templates. But if you do not know the answers, know that we are here to help.
Recommended: Free A4 / Letter (US) Flyer Mockup PSD
Let's go through the process of creating the resume step by step! First things first; we know that most of you guys are so accomplished by now that a standard size resume is not sufficient and keeping that in mind, we had to make it bigger to A4 size so that you can section it properly and then add up your information without having to worry about the space. A resume's design and the look & feel matter a lot but so does the content of it and if you feel that you need to stand out as an applicant, you must ensure that whatever that goes up on your resume is not just true but it has to be interesting enough as well. Anyone can do that and here is how:
By creating the sections of your resume, you can easily add relevant information in the boxes that you have created. We will suggest you to always create a box for your professional photo as well and then add the following information by dividing it into the following sections:
Your contact information (Full name, Phone number, House / Postal address, email address)
Your job experience (From current job to the first one ever including the internships if you have done any)
Your educational experience along with any certificates, academic accomplishments or publications that you would want to mention
Languages that you can speak (You can also mention the levels for speaking, full on communication etc. as well)
Your skills (Add as many skills as you can – obviously the ones that you know you can handle and do it nicely)
Always remember that a resume is serious business – meaning that the tone and expression must be formal, don't be cheesy, never be cheesy on your resume because the HR department will ask you to mingle around from time to time but your resume must be written formally. Then comes the punctuation marks, spacing and the overall design of the resume; for the first one, you can always double check that on the internet and there are a number of extensions available as well through which you can correct yourself. For the spacing bit, make sure that it is aligned properly, the words do not have double spaces in between, the parts that must be underlined or bold have been made prominent etc.
And for the design of the resume, we will give you an advice that has always worked for everyone we know and that is to bring out your personality in the design that you are creating for your resume and trust us, it will help you stand apart and you will already make an impression (a great one) on the recruiter. So, what are you waiting for? Get your hands on our free A4 size resume template mock-up PSD file and start creating attractive and effective resumes today!
Free A4 Size Resume Template Mockup PSD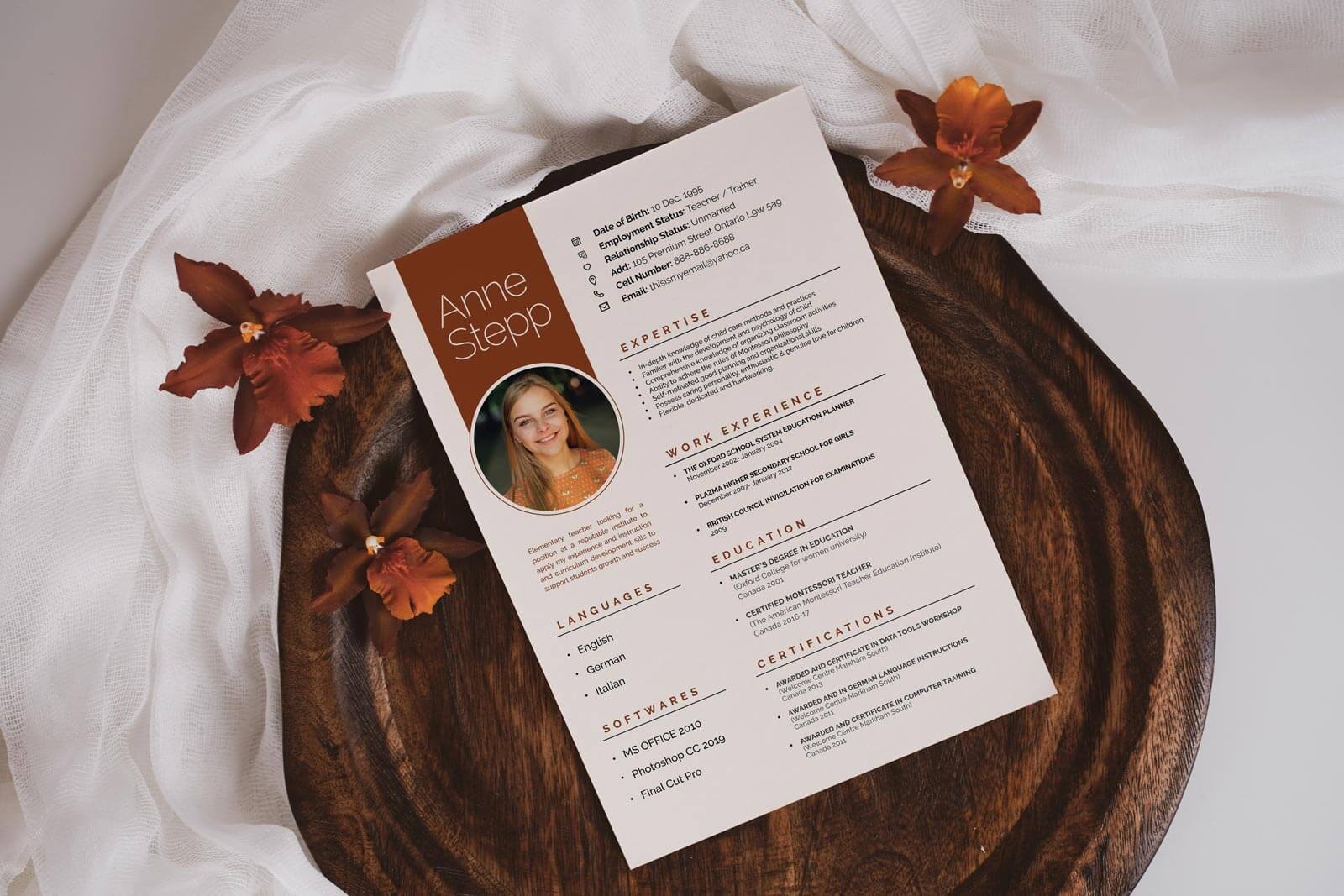 Format: Illustrator Ai & PSD Mockup (editable file)
License: This free curriculum vitae is for personal use only (link back if sharing online)
Font: Raleway
Designed by Zee Que | Designbolts.com
Download Resume Template
Download Resume Mockup
More Resume Templates for Free: