Hello there friends! Today, we are going to be talking about something really fun and exciting to work on and the best thing about this promotional material is that it is a source of authentic information from a business's end or when it is placed on the tables during meetings and parties etc. But before we do that, we want to thank you all for your overwhelming response on our previous blogs and for also sharing the content and ideas with the ones who work and care about.
Coming back to the main thing now, we have created this free yet highly editable tabletop display mock-up PSD file that you can use to mention prices of your products, to mention names during a conference or business meeting, or even during a sale presentation as well. You can use the tabletop display to use for a number of things and your purpose will be fulfilled without you having to put in a lot of efforts. Oh, and the best thing about these tabletop displays is that this is a one-time investment and you can use them for years – quite literally.
Another interesting way of using tabletops is to place them at your restaurants as well especially if it is a hi-tea menu that you are serving ad you would want the guests / customers to know the names or ingredients of the food items that they are about to consume. Same goes for private parties and get together as well. By doing so, the service providers, caterers or hosts won't have to go back and forth to name the dishes or items that are placed and anyone can get whatever they want to eat once they have read the names and the ingredients of the items etc.
We would also like to mention this here that tabletops can also do your marketing for you even without you having to spend a lot of money on a campaign or getting spots to on-air your TV commercials and well, all the marketers know how effective tabletops are and that is the main reason why you will see them being displayed at counters of shops – no matter how big or small they are as well as at tables in the restaurants too in the shape of price list, interesting sale offers, QR codes and menus so that you can easily get in touch with the seller or business owner in one way or the other.
Recommended Article: 10 Beautiful Restaurant Menu Designs
We absolutely love how technology works and we are sure that you must have seen it doing wonders for your businesses as well for example; you can create a QR code that can take your customer to an extensive menu of yours or to a sign up page from where they can avail discount offers or can have them signed up for your newsletters, sales and so much more, you know!
Then comes shops and stores where business owners go a little too creative and ditch the traditional and old ways of displaying their prices through shelf talkers and tags etc. and go for innovative ideas like displaying the prices, attributes of their articles using tabletop displays and we think that, that is another interesting approach to go about it. What do you guys think, hmm?
Also, obviously there are like tons of different things that you can do by following your creative ideas but in this part of our blog, we are going to be talking about the materials that can be used to create and manufacture the tabletops displays. Know that this is a cost effective method of promoting a message or two but we would also like to mention this here that you do not have to settle for less while picking up the materials for the tabletop itself or the cards that are to be placed inside the designated area of the tabletop.
From plastic to wood to even metal, you can pick any manufacturing material for your tabletops and since this is all budget dependent, you will have a better idea about how to move in the forward direction. We personally feel that wooden tabletop displays look the best no matter wherever they are placed and for whatever business they are used, they are classy and complement the overall look of the setting as well.
As far as the content card is concerned, make sure that you pick all those colors and fonts that go with your business to make sure that there is harmony in everything that is displayed at a counter of your store or at the table of your café. Always remember that the key is to grab their attention instantly and you can only do that if you know about the audience's likes and dislikes. To test the performance, you can create sample tabletop displays to see the reaction and response and then you can choose the course of your marketing accordingly.
That's all for today! If you liked reading our blog, don't forget to share your feedback with us down below.
Free Tabletop / Table Talker Sign Mockup PSD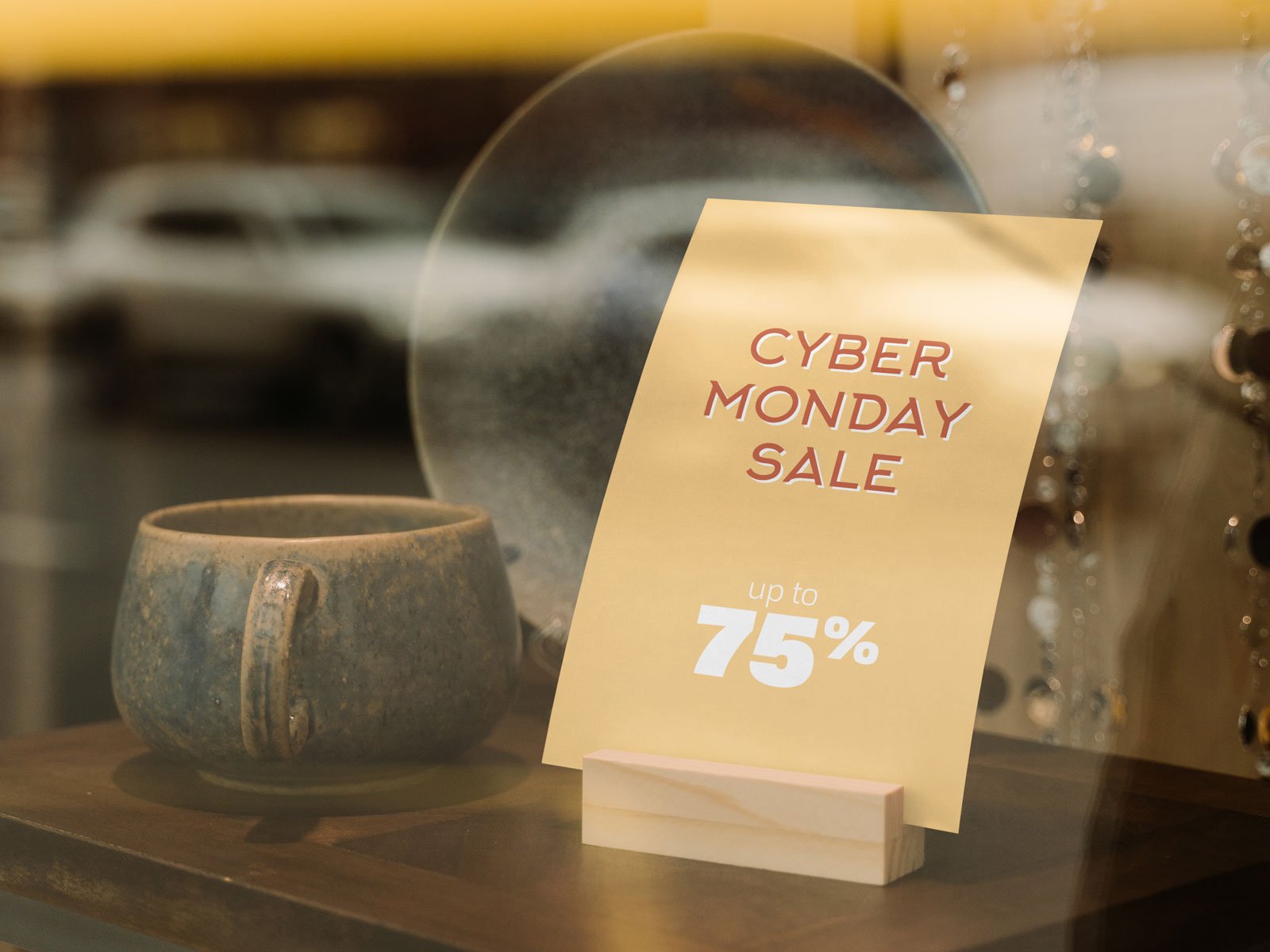 Available Format: Photoshop PSD
License: Free for personal and commercial usage
File Format: WinRAR
Mockup Resolution: 2333 x 1750 px
Note:
1. Free Tabletop Display Mockup is allowed to share online (A Must Linkback to this page)
2. Say thanks if you like or share/tweet with your friends. That means a lot to me.
3. And don't forget to follow or subscribe to receive more high quality premium freebies & awesome articles only.
Download Table Talker Sign Mockup
Recommended: