Screen recording is undoubtedly one of the advantageous features that you get these days. With screen recording, it becomes easy to save various contents. Apart from the screen contents, screen recording helps in saving audio as well. It is a self-explanatory process, and you can directly capture the footage to your screen.
However, many people are still not conscious of how useful the entire process is. Many videos do not come with the option of saving or downloading. Thus, if you want to play it, you have to stream it using mobile data.
Besides, many businesses these days make videos for training purposes after work from home became popular. With a good screen and audio recorder, it becomes easy to store the important parts of the video and the audio.
Moreover, the demand for online streaming is increasing, be it on social media or apps. But, here, you will not find the advantage of downloading them. With computer screen recording, you can store the important parts of the video. Besides, if you want to stream audio, then you can use it as well.
Businesses these days often use video calls for conferencing purposes. With a computer screen and audio recording, you can replay the videos, save the business call for future reference. Moreover, you can save business calls via conferences as well.
In short, a screen recorder is worth the importance since apart from saving the video and audio, you can make video content. However, when it comes to choosing a computer app, you will get limited options.
Before choosing, you must keep in mind certain criteria like screen and audio recording capabilities, sharing options, etc. Besides, the app you are choosing should be user-friendly as well.
Use DemoCreator for recording screen and audio
After reality hit hard with the Coronavirus pandemic, it forced industries to switch to virtual technology. For continuing with daily operations, the significance of virtual technology increased.
As a result, webcams turned out to be crucial since they hold online conferences and virtual meets. Similarly, the importance of a screen recorder for PC became crucial as well. From school lessons to business meetings, everything is now taking place in the virtual space.
Hence, it became important to record the screen along with audio for future reference. Due to this reason, you must choose a good app that provides a good recording feature for computer screens.
Wondershare DemoCreator is a wonderful online application that enabled this luxury. It exceptionally shines amidst the huge crowd of other software applications. Its robust spectacular screen recording feature re-emphasizes the significance of recording both audio and video.
From online conversations to office meetings and courses, you can record everything. Later on, you can use these clips as fundamental demonstrations or memorandums for students or office staff.
Wondershare DemoCreator is a powerful software that works as an exceptional screen-recording tool. A real-time screen recording tool, you can record everything, from video to audio. Here is the easiest way by which you can opt for screen and audio recording.
Download and open DemoCreator
Click New Recording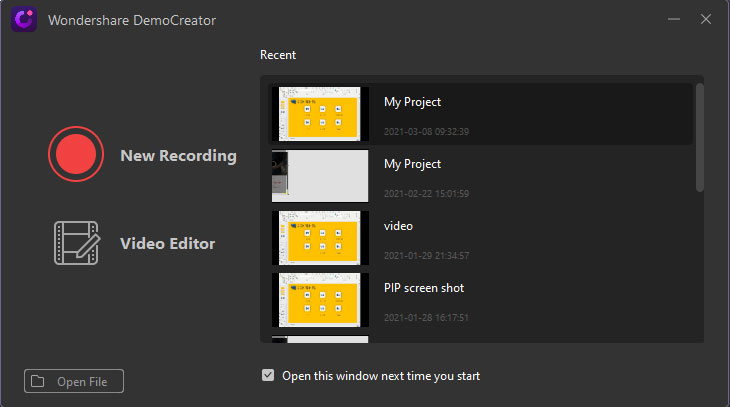 Configure audio recording settings and webcam
Click to start recording
Wondershare DemoCreator comes with exclusive features that are quite useful. When screen recording or making a video with the clippings, you can mark the portions you can include or exclude. Besides, you will get the advantage of screen drawing. Due to this reason, DemoCreator is different from others. You can highlight the content, write onscreen or even draw lines.
It is a brilliant feature when it comes to making instructional videos. Besides, real-time screen drawing is also a simple yet useful feature.
If you want, you can enable the screen-drawing mode before you start recording the screen. Automatically, you will get a toolbar that helps in choosing the preferred cursor for writing or drawing.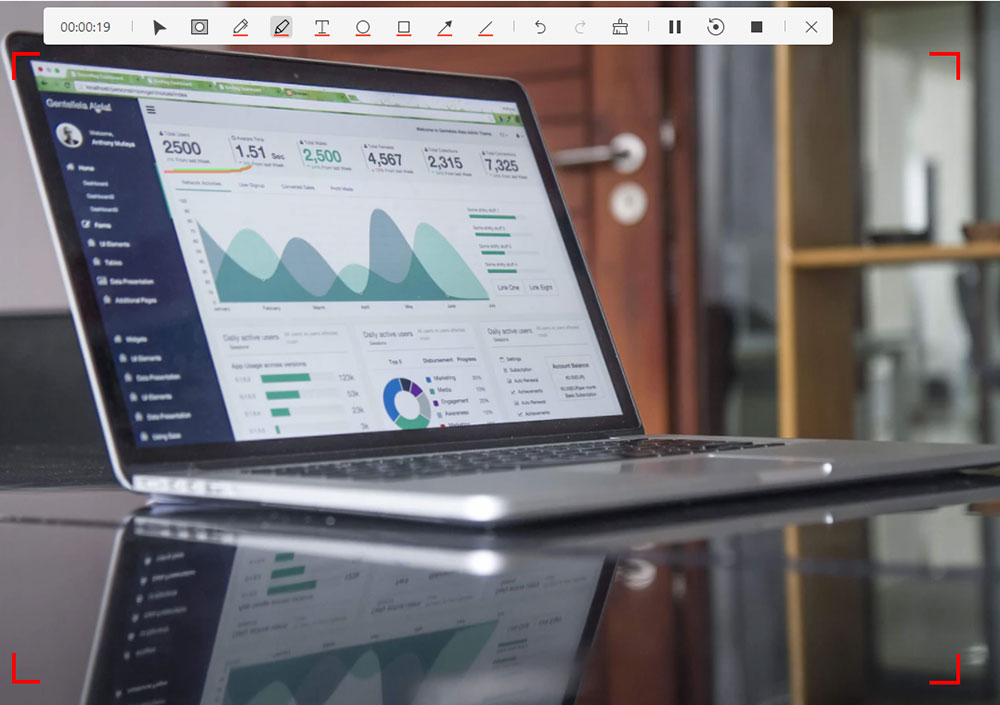 Use DemoCreator for video editing after recording
You can also get options like adding texts or annotations. These are useful for computer screen recording, especially when you are making any tutorial videos. Since it is common with screen recording tools, you will get competent annotation and text features.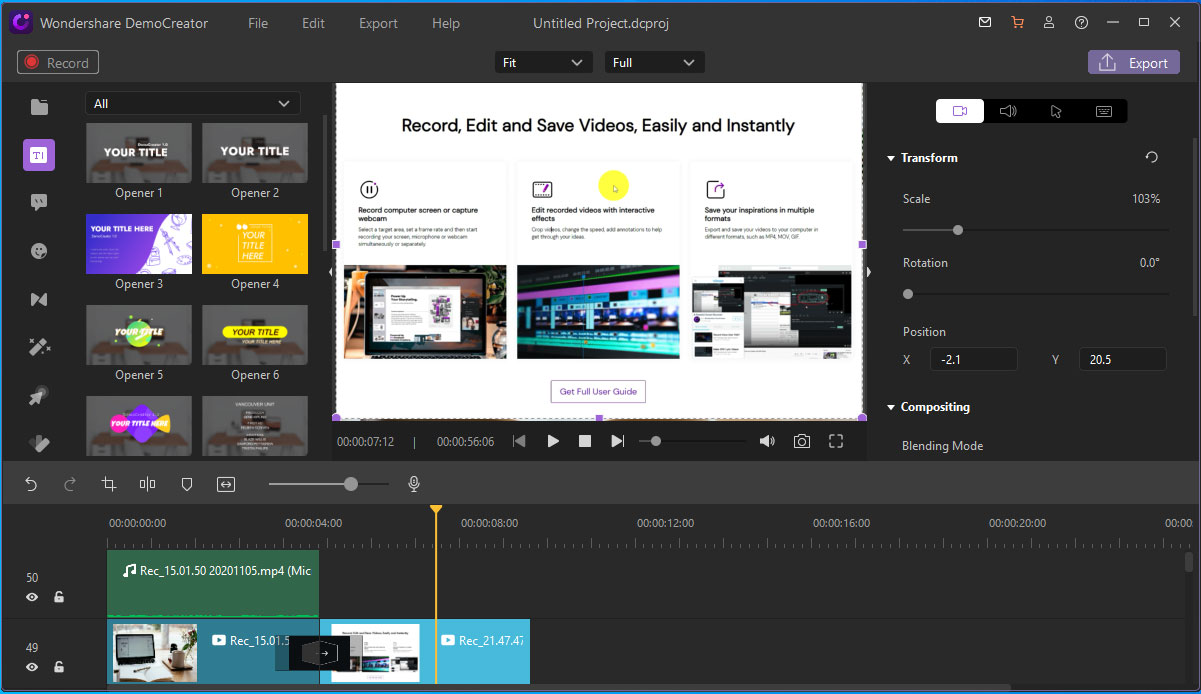 Once you are done with screen recording, you can remove the unwanted parts. Moreover, it is necessary to give a professional touch to your video. Cursor effects play a significant role since you do not have to wait for the video to process.
Besides, if you want to save memory on the server and the client, the adding cursor effect is the best option. Above all, using this effect, it becomes easy to highlight the path you used for recording. Due to this reason, Wondershare DemoCreator turned out to be the best screen recorder for pc.
Alternatively, you also get the advantage of recording audio, especially after recording the voice-over. If you want, you can add eye-catchy effects to your video. The green screen effect helps in the quick transformation of the video.
DemoCreator makes it easy for everyone to export the files in various formats. Since the software is compatible with almost every OS, you get the advantage of seamless video export.
Besides, if you want, you can export the video without transcoding. Hence, it will add extra speed to the entire process. Some of the common export formats you can get with DemoCreator include MP4, WMV, AVI, MOV, GIF, MP3, etc. Therefore, Wondershare DemoCreator is undoubtedly the best screen recorder for Windows and macOS.
As DemoCreator is an all-in-one screen-recording app, it comes with some phenomenal features. From editing and publishing demo presentations to making tutorials, it quite useful. Above all, even if you have any HD quality streaming video, you can record it as well.
From entrepreneurs to students, everyone can use the DemoCreator for recording computer screens. Even if you have HD quality, the smooth recording feature helps in clear audio recording.
Therefore, Wondershare DemoCreator is undoubtedly one of the useful apps. After virtual technology became a thing, the importance of online business meets and conferences is increasing. For this, a computer screen and audio recording app are important. This helps in recording the crucial part of the meets for future reference.
Recommended: