Hi there everybody! We are back with yet another interesting and informative blog of ours and of course, a free yet highly editable mock-up PSD file but before we start talking about that, we just want to thank you all for your constructive feedback, amazing suggestions and for also sharing our blogs with the ones you love and we hope to keep it that way for you guys as well as for ourselves.
Now, coming back to our blog; we were thinking about all the occasions and events that are going to be celebrated during this new year and while we are hopeful that we get to celebrate all of them, we wanted to create something that you guys can use too so, let's have a look at our free greeting card & envelope mock-up PSD file right away!
Almost everyone we know loves greeting cards in a way that they are always looking for occasions to send one to their loved ones and they are always expecting to get a greeting card or two on their special and not so special days as well and we think that is the beauty of it, the overall gesture is so thoughtful that it makes the whole day of the person who gets to received the greeting cards and then there are people who enjoy writing them up as well – from one liners to paragraphs, it is in the pen and the words that keep them (and us) going.
As you know that greeting cards can be used for literally anything and everything, this also tells us that the act is not limited. You can make and send as many cards as you would want to, to your loved ones and they will love you for the thoughts and the gesture. You can pair the greeting cards with occasional presents as well or you can send the cards only and even that would be fun too. Also, we know that our lives have become a little too digital and we like to do a lot of things online but let's just keep some of the old traditions alive like the one of buying and sending greeting cards to our friends, family members, colleagues etc.
Greeting cards work for any age and gender which means that any bookshop, stationery shop or super stores can keep them to sell to their customers. In addition to that, greeting cards, especially the fully customized ones sell like hot cakes and if you are an owner of an online stationery store or if you have a friend who has that business, then we can bet that our free greeting card & envelope mock-up PSD file will help you guys create brilliant designs in no time.
Since we keep all our mock-up PSD files highly editable, you won't have to worry about adding or removing elements from the file, and you will be able to do everything in like minutes which is a great thing, right? Because keeping in mind the work load the graphic designers and visualizers happen to deal with is kind of a lot and to get through does require us to have extra hours in the day but since we don't have them, we just keep things handy so that all of you can utilize them in one way or the other.
Anyways, let's get back to the main topic of our blog which is of a greeting card & envelope mock-up PSD file! Now, know that there are hundreds of things and ideas that you can go to in order to design your greeting cards but to never feel overwhelmed, we would like to suggest you to make lists of all the occasions, events and tiny but special things that you think someone would require a greeting card for. To be sure, what you can also do is that you can share the mock-ups on your Facebook Shop or on your Instagram Account to see the responses of your audience and then you can have the cards printed along with their envelopes. We know that you want nothing but perfect designs and to create that look for your brand, we decided to make this mock-up a little fancier that what we usually create so that you can display your designs in front of your team members, heads or even to your clients and customers in style and we can bet that they are going to love everything about them.
And that is all for today! We hope that you will find our blog and this free greeting card and envelope mock-up PSD file useful for yourself or for your client's business so, what are you waiting for? Start creating fun things from today and don't forget to drop a comment down below to share how you liked this mock-up PSD of ours.
Free Greeting Card & Envelope Mockup PSD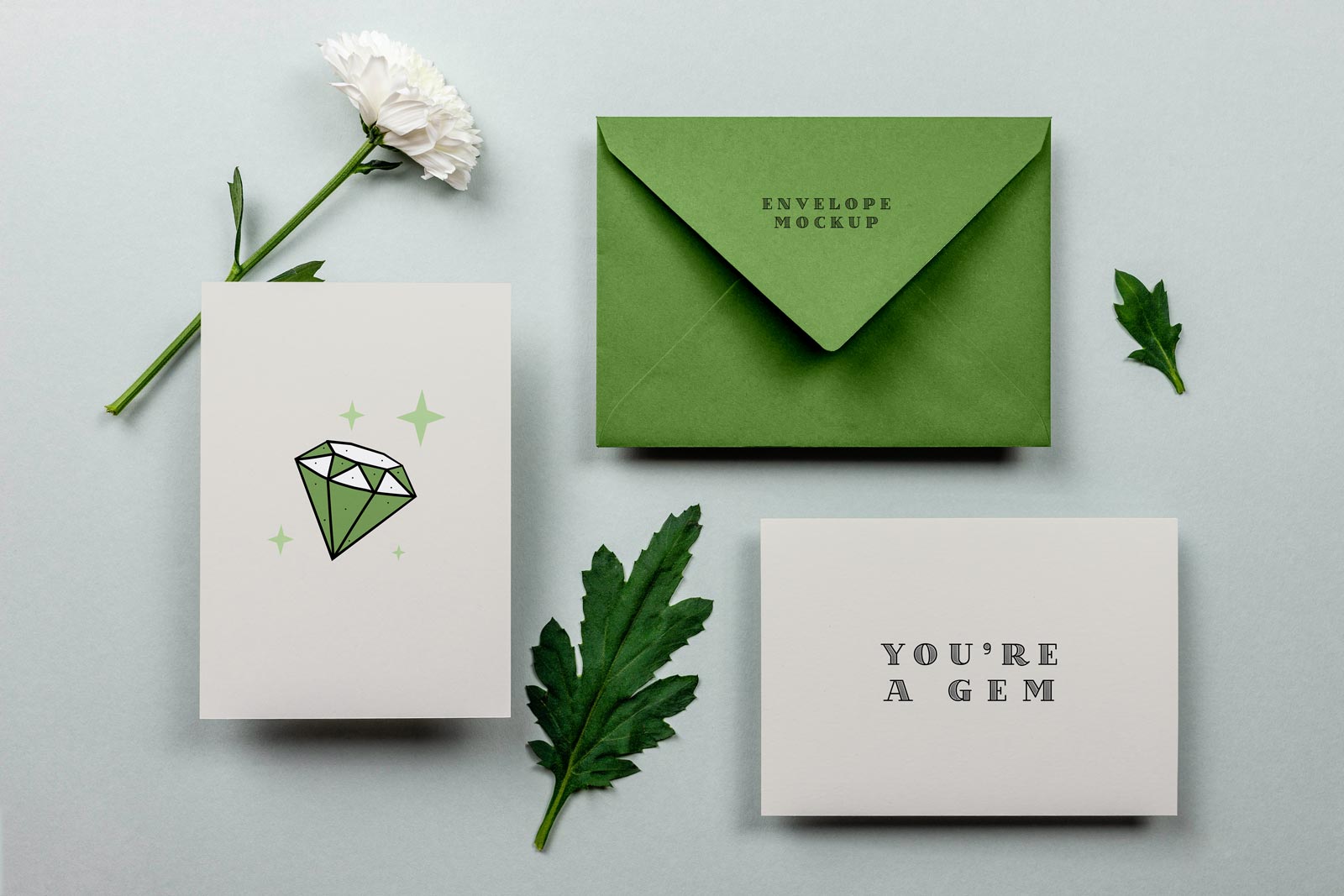 Available Format: Layered PSD with smart object insertion
License: Free for personal and commercial usage
Zip File Includes: Free Greeting Card & Envelop Mockup PSD
Mock-up Resolution: 4500 x 3000 px

Note:
1. Free Mockup PSD is allowed to share online (A Must Linkback to designbolts.com)
2. Say thanks if you like or share/tweet with your friends. That means a lot to me.
3. And don't forget to follow or subscribe to receive for more high quality premium freebies & awesome articles only.
Download Greeting Card Mockup
Recommended: