Learning how to use Adobe Photoshop can be a daunting task for many beginners. With countless tools, options, menus, and techniques, it can be a challenge just to know where to start!
Difficulty aside, Adobe Photoshop also has a subscription fee attached that can be as much as $21 a month for the full version, billed monthly or annually. This can be quite pricey for amateurs just starting their photography or graphic design career and even pricier for casual photo editing enthusiasts. Furthermore, you could be paying for tools and functions that are far more than you require.
But are there other more affordable photo editing software options out there, with a less intimidating learning curve? The answer is yes! Here is a list of our top 5 picks for Photoshop alternatives: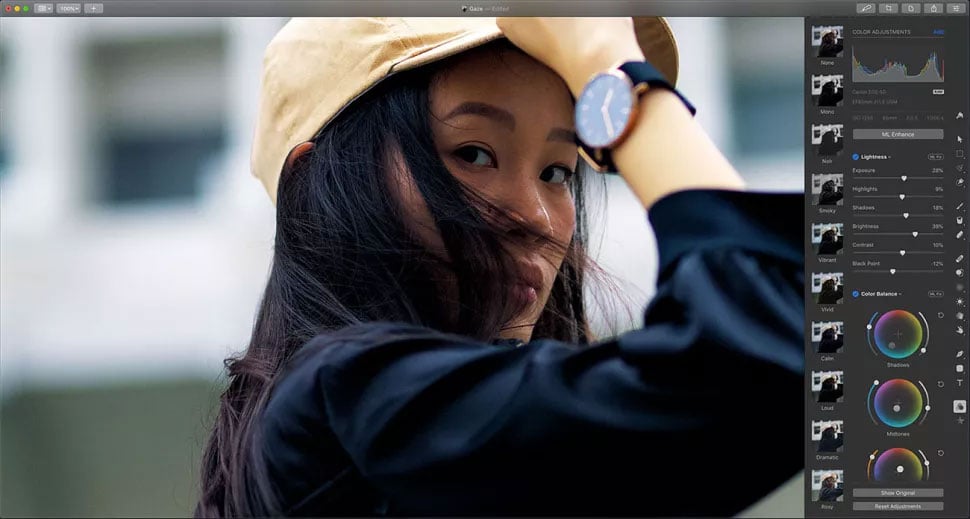 This dubious acronym is an abbreviation for the GNU Image Manipulation Program. But don't be fooled; GIMP is one of the most popular free alternatives to Photoshop out there. Celebrating 25 years as part of the GNU, GIMP is open-source software, meaning community members can distribute changes to its source code and create custom scripts and plug-ins for others to download and use. Many of the most popular plug-ins already come pre-installed and ready to use from the get-go.
Just like Photoshop, GIMP has:
layers and masks
advanced filters
color adjustment tools
transformations
a file manager (similar to Adobe Bridge)
But that's not all; for those of you attached to specific Photoshop plug-ins, here is some great news – GIMP supports photoshop plug-ins too! This means your favorite Photoshop plug-ins can also be added to GIMP.
The endless possibilities through customizability make GIMP a powerful alternative. Furthermore, GIMP's tools and features closely rival photoshop in terms of replicating the same effects, meaning the same results you'd get from Photoshop are achievable on GIMP. The downside is that the complexity of GIMP also rivals that of Photoshop. Therefore, this option ideally aims at more advanced Photoshop users looking to save some money. There is even a version that has a similar user interface to Photoshop, making migration to GIMP that bit easier. However, it is also an excellent choice for beginners who want a photo editing program that can do everything Photoshop can (and more) for zero cost!
System requirements for the software are:
Operating system: GNU/Linux
Mac OS 10.9 Mavericks or higher
Windows 7 or higher
Download Size: 200 MB for a full build with debugging
RAM: 4GB (recommended)
| | |
| --- | --- |
| | |
| | ⊖ It does not support RAW files |
| ⊕ It supports almost all image files | ⊖ Complicated user interface |
| ⊕ Extensibility and Flexibility | ⊖ Not available on mobile devices |
| ⊕ Plenty of features and tools | |
| | |
| ⊕ Blending and layer support modes | |
| ⊕ Massive manual and many tutorials online | |
| ⊕ Available in 16 languages | |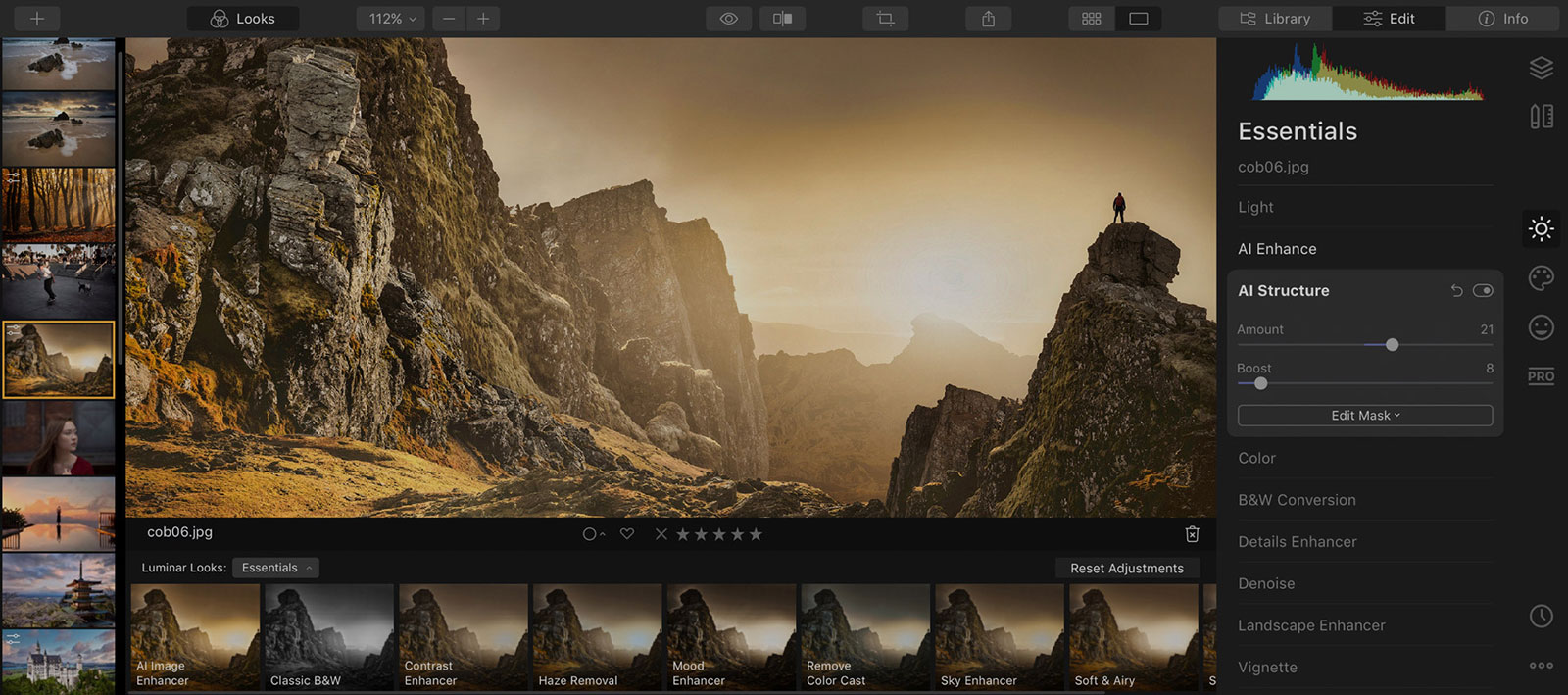 Luminar AI is the latest installment of the Luminar series of photo editing software developed by Skylum. The future of photo editing has arrived, with Luminar AI's main selling point being its Artificial Intelligence based image-enhancing tools. Using machine learning technology, Luminar AI tools will create effects and edits much more efficiently. Removing the need for manual editing, users only have to adjust the required levels of an effect to achieve the desired result.
Stand-out AI tools include:
– masks an area of sky in a landscape photo and instantly replaces it with either a prepacked sky image or one from your own collection. The tool can make the replacement realistic by accounting for lighting, shadows, and water reflection.
– seamlessly removes blemishes and imperfections to improve the skin for portrait photography.
There is also a nifty template feature where complete suggested workflows are generated by artificial intelligence. Photos are analyzed using AI technology, creating specific and uniquely tuned workflows. These templates are also fully adjustable too, giving users flexibility and involvement in the editing process.
Luminar AI is available on a free trial, with a single license costing $89.
System requirements for the software are:
Operating system: Windows 10 (only 64-bit OS) | Mac OS 10.13.6 or higher
RAM: 8GB minimum (16GB recommended)
Display: 1280×768 or better
Hard Drive: 10GB; SSD for best performance
| | |
| --- | --- |
| | |
| | |
| | |
| ⊕ Quick and effective editing | ⊖ Limited creative abilities |
| ⊕ Supports RAW image input | ⊖ Not available on mobile devices |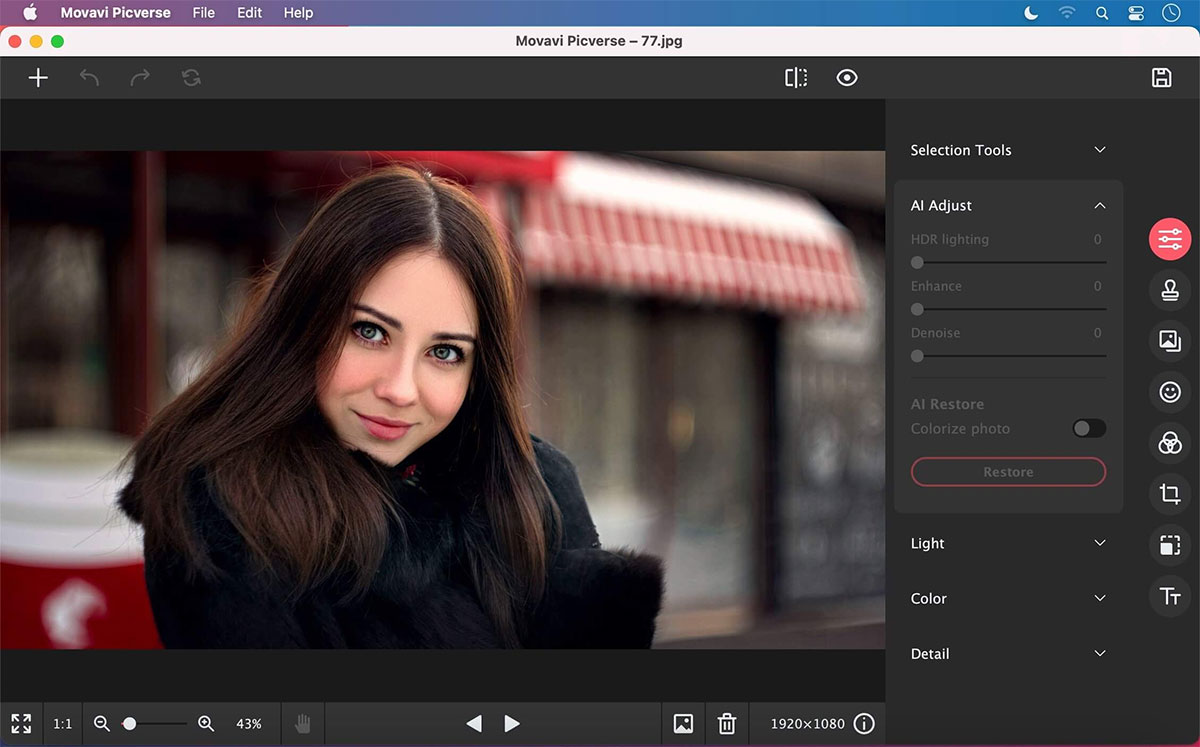 For those looking for an easy yet professional photo editor, you may not require anything too overly advanced. Perhaps a more user-friendly Photoshop alternative may be better suited for your needs. Enter Movavi Picverse! An application with similar AI-based tools as Luminar, Movavi Picverse can produce high-quality photo editing results for users of any level.
In addition to the basic capabilities, namely, text insertions, cropping, rotating, flipping, and photo resizing, Movavi Picverse also includes all other necessary tools that make a good photo editing app, such as:
Robust object removal
Sharpness and color adjustment
Background eraser
Touch-ups and restoration
The best part is, all the above can be done with the ease of a few clicks and toggling a slider or two. The user interface is highly intuitive, which makes it an excellent choice for beginners. There are also hundreds of pre-set filters to choose from to apply the finishing touches to an image.
Once photos have been edited satisfactorily, files can be exported to a format and size of choice. Output formats supported by Movavi Picverse are BMP, DPX, JPEG, PCX, PBM, PNG, PGM, PPM, and TIFF.
Unfortunately, unlike others on this list, this is not free software; however, you may try the free trial version before purchasing the full version with complete functionality of all tools. The full version is still a bargain at £39.95 compared to the price of many other photo editing packages, including Adobe Photoshop.
System requirements for the software are:
Operating system: Windows 7/8/10 64-bit with fully updated service packs and patches | Mac OS X 10.10 or higher
Download Size: 56.4MB
Display: 1280 x 768 screen resolution, 32-bit color
RAM: 6GB
Hard Drive: 500MB for installations, 5GB for operations
| | |
| --- | --- |
| | |
| | |
| ⊕ Supports RAW image input | |
| ⊕ Plenty of tools and filters | ⊖ Cannot guarantee quality processing of large images greater than 6000 x 8000 pixels |
| ⊕ Available on Windows and Mac | |
| ⊕ Available on iOS and Android | |
| ⊕ Available online with web-based app | |
| ⊕ Available in 12 languages | |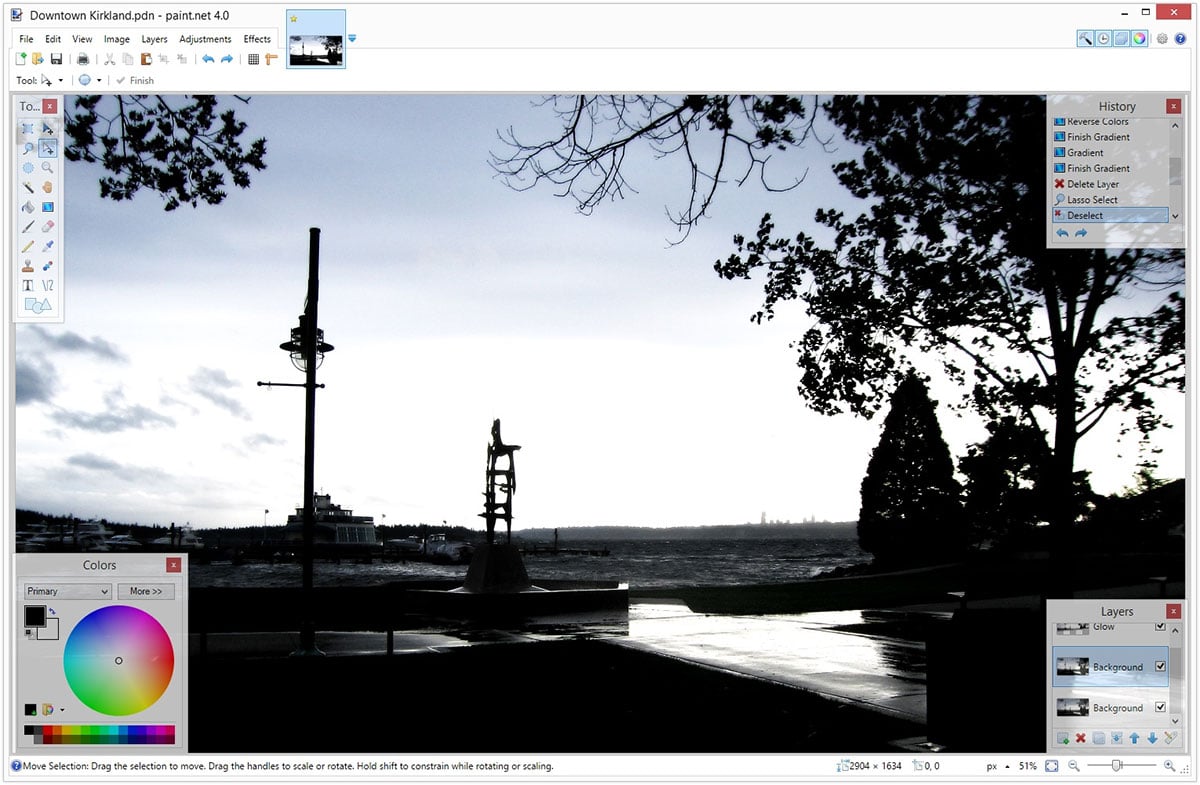 Another widely used Photoshop replacement is the no-cost software, Paint.Net. Like GIMP, this is also open-source software that can install custom plug-ins created by the online community or even ones you make yourself.
Beginning as a Microsoft Paint substitute, development snowballed throughout the years, making it the fully-fledged dominant photo editing app of today. An excellent selection of manual and automatic tools is available for all the usual editing necessities. However, many much-loved tools are missing from this application, such as Burn and Dodge brushes. The exclusion of some more advanced tools may make this a less suitable option for professional photo editors. However, it has enough to get beginners started in photoshopping.
A helpful feature for newbies is a full-action history memory. Paint.NET, unlike many other photo editing apps, offers the ability to undo actions in an unlimited capacity. This means you can reverse all tools applied to an image and restore it to the original version. Perfect for those learning and testing out different photo editing effects and techniques.
System requirements for the software are:
Operating System: Windows 7 SP1/8.1/10 (version 1607 or newer) 64-bit
Processor: 1GHz dual-core (recommended)
RAM: 1GB
Hard Drive: depends on the size and number of actions performed on images.
| | |
| --- | --- |
| | |
| ⊕ It's FREE (paid version also available) | |
| | ⊖ No text correction once effects are applied |
| ⊕ Many useful tools and editing effects | |
| ⊕ Thumbnail quick access tabs for multiple images | |
| | |
| ⊕ Supports layers, can support masks with plug-in | |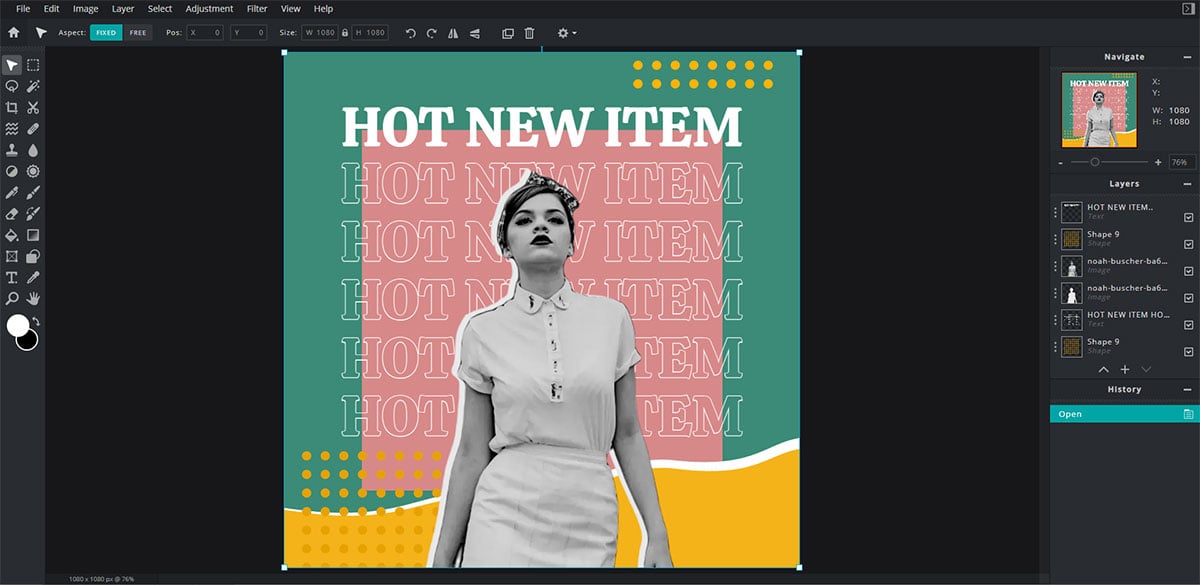 Last but not least, Pixlr Editor is brought to you by the famed developers AutoDesk – a juggernaut in the world of computer-aided design and 3D modeling and one of Adobe's biggest industry competitors. Different versions of Pixlr are available for desktop, web, and mobile – and they're all FREE. The latter two versions make Pixlr an excellent option for those editing on the go, such as wedding photographers and people with travel and documentary-type projects.
The user interface is reminiscent of GIMP and includes:
all artistic features and tools are available that you would usually expect with premium software.
support for masks and layers (for the web-based version only).
manual and automatic optimizations options.
large free stock photo library with additional access to more with the Creative Pack subscription for $14.99 a month
But of course, the caveat to freeware is the dreaded ads they often contain. Some users may find them distracting and annoying. In the web-based version, the ad placement on the right also inconveniently limits the size of your workspace.
They also offer a more simplistic version for quick edits and beginners called Pixlr Express. This lightweight version of the app runs on HTML5. However, the main version still requires Flash and could indicate that its days are numbered. Both versions have an autosave function which means no fear of losing work if technical difficulties arise.
System requirements for the software are:
Adobe Flash plug-in for all browser-based Pixlr apps.
Adobe Air app installed to run desktop-based Pixlr apps.
Supported Browsers: most browsers, including Google Chrome, Firefox, Safari, Internet Explorer 7 or higher.
Download size: 154MB for Pixlr Editor (desktop version)
| | |
| --- | --- |
| | |
| | ⊖ Comparatively Limited features |
| | |
| ⊕ Available on Windows and Mac | |
| ⊕ Available on iOS and Android | |
| ⊕ Available online with web-based app | |
| ⊕ Has a large stock image library | |
| | |
| ⊕ Supports layers and masks | |
| ⊕ Opens images from both desktops and URLs | |
So, there you have it, our top 5 Photoshop alternatives for editing to your heart's content! Can you picture yourself trying out any of these options?
Recommended: