Hello there friends! We hope that you all are keeping safe and that our blogs and mock-up PSD files are helping you create what you want to create for your personal and commercial design projects. We happen to know this for a fact that you guys follow our tips and tricks to succeed in life and keeping that in mind, we decided to share a list of 10 best tablets with you for the kids in your family; they could be your own children, your siblings, someone from the extended family or even your students. Let's have a look at what you can do with these 10 best tablets that are available in the market for kids!
As you know that digital devices have replaced a lot of things and activities that we used to be involved in when we were kids; and while we know that this takes away the fun and enjoyment one can have by playing with friends in the mud, by arranging serious hide and seek games and what not – we also know that these devices are helping kids in learning so much through a few taps. From learning poems and rhyming words to learning how to count has become way too easier as well as more interactive.
Kids can now get done with their homework and other class assignments quite easily and while they are at it, they can also align their studies and activities as well which can help them manage the day and all of this will let them become punctual and responsible too. These tablets can also be used a great reading devices too and if your kids feels that they want to read their favorite story book online; they can easily find it on the internet and can have the best time of their life by simply reading the content from the digital screen. This will also allow you guys to save some money that you might have to spend on hardcovers and printed books, you know.
Then there are online games, puzzles, brain teasers and numerous other activities being offered by educational institutions and publishers that usually publish books all around the globe. By engaging in these online activities, the kids allow themselves to explore the various opportunities of learning a new skill, solving problems and so much more that we might have to get a few extra hours in the day to mention them all here in this blog.
Also, if the future has anything, it would be digital devices and by allowing your kids to learn how to use a standard device, you are helping them become tech savvy for the future too where they will be able to manage their things on their own. Of course, quality screen time matters and if your kids are way too young then you must monitor the time that they are spending online. If your kids are old enough to create their accounts on social media platforms; then you will also have to set a couple of ground rules as well so that you can ensure the safety of kids.
Interestingly, many digital devices come with features that do not allow the kids to search for anything that is not appropriate for their ages and we think that is the right approach towards the usage of digital devices. The purpose of sharing this information with you guys is to encourage you all to not limit your kids when it comes to using digital devices because they will be learning so much every single day and you will be proud of making an informed decision too.
Like we all know that now a days, kids and even adults are advised to stay in-doors so that they can stay safe, but we also know that kids develop friendships quite easily. Keeping this in mind that you children must be missing spending time with their school fellows and friends, you must allow them to Skype or Zoom with their friends. This will not only help them communicate with their friends easily and in a fun way, but all of them will know that there are friends are there who think of them and that even if they are physically apart, they can still talk to them, discuss things, and that they can even play online games too that will push them for healthy competitions as well.
So, the 10 best tablets that we are about to share happen to feature the following and you can choose the one that fulfills the needs of your kids:
These tablets usually come with over 20,000 apps books, and educational videos that are carefully created for kids. Your kids can use the tablet(s) for entertainment purposes as well like Disney and Nickelodeon. The manufacturers have made sure to sell durable tablets for the kids to use so, know that you will be making a really good investment. Other features include; WIFI, internal storage, locks and built-in stands as well. Now, feel free to go through our list of 10 best tablets for kids in detail to decide which one to buy for your kids.
1. Fire HD 10 Kids Edition Tablet
Specs: 32 GB, Kid-Proof Case with built-in stand, 1 year of Amazon Kids+ (FreeTime Unlimited) and 2-year worry-free guarantee, access to over 20,000 apps, games, books, videos, Audible books, and educational content from PBS Kids, Nickelodeon, Disney, and more.
32 GB of internal storage and up to 12 hours of reading, browsing the web, watching video, and listening to music. Add a microSD card for up to 512 GB of additional storage.
Amazon Kids+ includes thousands of Spanish language books, videos, apps, games, and Audible books.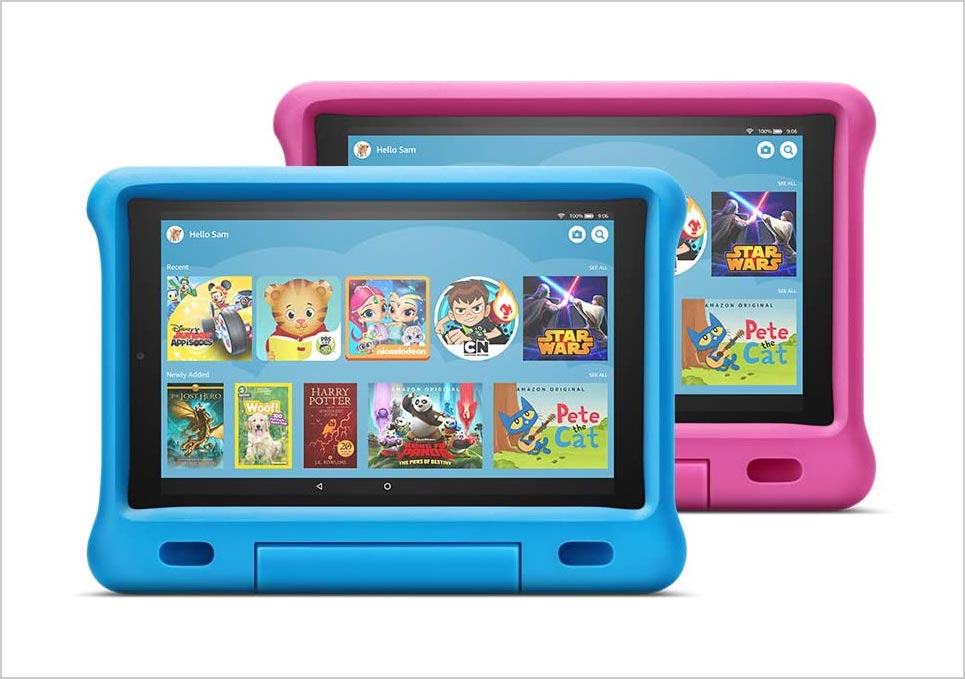 2. Fire 7 Kids Essential Bundle including Kids Fire 7 Tablet 16GB
Specs: Educational Tablets for Kids, Parental Control Pre-Installed, Learning Game Apps, Android 10, faster 1.5GHz Quad-Core Processor, 32GB storage, a 7″ shatter-safe HD touch screen with a tough bumper, Bluetooth, dual web camera for video chatting. Supporting 189 languages, including Spanish.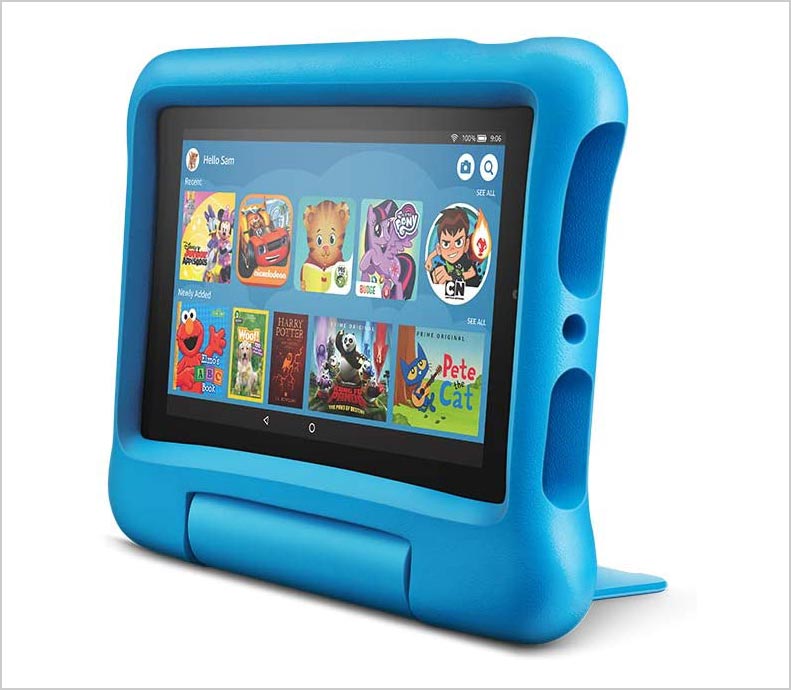 3. Dragon Touch Y88X Pro 7 inch Kids Tablets
Specs: 2GB RAM & 16GB ROM, Android 9.0 Tablet, Pre-installed 18 E-Books and 6 Audio books officially authorized by Disney, which are worth more than $80. Access to thousands of apps, games, videos and filtered websites.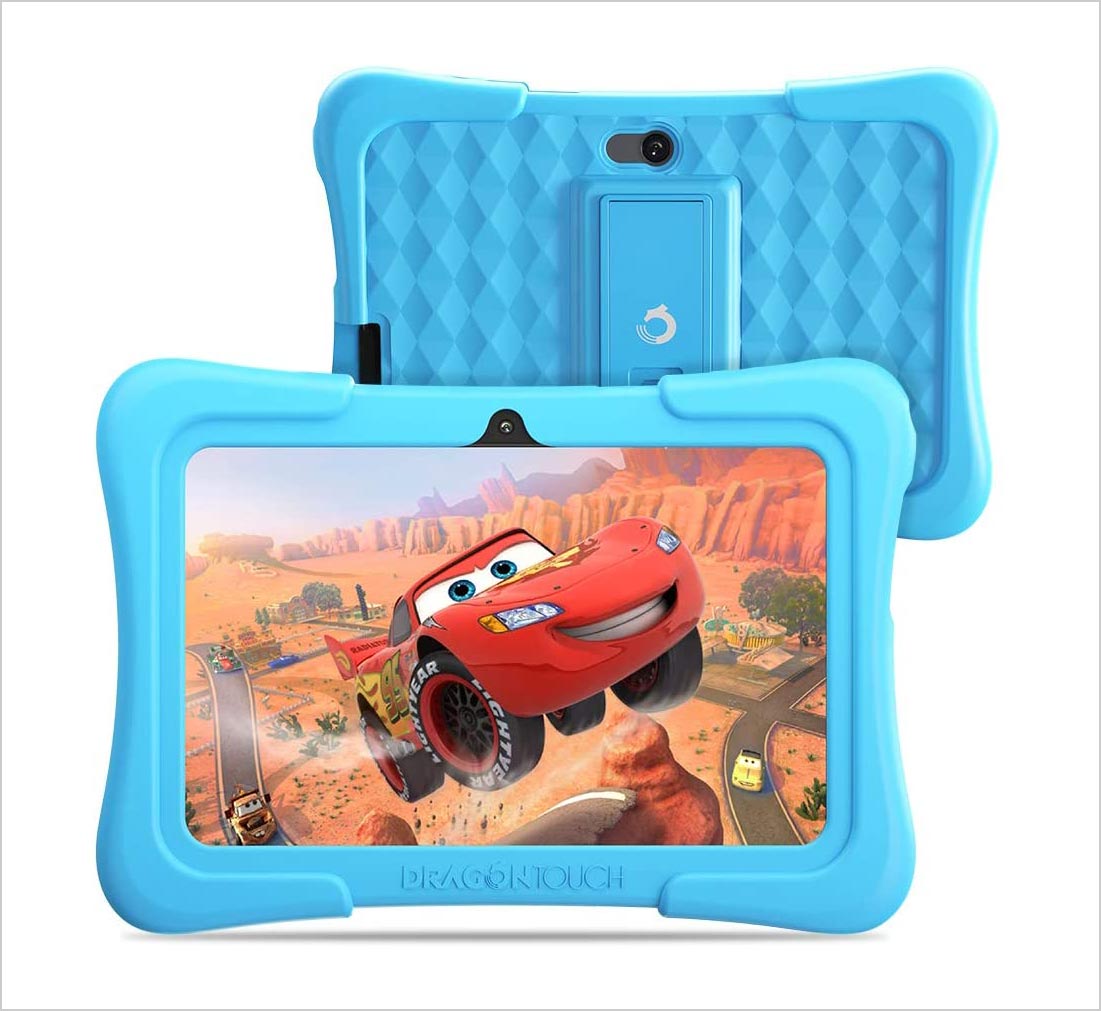 4. VANKYO MatrixPad S10 Kids Tablet 
Specs: 10 inch, 2 GB RAM, 32 GB Storage, Quad-Core Processor, Kidoz Pre-Installed, IPS HD Display, Android OS, Wi-Fi , Dual Camera, GPS, FM with Kid-Proof Case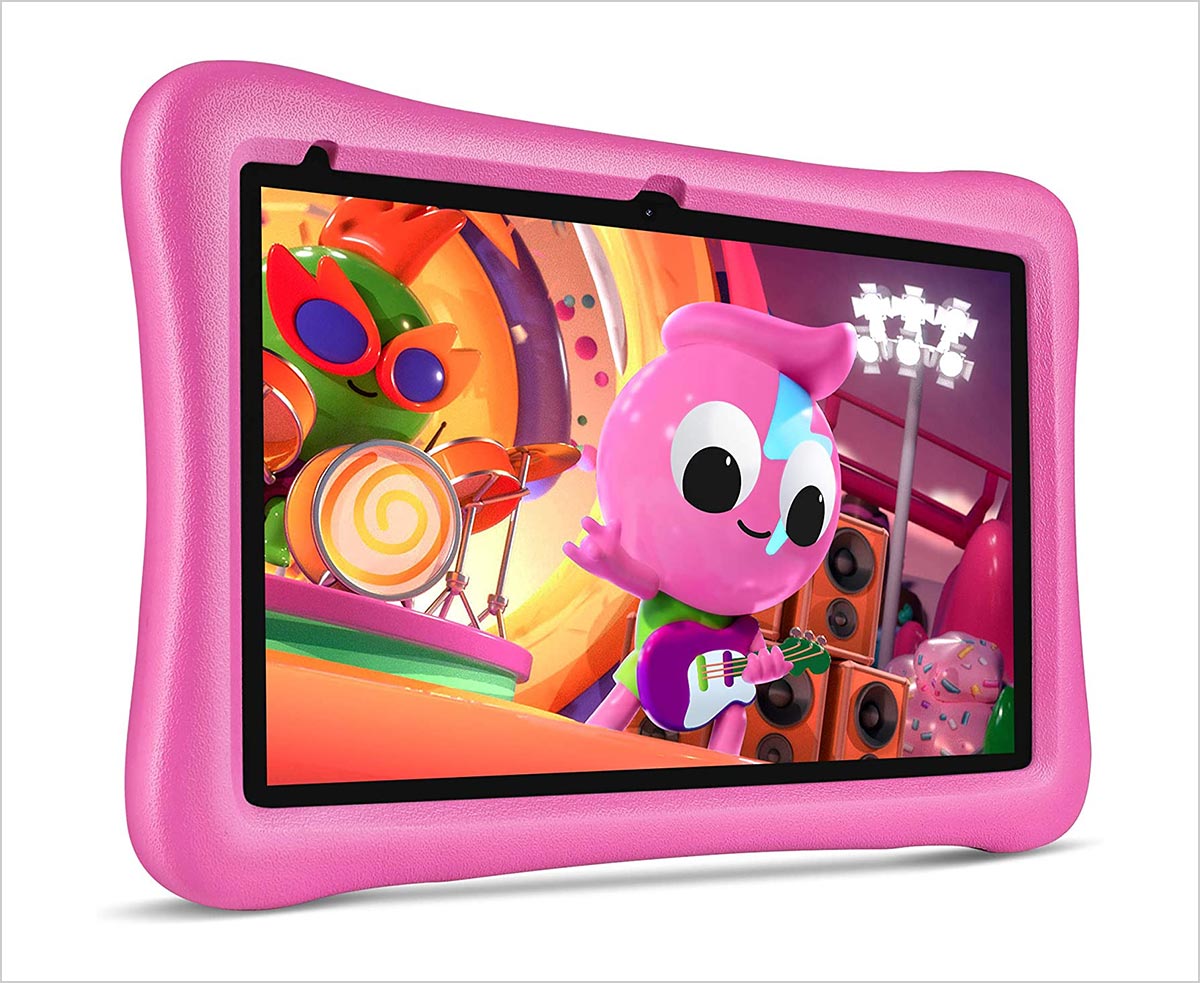 5. Pritom 7 inch Kids Tablet
Specs: Quad Core Android,1GB RAM+16GB ROM, Wi-Fi, Bluetooth, Dual Camera, Educational, Games, Parental Control, Kids Software Pre-Installed with Kids-Tablet Case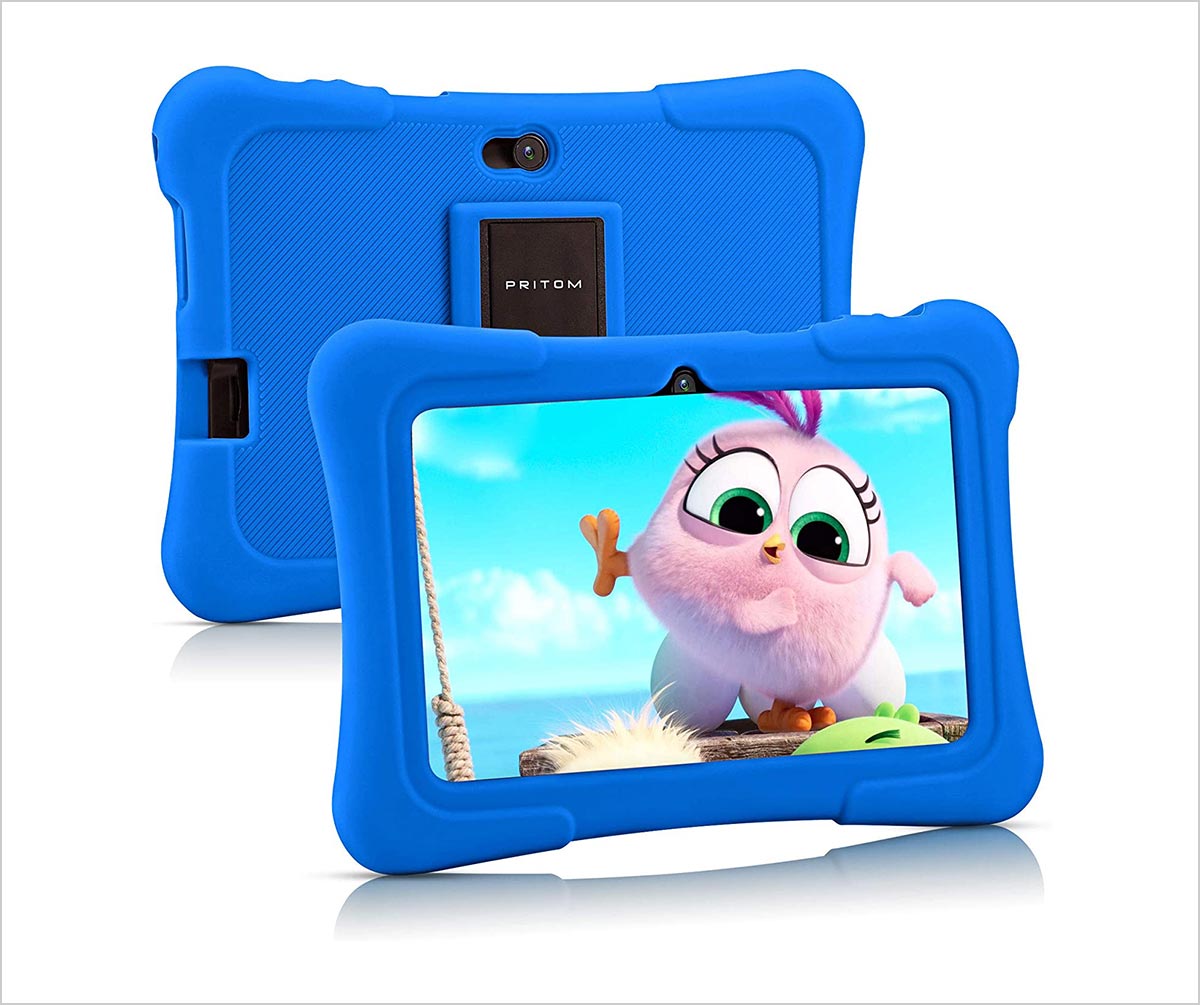 6. SANNUO 10 inch Kids Tablet
Specs: Android 10.0 RAM, 3GB ROM, 32GB Storage, 3G LET Dual SIM Card for Kids Education, Watch Movie and Play Game with Long-lasting 5000mAh battery. Slot for 128 GB Micro SD card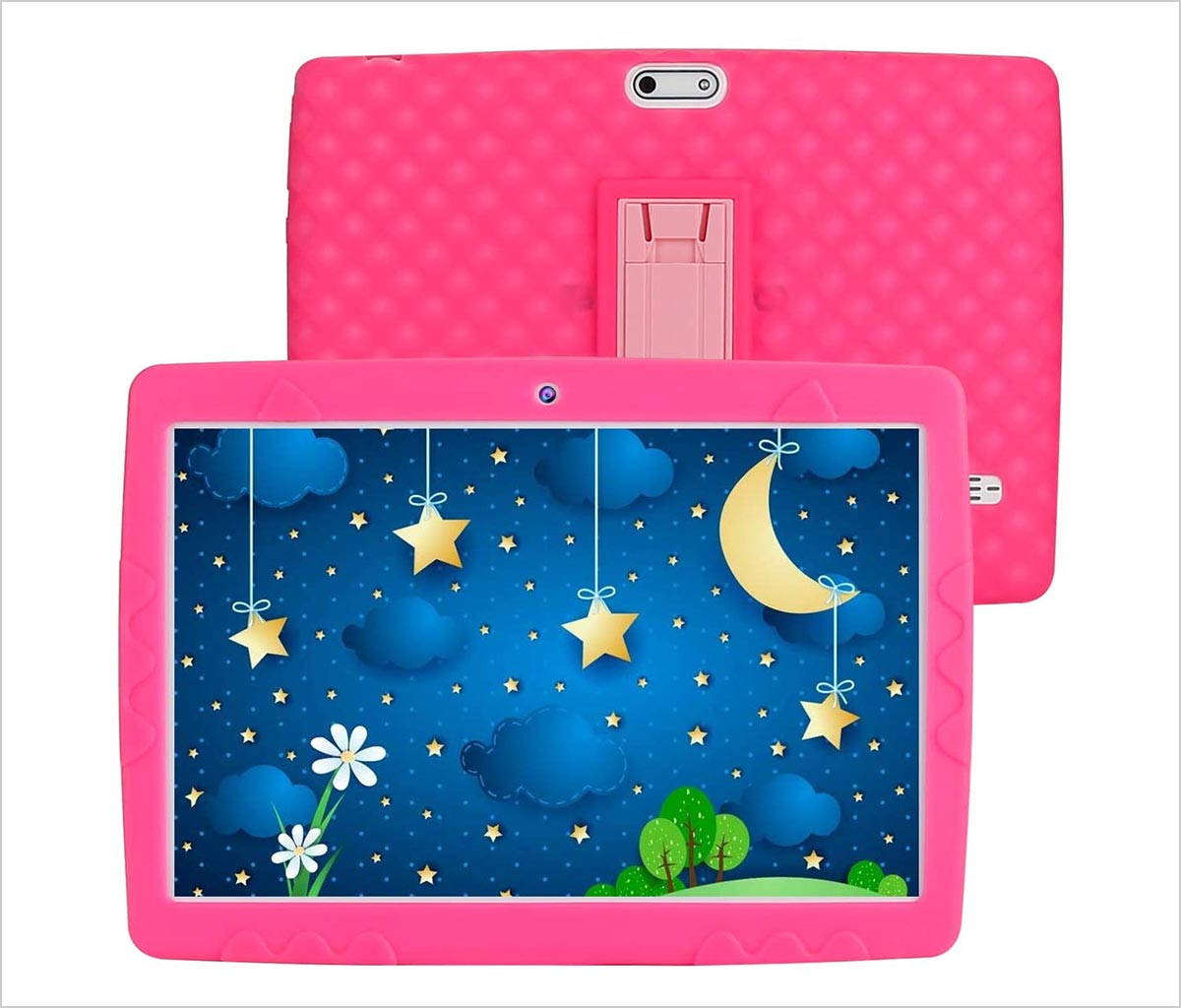 7. Surfans Kids Tablet, 7 inch FHD IPS Display, 2GB RAM, 32GB ROM
Specs: Pre-installed iWAWA application up-to date educational content including games, videos, e-books, drawing, puzzles, creative arts and kid websites, Latest Android 10.0 OS, 1920 x 1200 IPS Full HD eye health touchscreen display, 1.6G quad-core processor, 2GB RAM, 32GB ROM, 2MP + 5MP dual cameras, WiFi, Bluetooth, and Supporting 38 languages including Spanish. Kid Proof Cover: built-in 360-degree adjustable stand holder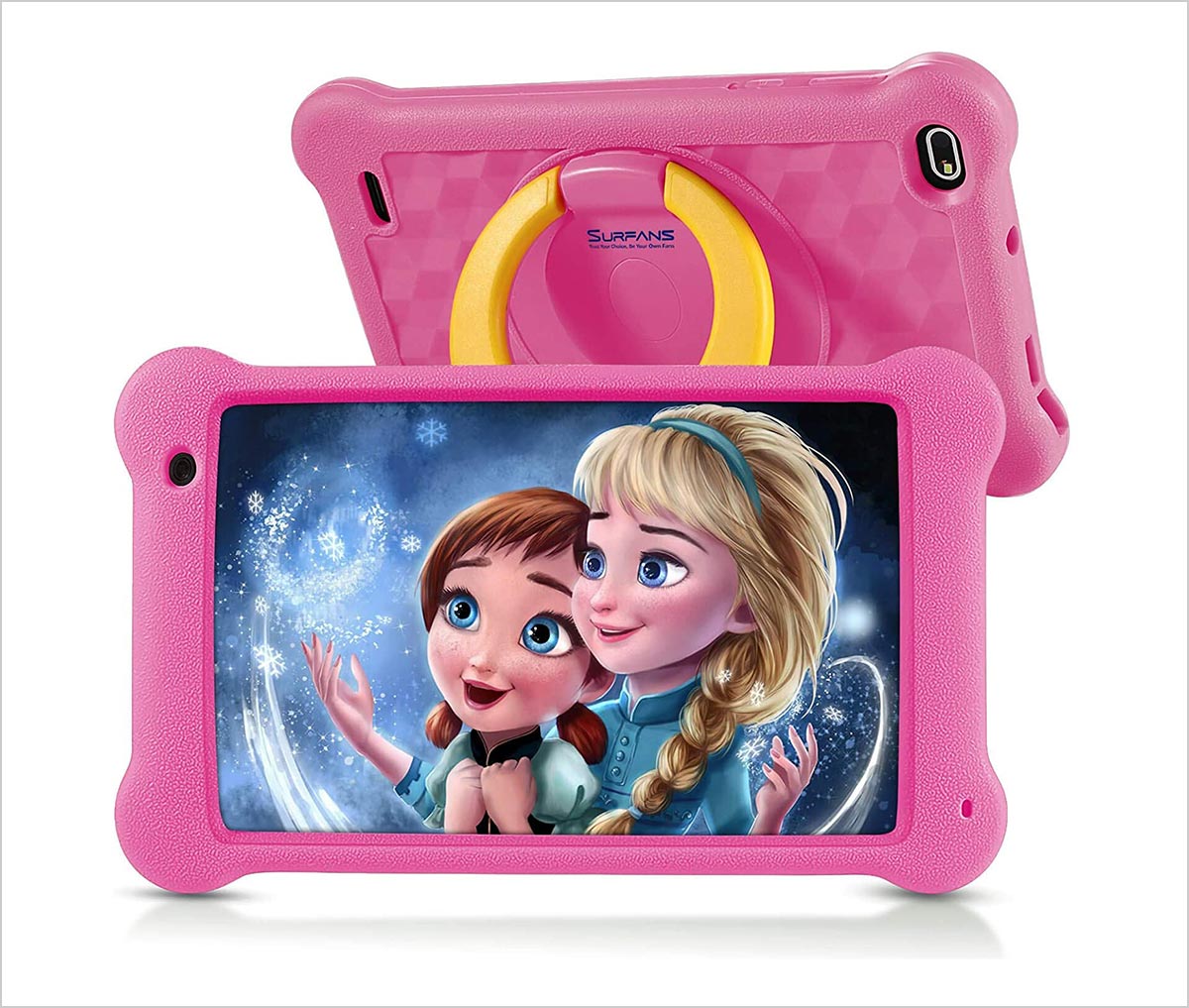 8. Arknikko SophPadX11 Kids Tablet, 7 inch IPS HD Display
Specs: 7 inch IPS HD Display, GMS Android 10 Quad-Core, 2GB RAM, 32GB ROM, Kidoz Pre-Installed & Parent Control, Dual Cameras, Kid-Proof Case with Screen Protector & 3500 mah battery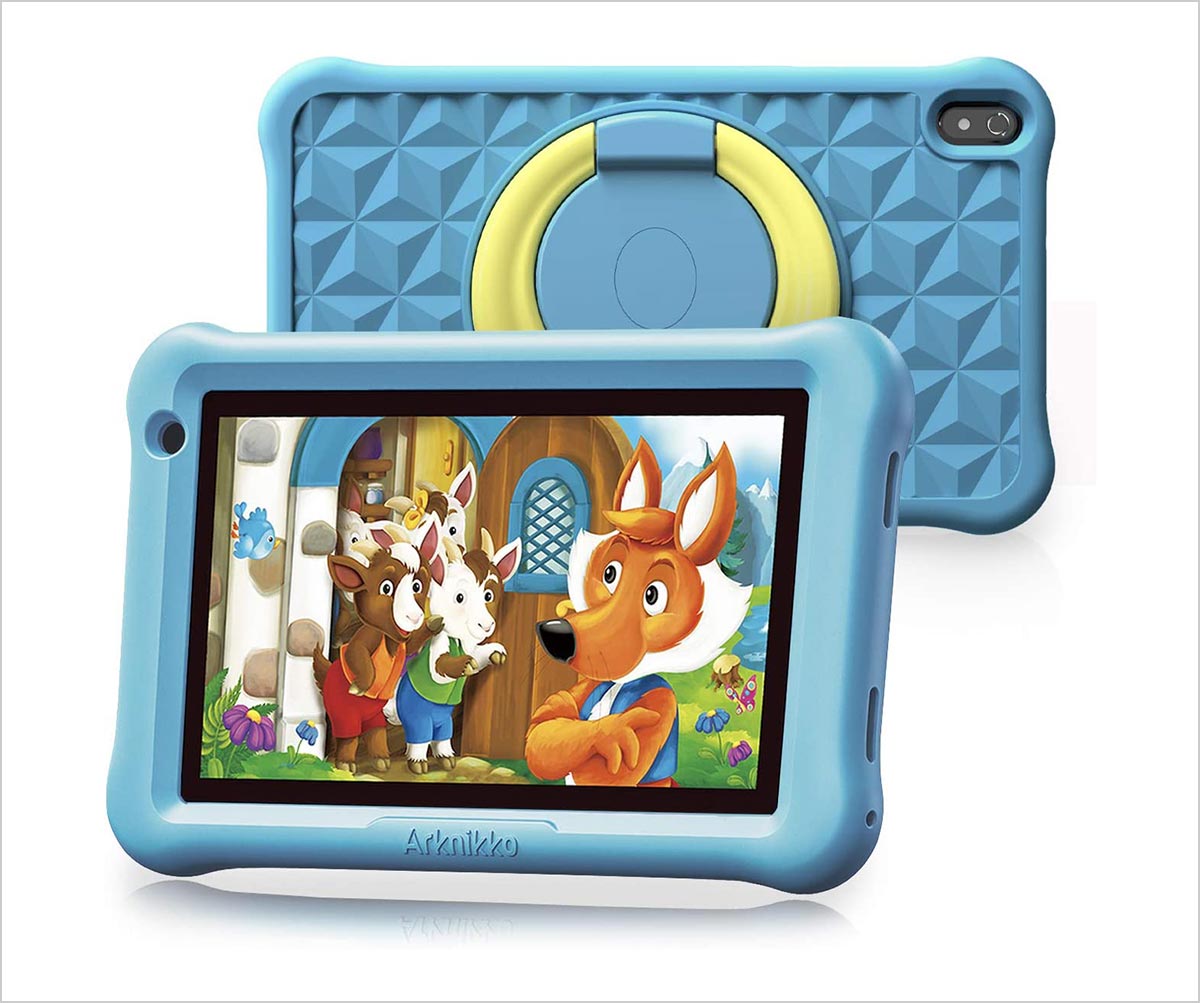 9. Contixo IPS Display Kids Tablet
Specs: IPS Display Kids Tablet with 2GB RAM, 16GB ROM, Android 10 Parental Control for Children Infant Toddlers At Home School, Educational Tablet for Kids, Wi-Fi & Child-Proof Case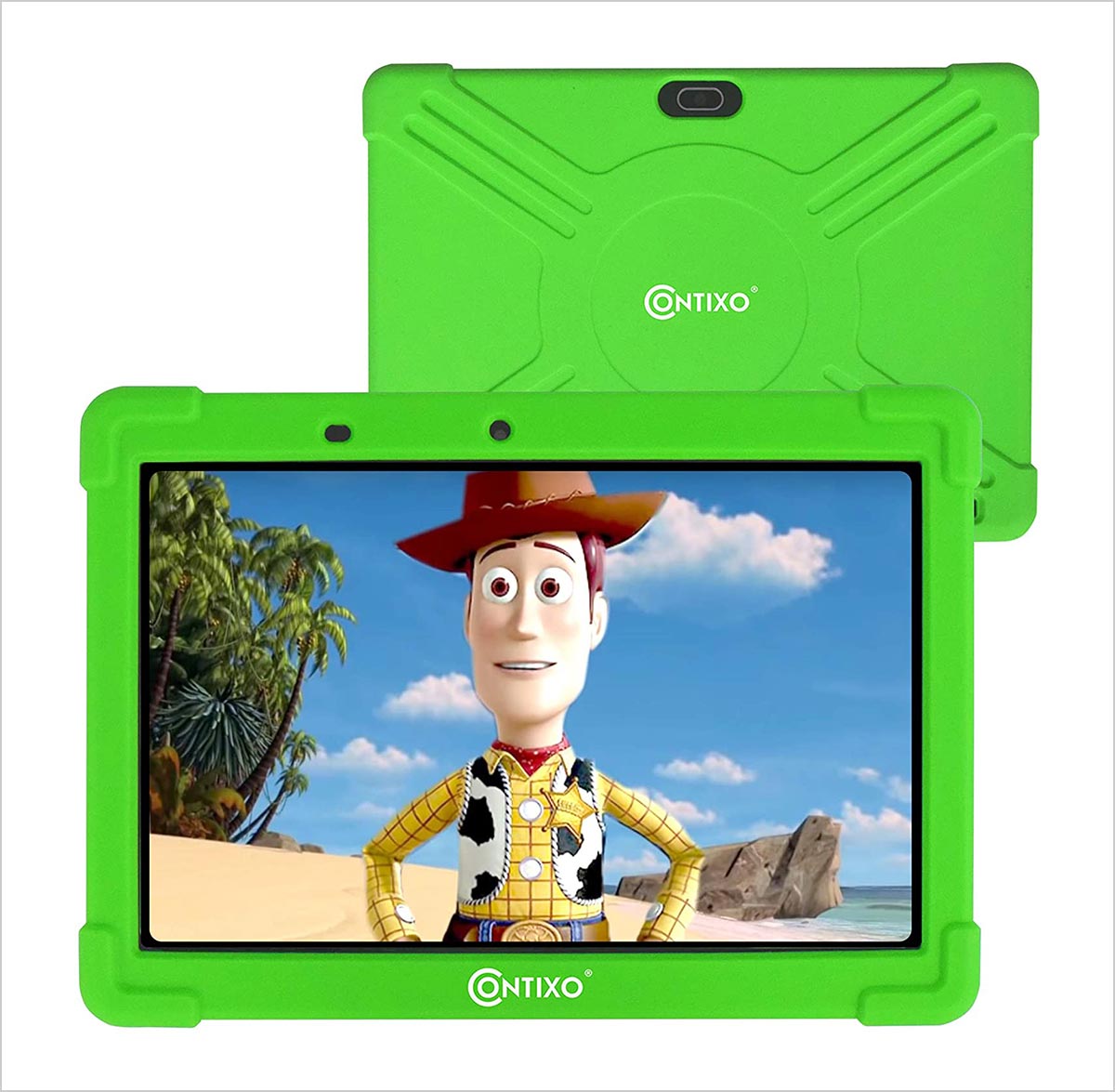 10. VANKYO S7 Kids Tablet 7 inch IPS HD Touch
Specs: 7 inch IPS HD Touch Screen, 2GB RAM 32GB ROM, Kidoz Pre Installed, Android OS, WiFi, Kid-Proof, 5MP Camera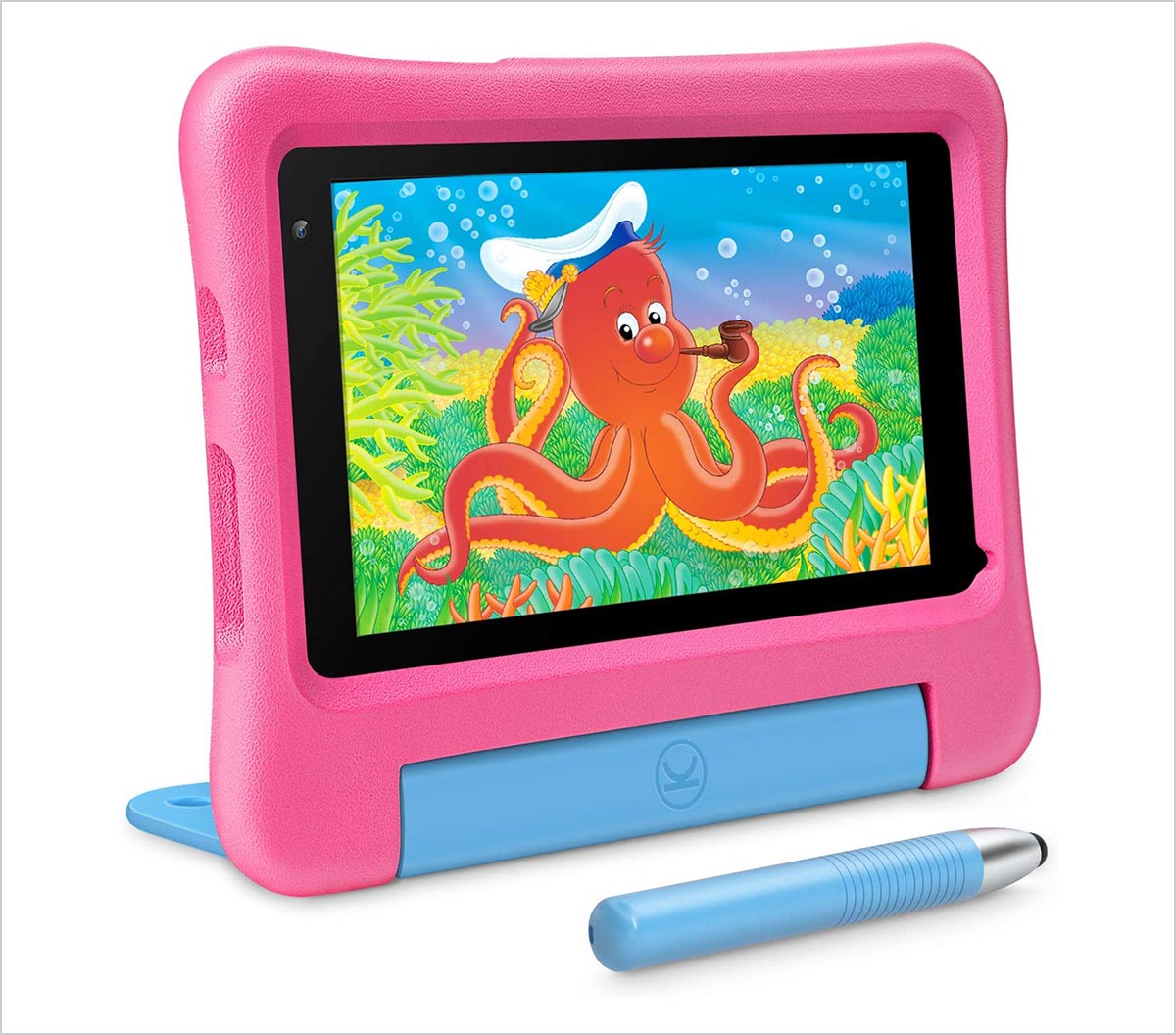 Recommended: