Hi there, hello there! We hope that you guys are keeping safe and that our blogs and free mock-up PSD files are helping you create awesome designs too. Our today's blog is all about branding and designs and is also accompanied by a free mock-up PSD as well but let us thank you first before we dive right into that. Whenever we go through our comments section, it feels so great to know that we have your constant support and that you not only love our content and everything else that we share here, but you also make sure to share these blogs with the ones you love so yeah thanks so much for that and more!
As you all know that Out-of-home (OOH) advertising is more impactful when it comes to measuring the results of a campaign. And while digital and social media have been extremely helpful tools for every brand that exists and uses these tools to promote their products and services, it has been observed that OOH advertising is better and must be considered for the successful running of campaigns.
For our today's blog, we decided to create a free SUV vehicle branding mock-up PSD file that will help you create powerful designs for your upcoming projects and we are sure that you will be able to ensure the effectiveness of them as well. Allow us to share how vehicle branding can be beneficial for instant marketing and advertising campaigns and once we are done sharing that, we will also share how you can create vehicle branding designs that actually work!
Vehicle branding helps businesses in building a nice following who can see your SUVs or other branded vehicles effectively roaming around in the city on a planned route for a week or for a month (the duration and timings also matter so make sure that you and your campaign managers know the game before you go out there for the vehicle branding campaigns). Your potential customers get to see your name or to know about your promotional campaigns and vehicle branding actually reinforces brand awareness making it easier for the audiences to know more about what's happening at a business's end.
Recommended: 40 Free Car, Van & Bus Mockup PSD Files For Vehicle Branding
Another thing that you can do by having your branded vehicles move around in the city is that you happen to build a certain level of trust – those who do not know much about your business would realize that you are putting in an extra (and effective) efforts to make sure that you are seen and that you reaching the right audiences and by connecting with the ones you need for your business, you ensure the survival of your products and services in a better way.
It is also important for you guys to know that vehicle branding is considered to be one of the most professionals means of putting a business out there. Your business gets established in the eyes of your existing and potential customers, they get to know about your latest offers and promotions and with your Call to Action (CTA) information, you can ensure that they will come to you for one service or the other.
Recommended: 100+ Free Outdoor Advertisment Branding Mockup PSD Files
In addition to reaching to a wider audience, vehicle branding is also a cost effective branding option as well because it is a one time investment and can also be used for long term marketing and advertising campaigns as too and if you are also present on digital and social media platforms, then you can create campaigns by integrating all the available channels by announcing giveaways for 'Spot the car!' type competitions. Such giveaways and competitions are a healthy way to spread the word about your brands etc. and you actually make your existing and potential audiences look out for your branded vehicles or other mediums to be eligible to participate in the digital activities.
Now, let's talk about the things that you need to keep in mind while working on the branding of vehicles! Although, our free SUV vehicle branding mock-up PSD file is highly editable and it will allow you to create whatever designs you want to create but there are a few things that you need to follow to ensure the effectiveness of your campaigns like:
Use high res. imagery for the branding.
Don't compromise on the quality of the sheet that you will use for the vehicle wrap.
Use a font that can be read from a distance.
Use the vehicle as a 3-dimensional medium to talk about your business.
Keep the content / copy minimal and don't overload the branding design with lots and lots of information.
Carefully choose the wordings etc. keeping in mind that the doors open, and the windows are rolled down.
That is all for today! Make sure that you get your hands on our free SUV vehicle branding mock-up PSD file right away and start creating impactful designs.
Free SUV Vehicle Branding Mockup PSD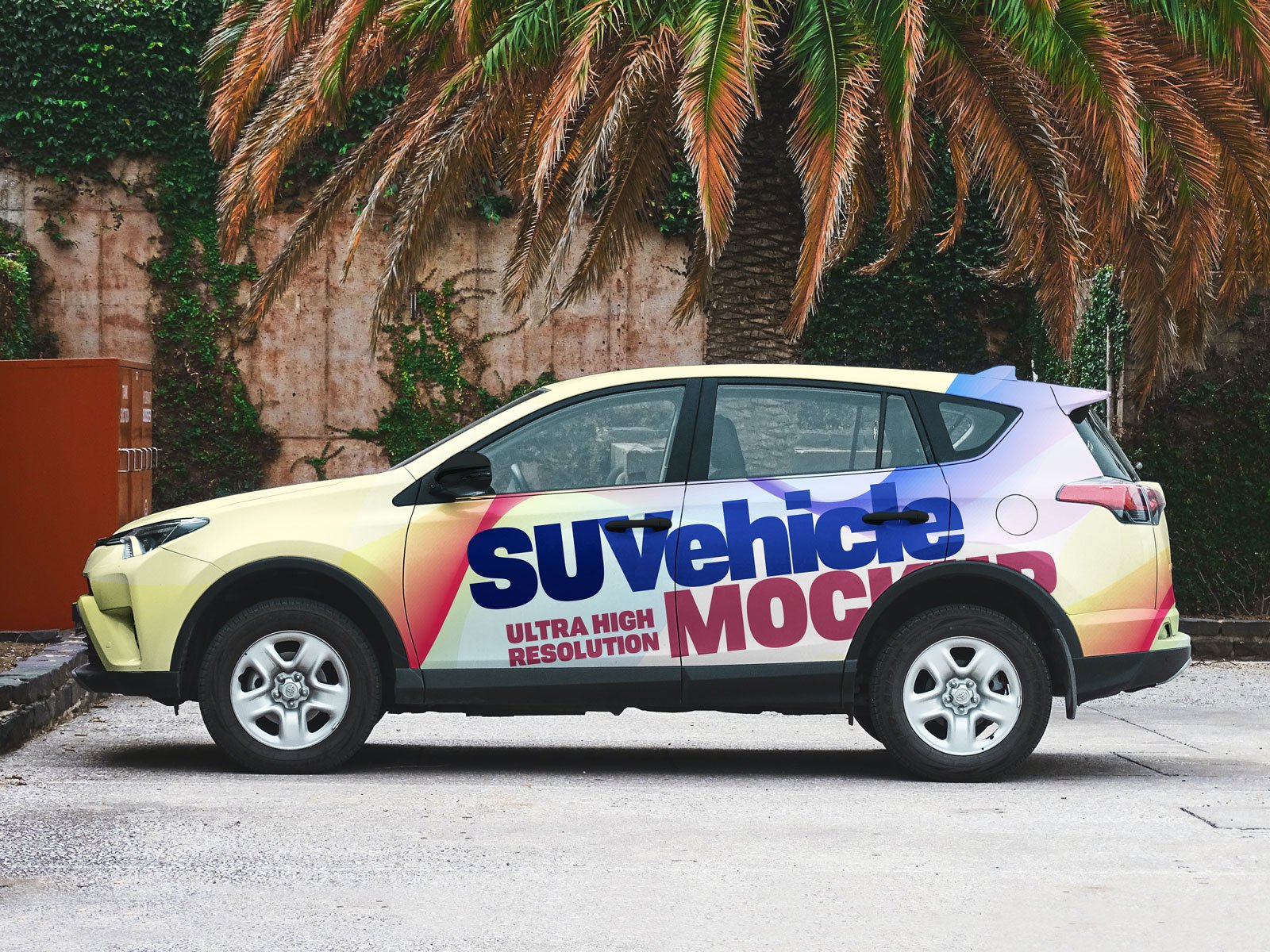 Available Format: Photoshop PSD
License: Free for personal and commercial usage
File Format: WinRAR
Mock-up Resolution: 4000 x 3000 px
Note:
1. Free SUV Vehicle Branding Mockup is allowed to share online (A Must Linkback to this page)
2. Say thanks if you like or share/tweet with your friends. That means a lot to me.
3. And don't forget to follow or subscribe to receive more high quality premium freebies & awesome articles only.
Download SUV Mockup
More Outdoor Mockups: