Hello there, you guys! Today, we're going to be talking about WhatsApp data transfer issue that many new iPhone users face when they are shifting from Android. The issue is about finding the right or the best app to do the data transfer for the smartphone users. There are multiple blogs, apps and guideline decks that are available on the internet and are supposed to help the iPhone users but unfortunately, their processes are either too difficult to understand or the apps do not really work.
So, in order to help you all with this WhatsApp data transfer issue, we decided to share a detailed article that will link you to the best app through which you can easily get this stuff done. We know the importance of keeping the messages of our loved ones safe, the photos and videos that they share with us as well as the important work related conversations that we happen to have with our co-workers and clients and we get the frustration part too. If you are one of those iPhone users who are unable to transfer their WhatsApp data from Android to iPhone, then you have come to the right place. Allow us to share what you need to know to transfer WhatsApp from Android to iPhone!
There are several different ways to transfer your WhatsApp data from Android to iPhone but the ones that are about to share absolutely work like a charm and you won't lose any of your data while transferring it from one device to the other. As most of us own a computer or a laptop, the first way to move your WhatsApp data is to use your desktop system to make this happen. It can be done through Windows or on a Mac seamlessly so very easily.
First Method By Using Software:
Now, what you need to do as the first step is to Download the MobileTrans – WhatsApp Transfer app on your desktop / laptop.
After downloading launch the Application and select the option "WhatsApp Transfer" from the first Home Menu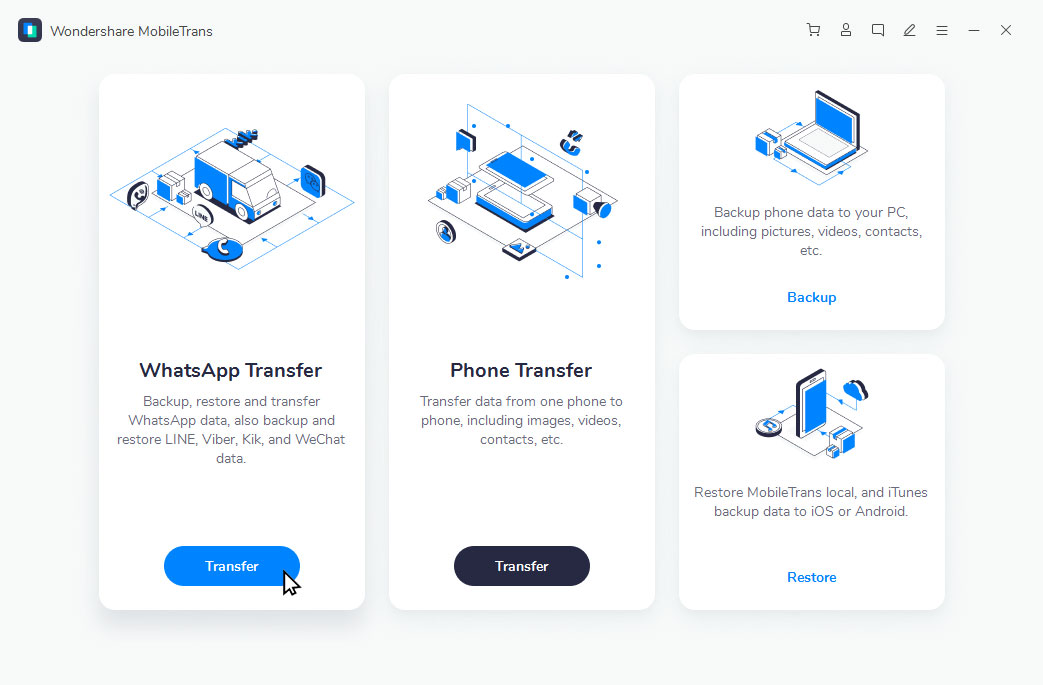 At this stage, you also need to connect both your devices (Android and iPhone) with the computer system as well. You will also have to select the 'WhatsApp' option from the menu that appears on the left to confirm that you want to transfer WhatsApp messages data from Android to iPhone. Interestingly, you can choose other apps as well from the same menu like LINE, Viber, Kik, WeChat.
Your computer system will detect the devices immediately as 'Source' and 'Destination' but if the automatic selection is not correct, you can 'Flip' them through the given button and you will be sorted for the next step. This is important for you to know that if you were using a WhatsApp account on your iPhone in the past, that data will be removed upon choosing the data transfer option so make sure that you have created a backup for that before you begin the process.
By clicking the 'Start' button, you will be able to transfer your WhatsApp data to your iPhone from Android – the time depends on the data so, you might want to wait a bit before everything has been transferred successfully.
If the phone does not connect automatically then you need to follow few more steps to make sure that you have allowed your phone to install apps via USB. Go to your phone Additional Settings > Developer options and turn the USD Debugging option ON as well as install via USB. Your phone will take few seconds to install the APP and then it will show connected.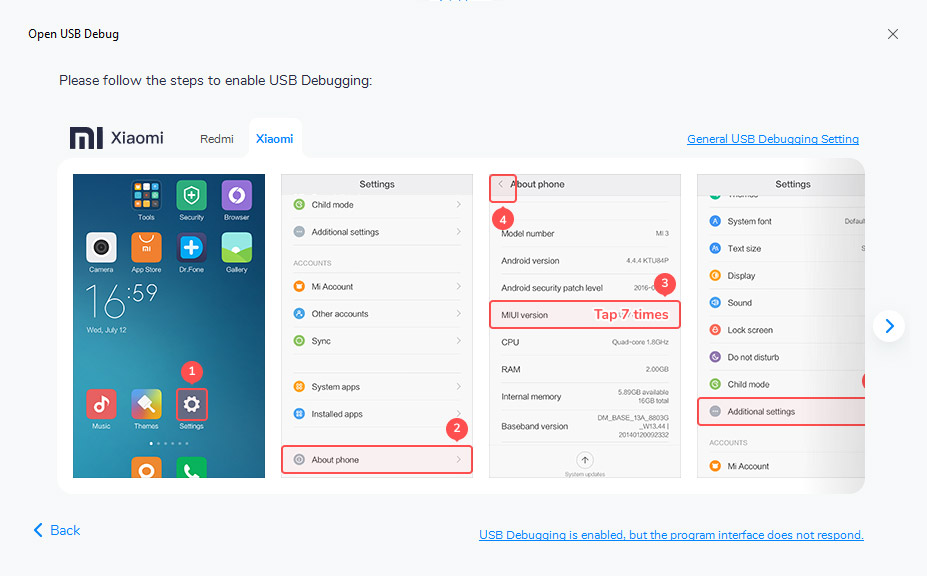 At times the cable is not connected to the workable USB port, you need to change the USB port and try the procedure again. It may show you the image below if something goes wrong then download the proper driver of the phone to your computer and start from the beginning. You can also contact the support of wondershare for help.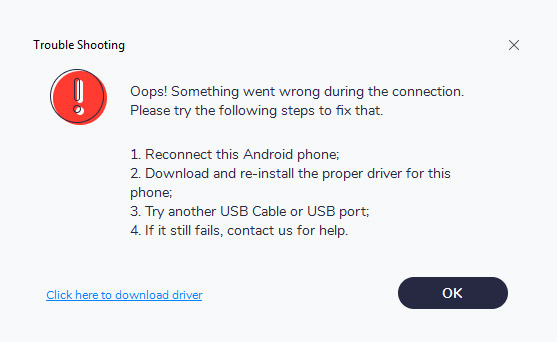 Once it is done, you will be notified to remove the devices and your iPhone will be good to use for WhatsApp and everything else too.
If all of this is too much to read and go through, we are attaching the YouTube link here in the blog that will help you understand the whole process better and we are sure that you will be able to transfer WhatsApp from android to iPhone thing done without any difficulty.
Another successful method to transfer your WhatsApp data from Android to iPhone is to do it through Wutsapper mobile application.
Second Method by Using Mobile Application:
Second method does not require you to use a computer system as you can perform the actions by simply installing the app on your mobile devices. In addition to that, you must have an OTG cable with you as well to connect the devices. This process is also simple; so, open the app, create the backup for your WhatsApp data – this will be shown to you by the app itself.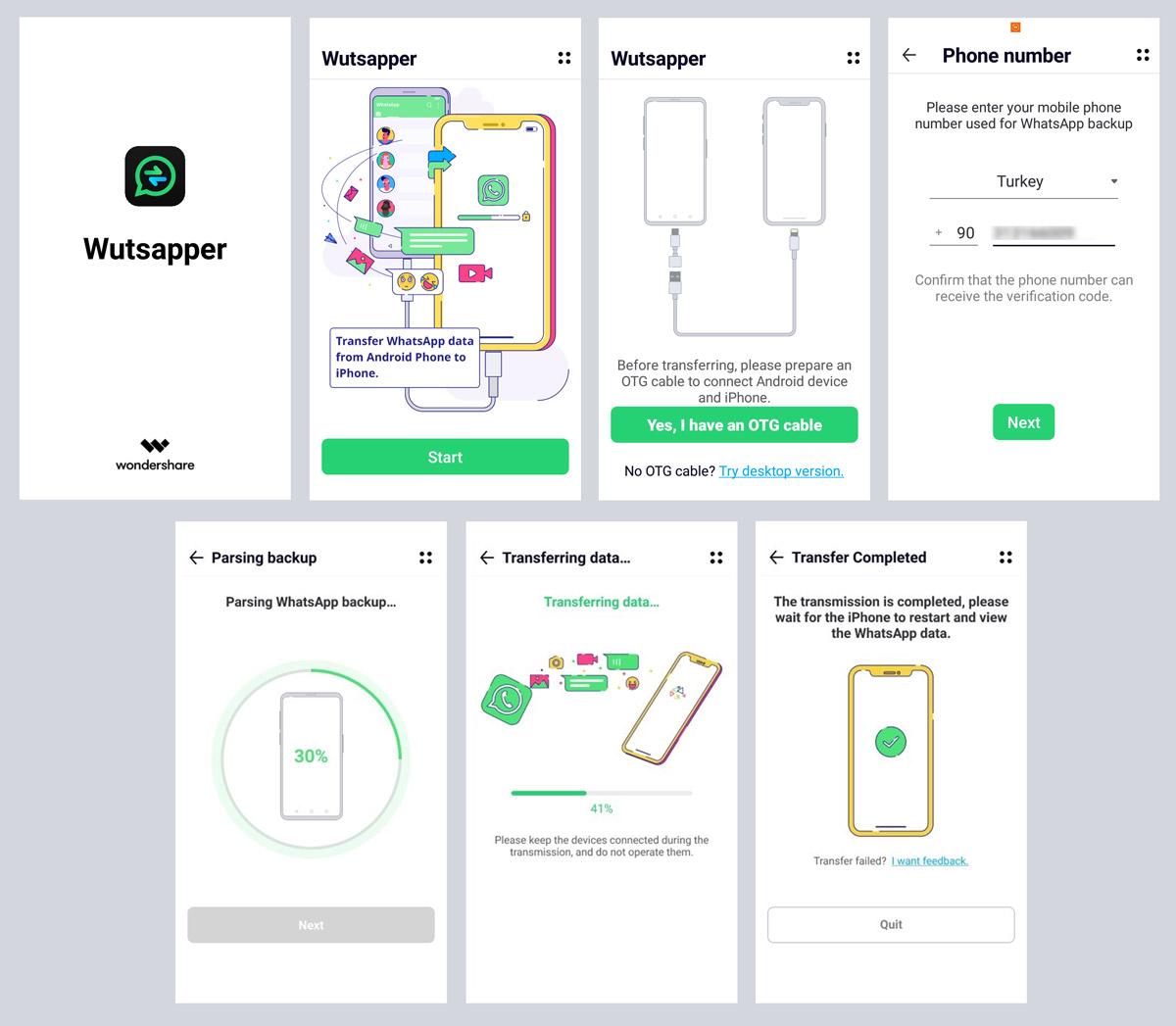 OTG cable you need for transfer WhatsApp from Android to iPhone > Buy from Amazon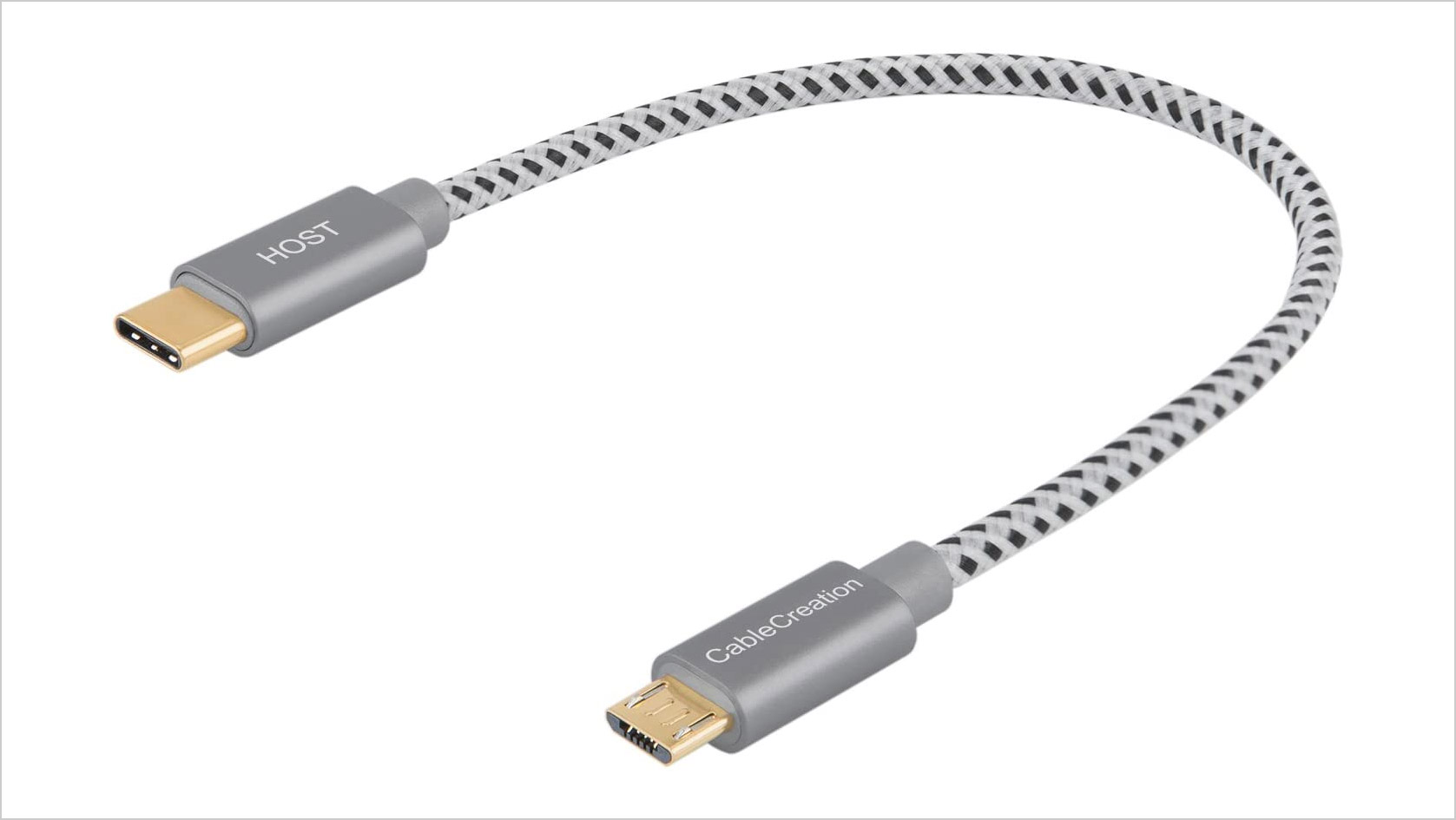 Once you have connected your phones with the OTG cable, click 'Trust' on both of them and enter the phone number that you use to log into your backup WhatsApp. After Wutsapper has parsed the data backup, you will have to click 'Start' to get the transferring done. In a matter of minutes, all your WhatsApp data will be successfully transferred to your iPhone from your Android device and ta-da, you are done!
Third the classic way of transferring:
Lastly, the third way of transferring WhatsApp data from Android to iPhone is to do it by changing the account feature. Here is how you can do it! In order to easily and successfully transfer your WhatsApp data from your Android to your iPhone; all you need to do is to email the chats to yourself (yes, you read that right!). Since WhatsApp allows its users to send the chats data to themselves, it becomes easier to create the backup of the required data.
This procedure does not allow the restoration of the same WhatsApp chats, but what it does do is to allow you to access the chats on your (new) iPhone. By doing so, you can ensure the creation of the backup of your WhatsApp data in a jiffy. Follow the below mentioned steps to easily transfer your data from Android to your new iPhone:
Open the app on your phone (the one that you are currently using) and then open any chat that you would wish to email to yourself; this can be done by tapping on the 'More' option, then choose the 'Export chat' option and click on the Email from the menu. It is your choice to export the chat with or without the media – we would suggest you transfer the chats without media as email servers have a data limit of 20 MB only so, there are chances that you won't get access to all the data that you would want to have.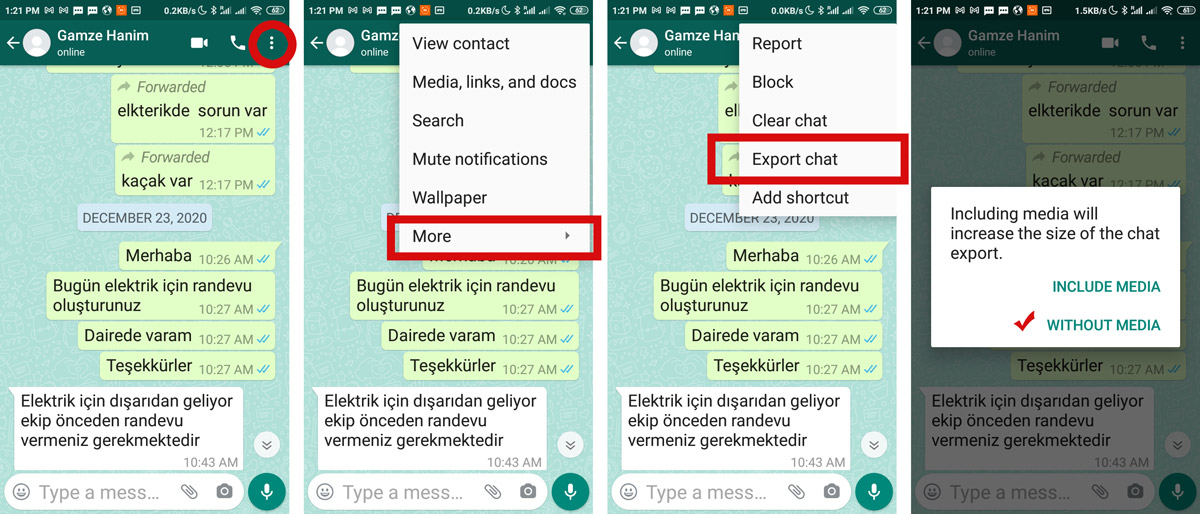 Then enter your own email address and email it to you and later on, feel free to access your chats on your iPhone by downloading it. This process will help you view your chats whenever you want.
That is all for this blog! We hope that this detailed piece of information as well as the YouTube link to video will be beneficial for you to transfer WhatsApp from android to iPhone. Feel free to download MobileTrans – WhatsApp Transfer today. And if we were able to help you with one of the most trending tech issues, feel free to drop in a comment to share how it went for you guys. Oh, and while you are at it, do not forget to share the blog with your friends and family members as well. Keep watching this space as we will share more informative and interesting blogs with you all to guide you about other tech related queries.
Recommended: