Hi there everybody! We hope that you all are keeping safe and that our blogs and content ideas are also helping you work on amazing design projects as well. For our today's blog, we decided to share another cosmetic related mock-up PSD with you guys, and we are sure that you are going to love it so, let's dive right into it.
When we talk about cosmetics, the first and the foremost benefit that the brands offer is that the products are produced and manufactured to make us feel better and rightly so. But what makes a product even more likeable is the fact that it is easy to use / apply and honestly, we believe in the fact that convenience > anything. Pump spray bottles are especially designed for the easy usage and are created in a way that these can either squirt, spray or mist the fluid for you – depending on the product that you have purchased.
Keeping in mind that usage of the cosmetic products, we can bet that our free pump spray bottle mock-up PSD file will help you create whatever bottle designs that you want to create, even in different sizes as well. Now, allow us to share the tips and tricks that you can follow to design your very own pump spray bottles that are nice and pretty and can also help you in generating revenue for the business too.
As you know that whatever product that goes to a store for selling purposes gets recognition through its packaging and we cannot stress that enough that your packaging is the first thing that can attract your potential customers – the actual product comes in contact with the consumer at a later stage. For cosmetics, always remember that the prettier your packaging is, the more a person will feel attracted towards your brand / product. And in order to achieve that level of perfection, here is what you can do!
First things first; get to know the target audience and how you plan on reaching them. From getting insights to your potential customer behavior to determining the price factor(s), you will be able to design the packaging / bottle in a better way. Market research also helps in gaining the insights that you would need to carry out the process. It is simple; you do not want to sell something that is already available in the market, doing the same thing. Find out the Unique Selling Point (USP) and if you don't have it, then create one to attract your audiences.
Also, it is okay if your product is not unique in any way, you just need to present it in a better way than your competitors so, that the potential customers know that there is something "new" in the market priced at a reasonable cost and can perform better than the already existing products. But make sure that you are being transparent with the audience because it's you that needs to gain their trust, you know!
Okay so, once you have gained the relevant insights, you can initiate the brainstorming process. Sit with your creative department or sit alone and think of as many ideas as you can and while you are doing it, also make sure that you are recording the thought process in one way or the other. What works best for us is to draw sketches, write tag lines as they come to us and chalk out the visuals before we start the design process. Keep in mind that at times, the idea that you first discarded could be the idea that you will create as the final product so, save whatever comes to your mind on a paper, mobile phone notes or whatever that is feasible for you to manage.
Cosmetics are normally used for adults but there are products like sunscreens, hair oils or moisturizers that are manufactured for kids and teenagers as well. So, your targeted age group is what that will help you work on the colors, styles (fonts and bottle itself), as well as on the copy. Also, for the copy, it is very important for you to know and understand the technicalities of skin care products like the materials / ingredients that are used to produce or to manufacture the product. In addition to that, also mention the exact expiry date of the product and if it can cause any allergies (mild or strong), clearly write about them too.
Another thing that you need to keep in mind while designing a pump spray bottle or any other cosmetic packaging is the colors; use colors once you have gone through the color psychology of how they are perceived. The extensive your research is, the better you will be able to pick a color scheme for your products.
That's all from our end today! We hope that our blog and free pump spray bottle mock-up PSD will be super useful for your upcoming design projects. Don't forget to share how it went in the comments.
Free Pump Spray Amber Bottle Mockup PSD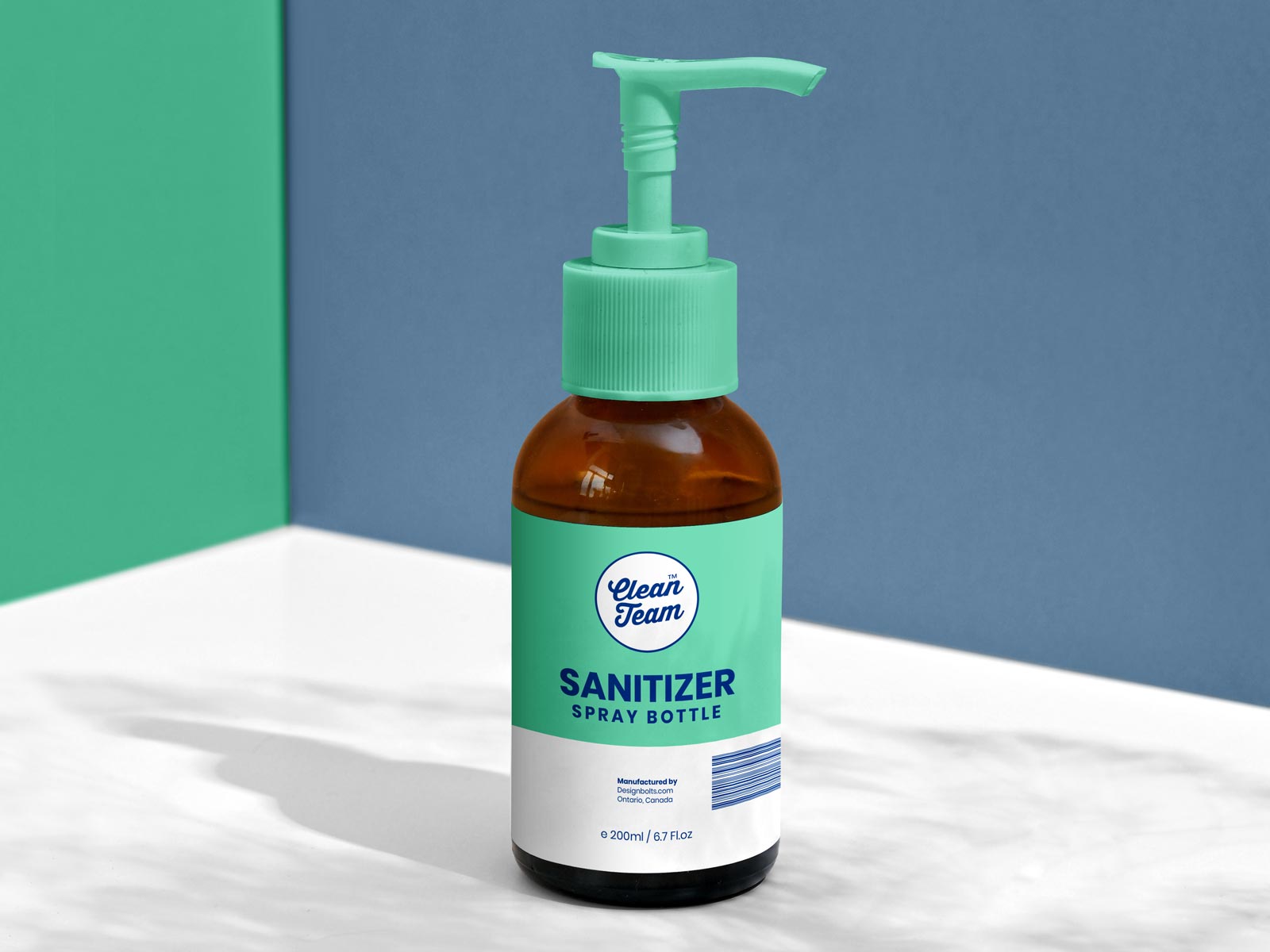 Available Format: Layered PSD with smart object insertion
License: Free for personal and commercial usage
Zip File Includes: Free Glass Pump Bottle Mockup PSD
Mock-up Resolution: 4000 x 3000 px

Note:
1. Free Mockup PSD is allowed to share online (A Must Linkback to designbolts.com)
2. Say thanks if you like or share/tweet with your friends. That means a lot to me.
3. And don't forget to follow or subscribe to receive for more high quality premium freebies & awesome articles only.
Download Glass Pump Bottle Mockup PSD
More Free Premium Quality Mockup PSD Templates