Hi there, hello there everybody! We are back with yet another interesting blog of ours and we can bet that you all are going to love it too because it can help you, your friends or customers with decorating their rooms, offices etc. but before we share what we have designed for you guys, we would like to thank you for your overwhelming response on our previous blogs and for also sharing them with the ones you love.
Earlier this week when we were going through our content plans, we realized that since most of are still working from home, it would be a great idea that we would talk about interiors too like we talk about how you can up your marketing and advertising game. So, we decided to create a free wall decal mock-up PSD file that you can edit and customize as per your design requirements and you can not only have it give your bedroom a new touch but you can also renovate your working space with it as well. And if you are a seller of home décor goods, then you will be happy to include this wall decal in your list too. Let's get started and we will share how you can utilize our free mock-up for your upcoming design projects!
First things first; for those of you who would want to know about wall decals in detail, know that these are not stickers that you can paste on the wall or any other surface for that matter which eventually ruins the paint etc. as well but in fact, these wall decals are carefully crafted using vinyl cutting machines, they normally come in one piece and the sticky material won't mess up your wall, doors as well. Wall decals are preferred these days more than stickers for very obvious reasons (that we have mentioned above) and that is the main reason why we wanted to share our free wall decal mock-up PSD file with you guys!
As you can see that we have created a tree as the wall decal and it looks quite stunning – this can be used for a wall or space that is empty and does not really have any decoration piece near or on it and you will see that it is going to up your aesthetic game as well. Wall decals are considered to be handy when it comes to decorating the rooms and office spaces and the one that we have created for you will do the right job for you.
There are a couple of things that you can do to make it complement the setting of your room(s). For example; if you are planning to use the wall decal for a kid's bedroom, you can make it a little more colorful and may be add birds there too, this will help the kid get to know about birds – you can make it a detailed one with the names of the birds and it will become an easy General Knowledge kind of a wall decal for the kids.
For an adult's room or for a lounge, you can leave spaces for the people to paste photos of their loved ones like they are hanging from the tree and it will look super cool, you know. If you have any other cool ideas in mind, you can surely crate mock-ups for them and you will be glad to see that you could add a touch of creativity here and there to make it a cooler design. as far as the offices are concerned – big or small, it is very important for the place to be anything but boring because your team members come to office to spend like nine hours there and you would not want them to feel weird because the environment is dull, you know. Like the family tree thing, you can use the same idea for your team photos for our free wall decal mock-up PSD too.
Now, let's talk about that one thing that we love to talk about! Uh yes, we are talking about creating mock-up designs and the good things that can bring to you. Creating a variety of options shows that you have actually spent some time on the designs, and you want to make it a hit. We are not asking you to impress your clients by going out of your way but what we do mean to say is that you will help your team members, board members and clients imagine the wall decal designs in real life through your mock-up presentations without even spending a penny on the actual thing.
That's a wrap from our end! We hope that our blog and free wall decal mock-up PSD file will help you create stunning designs and when you do do that, don't forget to share your feedback with us in the comments section.
Free Wall Art Decal / Sticker Mockup PSD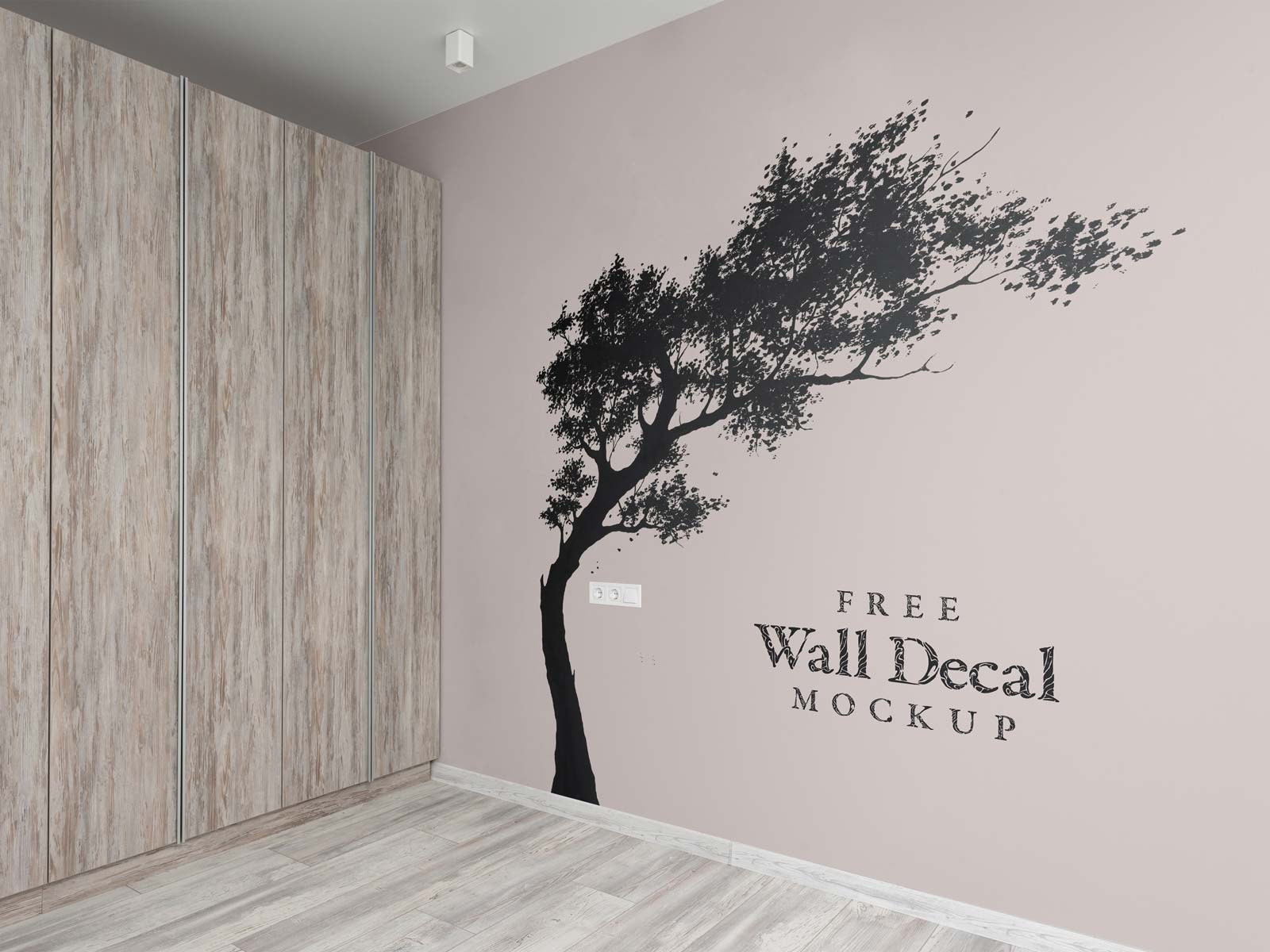 Available Format: Layered PSD with smart object insertion
License: Free for personal and commercial usage
RAR File Includes: Free Sticker Mockup PSD
Mock-up Resolution: 4000 x 3000 px 

Note:
1. Free Decal Mockup PSD is allowed to share online (A Must Linkback to designbolts.com)
2. Say thanks if you like or share/tweet with your friends. That means a lot to me.
3. And don't forget to follow or subscribe to receive for more high quality premium freebies & awesome articles only.
Free Wall Decal Sticker Mockup PSD
More High Quality Wall Decal Mockup PSD Files & Stickers to buy: