Hi, there friends! We hope that you all are doing great and that our blogs and mockup PSD files are also helping you create your super awesome designs and artworks as well. Before we start talking about our today's cool and informative blog, we would just like to thank you for your overwhelming response to our previous blogs (especially the Apple ones) and for also sharing them with the ones you love. Our today's blog is going to be all about Out of Home (OOH) advertising so, if you are planning to work on a stunning new billboard design then, keep reading!
As you know that Out of Home (OOH) advertising is (still) relevant and it is going to be as long as the advertisers and the audiences need it to be, we decided to work on our latest billboard on building a mock-up PSD file that is absolutely free yet highly editable and we are sure that you will love to work on it too. But here are a few things that most marketers and advertisers do not want to agree with and there are chances that they must be losing on several business opportunities only because they did/do not want to explore them.
Yes, we know that this is a digital world now and we have also heard that phrase so many times that now it has started to sound like something really boring that 'Conventional advertising won't stay for long…'. First things first; people who say that are the ones who have just joined a digital marketing and advertising agency and it is so overwhelming for them that they feel that the things that were actually used to advertise the businesses/products and services are going to go away.
Sure, now people have access to news and digital and social media all the time but there are millions of people around the world who still tune in to radios, televisions and even purchase newspapers to stay up to date with the latest happenings of the world. Then come the billboards and banners that are put up on the designated spots so that a branded message can reach the masses. Once a person happens to see that a new brand has been launched or that an already existing brand is opening a new outlet or an amazing discount is being offered, people will rush to the physical stores or the online ones to place their orders.
Recommended: 100+ Outdoor Advertising Mockups
Billboards are far more effective than Facebook, Instagram, YouTube because they do not come with an expiry date. They won't vanish after 24 hours or a week too and they are efficiently designed so that you feel the need to take an action like subscribing to their website, visiting their physical store, availing their sales in one form or the other, referring that business to someone you think would find it beneficial and so on.
Digital and social media platforms are a source of instant responses and gratification, but billboards are designed to result in an instant and tangible action. So, next time someone mentions to you that conventional advertising is going to die, share what we have shared with them so that they can know better. Let's now talk about our free billboard on building mock-up PSD file that we have created for you guys so that you can feel free to be as creative as you want to be to make your own designs.
As you can see that we have placed the billboard on a building to help you and the decision-makers visualize how the end product will look once it has been created. The best thing about all our free mock-up PSD files is that we can all the layers super editable so that you do not have to worry about the design elements. It will be like a daily routine thing for you guys when you will start working on this very PSD file. So, to start your design process; the first thing you must work on is ideation.
What to write, how to write it, who to target, and when – all these pointers will help you make informed decisions and not just for this billboard but for literally any and every design or artwork that you would want to create. For billboards, the copy has to be short and crisp yet meaningful so that the message can be spread effectively. For the design elements, make sure that you use nothing but high res. imagery and do not forget to add Call to Action (CTA) buttons like website link, phone number, etc. To make sure that your designs get approved, create at least 2 to 3 different options with different creative thought processes and messages.
That's all, folks! We hope that our blog and a free billboard mock-up PSD file will help you create beautiful designs for your personal and commercial design projects.
Free Billboard on Building Mockup PSD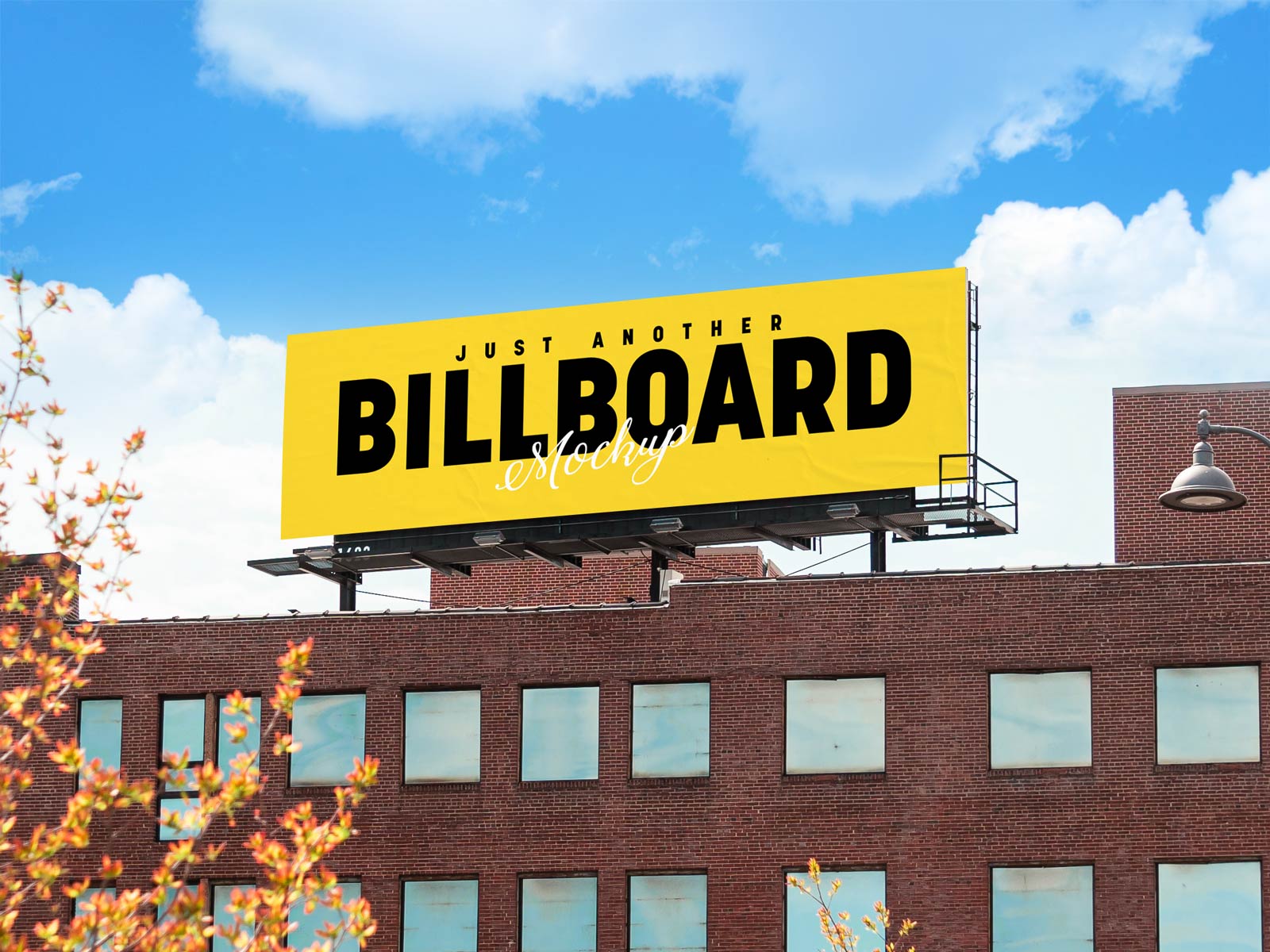 Available Format: Layered PSD with smart object insertion
License: Free for personal presentational use only
RAR File Includes: Hoarding on Building Mockup PSD
Note:
1. PSD Billboard Mockup is allowed for sharing online (A Must Linkback to this page)
2. Hide the first layer and you will see all mockup layers.
3. Say thanks if you like or share/tweet with your friends.
Download Billboard Mockup PSD
More Free PSD Hoarding Mock-ups you would love to download: