Hi there friends! Since you have already read the title of our today's blog, we won't take long to start talking about our free hand holding iPad Pro mock-up PSD files so, let's get to the point; we are so very thankful to you guys for your constant support and for also making sure that you share the content with the ones you love and care about. With your support, feedback and suggestions, we feel motivated to keep designing more and better every single day. Keep all of the positivity coming our way!
Okay so, we wanted to create something for the ones who must be working on new projects for themselves or for their clients and since we know that the field of technology has so much to offer to everyone, gadgets and other devices are always in use to produce interesting stuff for the masses. There are mobile applications, websites, social media platforms, portals and so much more that the creative thinkers, designers and developers are always making something new every day. Keeping that in mind, we decided to work on a free hand holding iPad Pro mockup PSD file that can be used by all of you and we are sure that you will find it beneficial too.
Recommended: 20+ Free Awesome Mockup Websites
Now, we know that at times, working on new projects or pitch presentations might feel a little too overwhelming but the moment you sit down with your strategy team and decide what you must create and what you must not spend your time on, things become smooth to process and to work on as well. And we can tell that, that is going to be the same for your next iPad Pro related projects too. You can create new apps, websites, portals, games and anything that can serve the audience and you will become one of their favorite service providers.
That's the thing about introducing something new to the world, they use and love it to make their lives better, to make the most of the technology that you have used to cater to their needs so it is your responsibility to make it all right, make it all work. iPad Pro itself has so much to offer that anyone and everyone who uses it and might use it would know the importance of having a powerful gadget for their usage but there are times when not everything is enough and that is when a creative mind has to step in to make it more fun. iPad Pro as per Apple performs in a mind blowing manner and rightly so, it's Apple after all, how can something that they make won't be that efficient, right?
It runs on 5G, it is super fast, it offers XDR Liquid Retina and it is an ultimate iPad experience. With the M1 chip, everything becomes faster and efficient. With the next level performance and unmatched features, iPad Pro like all the devices made by Apple is ready to take over the world and that is one of the best things about Apple. They make sure that they are offering nothing but the best to their customers. So, when you have such an excellent device, what must you do to make it interesting? Well, here are a few ideas that you can work on!
We know a couple of friends who did not pursue their fast speed games and websites only because they did not have relevant devices for them but interestingly, with 5G on the iPad Pro, speed is not a problem and the fact that the users will be able to stay connected with the internet is like a win win situation for everyone anyways. Then comes the camera; now we know iPad Pro has wide and ultra-wide cameras but there are still some touch ups that you would want to have for your Instagram or Pinterest feed and who are we to stop you? 😉 So, why not work on a stunning photos and videos editor that can benefit the masses without them having to spend extra bucks?
The iPad Pro is built to cater to the needs of working professionals like designers, strategists, developers, writers as well as gamers, entertainment lovers and those who like all things fancy and the best part is that it can serve them quite well. Your task is to make sure that they are enjoying their experiences to the max. This device is great for students too and while Zoom exists, you can work on something better than that, similarly, you can compare a hit game of the modern times and make something that appeals to the masses. Netflix exists but no one said that it can't be better. You can work on a streaming platform too specifically designed for iPad Pro users; you know!
So, what are you waiting for? Get your hands on our free hand holding iPad Pro mock-up PSD file, create your mock-ups for the apps etc. and ensure that you bring something new to the table before 2021 ends!
Free Hand Holding iPad Pro Mockup PSD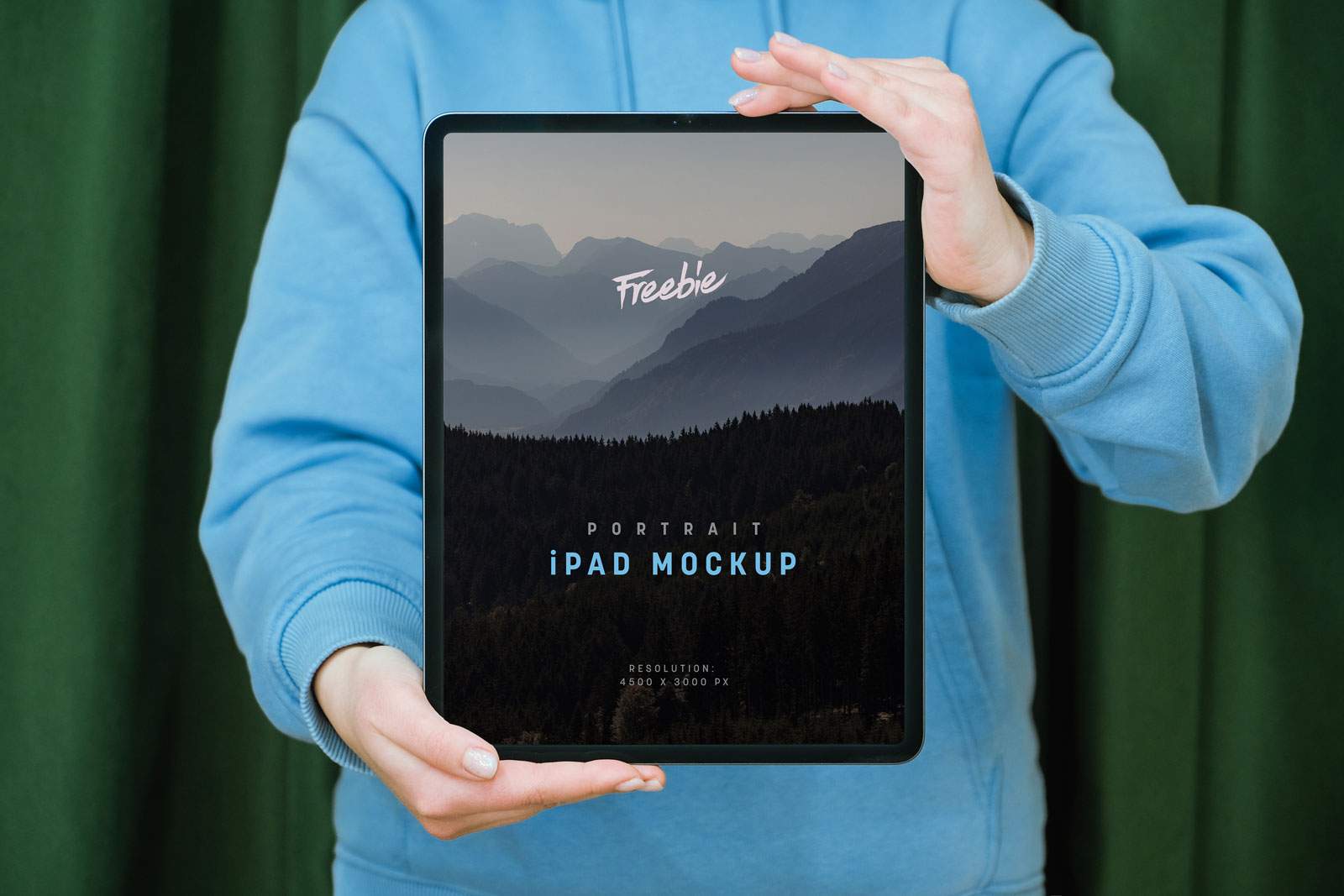 Available Format: Layered PSD with smart object insertion
License: Free for personal presentational use only
WinRAR File Includes: iPad Pro Mockup PSD
Note:
1. PSD iPad Pro Mock-Up is allowed for sharing online (A Must Linkback to this page)
2. Say thanks if you like or share/tweet with your friends.
Download iPad Air Mockup
Recommended: