Hi there, hello there! We are back with yet another interesting blog of ours and we can bet that you all are going to love it because well, it focuses on one of the most stunning Apple products and secondly because we have designed a free yet highly editable mockup PSD file of the very product so, let's get started without any further delays!
Apple iMac Pro 27 inches will instantly become everyone's most favorite screen of all times because of so many reasons that we feel that just one blog won't be enough. And the fact that Apple has truly outdone their own innovative & creative thoughts had to result in something like the iMac Pro 27 inches. In our today's blog, we will keep things brief to explain how this is a truly amazing system anyone could ever own (and if you have the money, then you must invest in this Apple product) to help you all get an idea of how technology can be used to make highly efficient and excellent products.
The new iMac Pro 27 inches will be available for $1,799 as the starting price and that goes up to $2,299 depending on the processor core that you will choose for yourself. The display offers 5K Retina display (27 inches – diagonal) and True Tone technology and it is configurable with nano-texture glass. There are 3 processors that are available in the market; 3.1GHz 6-Core, 3.3GHz 6-Core and 3.8GHz 8-Core. Memory of the systems is configurable to 16GB, 32GB, 64GB, 128GB and the graphics are absolutely amazing as well. It is like you will see that you have spent your money on something that will benefit you for the long run too.
For expansion and connections; you get to use a 3.5 mm headphone jack with your iMac Pro 27 inches that also has SDXC card slot (UHS-II) and the following:
Four USB-A ports
Two Thunderbolt 3 (USB-C) ports with support for: DisplayPort, Thunderbolt (up to 40Gb/s), USB 3.1 Gen 2 (up to 10Gb/s) Thunderbolt 2, HDMI, DVI, and VGA supported using adapters that are sold separately.
The input system allows the usage of
Magic Keyboard
Magic Mouse
And they are also compatible with Magic Keyboard with Numeric Keypad as well as Magic Trackpad. Also, know that the wireless networking allows Wi-Fi 802.11ac Wi-Fi wireless networking and Bluetooth (5.0 wireless technology). There are multiple built-in apps that you can use to make things work for you like the App Store itself, Calendar, Notes, FaceTime, Maps, FindMy, Photo Booth, Podcasts, Siri, Safari, News, Music etc.
The audio system has:
Stereo speakers
Studio-quality three-mic array with high signal-to-noise ratio and directional beamforming
5 mm headphone jack
Support for "Hey Siri" as well.
So, when a system is this powerful and excellently designed with more than enough memory and storage, what can you do to make the experience even more fun? We are asking this question because when someone is spending more than $100 on something, they expect that thing to be so good, that it speaks for itself and although, we know that Apple always ensures to stun the world, there are a few things that you can design and develop to make the usage of iMac Pro 27 inches amazing.
For starters; always lookout for things that you feel must be there but are not there for one reason or the other for example; a super creative graphic designer has a brilliant idea in mind to make the most of the Retina 5K display but they are unable to transform it into anything physical because they do not have the right platform to work on. Their choice can be the iMac Pro 27 inches because of its powerful tools and applications that help a person take ideas and creations to the new level. And honestly, that is literally what the world is looking for.
Any game developer or website developer wants to see their creativity looks as stunning as it does in their head and that is how it should be, you know? The best thing about Apple iMac Pro 27 inches is that it does allow you to see what you want to see the way you have imagined it, and we think that no one can make a better deal than that.
Whenever we create a mockup PSD file for Apple products or any other gadgets for that matter, we ensure that you get to design and develop what you have been working on – without having to compromise on anything at all. We are sure that our free Retina 5K Apple iMac Pro 27 inches mock-up PSD file will let you create and work on your favorite projects and you will be able to demonstrate your ideas and design in an effective way.
And before we say goodbye for today, we would like to encourage you all to do share your feedback with us in the comments below!
Free Retina 5K Apple iMac Pro 27 Inches Mockup PSD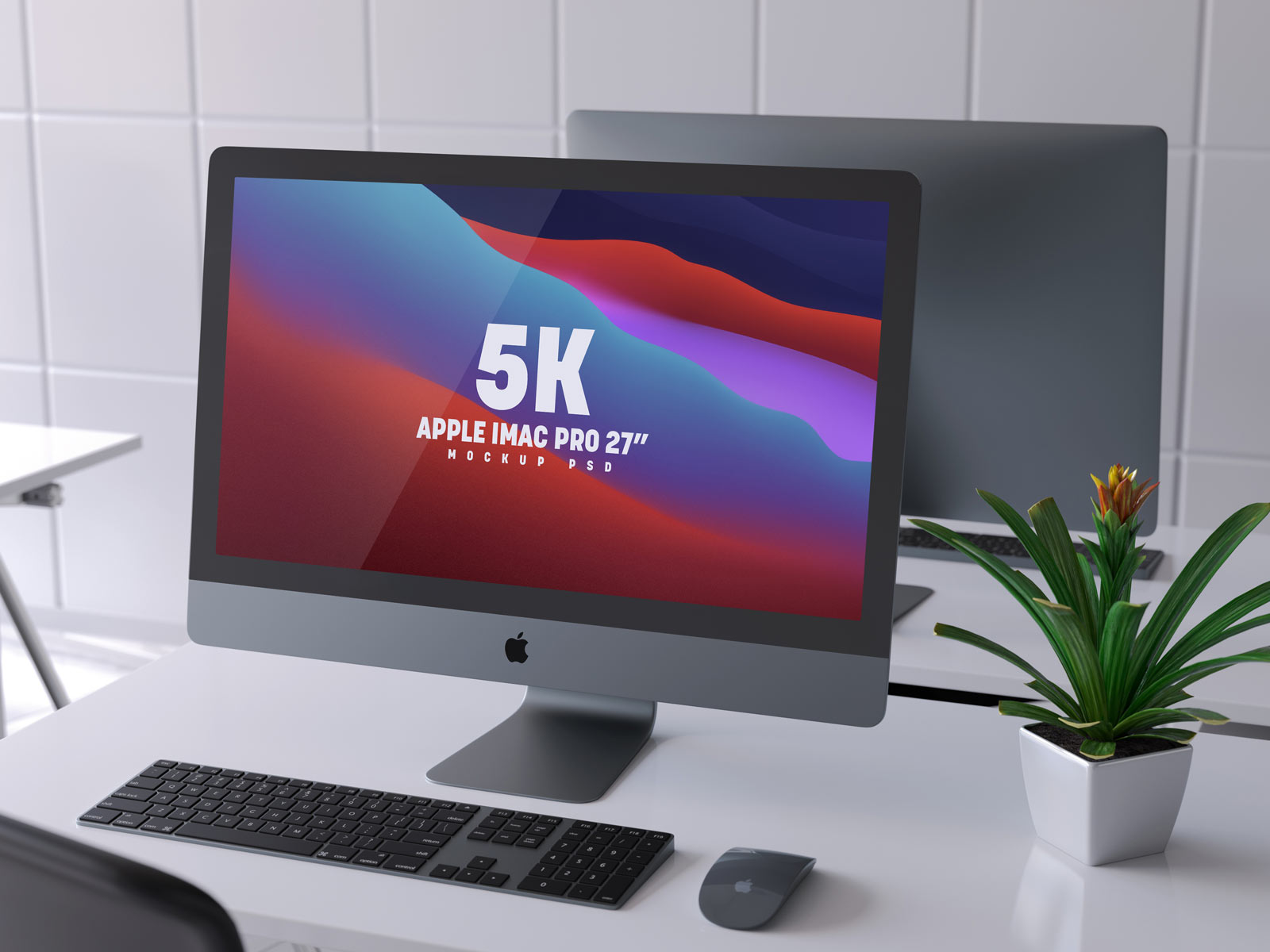 Available Format: Photoshop PSD
License: Free for personal and commercial usage
File Format: WinRAR
Mockup Resolution: 4000 x 3000 px
Note:
1. Free iMac Mockup is allowed to share online (A Must Linkback to this page)
2. Say thanks if you like or share/tweet with your friends. That means a lot to me.
3. And don't forget to follow or subscribe to receive more high quality premium freebies & awesome articles only.
Download 5K iMac Pro Mockup
More Awesome Free Website Mockups: