Hi there everybody! We are back with yet another interesting and super useful blog for you guys but before we start talking about what we have created, we would like to take this moment to thank you all for your overwhelming response to our previous blogs and for also sharing the content and creative ideas with the ones you love. Knowing that we have such a supportive audience that truly appreciates us makes us feel awesome and we can assure you that we will keep creating content that you can use for your personal and commercial design projects.
As you know, tissue papers are used worldwide for various reasons, and since they come in quite handy, their usage only increases. Tissue papers come in multiple packaging from pocket-sized packets to big boxes and rolls (preferably for toilets and kitchens). Then various types of tissues exist for example; facial tissues, hygienic tissues, baby wipes, wrapping tissues, table napkins, paper towels. And lastly, there are specialty tissues that are wrinkle-free and are normally used for jewelry items.
All these types of tissue papers are manufactured and produced and made available in the markets worldwide depending upon the demand and usage and although, the paper itself is used to serve cleaning and wrapping purposes; they must be packed securely too and for that tissue, boxes are designed. We are sure that with our free tissue box mock-up PSD file, you will be able to create whatever you want to create as per the requirements of your design brief and the client's demands.
The tissue boxes used to package daily life tissue papers are made of cardboard that is recyclable as well and since it is light in weight and keeps the content safe, all the brands prefer using it for their products. These cardboard boxes come in different sizes and styles and with an opening to easily take out the tissues. The box that we have created for you guys is a square-shaped box with a convenient opening at the top of it.
Recommended: 30+ Premium Quality Product Mockups
Now, let's talk about the design that you can create using our free tissue box mock-up PSD file! First things first; you can create anything and everything that you want to create but always keep in mind that your packaging must be attractive enough to attract your customers and only then you can get them to spend on your business. You definitely have a choice to keep the tissue boxes fully branded or you can create a subtle and generic design template as well that can be used in the houses etc.
When we say branding, what we mean is that many businesses prefer to have their own stationery items at their offices etc. like the big firms (banks, hospitals, and most of the corporate sector) like to display their wall clocks, tissue boxes, note pads, coffee mugs so that they can reinforce their branding messages for a better recall. We think that it is a great idea to subtly push your brand values while also allowing the visitors, customers, business clients, and friends to remember what you believe in one way or the other.
Recommended: 80+ Best Packaging Mockups
In this part of our blog, we will share how you can create branded tissue boxes for your business or with the work you work and then we will share a few tips to design noncorporate designs that you can create for your online shop / physical store as these types of tissue boxes can be sold at a bigger level commercially. For branded tissue boxes, you need to make sure that you have given prominence to the branding design elements. Make them stand out like you would for a business card or for a notepad for that matter and keep the tagline in focus too. Keep the design simple so it catches attention and clutter-free so that whoever looks at the tissue boxes doesn't get lost in the complicated designs.
For the designs that you want to sell commercially but without the tag of any brand, we would suggest you take it to the next level by getting to know what your audience wants to see and if they would be interested in purchasing customized tissue boxes as well and you will see that you have already won the game. To start this process; you will have to create multiple mock-up designs and once you have gathered enough data and responses on what your customers are most interested in, design those tissue boxes and sell them to them – with or without the tissue papers.
We hope that our blog and free tissue box mock-up PSD file will help you create interesting designs for your upcoming design projects. Don't forget to share how your projects turned out to be in the comments section down below.
– – – – – – – – – – – – – – – – – – – – – – – – – – – –
More Awesome Free Mockups:
– – – – – – – – – – – – – – – – – – – – – – – – – – – –
Free Tissue Box Mockup PSD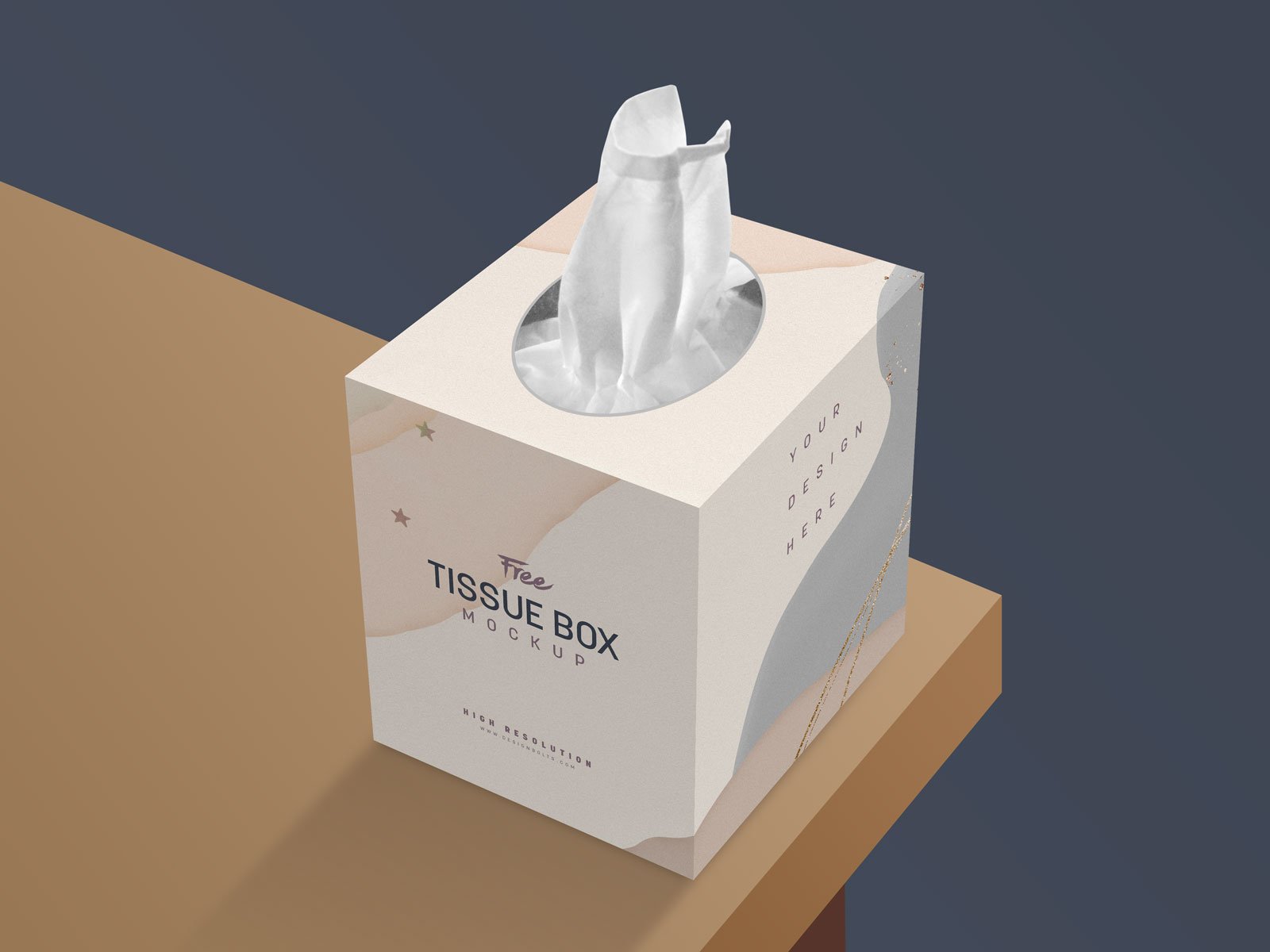 Available Format: Layered PSD with smart object insertion
License: Free for personal and commercial usage
RAR File Includes: Free Tissue Box Mockup PSD
Mock-up Resolution: 4000 x 3000 px

Note:
1. Free Tissue Box Mockup PSD is allowed to share online (A Must Linkback to this post)
2. Say thanks if you like or share/tweet with your friends. That means a lot to us.
3. And don't forget to subscribe to receive more high-quality premium freebies & awesome articles only.
Download Tissue Box Mockup
More Box Mockups: