Are you building out a new WordPress website for your online business or blog? The template or "Theme" you choose for your site makes a huge difference not only in its appearance but its performance as well.
With competition online fiercer than ever, a fast-loading website is a key requisite to the success of your online venture. We looked through dozens of themes, testing them to see the individual performance of each template.
This post looks at the top-performing themes for WordPress. We took the most popular options available, testing each of them for performance. We cut out the slower-loading themes to bring you this list of top-performing templates.
When collecting the data for each theme, we used three tools during the analysis.
PageSpeed Insights – We based our results on Lighthouse, including data from mobile testing, not desktops.
GTmetrix – This Lighthouse test is another popular tool, and we ran testing from a desktop during our analysis.
WebPageTest – We set up the WebPageTest kit to run nine individual tests, scoring the median value from the results. Our analysis occurred on a desktop platform using a throttled FIOS connection.
If you're looking at creating a new WordPress website or revamping an existing one, you should first enquire with a website design agency in Manchester, such as Blue Whale Media, to see which theme is best suited to your unique requirements.
The Best WordPress Themes for Website Speed
GeneratePress.com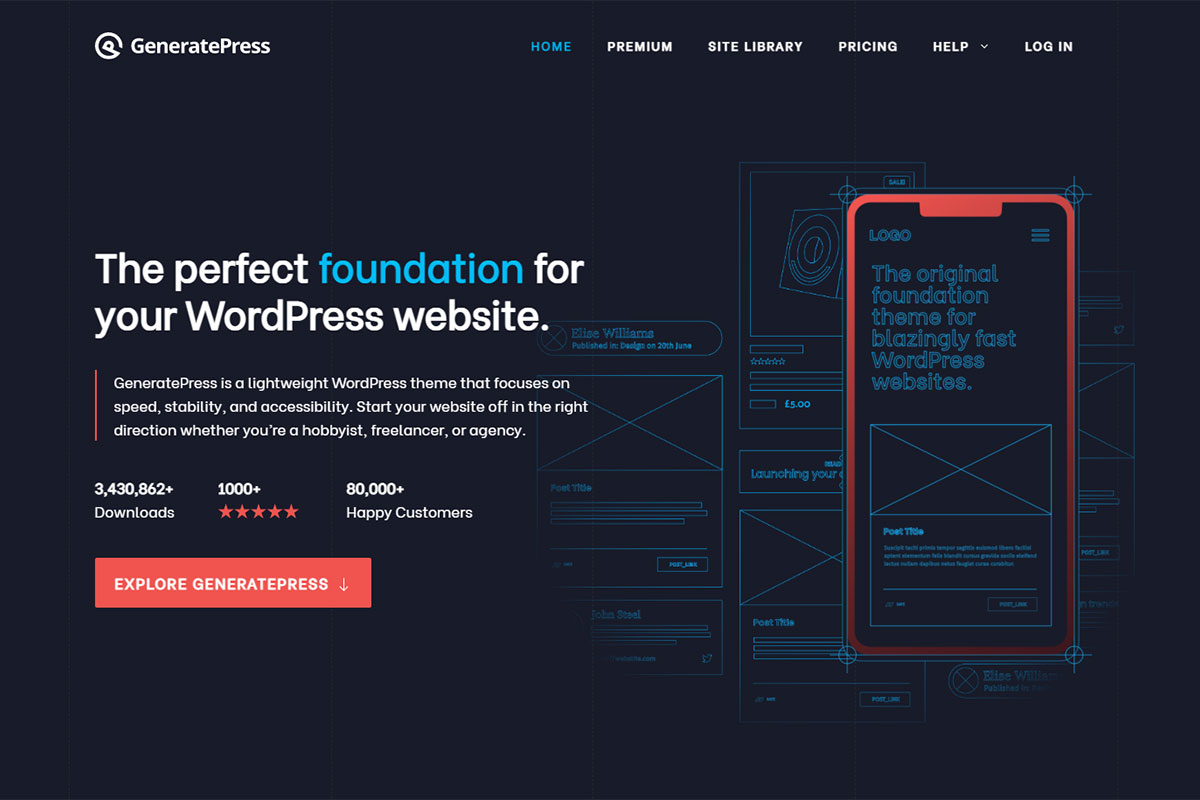 The developer of the template, Tom Usborne, produces this beautiful theme focused on lightweight, clean code for seamless user experiences.
At under 30kb, the theme has no dependencies, including no reliance on jQuery, performing well with versatile operation and performance for users.
The theme also features plenty of WordPress Customizer options, allowing you to adapt your GeneratePress theme to suit your niche.
The premium version of the theme gives you access to pre-built demo sites that are super-easy to import.
Neve | Web URL: themeisle.com/themes/neve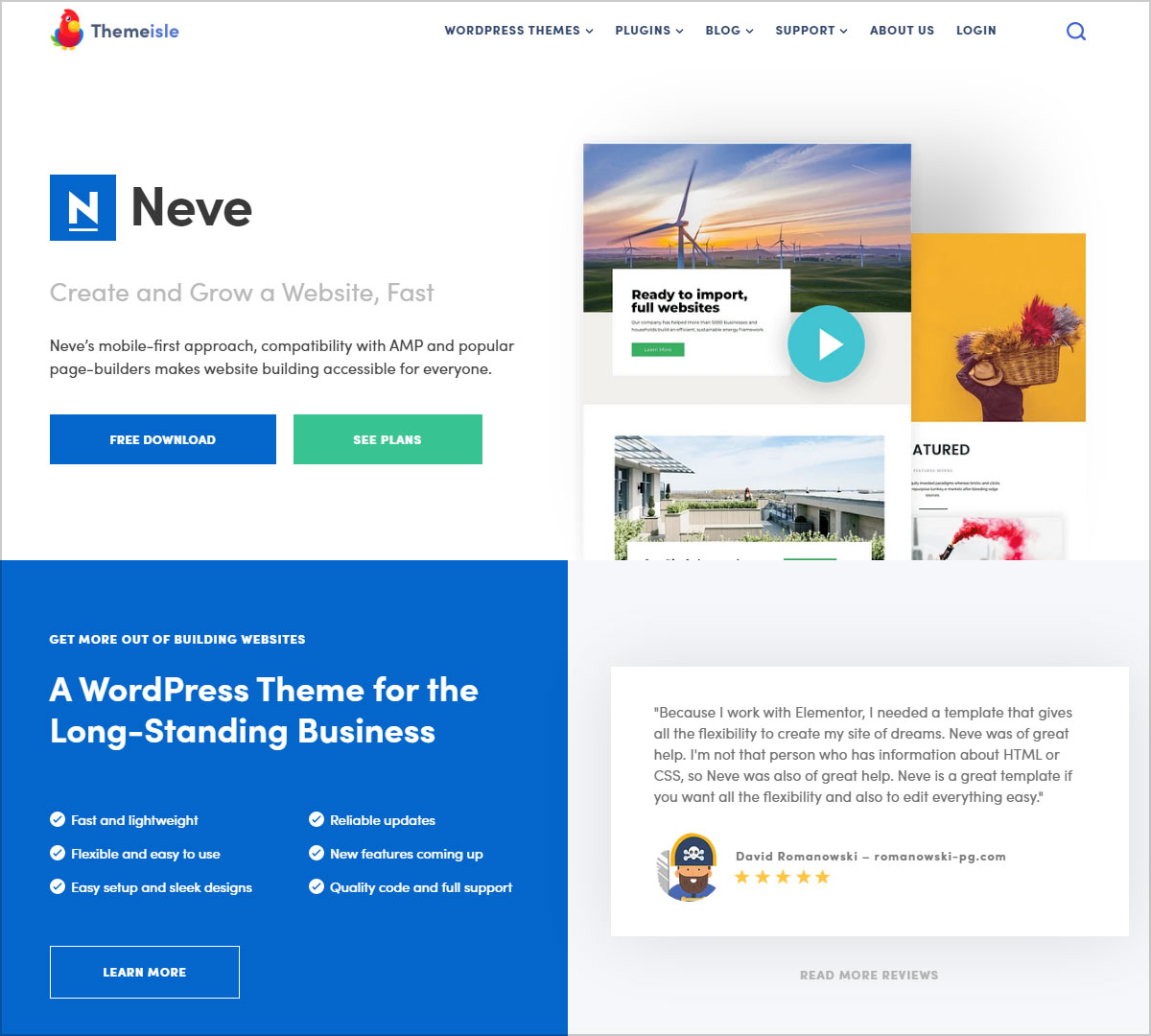 Neve is one of the most popular themes available. It's a lightweight WordPress template developed by ThemeIsle, specifically built for coinciding with the release of the new version of the WordPress block editor, or Gutenberg editor.
This template features onboard menu support, with plenty of importable themes and WordPress Customizer options.
EcoCoded | Web URL: superbthemes.com/ecocoded/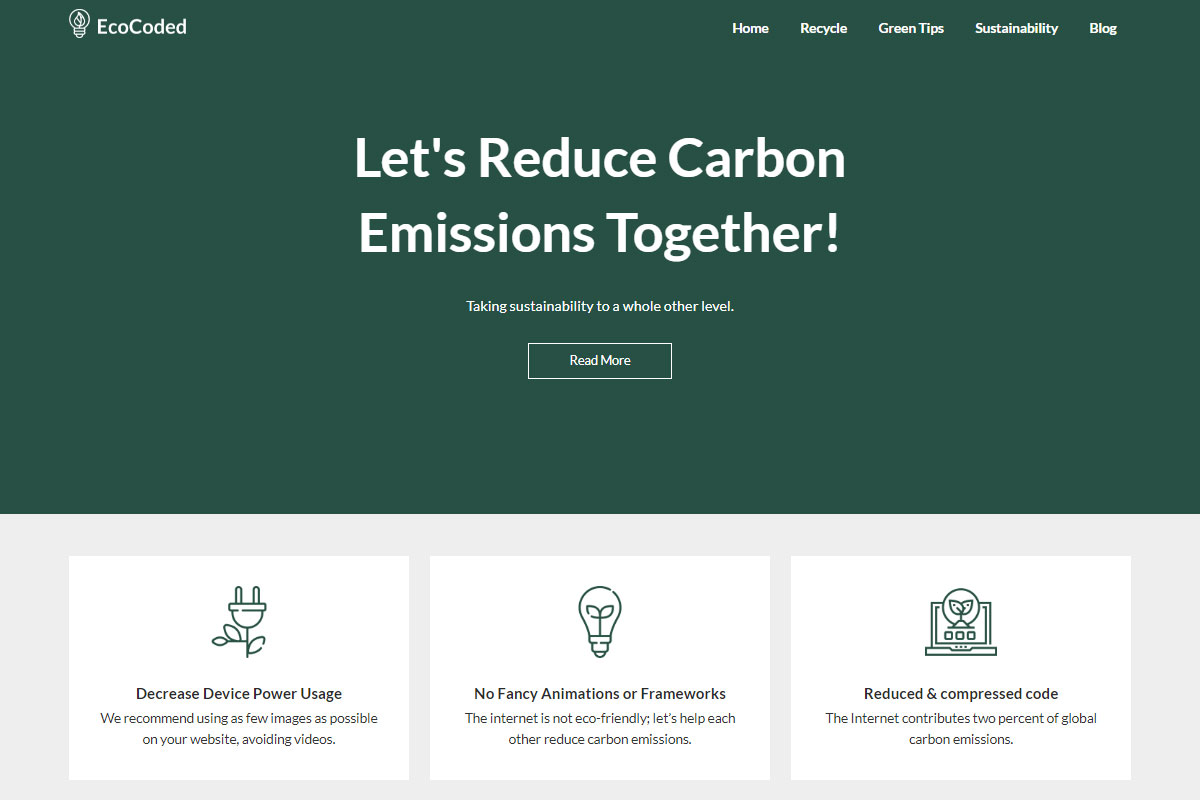 This new generation of WordPress themes reduces the resources required to run the theme, increasing the energy efficiency of your WordPress site.
The optimizations focus on making your WordPress site lightweight, letting you tweak the theme for faster loading times. It's a great option for minimalist sites that want to emphasize loading speed.
Zakra | Web URL: zakratheme.com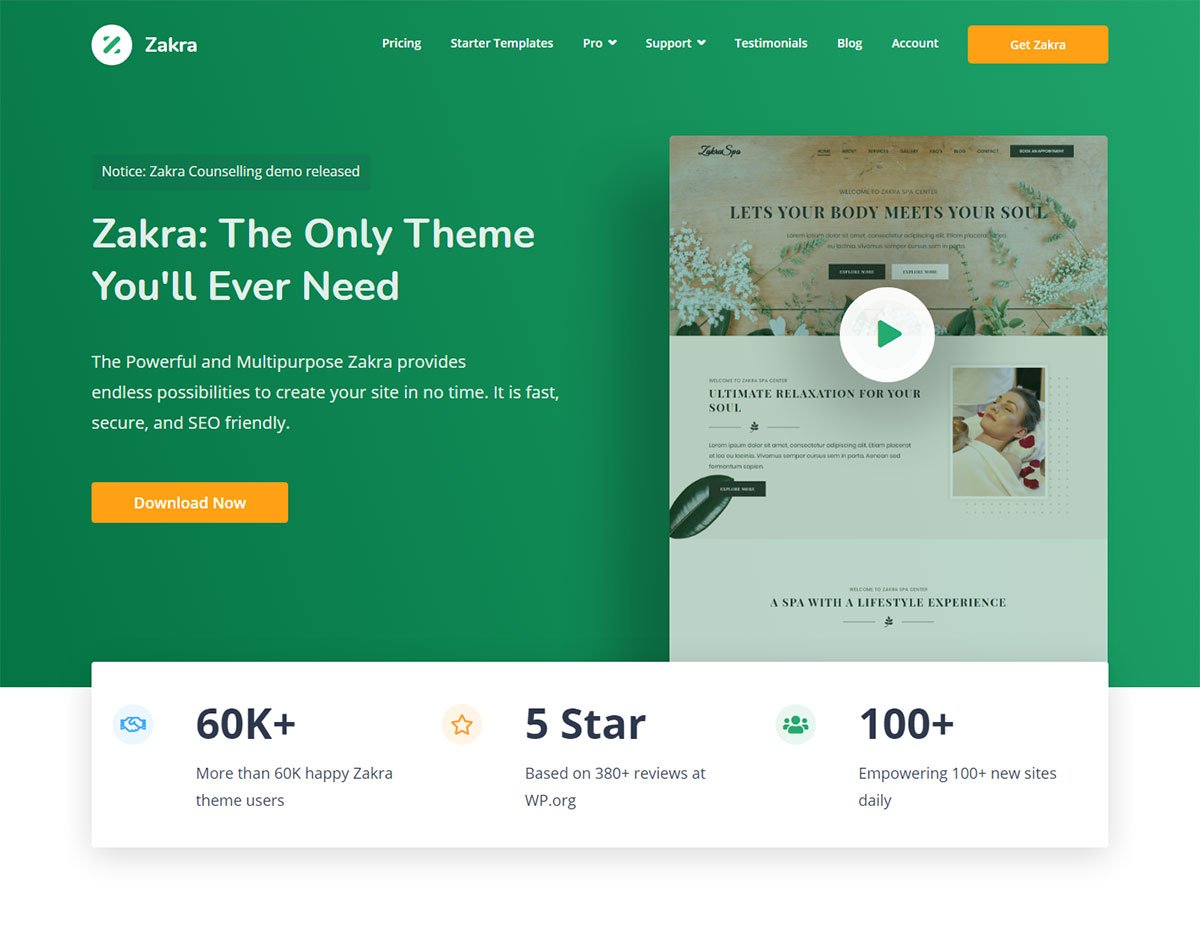 ThemeGrill produces another fantastic lightweight option with over 60+demos available for importing to your WordPress site.
Some of the demos included are education, yoga, construction, and many more. All the demos feature design and construction with native block editors, Brizy, and Elementor.
We like the WordPress Customizer controls, allowing the seamless switching of layouts and colors for your website aesthetic.
Kadence | Web URL: kadencewp.com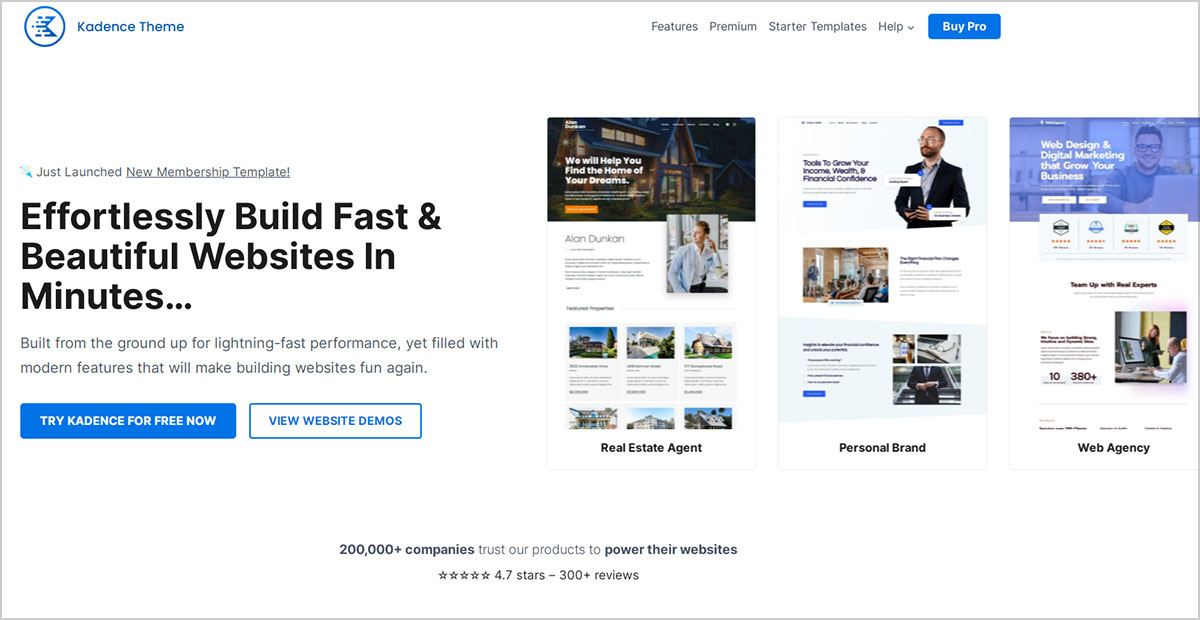 This new-generation WordPress theme is another popular option, with hundreds of thousands of downloads.
The design features are similar to what you get with Blocksy and Astra, offering you a highly customizable theme that works with almost any niche.
One of the strong points of the Kadence theme is its bevy of options in the WordPress Customizer, even in the templates free version available at WordPress.org.
Sydney | Web URL: athemes.com/theme/sydney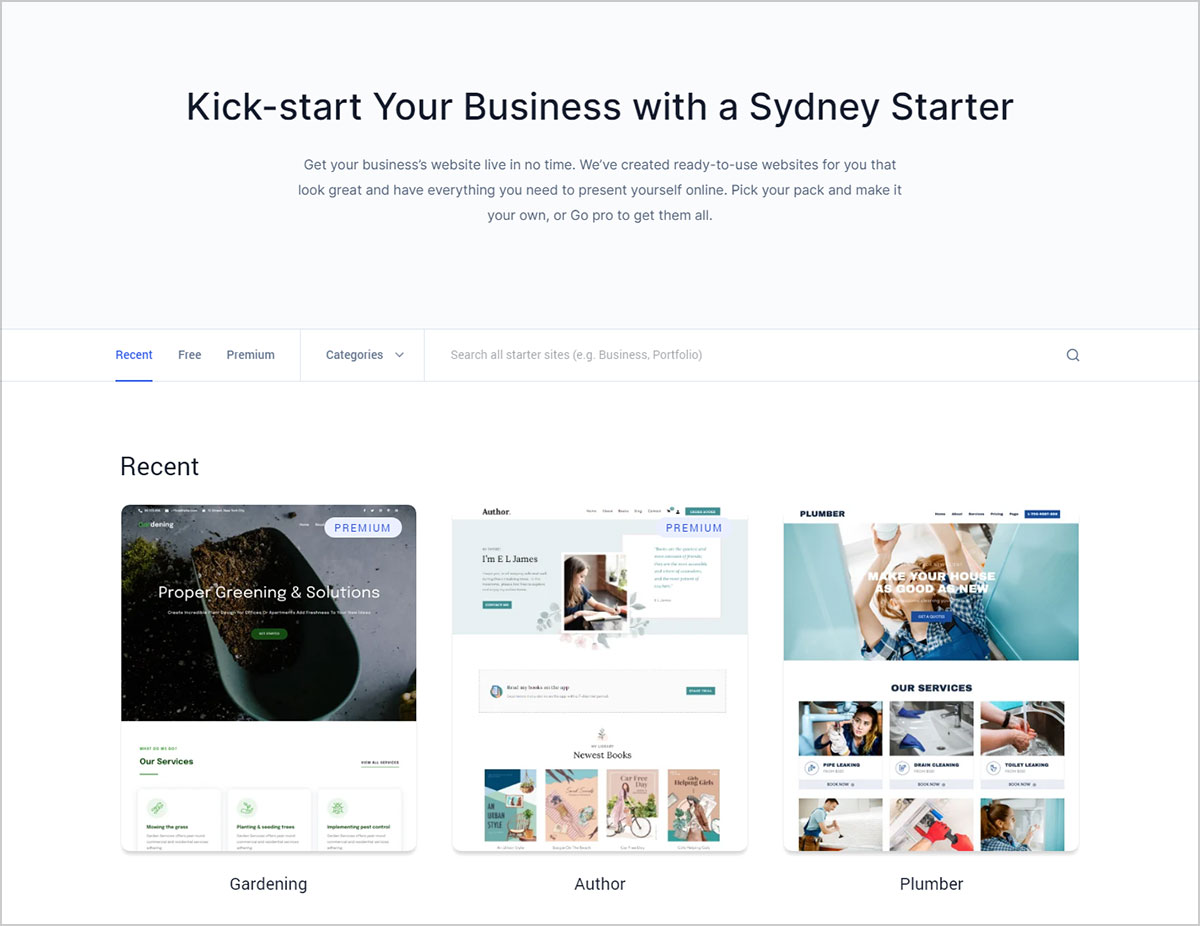 This multipurpose theme is another favorite for web admins and bloggers. The developers introduced huge performance improvements in this version, improving the code to give it a lightweight design for faster loading times.
The new code removes the jQuery dependency from the template, and Sydney is a synergistic choice for use with Elementor, featuring plenty of Elementor demo sites.
Arke | Web URL: olympusthemes.com/themes/arke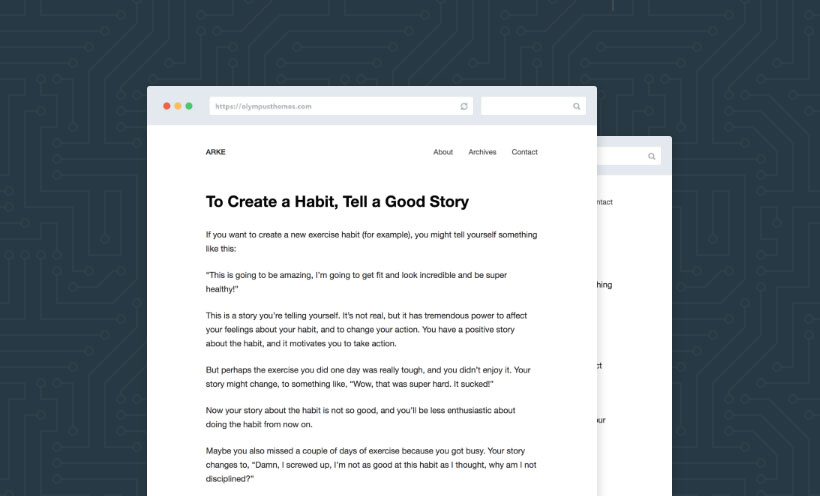 This minimalist them is ideal for bloggers. The lightweight design of the theme means it has some of the fastest loading times available.
Users don't get much to work with; there's text and white space and not much else. You don't have options for widgets or sidebars, and there's no settings menu available.
Astra | Web URL: wpastra.com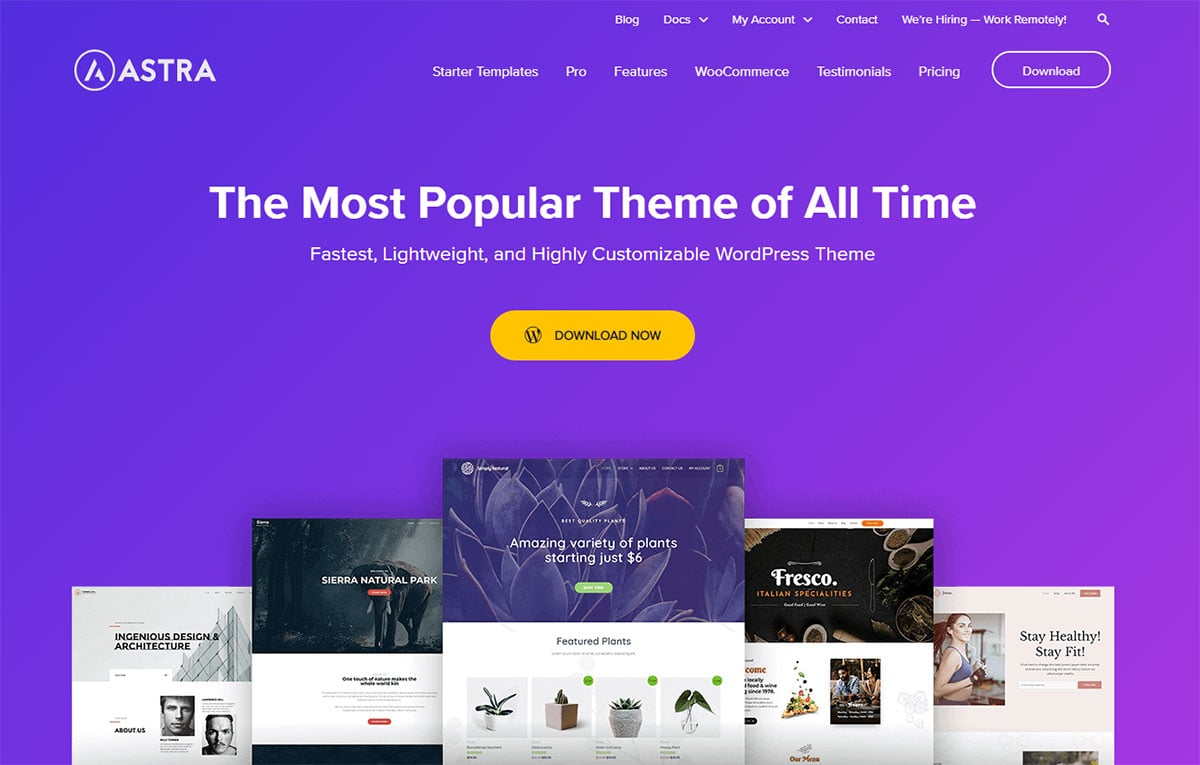 This theme is similar in performance and functionality to the GeneratePress template. Astra also loses the jQuery function, making it a lightweight template with fast loading times.
Astra also has plenty of customization options, allowing you to import any of the free demo sites built with Elementor, Gutenberg, Beaver Builder, or Brizy. The real-time customizer also enables web admins to a huge range of customizable settings without diminishing loading speeds.
Hello | Web URL: elementor.com/hello-theme/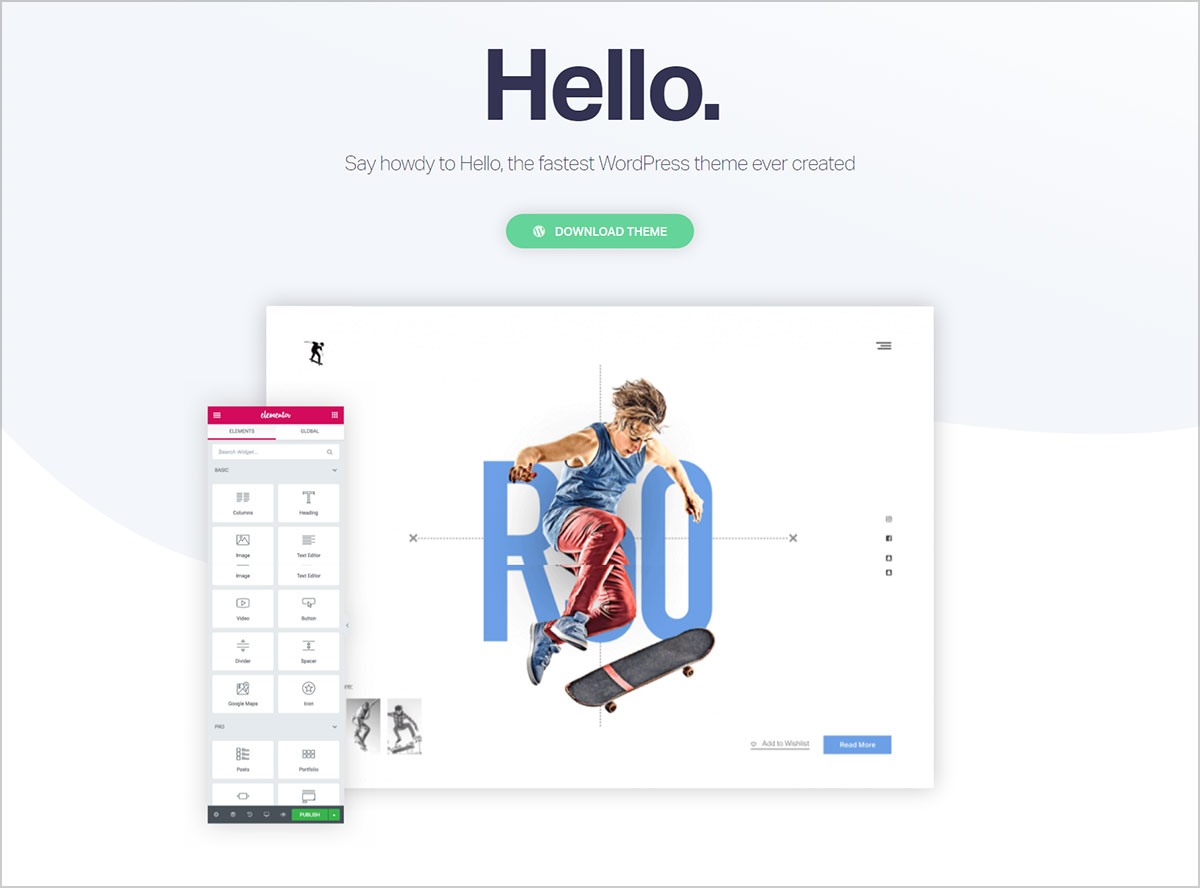 The Hello theme might not have the full-featured design of other themes on this list. However, it's a lightweight template, offering you integration with Elementor or other page builders.
Hello has to be the fastest free WordPress theme available, but it lacks the customizable options and settings of the others on this list. You'll also have to pair it with a page-builder since it's not a stand-alone theme like the others.
Blocksy | Web URL: creativethemes.com/blocksy/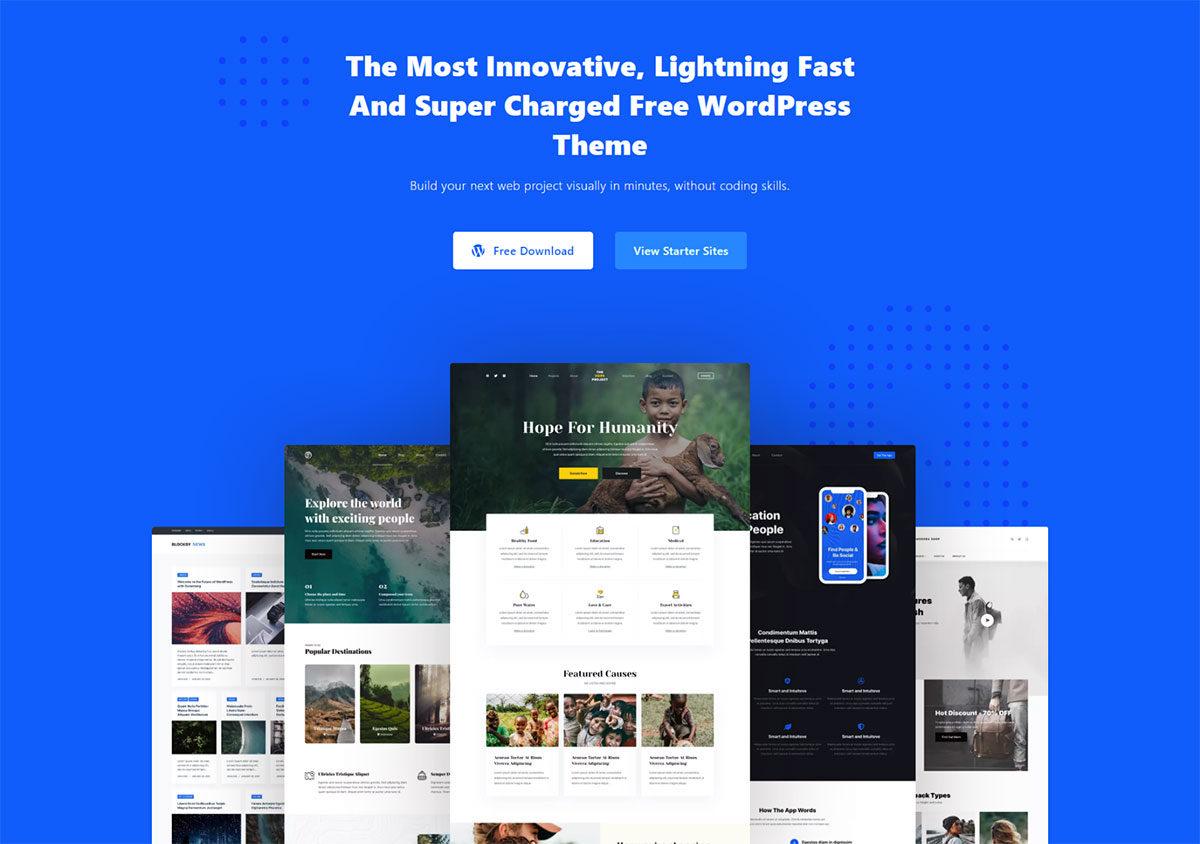 This modern template took the WordPress community by storm, featuring a modern layout, header builder, and plenty of customization options.
The theme gets you clean, minimalist code, with backend options developed by React. As a result, you get ultra-fast loading times for your WordPress website.
Page Builder Framework | Web URL: wp-pagebuilderframework.com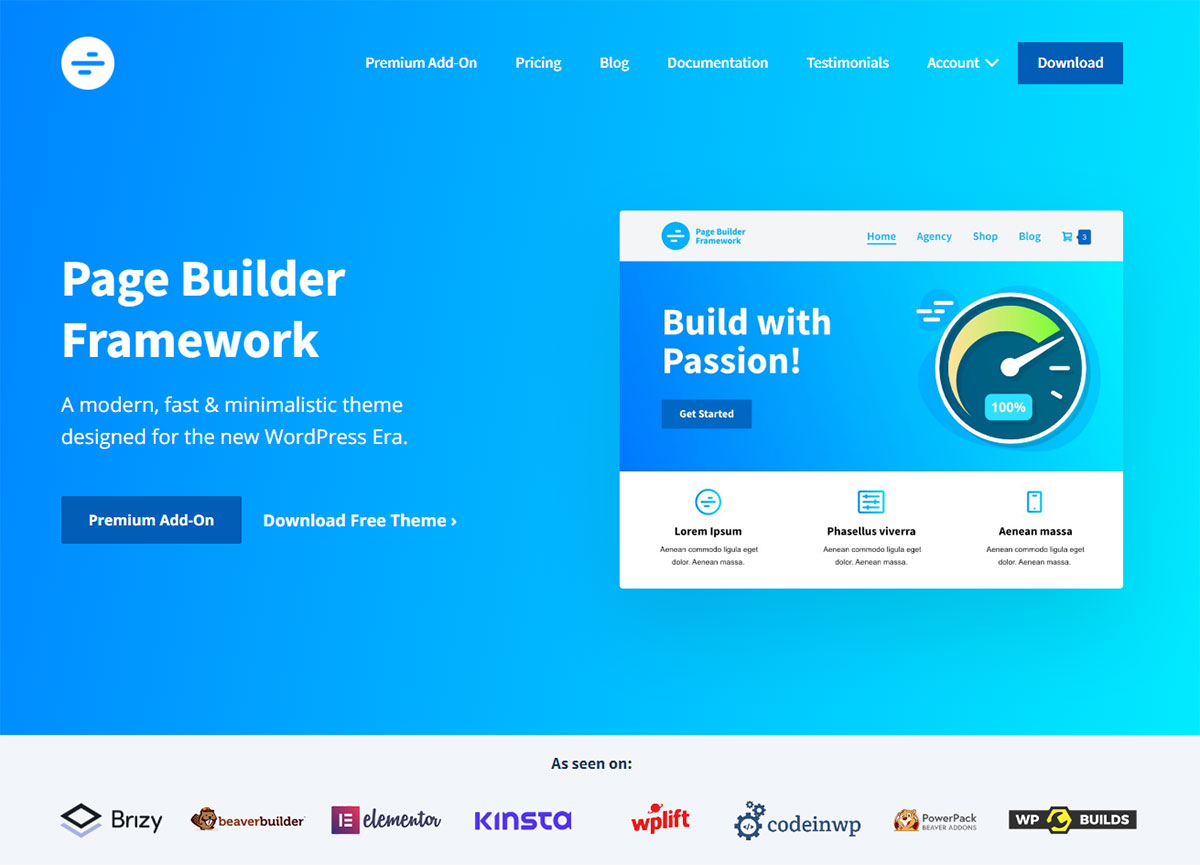 This lightweight and customizable theme are similar to Hello, requiring web admins to pair it with page builders.
However, the Page Builder Framework handles creating your footers, headers, templates, and any other specific areas to your theme.
BuddyX | Web URL: buddyxtheme.com
This free WordPress theme is ideal for membership and community websites. The built-in "BuddyPress" integrates with the BuddyPress plugin, powering the functionality of your community website. You have options for creating member profiles, groups, private messaging, and more.
The theme also includes dedicated support for leading page builders like Elementor and compatibility for WooCommerce and LearnDash e-commerce plugins.
OceanWP.org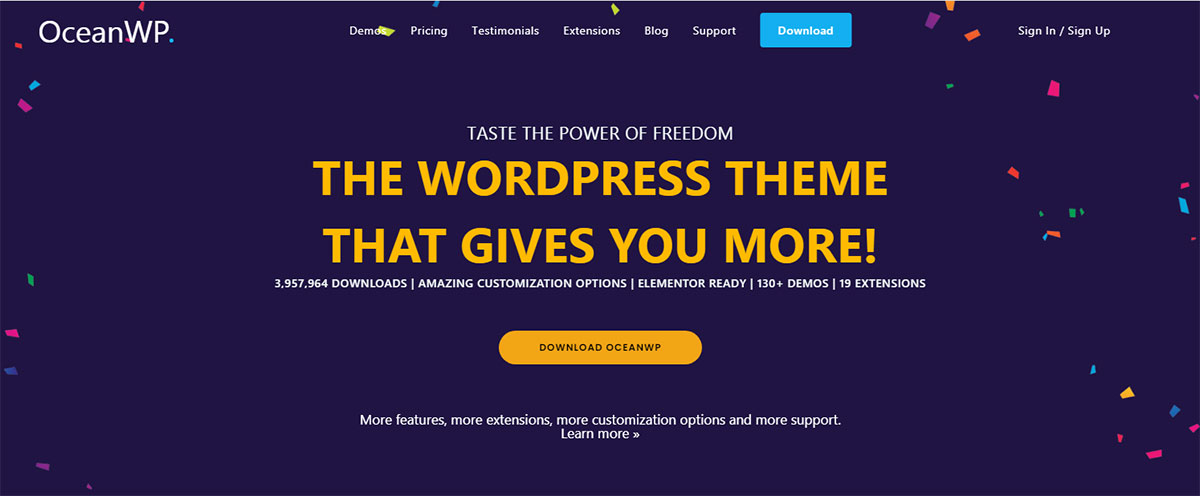 This streamlined theme offers you a similar look, feel, and functionality to the Astra and GeneratePress themes. It's possible to customize this lightweight theme to any niche.
With OceanWP, you get free demo sites ready for importing if you don't feel like starting the process from scratch. OceanWP might not have the same lightweight design as other themes on this list. However, it's a solid choice for larger sites, and it comes optimized with plenty of interesting and useful features.
We recommend the OceanWP theme for e-commerce sites, as it integrates seamlessly with the WooCommerce plugin.
Conclusion: Choose the Right Theme to Suit Your Online Business
All WordPress themes on our list offer web admins lightning-quick loading times for their website. They all offer the highest levels of performance out of the dozens of templates tested in our review.
Recommended: