When it comes to social media, it's an attention game–with so many posts generated every day, how can you get people to pay attention to your content? An effective technique for this is adding eye-catching graphics to your social media posts. 
According to Buzzsumo, Facebook posts with images get 2.3 times more engagement, while Twitter found that tweets with videos get as much as 10 times more engagement. Graphics are essential for social media–and quality graphics will earn you more viewers and followers.
From Photoshop alternatives to mockup websites, there are tons of useful design resources out there. In this guide, we'll dive into the top tools for making your own social media graphics even if you have no design experience: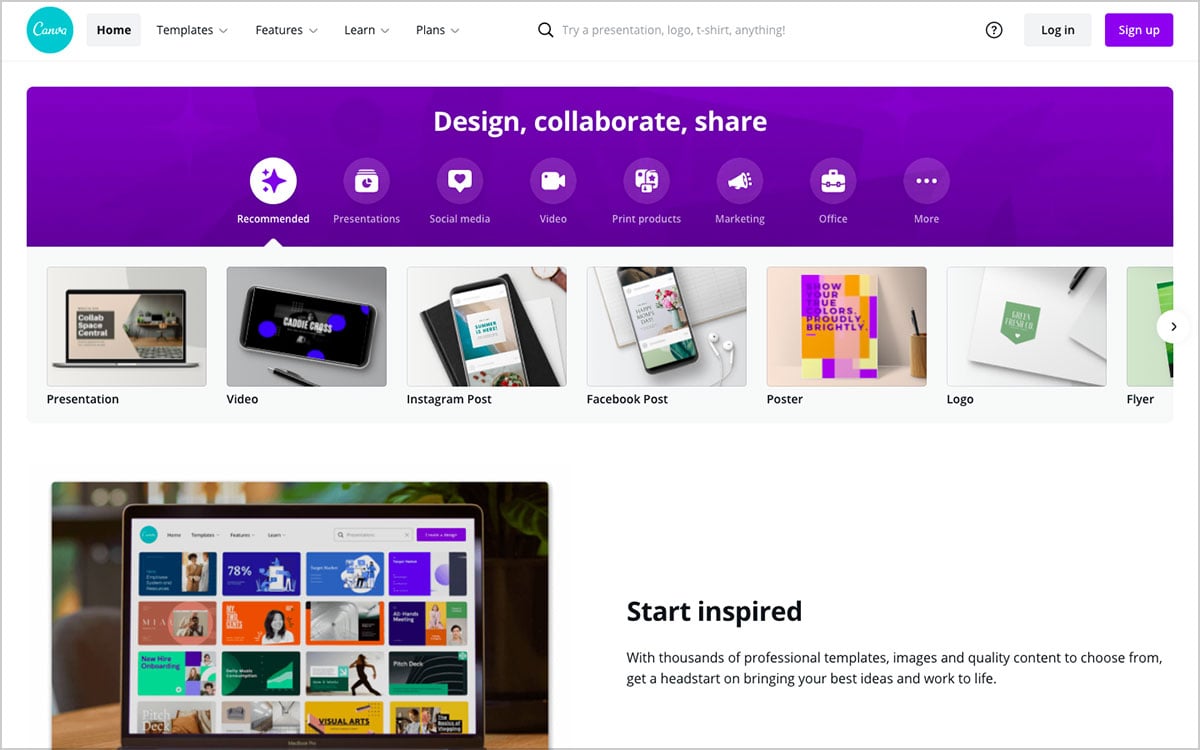 Canva is one of the most popular tools around for social media graphics, with more than 30 million users around the world every month. Its main advantages are its huge library of templates and convenient drag-and-drop interface. In fact, Canva is a go-to for many non-designers because you can create graphics in as fast as five minutes even without any technical design knowledge.
Canva features more than 420,000+ free templates along with 75+ million stock photos, videos, and illustrations. With new designs added each day, their template library is the largest out of all the software listed here. On top of this, they have templates for nearly every kind of graphic that you can think of, including Instagram and Facebook stories and posts and Youtube channel art.
Similar to Google Docs, sharing is enabled–you can send the link to your design to other people so they can edit it directly on Canva too.
Pricing: Free, Premium ($12.99 / month or $119.99 / year), Enterprise (starting at $30 / month)
For most of your design needs, you can probably just use Canva for free. However, a Canva Pro subscription gives you access to premium stock photos and graphics along with social media scheduling and larger storage. Enterprise has additional team editing features and unlimited storage.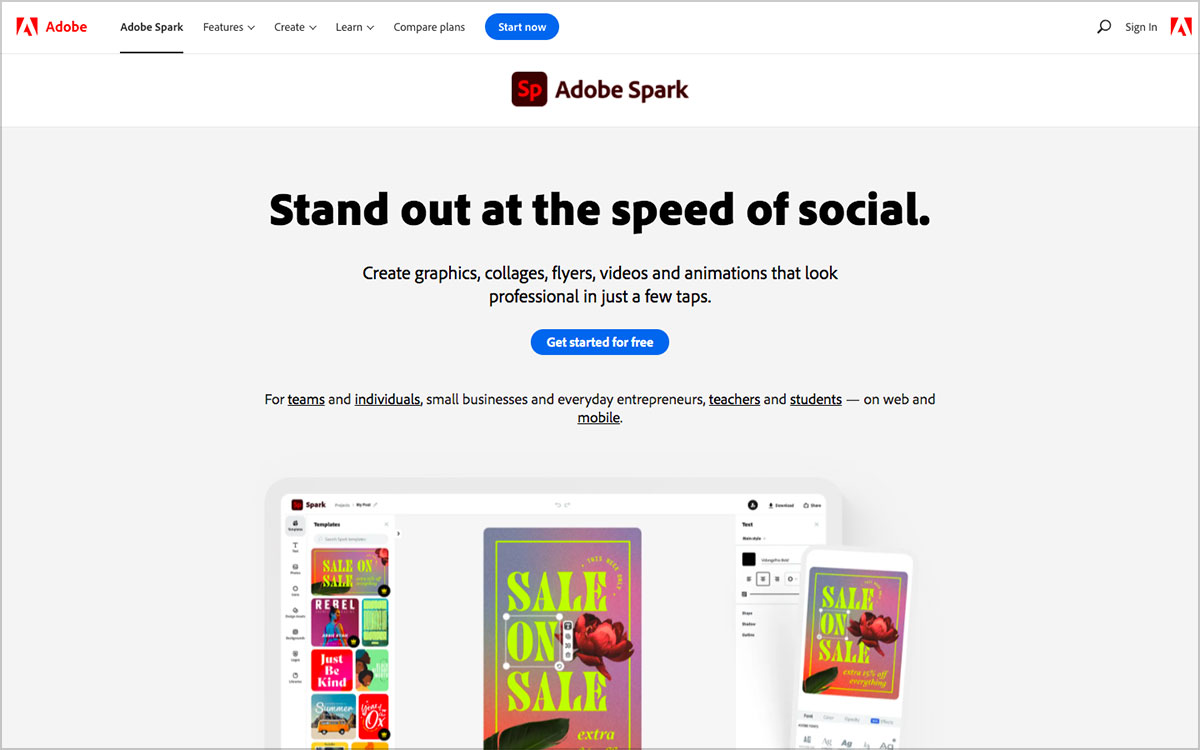 Adobe is such a major name in the Adobe industry that it was only a matter of time before they created an app that's specifically for social media graphics. Unlike many other Adobe products such as Photoshop and Illustrator, Adobe Spark is a lot less complicated to use. You simply sign in, select a template to edit, then come up with a downloadable graphic in a flash.
There are three parts to Adobe Spark: Post, Page, and Videos. Post is focused on social media graphics, and you can even download it as a mobile app on both iOS and Android. On the other hand, Page is for creating web pages that you can link people to right away, while Video is useful if you're looking to make your feed even more engaging with short, snappy videos.
Pricing: Starter (free), Individual ($9.99 / month or $99.99 / year), Team ($19.99 / month or $239.88 / year) 
Trying Adobe Spark for free gives you access to around half of Adobe Spark's 34,000 templates, but every design you create will be labeled with the Adobe watermark. An Individual subscription lets you use the platform's complete features, while a Team subscription gives you admin privileges along with 24/7 tech support.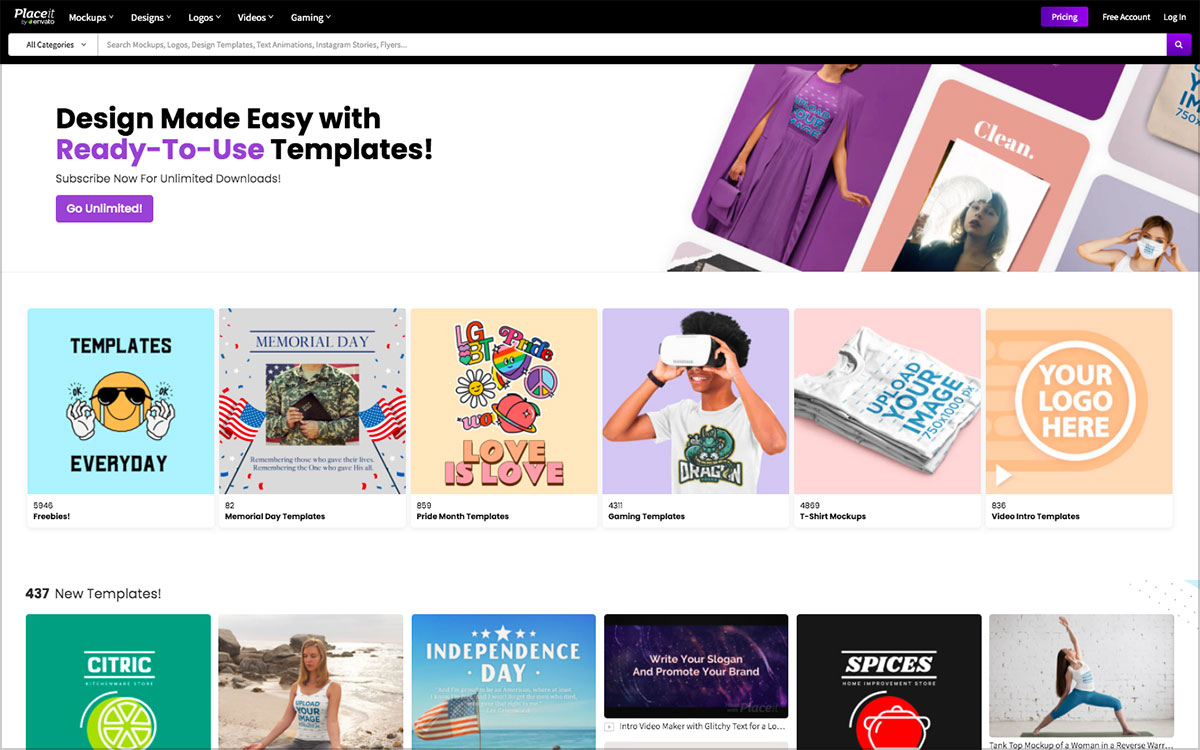 Placeit is an online graphic design tool that's part of Envato, which is a top marketplace for digital assets. When it comes to product mockups, Placeit is your most extensive online resource. For many business owners, posting good photos of their products on social media can be challenging. After all, you'd need pro photography skills along with props and creative layouting.
Placeit automates the whole process of creating mockups by offering a wide variety of templates. They offer a book mockup generator, t-shirt mockup generator, device mockup generator, and so much more.
Aside from product mockups, they also have feature media templates, logo makers, and animated video templates–pretty much all that you need to promote your brand or business online. On top of this, they have a section dedicated exclusively to gaming templates such as Twitch and Youtube banners.
Pricing: Per Graphic, Monthly ($14.95/month), Annual ($89.69/year)
Placeit has plenty of free templates so you can get started right away. If you want to use their premium templates, you can either pay for each graphic individually, or sign up for a monthly or annual subscription that'll give you unlimited access to all of their templates.
Snappa's name is based on their tagline of "creating online graphics in a snap."
Both free and paid users can access its library of 6,000+ templates and 5,000,000+ royalty-free photos and graphics. Their templates are largely focused on social media, with all of the major platforms covered. Beyond social media graphics, Snappa also has templates for ads as well as blog images.
What makes Snappa especially convenient is that you can quickly convert social media posts from one type to another–for example, you can generate Instagram stories from Facebook posts. Snappa also integrates with Buffer so you can schedule your designs for publishing directly from Snappa.
Pricing: Free, Pro ($15 / month or $120 / year), Team ($30 / month or $240 / year)
Snappa's actually allows you to use all of its templates, photos, and graphics for free. The downside is that you can only do three downloads every month.
If you're going to design on Snappa extensively on your own, Pro would be your best bet since it covers all of the design features, including unlimited downloads and social media integration. The Team subscription gives access to five users instead of only one user and comes with team collaboration features.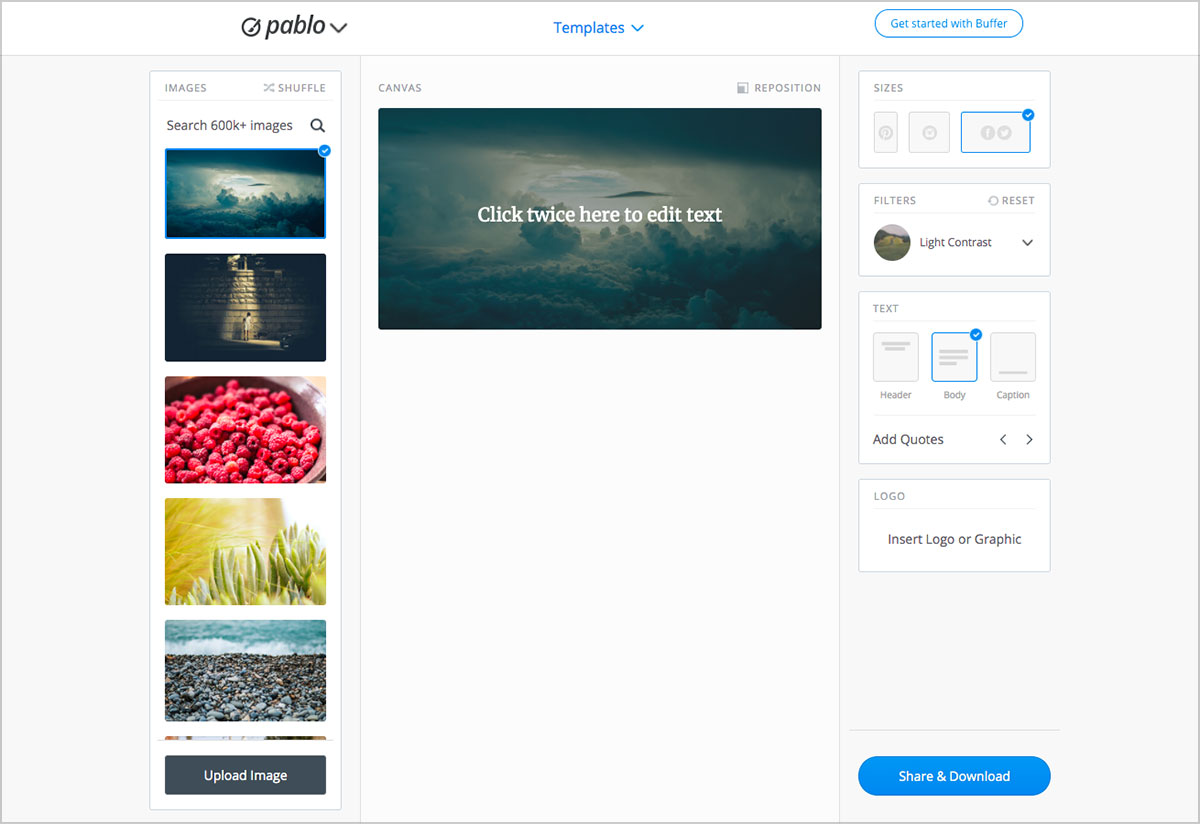 If you've looked around for social media management apps, you've probably heard of Buffer, which is a popular software for social media scheduling and analytics. Since images are such an important part of social media management, the Buffer team came up with Pablo, an online photo editor that anyone can use for free.
Pablo is great when you want to do light editing for photos, such as adding a filter, text overlay, or logo. With 600K+ images and 25+ fonts, you have a lot of choices in terms of assets. Pablo also lets you choose from three shapes for your graphics: portrait (Pinterest and Google+), square (LinkedIn and Instagram), and landscape (Twitter and Facebook).
To make designing even faster, you can download Pablo's Chrome extension. When you go to a webpage and see an image or text that you like, you can save it using the extension–and it'll import automatically onto Pablo.
Pricing: Free
Pablo is completely free–it doesn't even require users to have accounts! When you go to their website, you end up right away on their image editor. Once you're done editing your photo, you can share and download it right away. The catch is that since you won't be using an account, you won't be able to store your designs on Pablo.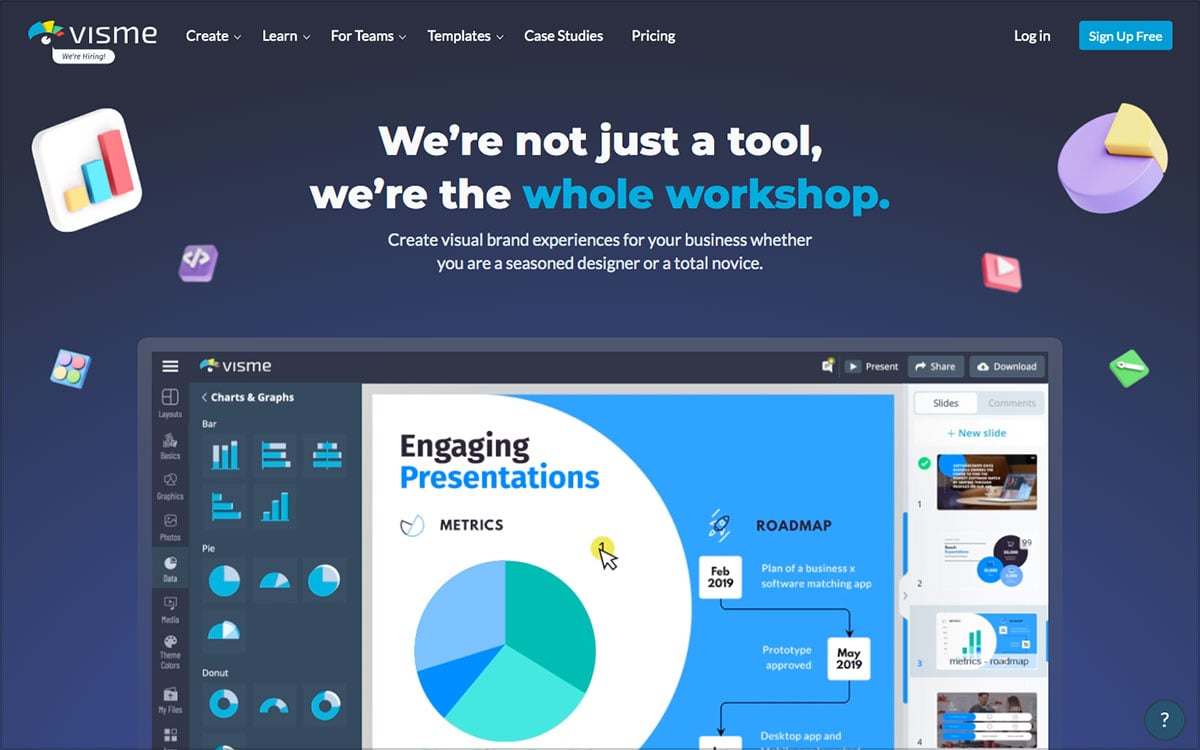 While many of the design tools listed above have support for charts and infographics, Visme has more capabilities because it specializes in these content types. Aside from having a huge collection of icons, images, and fonts, Visme excels in the sheer number of templates it offers for infographics, presentations, and business reports.
You can use content blocks to build complex infographics or add voice overs and create notes for presentations. Interactivity is where Visme shines–nearly every element in its templates can be animated, and it's possible to add customized call-to-action buttons and interactive content such as videos and maps. Data analytics are available for any graphic that you post.
Pricing: Free, Standard ($25 / month or $180 / year), Business ($49 / month or $348 / year), Enterprise (custom)
Visme lets you create up to 5 projects for free, although only a limited selection of templates, charts, and widgets are available. Upgrading to a Standard plan gives you unlimited access to all of the assets in Visme for up to 15 projects.
To create as many projects as you want along with features such as analytics and collaboration, you can get the Business plan. Finally, the Enterprise plan provides additional security, deep analytics, and a custom sub-domain.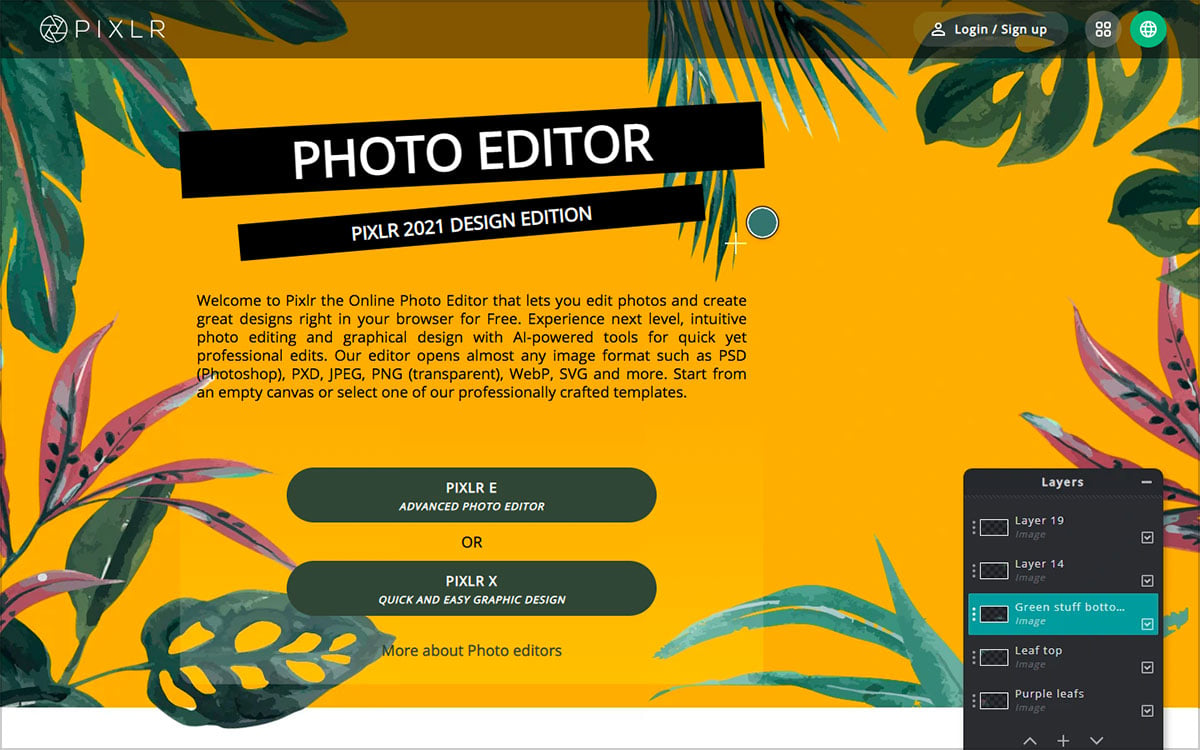 For fine-tuning photos that you'll post on social media, you can try out Pixlr, an online photo editor that's a simpler alternative to Photoshop.
There are two types of Pixlr software available: Pixlr X is great for quick edits, while Pixlr E comes with a suite of advanced editing tools. Both versions have a user-friendly interface where you start by either uploading a photo or choosing from any of their social media templates.
From there, there are several options for editing your photo–you can crop or resize it, add borders or overlays, and make it more stunning with filters. For a more DIY approach, Pixlr allows you to manually modify photo settings such as exposure and colors. In the advanced version, Pixlr is packed with customizable brushes, masks, layers, and effects.
Pricing: Free, Premium ($7.99 / month or $58.80 / year), Creative Pack ($29.99 / month or $179.88 / year)
With the free plan at Pixlr, you can use basic editing tools along with a limited set of overlays and stickers. In comparison, the Premium plan gives you full access to both Pixlr X and E. For unlimited stock content along with all of the overlays and assets in Pixlr's library, you can subscribe to their full Creative Pack.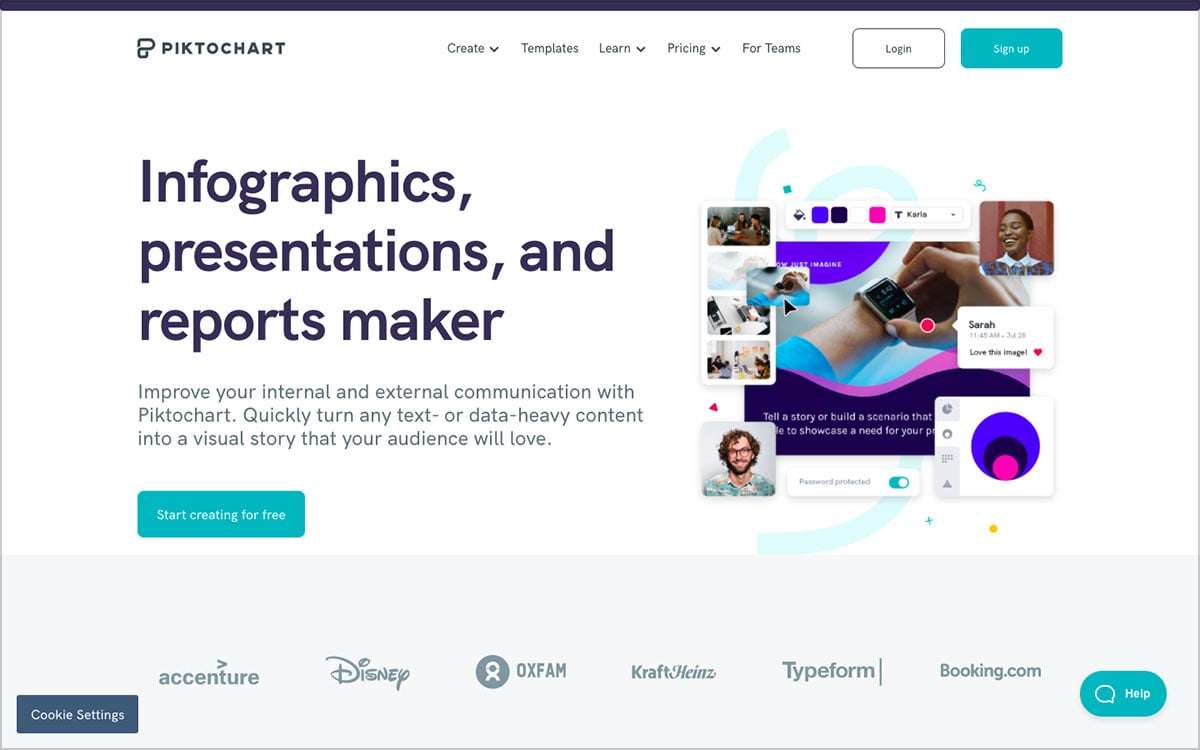 When you want to tell a story using data, Piktochart is a graphic design platform that you can potentially add to your toolbox. Piktochart features professional-looking templates for infographics, posters, LinkedIn posts, and more. It's especially useful when the content you want to post involves a lot of information or numbers.
Piktochart has a wide selection of charts and maps that you can use. You can even extract your data from a spreadsheet file for automatic updating then upload the resulting graphic on social media or embed it in a webpage. For added convenience, Piktochart can generate your brand's color based on a screenshot of your website or your logo.
Pricing: Free, Pro ($29 / month or $290.04 / year), Team ($26 / month or $260.04 / year)
Even with the free plan at Piktochart, you already have unlimited access to its templates, charts, images, and illustrations. However, you can only create five active projects at maximum, and designs will have the Piktochart watermark.
With a Pro subscription, you can make as many projects as you want without the watermark as well as more download options. If you're using Piktochart as a team of two or more people, the Team subscription gives you additional collaboration features.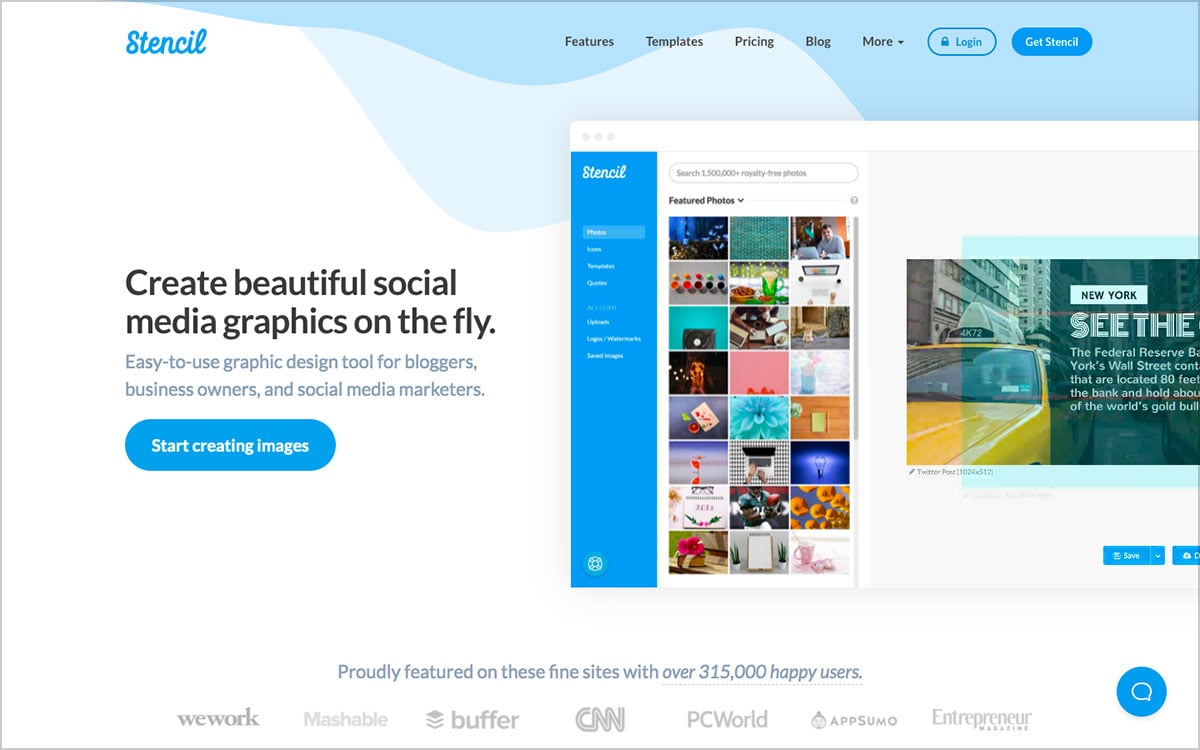 Stencil is an efficient design tool that works well when you want to make simple graphics for social media. Designing a graphic at Stencil typically involves either uploading your own photo or choosing a background and then layering it with text, icons, or illustrations. Since its features are more minimalist, users can come up with a social media-ready design at record speed.
One advantage of Stencil is that it's fast to create original designs because they have so many digital assets available, including at least 5 million stock photos and thousands of fonts from Google. For an even more efficient workflow, you can integrate Stencil with Buffer for automated post scheduling and analytics.
In addition, Stencil has extensions for Chrome, Firefox, and Safari–when you select text or images, they get imported to Stencil so you can add them to future graphics.
Pricing: Free, Pro ($15 / month or $108 / year), Unlimited ($20 / month or $144 / year)
If you use Stencil for free, you can use only some of their photos and icons and save a maximum of 10 images per month. For full access to their icons, photos, and templates and up to 50 images per month, you'll have to upgrade to Pro. They also have an Unlimited subscription where you can create as many images as you want.
All of these software tools have a minimal learning curve because they're meant to get you designing fast. You can figure out how to use any of them the first time around, and many of them let you generate social media graphics for free too. With so many options, posting appealing social media graphics is now more accessible than ever–you only have to pick the right tools!
Recommended: