Hi there, hello there! We hope that you guys are keeping safe and that you have also gotten the vaccination to minimize the chances of getting sick due to the Coronavirus. Although, ever since the outbreak of this deadly virus, we have seen thousands of people being careless about the whole situation but we are glad that they are getting themselves vaccinated now as it is not only the need of the hour but it is also being done so the communities can be safe altogether. In our today's blog, we will share a couple of myths related to COVID-19 and the vaccines and of course, we have a brand new template to offer too so, keep reading the blog to know!
In 2019, when the virus was developing, almost everyone jumped on various bandwagons to share what they feel about the virus instead of confirming the news from health professionals as well as from organizations like WHO. These people are associated with many different fields of life like they are marketers, fashion & beauty bloggers, politicians, actors etc. and knowing that they have hundreds and thousands of followers, they did what they could in order to provide information. We won't blame them 100 percent because everyone was scared and paranoia can make you do weird things too.
Whenever something like the outbreak of COVID-19 happens, the first thing any person needs to do is to stay calm and wait for more information to be shared by authentic sources. This could include your news channels, your health care professionals, and national-level individuals who come forward and address the nation in one way or the other. There are chances that no one would have complete information on the matter but at least, they would know how to break the news. Also, do not become a part of spreading false news. It can be as deadly as the disease itself.
You would know how so many things were shared and although, we know everyone was doing it out of concern, it still created a lot of confusion around the world. Things like the virus COVID-19 cannot survive in areas where the temperature is low, that it cannot make children sick, that only adults are at risk of getting infected, that it is just like flu and it cannot kill people. These myths not only made people live their life without wearing masks for more than a year but these people were also carrying the virus with them and did not know how to deal with it.
Recommended: Free COVID-19 Coronavirus Vaccine Bottle Mockup PSD
Someone shared that it can be cured so being in isolation won't work much, then someone said that everyone who gets the virus will die (sure, everyone will die but if you know how to treat COVID-19 properly, you can minimize the chances of getting seriously ill). And then someone out of nowhere shared something that made us hate animals even more that cats and dogs spread the virus. That is so not true but without having complete information stuff like that was shared around the globe.
We are glad that the vaccines were worked on and now we are literally talking about countries that will go Corona-free in months to come. All of us are hopeful and we are sure that masses will go for vaccinations so that we can beat this deadly virus soon. Now, let's talk about the data of those who are getting vaccinated because many organizations especially airlines have made it mandatory for passengers to get a vaccination for the COVID-19 virus. And of course, in a few months, those who are getting vaccinated will have to prove that they did through a card like we have to prove our identity and passports etc.
Recommended: 20+ Free Coronavirus (Covid-19) Face Mask Mockup PSD Files
We decided to ease the process for the ones who are going to be assigned for the creation of COVID-19 vaccination cards to create a free official card printable template. As you know that it is highly editable, you won't have to spend a lot of time making to edit it according to your medical clinic or hospital. Allow us to give you a run-through of our free official COVID-19 vaccination card template.
The title says the name (Record Card) but you can change it easily if that's not what you need. Then comes the information regarding the card, keep what you need and edit the stuff that is not required. Then we have dedicated the area for the names and dates and a table of contents where the health professionals can fill in the vaccine doses, vaccine name as well as the name of the vaccination center. Don't forget to brand it with the logo and taglines of your organization or of your client and you'll be good to go.
– – – – – – – – – – – – – – – – – – – – – – – – – –
Recommended Coronavirus Articles:
– – – – – – – – – – – – – – – – – – – – – – – – – –
Free COVID-19 Vaccination Card Printable Template Ai & PDF (For Personal & Hospital Use)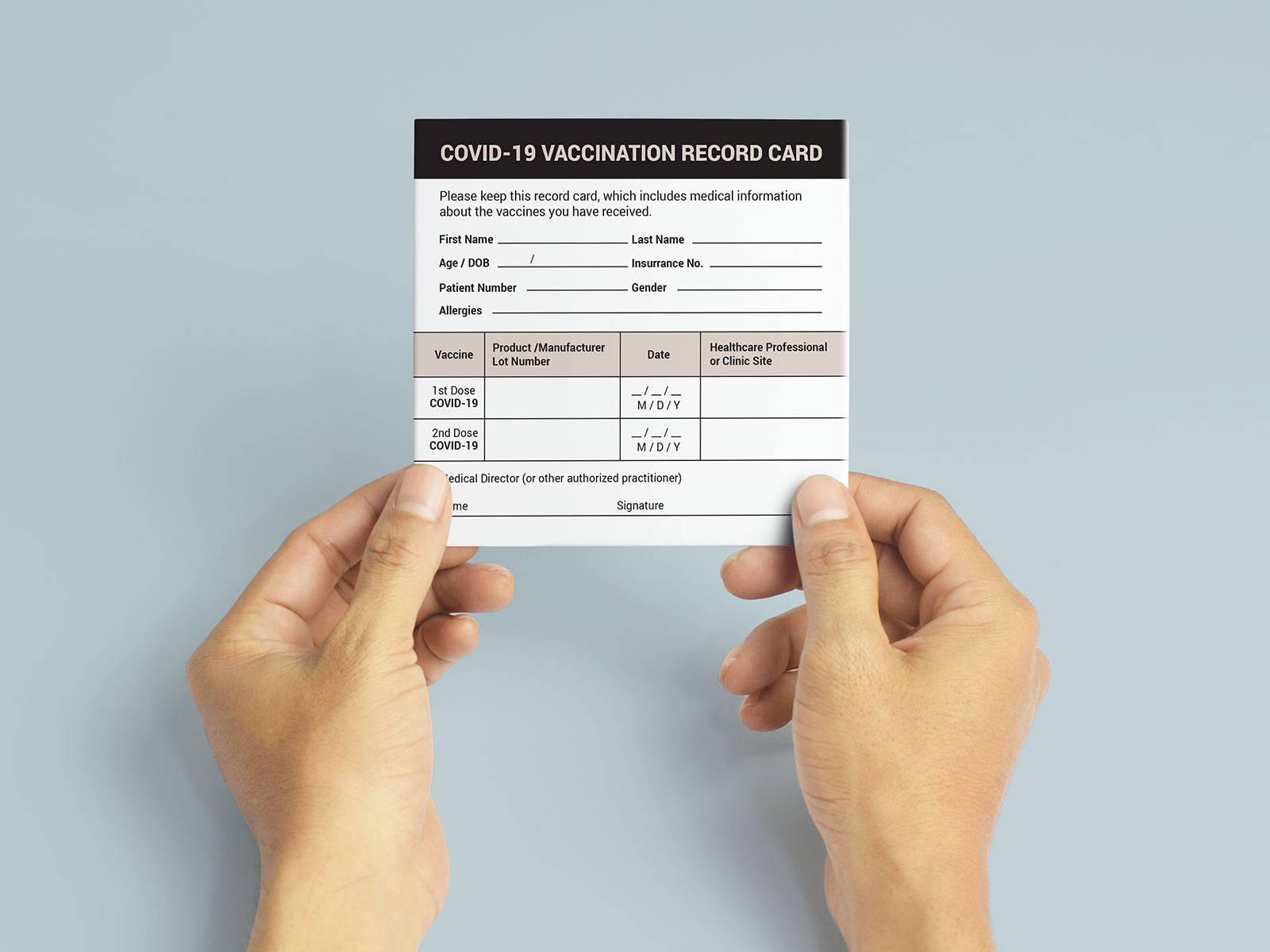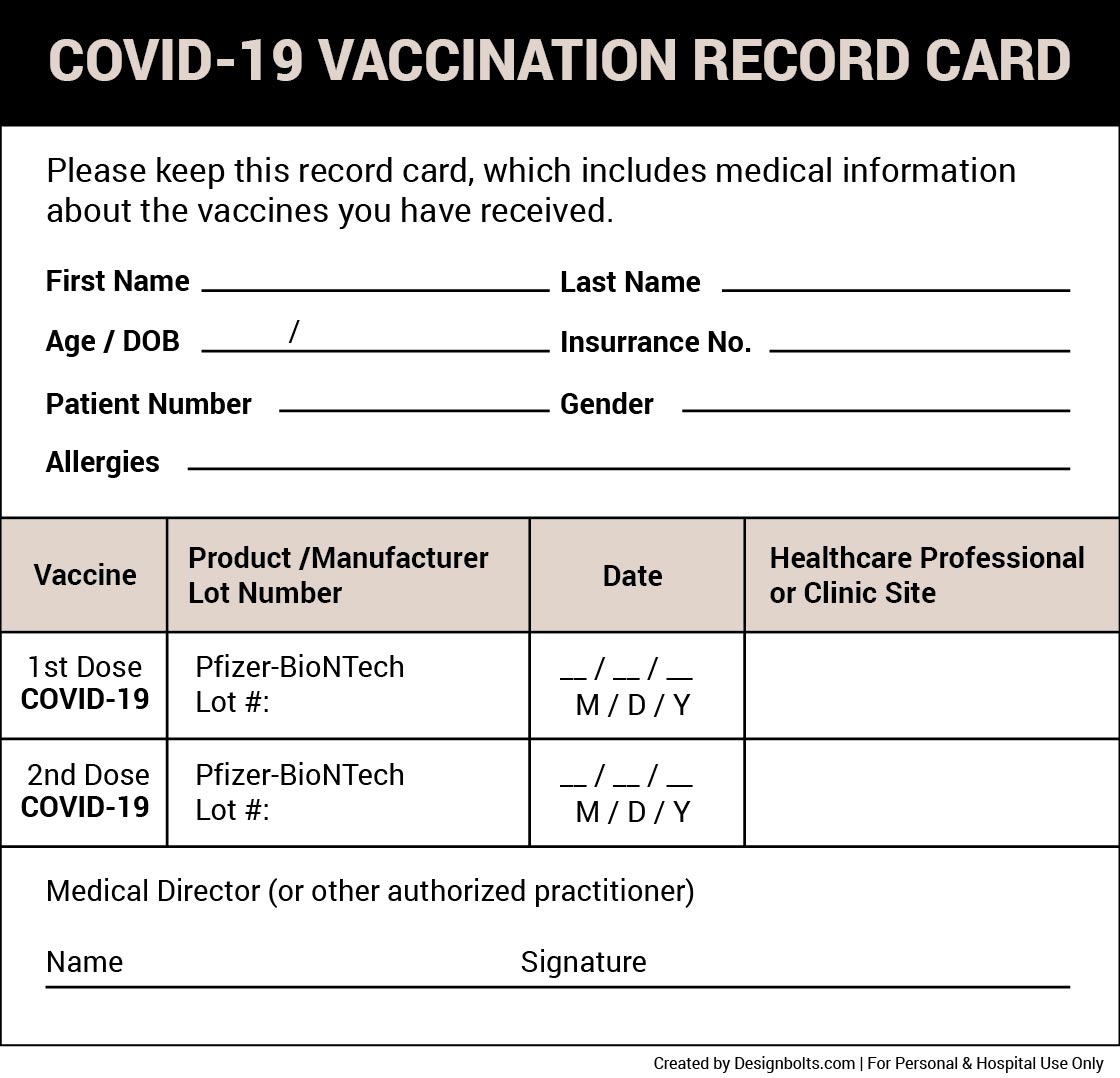 Available Format: Ai and PDF
License: Free for personal usage
Zip File Includes: Free Vaccination Card Design Template Printable
Font Used: Roboto
Note:
1. Free Vaccination Card is allowed to share online (A Must Linkback to this post)
2. Say thanks if you like or share/tweet with your friends. That means a lot to us.
3. And don't forget to subscribe to receive for more high quality premium freebies & awesome articles only.
Download Vaccine Card Ai
Download Vaccine Card PDF 
More Awesome Free Design Templates: