Hello there friends! We are back with something fun and exciting for all of you and we would not take a lot of your time to start our today's blog; just a little thank you note before we move forward so that you guys know how happy your comments and genuine feedback make us. Keep that coming our way and keep encouraging us in whatever ways you can. Okay so, while we were working on our content ideas, we decided to add a couple of fashion-related designs and creative stuff as all of that will be helpful for your business or for the ones that you are currently working with. Let's dive right into what we have created for our today's blog!
Summers are in full swing in many parts of the world and what is important is to flaunt your style through summer wardrobe, right? We wanted to make it a little more for you all so, we thought to create a free V-neck t-shirt mock-up PSD for you guys. First things first; it is highly editable despite being free and you will have a great time working on the designs for your own business or for the ones that you are associated with. We will share a bunch of easy to follow design tips with you guys that can incorporate into your designs and to make it easier for you, we will also share a few designs ideas as well.
Any t-shirt style always is a go to style for almost everyone but V-necks are preferred more when you have an accessory to show off like a super cool necklace or a silk scarf as well. People wear these t-shirts with skirts and cardigans too if need be as pairing is always cool and we love to see interesting styling techniques but what is more important here is the design of the t-shirt itself. For a clothing item that is paired with some other accessory has to be in one solid color as only then it will pop out – that is the main reason why we have kept our V-neck t-shirt in plain white color with a little bit of black on the neck lining (at the back).
Since t-shirts are more fun to wear during summers, we chose cap sleeves for our mock-up PSD file but if your requirement is of half sleeves or even full length sleeves then you sure can go for them as well. The idea is to keep it cool and appealing for the masses to purchase the items. Now, let's talk about the design tips that you can follow to make your V-neck t-shirts hip and attractive!
Recommended: 50+ Best T-Shirt Mockups
There are many things that are in fashion these days and the best part is that not a lot of people now make or get stuff that is just for women or for men. So, what businesses have started doing is that they have introduced gender-neutral designs and styles that anyone and everyone can buy, and those things look great on the people. If you want your business to be preferred by the masses, then you need to put something unique and interesting on the table. For example; you need to be accessible, launch designs that do not restrict gender to buy them. Launch your stuff in all the body sizes so that you do not unintentionally exclude anyone.
Similarly, you need to be the talk of the town and here is how you can do it: through your digital and social media platforms, get to know what your audiences want to purchase – you can do it by creating polls or share design mock-ups and you will see what will be in demand but for doing all of that, make sure that you have complete knowledge of the stuff that is trending so that you can offer that to your existing and potential customers.
As far as the latest / trending designs are concerned, go to Reddit, Twitter, and Instagram to see what your ideal audiences must be engaging with. It could be a meme, an international or national holiday, something that happened in the music world or something said by an actor during a reality show and it could literally be a person's favorite anime character too. All you have to do is to locate the content and create designs out of it. For branded t-shirts, you can pick and choose the design elements that represent the business.
That is all for today! We hope that our blog and free V-neck t-shirt mock-up PSD will help you create interesting designs for your audiences. Don't forget to share what you guys finalized and while you are at it, do share the blog with your friends and favorite colleagues as well.
Free V-Neck T-Shirt Mockup PSD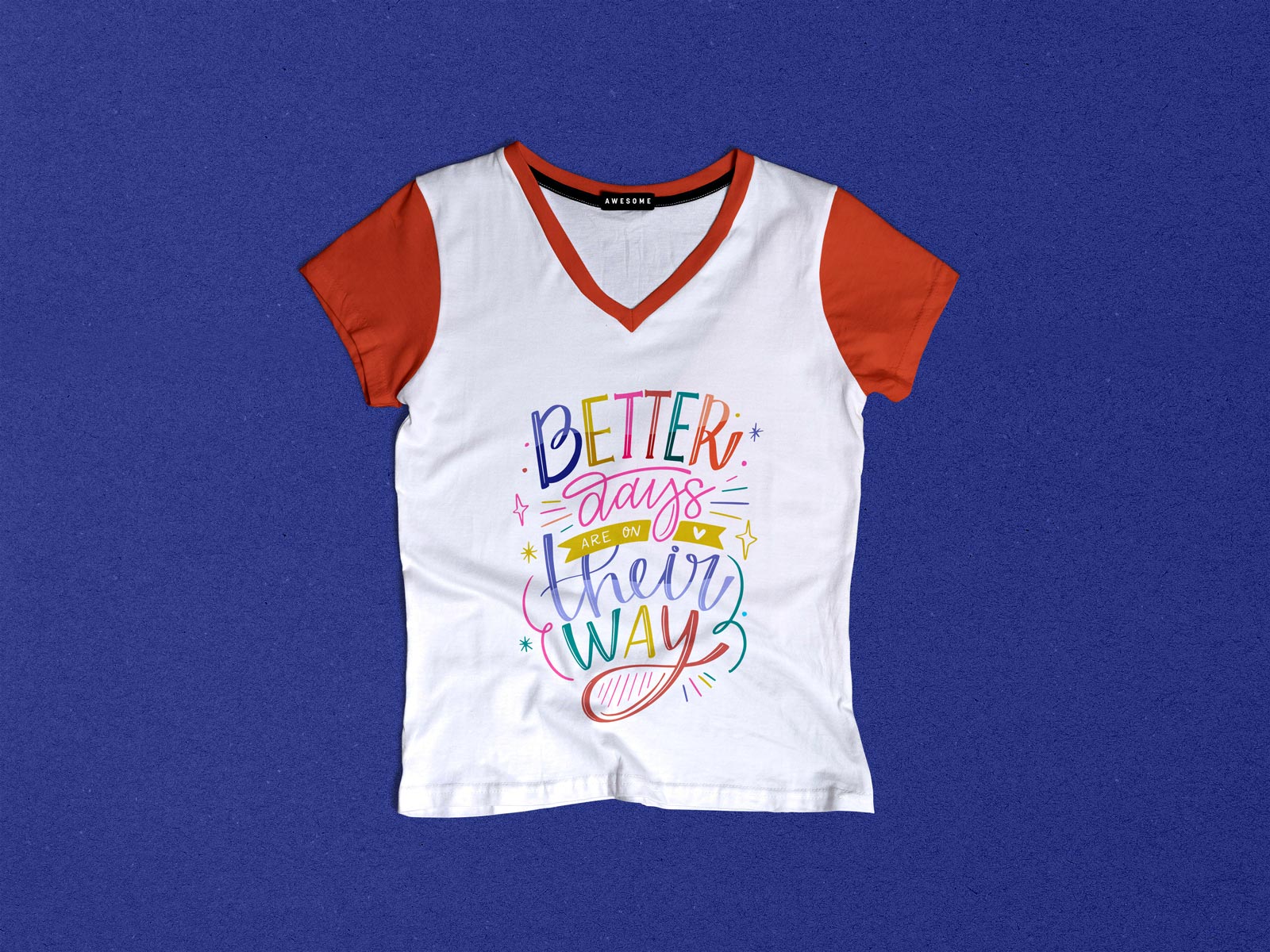 Available Format: Layered PSD with smart object insertion
License: Free for personal and commercial usage
RAR File Includes: Free V-Neck T-Shirt Mockup PSD
Mock-up Resolution: 4000 x 3000 px

Note:
1. Free V-Neck T-Shirt Mockup PSD is allowed to share online (A Must Linkback to designbolts.com)
2. Say thanks if you like or share/tweet with your friends. That means a lot to me.
3. And don't forget to subscribe to receive for more high-quality premium freebies & awesome articles only.
Download V-Neck T-Shirt Mockup
Recommended: