Hi there guys! We hope that you all are keeping safe and are also enjoying reading our articles as well. The thing that we are going to talk about today gets us all super excited and rightly so, because well, it is Halloween – the night when we get to celebrate however we want to celebrate in our interesting costumes, in our well-decorated houses, rooms etc. with our loved ones. But the fact that the time is passing way too fast is kind of funny and weird too. Like it is going to Halloween soon and we just cannot wait to share our free scary pumpkin carving stencils for the year 2021 with you all!
Recommended:
– – – – – – – – – – – – – – – – – – – – – – – – – – – – – – – –
400+ Free Printable Halloween Pumpkin Carving Stencils, Patterns, Designs, Templates, Faces & Ideas for UK, Canada, Australia, USA
Best Halloween Pumpkin Stencils Ever For the Year 2023, 2022, 2021, 2020, 2019, 2018, 2017, 2016, 2015, 2014, 2013, 2012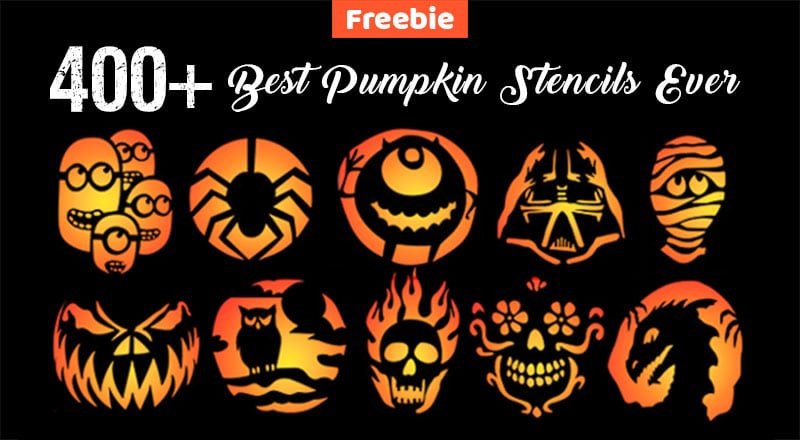 – – – – – – – – – – – – – – – – – – – – – – – – – – – – – – – –
As you all know that the whole process of pumpkin carving and the masterpieces that everyone ends up with a day or on the day of Halloween are not only therapeutic to be busy with and to look at, but it sure is a great time to spend with your family members and friends as well. Although, COVID-19 has taken away a lot of opportunities to celebrate the festivities of almost literally everything, we feel that we must make the most of whatever small chances that we get.
For this year's carving ideas, we were thinking to keep them casual yet interesting so that all of you can enjoy carving your pumpkins as well as using them for the décor too. Since we know that we have different age groups that follow us here; we decided to cater to the needs of all of them but before we share our stencil ideas with you guys, we would like to talk about the process of pumpkin carving first. Keep reading the blog to know more and carve better!
Whenever you do something that you have to do once a year, always make sure that you are prepared – both physically and mentally because it takes an active person to sit down and carve through the day and a person who knows that they have to give this thing some good time before they start doing something else. Pumpkin buying is a fun process, really. You get to see cute little pumpkins and the big ones too with dents and in peculiar shapes that can help you with setting up horror characters quite easily. But the trick is to ensure that you do not purchase the ones that have bruises and cracks etc.
Also, know that the process of oxidation in a pumpkin starts real quick and you would not want to go to the market or to a pumpkin farm again to get a couple of new pumpkins so always set a few hours to do the carving thing and once you are done fully, go decorate your house or bake the cookies that you are planning to try this year. Now, let's talk about the designs or ideas that you have in mind so that we can share ours! If you have younger siblings or your kids at home, give them a chance to pick and choose between their two most favorite characters and let them decide the theme this year as well.
By doing so, you will make them feel included and you should because let's just be honest; you have spent multiple Halloweens doing what you wanted to do so, now give the younger ones an opportunity to be creative. Also involve them in the carving process as well but only with children's safe knives or you can get them permanent markers, Sharpies, watercolors as well as acrylic paints if you think they won't be able to handle shaper objects and cutters etc. When you will let the kids participate in the carving process, it will give them the confidence that is required to be on your own, to be creative and make whatever you love to see.
And that is why we decided to work on these printable and free scary pumpkin carving stencils that you can download and print for the kids or for yourself. Our 2021's carving stencils include vampire, ghost, cat, boo, scary jack-o-lantern and few more. We can bet that you guys are going to love all of them. We wanted to keep a variety of characters so you can choose two themes or go with just one – and we are sure that you will be able to arrange an interesting Halloween party for your loved ones this year.
Additional tip: To keep the pumpkins fresh, you can spray a mixture of water and bleach solution on them and also keep them refrigerated if need be.
That is all for today, friends! We hope that you will have a great time working on our free scary pumpkin carving stencils and don't forget to share the blog with your friends and family as well.
– – – – – – – – – – – – – – – – – – – – – – – – – – – – – – – – – – – – – – – – –
Don't miss out these cool Halloween freebies:
– – – – – – – – – – – – – – – – – – – – – – – – – – – – – – – – – – – – – – – – –
10 Free Halloween Pumpkin Carving Stencils & Templates 2021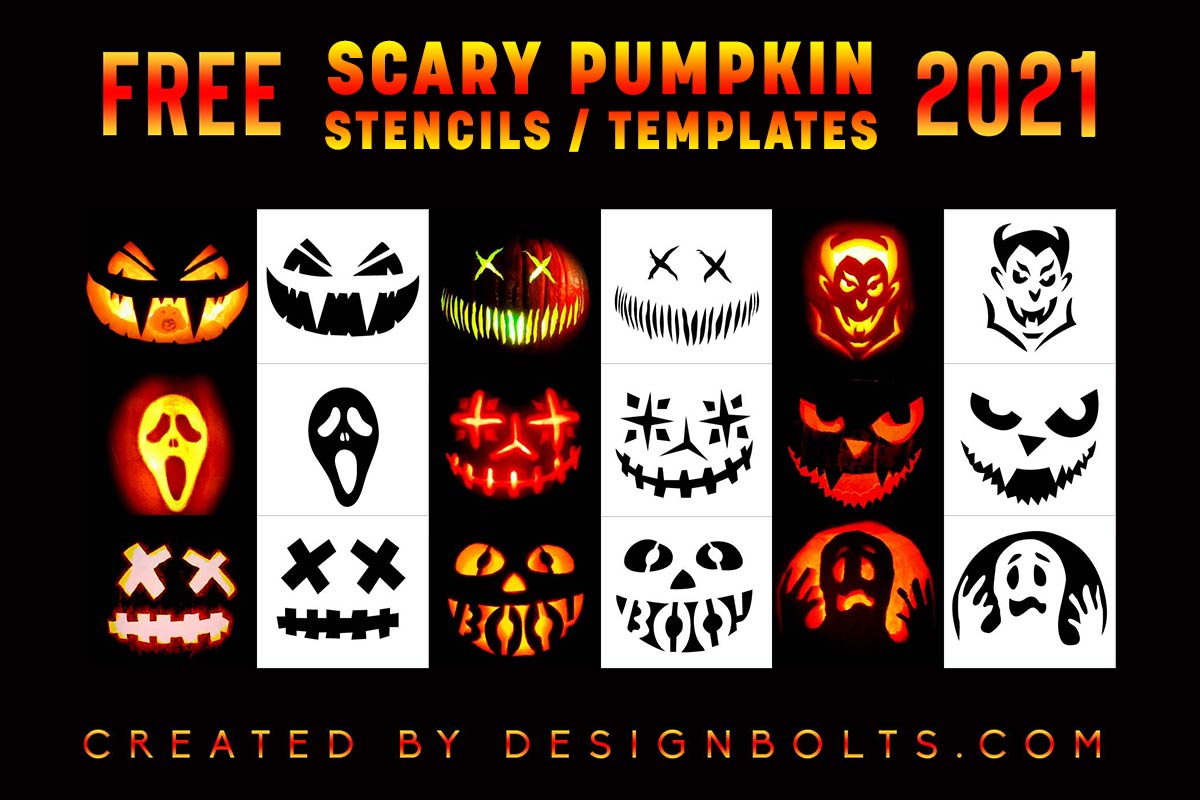 1. Free Scary Pumpkin Carving Stencil 2021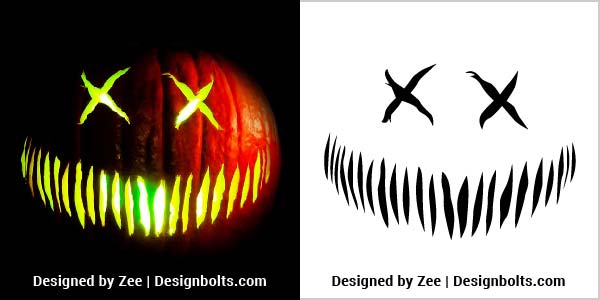 Download Stencil 1
2. Free Scary Vampire Pumpkin Carving Stencil 2021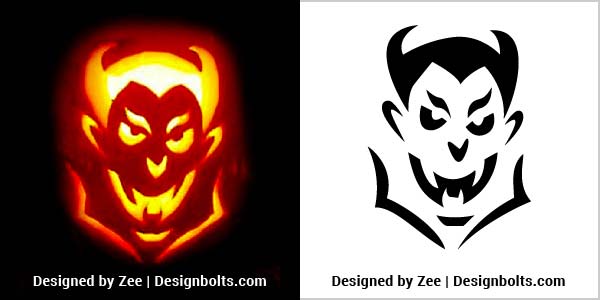 Download Stencil 2
3. Free Scary Ghost Pumpkin Carving Template 2021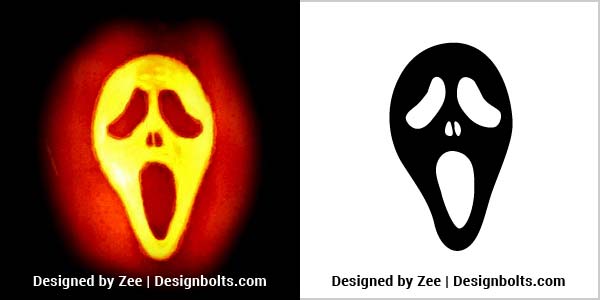 Download Stencil 3
4. Free Creative Pumpkin Carving Stencil 2021
Download Stencil 4
5. Free Scary Cat Pumpkin Stencil 2021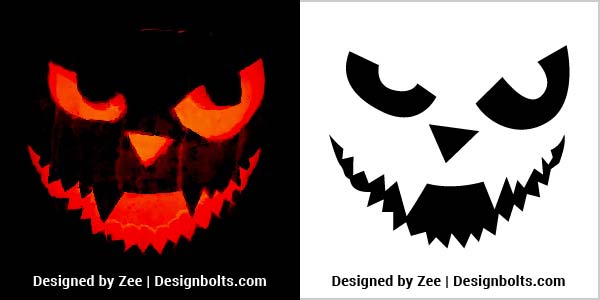 Download Stencil 5
6. Free Jackolantern Pumpkin Template 2021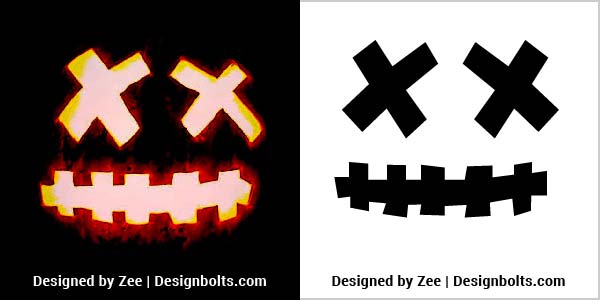 Download Stencil 6
7. Free Scary Pumpkin Stencil 2021
Download Stencil 7
8. Free Boo Pumpkin Carving Pattern 2021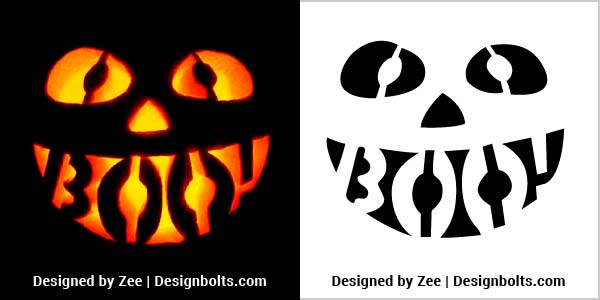 Download Stencil 8
9. Free Ghost Pumpkin Carving Stencil 2021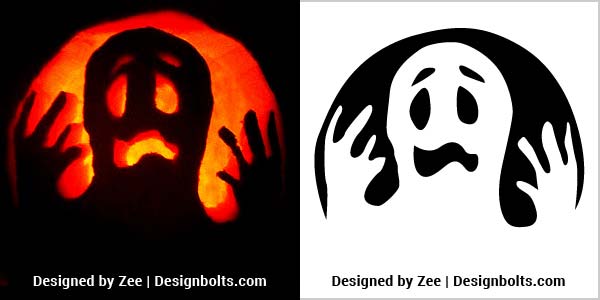 Download Stencil 9
10. Free Scary Pumpkin Carving Template 2021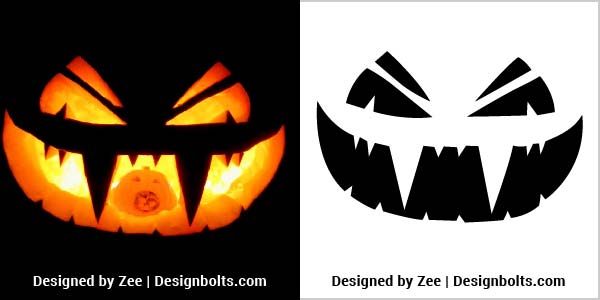 Download Stencil 10
Latest Halloween Pumpkin Carving Stencils 2022, 2021, 2020, 2019, 2018, 2017, 2016, 2015, 2014, 2013, 2012 to Carve: