For thousands of years, humans have used traditional 'wet' signatures. They were available in various shapes and sizes, including markings, stamps, seals, and signs. Traditional signatures, on the other hand, are rapidly becoming obsolete as new technology reshapes our world.
The new ways of signing are more straightforward and intuitive. Since electronic signatures are the future that people and customers want, it's beneficial that you understand how they work and when to use eSignatures in online documents.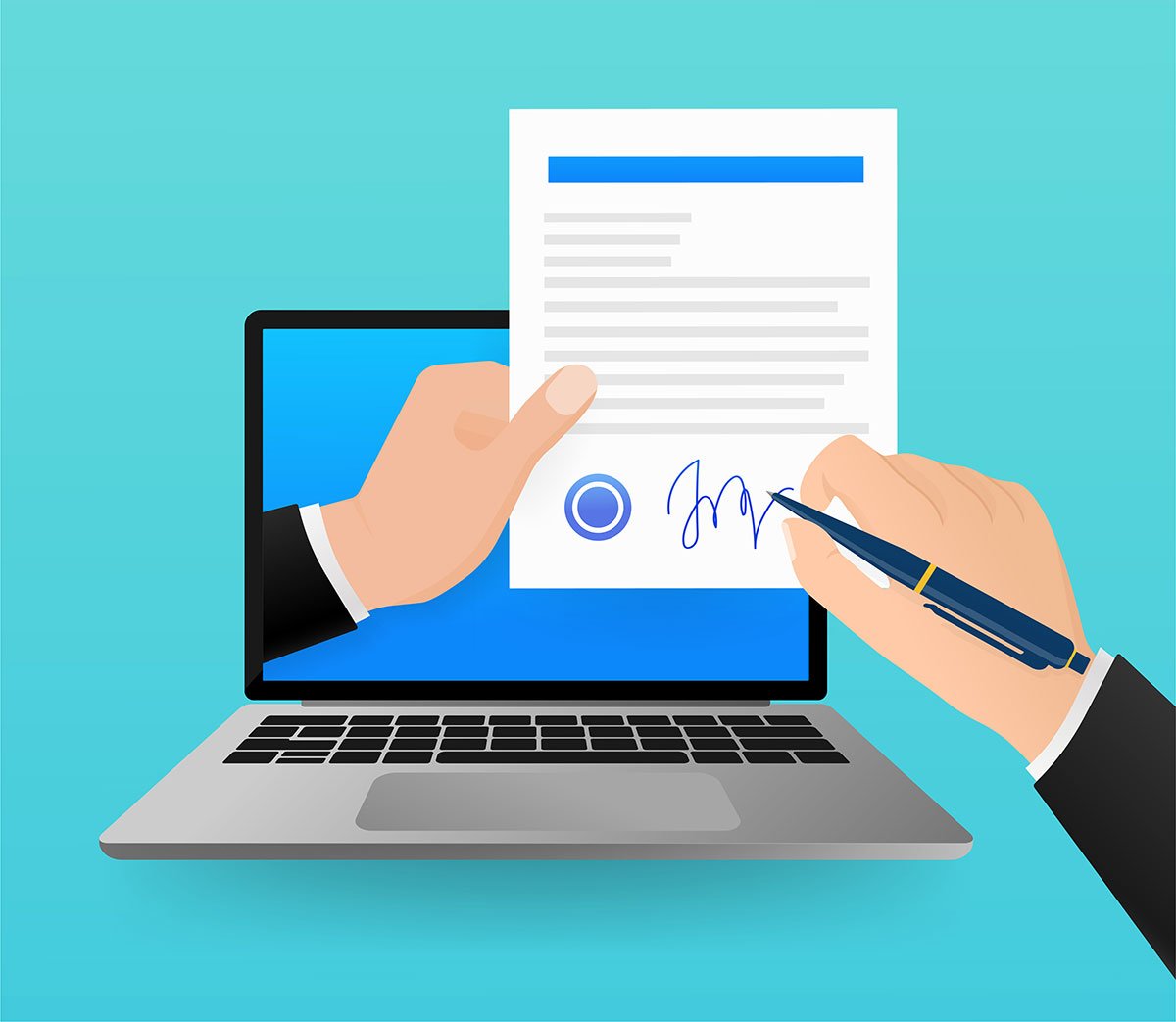 Why Use eSignature In Online Documents?
Have you ever signed any legal documents on an old-style pen? If so, then you may have encountered something like a contract, a policy, or a memo. If your signature is on that paper, someone else can make a case that your business documents weren't created in accordance with your wishes. Using electronic means eliminates this risk.
By using a digital signature instead of a wet signing, parties don't need to be present in the same room to agree on a contract. They may do it through email, mobile technology, or a browser-based contracting platform. Not to mention that it's often more convenient to sign papers electronically. You can sign documents online with jSign, which is simple to use and enables you to rapidly sign papers online from any location, making it an ideal tool for closing transactions on the move.
Moreover, due to the ESIGN Act, which Congress enacted in June 2000, electronic contracts are legally legitimate and enforceable in the same way as paper-based agreements. Security standards and audit trails behind electronic signatures enable companies and people to trust the standards they use.
Lastly, digital signatures are less likely to be lost, destroyed, or accessed illegally than physical documents.
How Does eSignatures Work?
An electronic signature (e-signatures) is an act of digitally signing a document. What happens is that a digital code is embedded in the document, and then read and understood by the computerized machine, which acts as a third party to the legal contract.
Electronic signatures are gradually replacing handwritten signatures. This is because it saves time and money, as well as produces less waste, verifiable, time-stamped, and safer. Most importantly, they have the same legal standing as written signatures.
E-signature applications are protected by encryption/decryption technology that may validate both parties' permission and attest to the deal's legitimacy. Since they're difficult to duplicate, it gives them much more authority than conventional paper-based agreements.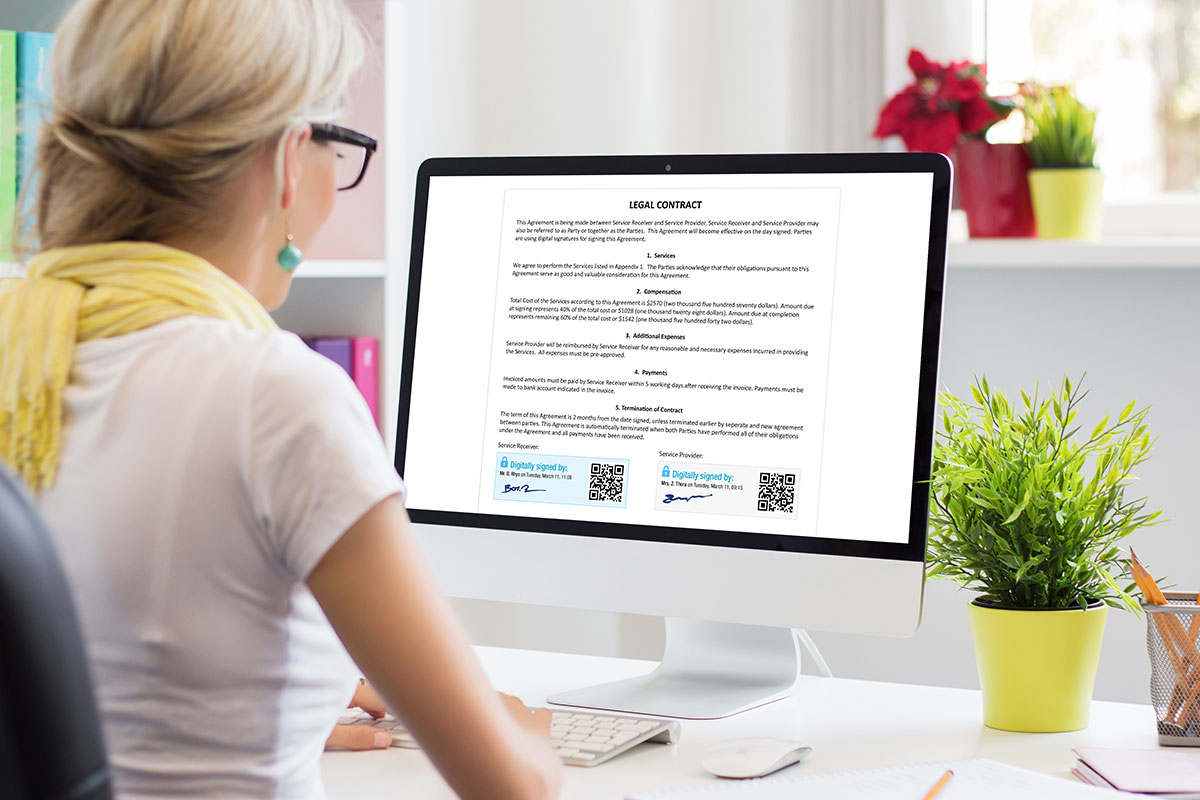 When To Use eSignature In Online Documents?
You can use eSignature in online documents to bring efficiency to departments or industries. Here are a few examples:
When you want your sales team to eliminate the monotonous, administrative work from your staff's daily routines.
In Human Resources, when you want to increase staff efficiency, make it easier for applicants by making e-sign papers accessible from anywhere.
In financial services, consumers expect seamless, paperless solutions for capturing and sharing sensitive information.
In medicine, it improves the speed of your document and e-signing processes while maintaining patient privacy.
E-signatures may help your business free up time for more important activities since the process can speed up the completion of administrative work. Do note that companies must be able to validate documents while maintaining security, increasing productivity, and lowering expenses.
How To Use eSignature In Online Documents?
Using an eSignature in online documents depends on the type of document. New contracts, leases, and loans are much more likely to be signed using an eSignature app.
Other examples include medical papers, software applications, and other forms of documents. Each type of document requires a different process to complete the transaction. However, it's possible to use the same signature process to complete all of these online transactions.
Here's how you can attach your eSignature to online documents:
1. Adding eSignature From A Microsoft Word Or Adobe PDF Document
You may request information about the signer and give instructions using an e-signature line in a Word document. When the signer receives an electronic copy of the document, they can see the signature line and a notice asking for their signature.
The signer has the following options:
Choose an image of an inked signature.
Create a signature.
Utilize the inking function on a touchscreen computer or other device to input their signature.
2. Adding eSignature To PDF Online Document 
PDF readers, which are computer programs that enable you to open PDF files, are common on both Windows and iOS. Electronic signatures may be added to PDFs by following these steps:
To see the document, open the PDF file with Adobe Acrobat Reader.
Go to the Tools Pane on the right and choose Fill & Sign.
To add your signature, click Sign and then choose Add Signature.
The window will pop up. Choose one of the following: Type, Draw, or Image.
Click the button marked 'Apply.'
Position the signature within your PDF file, then use the 'Drag, Resize, and Position' tool to add or move it.
3. Adding eSignature Using Specialized Software or App 
Numerous vendors provide web tools services, specialized software, or signature capture for electronic document signatures, primarily PDFs. They all provide basic document signing capabilities at an affordable price point.
The most important considerations when choosing electronic signature software is to consider its simplicity and convenience. Also, make sure that the electronic signature software makes it simple for you to create and change the signatures on your documents. For added security, you should set the permissions for only specific types of signatures and then change those signatures at any time.
By taking these into consideration, you can find a system that works well for your company.
Conclusion
Knowing when and how to use eSignatures in online documents are essential things to learn. Adapting to new technologies is a challenge. However, technology provides many benefits and the potential to increase public excitement about your business. Avoid excluding electronic signatures from your processes. Not only can electronic signatures expedite and reduce the cost of operations, but they also make work simpler. Additionally, electronic signatures are considered to be safer than traditional ones, which means it's an added protection for you.
Recommended: