Hello there friends! We are back with yet another free & highly editable mock-up PSD file for you guys and we know that you all will find it super useful for your upcoming design projects. But before we introduce you to what we have created for you today, we would like to take this moment to thank you for your overwhelming response as well as for your constant support on our previous blogs. Your feedback matters to us so, keep sending it our way in the future too.
You guys must have read our billboard blogs and we are sure that you would be using the related mock-up PSDs as well for your personal and commercial design projects but we know that with our free billboard mock-up PSD, you will create a bunch of stunning designs and art works in no time. Using a billboard for any type of promotional campaign means that you are thinking big and you want the masses to know what your business is up to these days.
There are many ways to make sure that your campaigns are working the way you want them to work; and we are here to share all of them with you. Continue reading this blog if you want to end up with nothing but successful campaigns for your own business or for your clients'. Although, the designs of billboards are to be made so attractive that they grab an individual's attention instantly but it is also very important to know where to place the billboards so that more and more people can receive the message that you are trying to deliver.
The main point of billboard advertising is to deliver a message – any message on a bigger scale so it is always advised to place them where the number of pedestrians and drivers is the highest. We are sure that the biggest of them all are in your city are placed on the side roads of an overhead bridge or on a very busy road as well so that while you are heading towards your workplace, house or to meet a friend too, you can see what businesses are talking about these days. You can get to know about their latest offers, if they are opening new outlets, if they have launched an online store etc.
Recommended: 135+ Free Outdoor Advertisment Branding Mockup PSD Files
You might wonder that billboards would cost you a lot of money because they are huge in size and you will have to book the best places within the city or across the country for your billboards as well. But that is not the case because you have to pay for the billboards on monthly basis usually and that makes this medium a cost-effective one. So, if you did not really plan to execute a billboard campaign, now is the time to start thinking about it and we can bet that you will end up with excellent results in no time.
Now, let's talk about the design process that you can start using our free billboard backdrop mock-up PSD file!
Sure, a billboard has a lot of space and is treated like a huge canvas but that does not mean that you have to fill it with text and imagery. Keep it simple and clean and tell a short story through it. Always remember to say the maximum using minimum words. You can tell your story using powerful imagery and you will see that it has more impact on the audiences than words could have. You also need to keep the readers of billboards in mind; they do not have a lot of time to read a wordy billboard. To make everything work for your billboard campaigns, make the most of big and bold fonts. Know that such fonts will only look great on contrasting colors and avoid using fonts that are too decorative or difficult to read.
Complement your billboard designs with the locations you are placing them on. Locations and how the locals communicate with each other matter so whenever you are planning a billboard campaign, make sure that you are making it in a way that people can resonate with it. By doing so, your potential audiences will not only be more interested in knowing more about your businesses, but they will also take an action right away like visiting your online / physical store, following you on your Twitter or Instagram accounts etc.
Try to make interactive billboard designs as they attract people more than the regular ones. You can use the environment to design the billboards and you will see how impactful they become. Also, always remember a great billboard is the one that is memorable and sticks out and you will see your business getting recognized the way you want that to happen.
That's all for today! We hope you liked reading our blog and will also work on interesting and powerful designs using our free billboard backdrop mock-up PSD file.
Free Billboard Backdrop Mockup PSD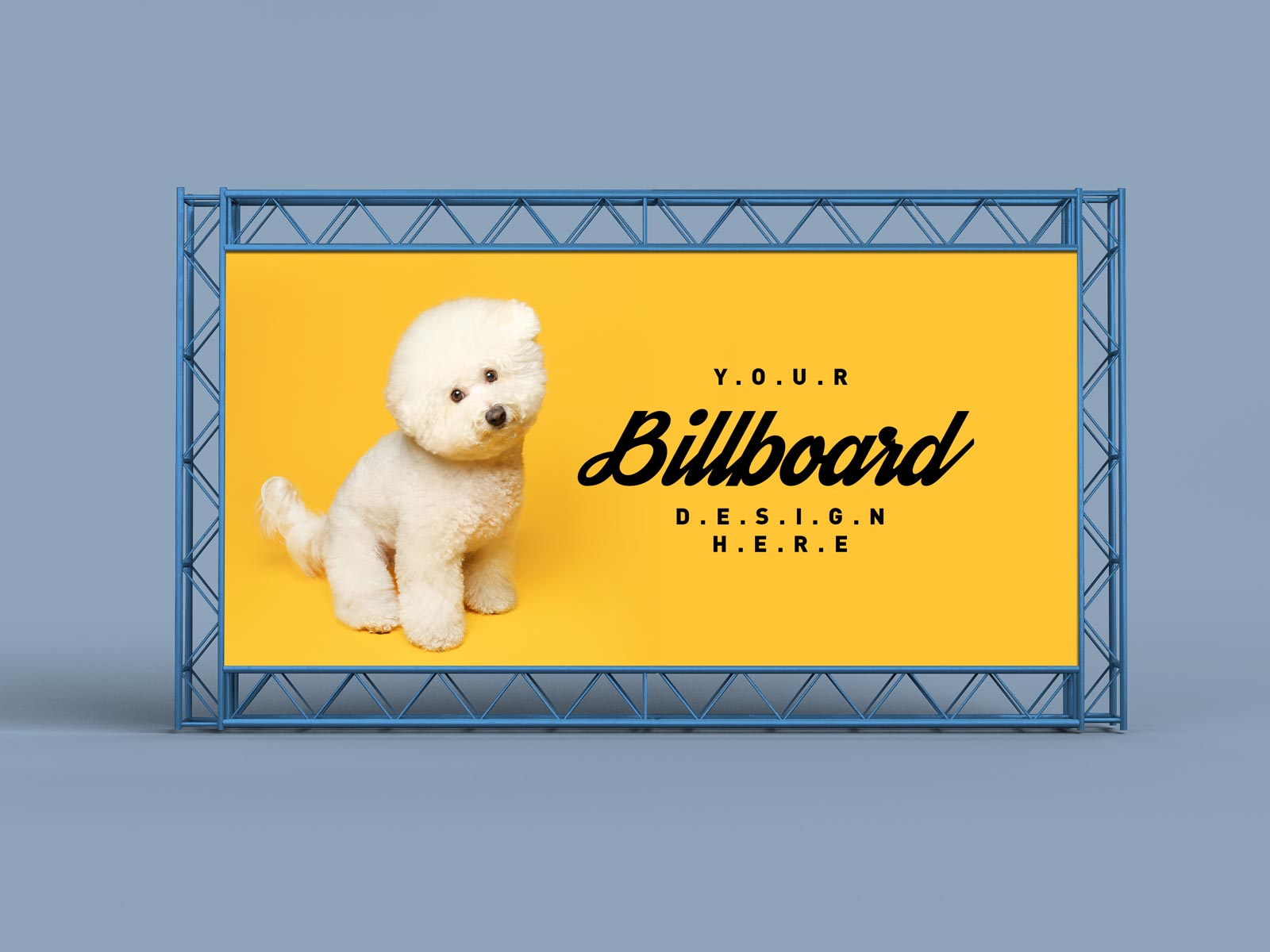 Available Format: Layered PSD with smart object insertion
License: Free for personal presentational use only
WinRAR File Includes: Billboard Mockup PSD
Note:
1. PSD Structure Backdrop Billboard Mockup is allowed for sharing online (A Must Linkback to this page)
2. Say thanks if you like or share/tweet with your friends.
Download Billboard Mockup PSD
More Free PSD Hoarding Mock-ups you would love to download: