Hello there everybody! First things first; we would like to thank you all for always sharing your constructive feedback and interesting suggestions with us and for also making sure that your friends and favorite colleagues read our blogs too. It has always been a pleasure to come back with stuff that you guys want to read up on and would want to use it for your projects but today, we won't talk about work – work in fact, what we have for today is something that you all are going to love especially if you have a thing for Halloween parties so, let us get started!
Recommended:
– – – – – – – – – – – – – – – – – – – – – – – – – – – – – – – –
400+ Free Printable Halloween Pumpkin Carving Stencils, Patterns, Designs, Templates, Faces & Ideas for UK, Canada, Australia, USA
Best Halloween Pumpkin Stencils Ever For the Year 2023, 2022, 2021, 2020, 2019, 2018, 2017, 2016, 2015, 2014, 2013, 2012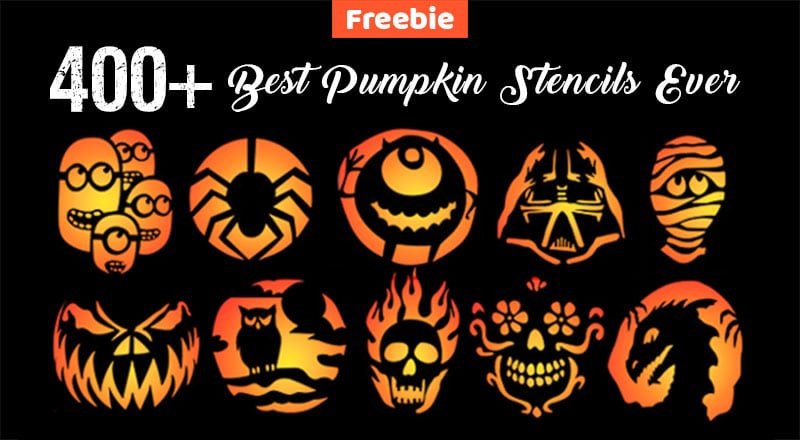 – – – – – – – – – – – – – – – – – – – – – – – – – – – – – – – –
Carved pumpkins happen to be one of the most essential part of any Halloween party, whether you have arranged it at your house or for your friends at a venue, the party is incomplete if there are no pumpkins there as part of the décor. And we think most of the people actually throw a Halloween party because they want to experience the pumpkin carving session and its fun all over again and we believe that, this is how it should be; friends and family members sitting together, carving out their favorite characters and whatever they love on pretty pumpkins, making memories and more.
We are sure that you guys have read our previous blogs in which we mentioned how important is it to involve kids too when you are planning your Halloween parties. This will not only make your kids confident about making plans but knowing that the adults trust them with one of the most fun yet detailed tasks is itself an achievement. Ask them what they would want to carve out on pumpkins while you are at it and ensure that you bring them all the relevant stuff that you can so that they can fully participate in the activity. If you are providing them with knives and cutters, then also make sure that you do not leave them unsupervised otherwise there are chances of them getting hurt.
This blog of our focuses on (free and) easy pumpkin carving stencils, templates and ideas that kids can work on in 2021; so get ready for all things adorable that will look super cute when they will be carved. Kids love cute characters and things that are not too scary for Halloween although, you will see a bunch of kids who do want to go for a super scary Jack-o'-lantern or a mummy but we would love to suggest you that do not let them create carvings that are not age appropriate otherwise you will have to be with them almost all the time until their fear of that thing goes away, you know.
Keep the carving selection somewhere in the middle where they can be themselves without getting scared for example; Minions – they are like the best choice and kids love them too. Tracing Minions on pumpkins won't be too hard nor would it take a lot of time to carve them out as well. You or the kids can use different types of tools to do the tracing thing like a pencil and then you can either use carving knives to start the carving process or use a cutter but make sure that it is sharp enough otherwise it will only ruin the pumpkins.
If you are the over protective sort, then there are other things that you can provide the kids with so that they can still create whatever they want to create using pumpkins. We get it that you would not want to leave your kids with knives and all and even if you are going to sit with them, some kids can still manage to get hurt so, to minimize the chances of accidents and mishaps; what you can do is to bring in water colors, acrylic paints as well as permanent markers. These stationery items are easily available and safe to use too and honestly, if you do not have a lot of time to do the carving and stuff then you sure can use our stencils to trace out the faces, characters, words and everything else and then paint them so that you can truly enjoy your Halloween décor.
In addition to that, you can also accessorize the pumpkins with paper caps, balloons, glitter and fairy lights too and you will see how unique your décor corner look like once you are done. So, while we imagine how it is going to be like; feel free to go through our finest collection of free and easy Halloween pumpkin carving stencils, templates and follow the ideas for kids this year and we can bet that you and the entire family will have a great time. Don't forget to tell us how it went in the comments section down below!
– – – – – – – – – – – – – – – – – – – – – – – – – – – – – – – – – – – – – – – – –
Don't miss out these cool Halloween freebies:
– – – – – – – – – – – – – – – – – – – – – – – – – – – – – – – – – – – – – – – – –
10 Free Easy Halloween Pumpkin Carving Stencils, Templates & Ideas 2021 for Kids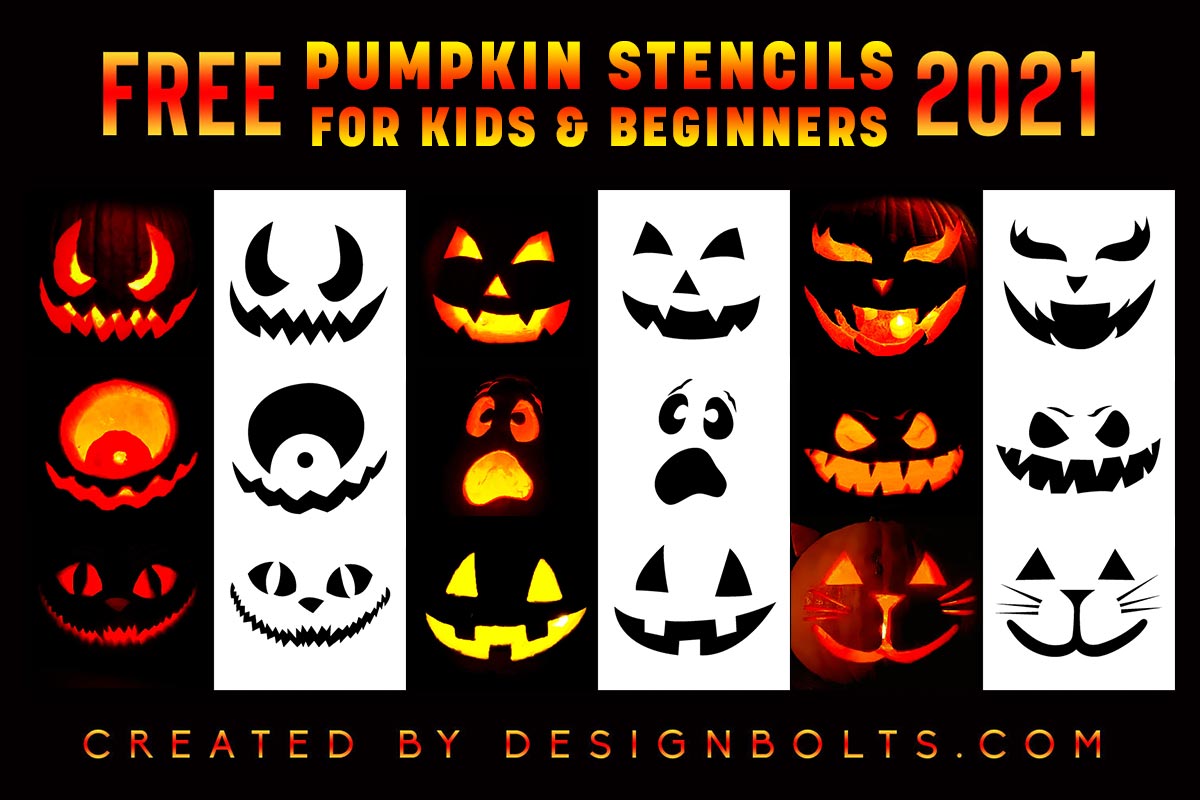 1. Free Scary Pumpkin Face Carving Stencil 2021 For Kids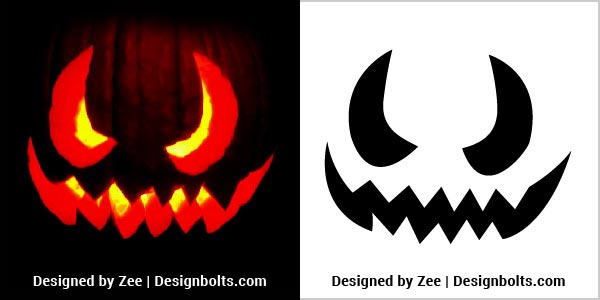 Download Stencil 1
2. Very Easy Free Pumpkin Carving Stencil 2021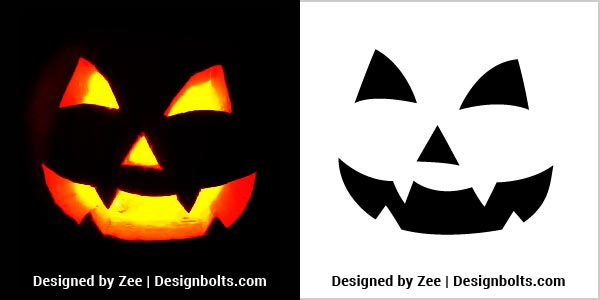 Download Stencil 2
3. Jackolantern Scary Stencil 2021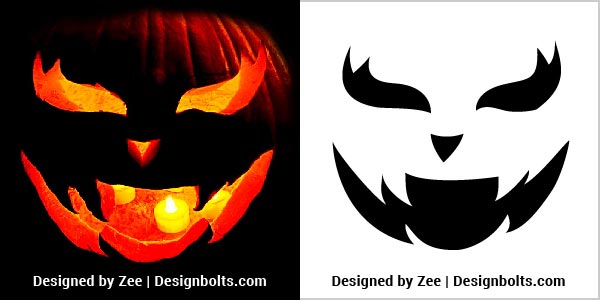 Download Stencil 3
4. Mike Wazowski Scary Pumpkin Stencil 2021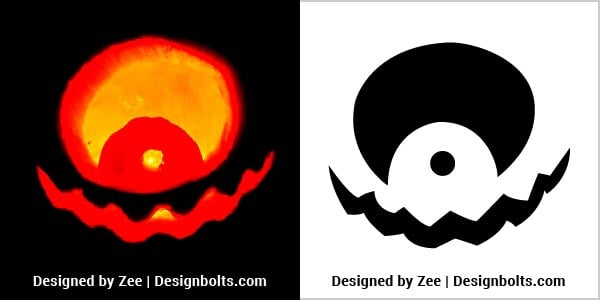 Download Stencil 4
5. Scary Ghost Pumpkin Stencil 2021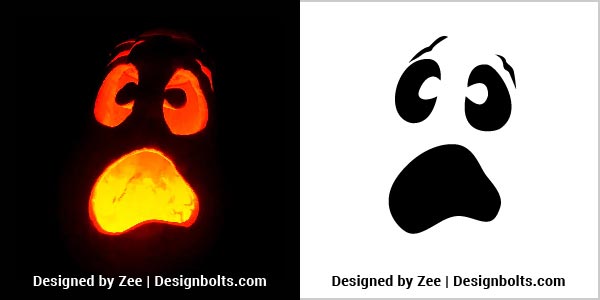 Download Stencil 5
6. Scary Jack Halloween Stencil 2021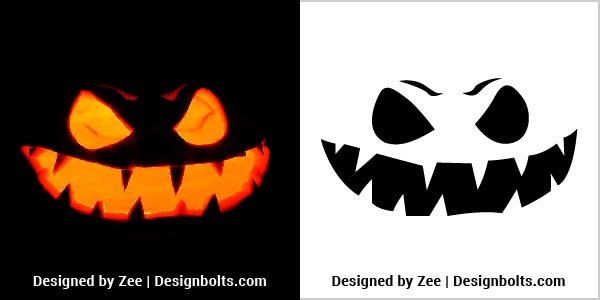 Download Stencil 6
7. Cheshire the Scary Cat Pumpkin Stencil 2021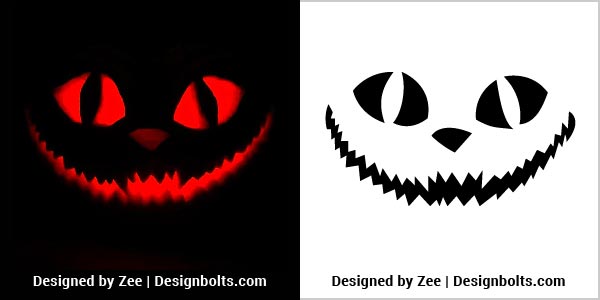 Download Stencil 7
8. Easy Pumpkin Carving Template For Beginners 2021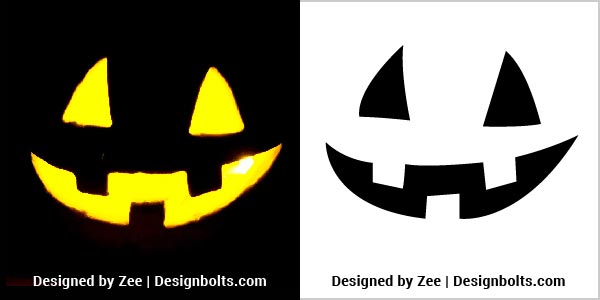 Download Stencil 8
9. Smiling Cat Pumpkin Carving Stencil 2021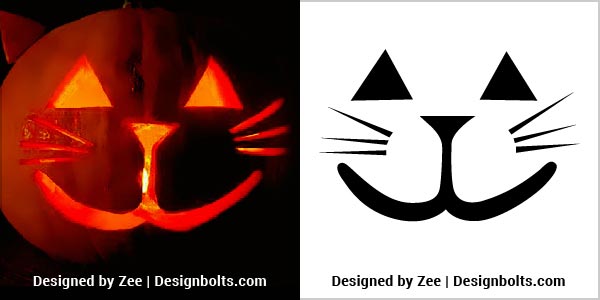 Download Stencil 9
10. Scary Pumpkin Stencil 2021 For Kids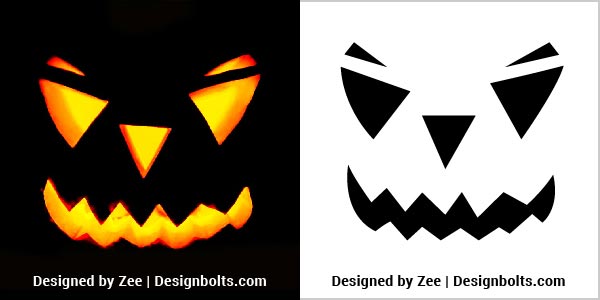 Download Stencil 10
Latest Halloween Pumpkin Carving Stencils 2022, 2021, 2020, 2019, 2018, 2017, 2016, 2015, 2014, 2013, 2012 to Carve: