Hi there everybody! We hope that you all are keeping safe and that our free mock-up PSD files are being helpful for your personal and commercial design projects as well. Earlier this week when we were shortlisting the ideas for our content; we wanted to share something that you can create not only for yourself but for your customers too as well as for any brands that you are currently working with and here we are with our free pop socket phone holder mock-up PSD file and we are sure that you are going to love it, so let us get started!
Pop socket holders are great for all sorts of mobile phones because you can use them to hold your devices properly and you can also use the pop socket as a stand too while you cook your food by watching a YouTube video or go live on your Instagram – this small thing comes with convenience in super reasonable prices and endless designs that you can make right on your computer or any other gadget that you use to turn your imagination into reality.
There are many different styles and designs of pop socket phone holders available in the market and if you are wondering how to make something unique and even more exciting then keep reading this blog as we are about to share a couple of creative ideas that you can execute using our free pop socket phone holder mock-up PSD file. Customized things will always remain relevant and for very obvious reasons so let's dive right into that first!
Knowing what your customers need to buy and then working it out for them is very important for any business to survive and also to become a preferred or go to business eventually and in order to do that; we would recommend you guys to start getting in touch with your audiences like you have never before. Ask the questions, what they like to want to see as products on your digital and social media platforms. Get to know their needs or create a need by making something so different and useful that they want to get it, you know.
Since a pop socket holder is a universal mobile / digital device accessory to use, you will have to categorize your audiences into different groups depending on their liking as well as disliking), then you will have to consider their age groups, genders, interests and preferences when it comes to cultures (this also includes religious groups as well), celebrities, and even food items. You must also ensure that you do not hurt anyone's sentiments while you are on your way to create something new and unique. Keep up to date with the latest trends (local and international) and be also politically correct so that you are recognized as a brand that cares for people and their sentiments.
For starters; here is what you can do to cater to the different groups (audiences): kids like cute little things and characters from their favorite cartoons / movies etc. and while you (as a parent) want to engage them with something fun and interesting for early learning, you can use a pop socket phone holder too to place the device at a distance so that the kids' eyes don't get affected. From all things colorful and funky to super heroes and more, we can bet that the kids will love their personalized accessories like they love watching their cartoons on the internet etc.
Then comes the teenagers and keeping the fact in mind that their choices change almost every other day, you will have to be careful about what you are making for them and the best idea would be to ask that through Facebook and Instagram polls. Although teenagers are not really allowed to be on the social media platforms; you can ask the secondary audiences such questions and you will know what to create and what to drop once you have the responses from their parents, siblings etc.
For adults however, you can create anything that is trending and there will be a group of people who would be super interested in buying those very designs from you. Just make sure that you use the images, design elements etc. of high quality and that the finishing of all the materials that are used is nothing but excellent.
And guys, that is all from our end for today! We hope that you had a great time reading this blog of ours and that you will also make the most of our free pop socket phone holder mock-up PSD file as well. Do share the blog and the PSD file with your favorite colleagues too so that they can create stunning designs for their design projects and while you do that, feel free to share your feedback with us in the comments section.
Free Pop Socket Phone Holder Mockup PSD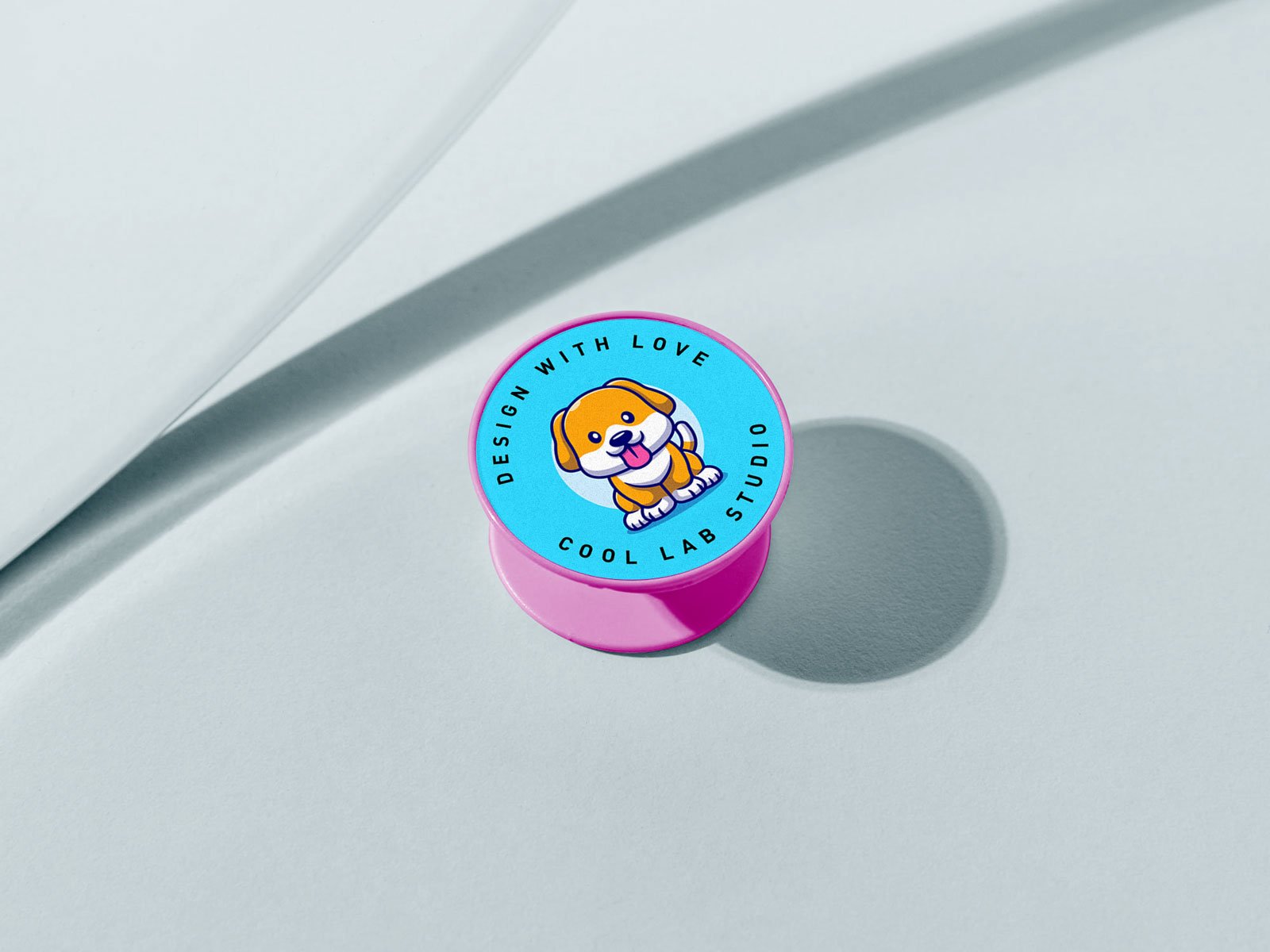 Available Format: Layered PSD with smart object insertion
License: Free for personal and commercial usage
RAR File Includes: Free PopSocket Mockup PSD
Mock-up Resolution: 2000 x 1500 px
Note:
1. Free PopSocket Mockup PSD is allowed to share online (A Must Linkback to designbolts.com)
2. Say thanks if you like or share/tweet with your friends. That means a lot to me.
3. And don't forget to subscribe to receive for more high quality premium freebies & awesome articles only.
Download PopSocket Mockup
More Unique Mockup PSD Files: