Hi there friends! We hope that you all are keeping safe and that you had a great weekend as well. Since, it is a new week for work and all, we wanted to make sure that our content list is diverse and has different things to offer so we decided to create this free stationery mock-up PSD file that you can use for your own personal communication as well as corporate stationery too. But we formally start talking about what we have created; we would like this moment to thank you all for your overwhelming response on our previous blogs and for also sharing them with your favorite colleagues and loved ones.
Stationery items are fun to create and design and we know that you all love working on them too and that is why there is a pack of items in our highly editable mock-up PSD file that you can download for free and use it to design super creative things like a pro. The main idea behind creating an envelope, paper chits of two different sizes was to allow you guys to present a collective design to your team members, boss or even to clients. And we have set the frame in a beautiful vintage setting for you guys to make it look even more beautiful – the whole idea is to be aesthetically pleasing while also making sure that you have created useful stationery items.
We know that this is something we almost always talk about but guys, we have to say it all over again that making mock-ups and nice presentations that explain your creative thought processes is very important. You have no idea how much control you can get on your designs and artworks as well as on your campaigns by doing so. We also know that for graphic designers, it can become a little too difficult to manage the daily jobs and to be creative enough to create mock-up presentations almost daily too, but you know what? All of this is worth the effort. Here is how!
When you create mock-up presentations for your internal teams or for the decision-makers (business owners, brand managers, etc.), you make sure that you have a creative thought process to back what you have created. You can also let your creative juices flow during the time when you are creating mock-ups or a presentation to display them and you will see that you are getting finer ideas by the minute and that is how you can decide which ones to go forward with and which ones can wait for something else, you know.
Recommended: 50 Free Professional Stationery Mockups
With the help of mock-ups, the decision makers can visualize how the final products will be like without having invested money at that point and we think that is one of the most fascinating things about mock-ups. You can review them all you want, and you can have them changed too right there on your screen without having to worry about running outside the office, getting things done from a third-party vendor. Always remember that there is no limit on the number of mock-ups, but we would suggest you guys have at least two to three different options of designs that you can share with interesting rationales.
For our free stationery mock-up PSD file, we are confident that you guys will be able to create as many designs as you would want to create and if you are a business, then you must also explore the option of creating customized stuff as well. For example; we know that there are people who love to send letters to their family members, friends, and colleagues, and we can bet that they would love to send in the letters now in envelopes that read their names.
Paper chits can be used for multiple reasons especially when you are on your work desk and you want to make notes and stuff. But you know what will make them look even more amazing. Branding. Yes, you read that right! So, it does not matter if you are a small business owner or a big organization, you must always make sure that your branding is done on your stationery items – it not only looks nice, but you will also notice that your brand is being promoted subtly too.
Okay so, guys that is all for today! We hope that you had a great time reading this blog of ours and that you will also make sure to make the most of the free stationery mock-up PSD file as well. Do share it with your favorite colleagues and also let us know if you want us to create something for your upcoming projects and we will come back with that and more until then, keep reading our blogs, keep sharing them with your loved ones and keep making awesome designs.
Free Envelope & Stationery Mockup PSD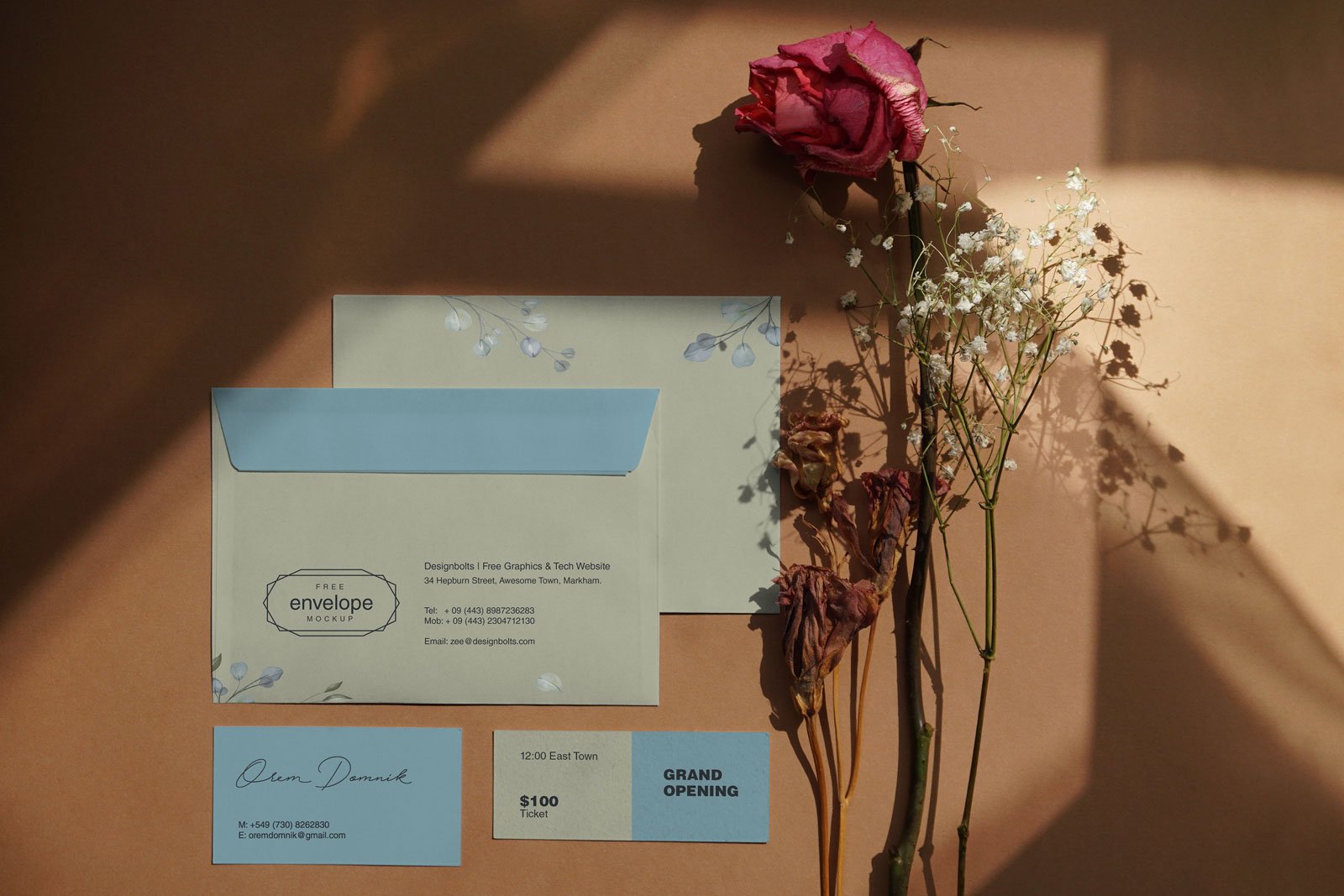 Available Format: Layered PSD with smart object insertion
License: Free for personal and commercial usage
WinRAR File Includes: Free Envelope & Stationery Mockup PSD
Mock-up Resolution: 4500 x 3000 px 

Note:
1. Free Stationery Mockup PSD is allowed to share online (A Must Linkback to designbolts.com)
2. Say thanks if you like or share/tweet with your friends. That means a lot to me.
3. And don't forget to subscribe to receive for more high quality premium freebies & awesome articles only.
Download Stationery Mockup
More Free Stationery Mockups: